How to Make Mexican Chorizo Sausage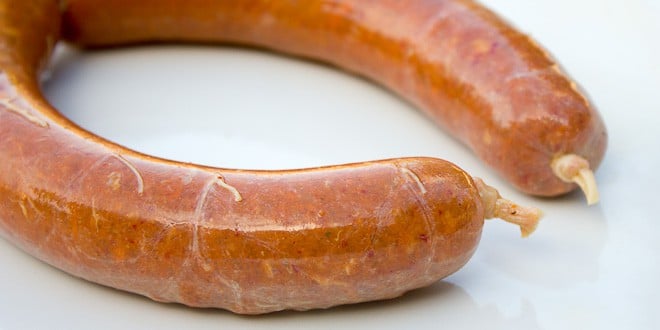 Sausages are popular all over the world and it seems that many different countries have their own version using spices and aromatics based around their culinary tastes.
North Africa – merguez sausage
The Philippines – longaniza
Germany – bratwurst
Central and Eastern Europe – kielbasa
China – Lap Cheong
Mexico and Spain – Chorizo
Chorizo is the sausage that is popular in Mexico, Spain and is even used in some other countries like Portugal and Brazil. Even though there are some similarities, chorizo does vary significantly from region to region. Chorizo from Spain and Portugal is typically cured and/or smoked. This type of chorizo does not usually require additional cooking, but can be sliced and used in sandwiches, etc. Mexican chorizo is fresh and the sausage is raw. Similar to Italian sausage and breakfast sausage, Mexican chorizo needs to be cooked (on a grill, skillet, etc).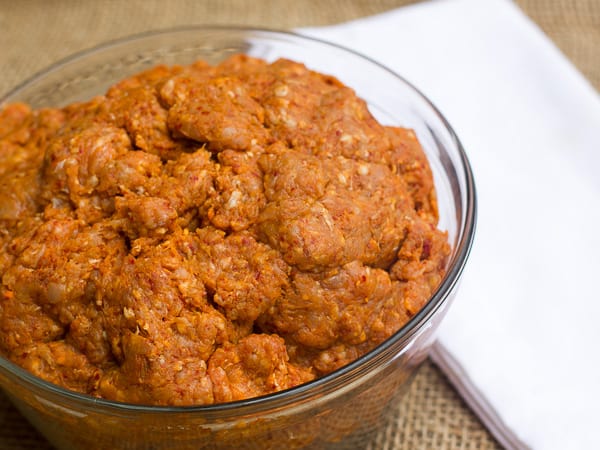 Mexican chorizo has a reddish orange tint. This comes from the large amount of chilies in the seasoning. Dried chilies are very popular in Mexico and used extensively in Mexican cooking. They can provide a deep flavor with smokey undertones. Depending on the chili that is used, some can be very spicy. For making chorizo, it is possible to use many different types of dried chili peppers. It is important to know the heat level of the chili, so you can adjust how much you mix into the meat. Using the right chili can produce a sweet and smokey sausage, while other chilies can result in a chorizo that is very hot.
Here are a few of the more common chilies in Mexico:
Mild: ancho, guajillo, California
Medium-hot: chipotle, morita
Hot: arbol, habanero, pequin
These chilies are usually sold whole. To prepare them for the chorizo seasoning, break off the stem and add, with the seeds, to a blender or food processor. Pulse or chop until the chilies are fairly well ground. It should resemble dried chili flakes, but be ground a little finer.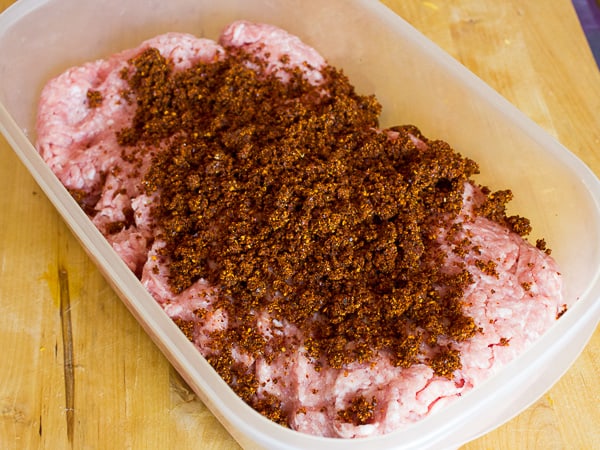 Chorizo is made with pork meat. It is possible to buy and use ground pork right from a butcher or supermarket. It is also possible, and preferable to grind the pork yourself. That way, you can monitor how much fat is added to the sausage mixture. The bests cut of meat to use for any sausage are pork butt, shoulder, or fresh ham. Those are well marbled pieces of meat and much better for sausage than some of the leaner cuts. One thing to consider is what will the chorizo be used for, because that will determine how much fat should be ground into the meat. If it will be used in the traditional sense and stuffed in hog casings for sausage, it is good to have a fair amount of fat in the meat mixture. Lately, there are many recipes calling for chorizo sausage meat. For these, the meat is removed from the casings and browned similar to ground beef for tacos or spaghetti sauce. In this case, or even for chorizo burgers, using a leaner mix of ground pork might be preferred.
To make the seasoning, add all the spices, the ground up chilies and the garlic to a food processor or blender. Pulse the spice mix until the garlic is chopped up finely and the mixture is fully mixed. It should resemble a crumbly paste.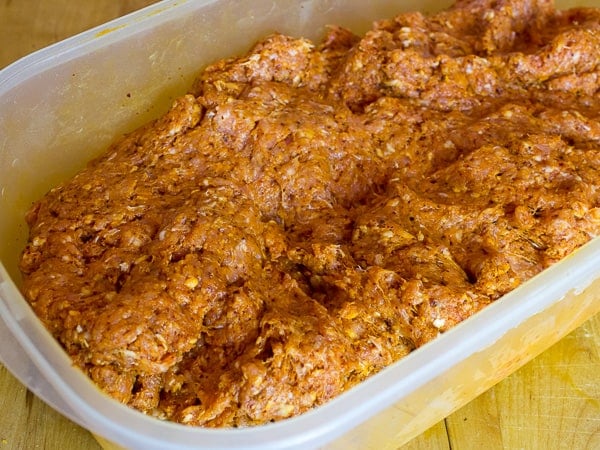 Add the seasoning mixture and the vinegar to the meat. Use your hands to knead the meat, making sure that the seasoning is thoroughly mixed into the meat. The color of the meat will change, turning a reddish orange. As you knead the meat, look for any lighter pink spots and knead that area to get the seasoning worked in. Make sure that there are no pockets of seasoning that are left. Depending on the chili used, these little clumps of seasoning can be very spicy and an unwelcome taste to an unsuspecting person as they take a bite.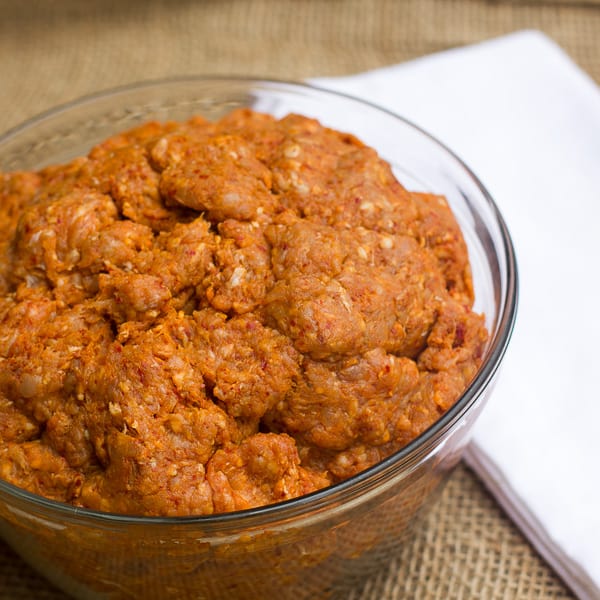 After the seasoning has been well worked into the meat, cover it with plastic wrap and place it in the fridge. Let the spices marinate into the meat for 1-2 hours. Take the meat out of the fridge and use your hands to knead it some more to thoroughly mix the seasoning in the pork meat.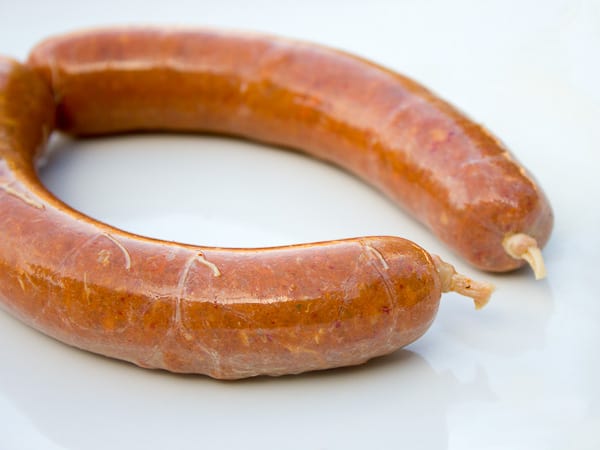 For making chorizo sausages, it is best to use natural hog casings. They typically come covered in salt for preservation. Rinse all the salt off them and soak them in water for at least 30 minutes before stuffing with the chorizo meat. Use a sausage stuffer to stuff the meat into the casings. Twist the sausages into 6-9 inch links.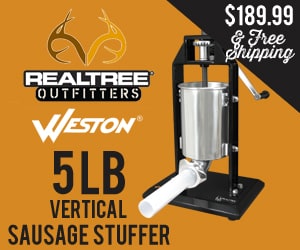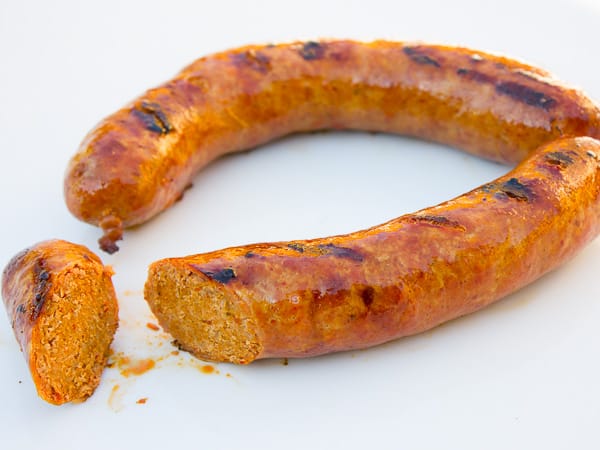 Grill or pan fry the chorizo sausages. They are great on their own, but are also really good on a sausage bun, or sliced up and added to a casserole.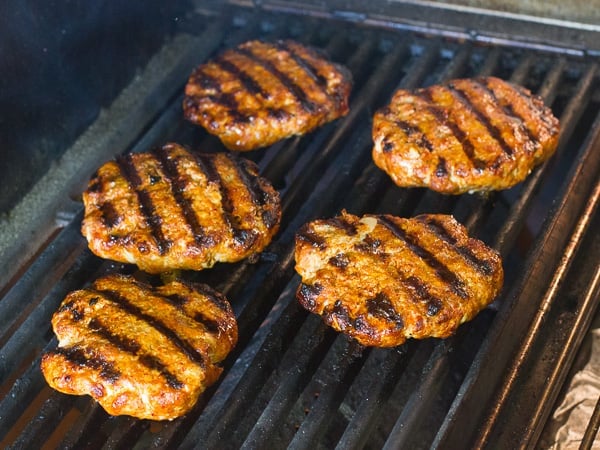 It is not necessary to stuff the meat in casings for sausages. The meat is great cooked many other ways as well. Form the meat into patties for chorizo burgers. They are amazing with sliced tomatoes and avocados. Use browned chorizo meat in breakfast burritos, on pizza, and more. It is great in casseroles as well.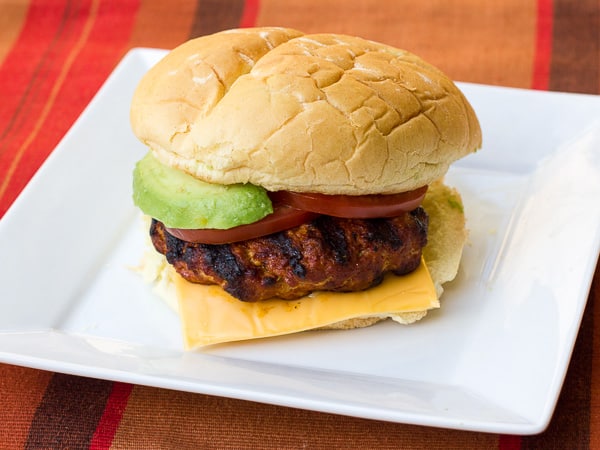 How to Make Mexican Chorizo Sausage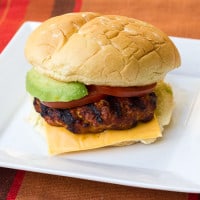 Print
Servings: 4 pounds
Ingredients
4 pounds ground pork
4-6 tbsp chili flakes (guajillo, chipotle, ancho, morita, arbol, etc.)
2 tbsp salt
1 tsp ground coriander
1 tsp ground cumin
1 1/2 tsp oregano
5 garlic cloves
1/3 cup white wine vinegar
Instructions
Add the chilies, salt, coriander, cumin, oregano and garlic to a food processor or blender. Pulse until the garlic is finely chopped and all the spices are evenly mixed. It should resemble a dry, chunky paste.

Mix the ground pork with the spices and vinegar. Use your hands to knead and work the spices right into the meat.

Cover and let rest for 1-2 hours. Knead the meat again to thoroughly mix the seasoning in the meat.

Stuff in sausages, make chorizo burgers, or use in many other Mexican themed dishes.
Notes
If you have a meat grinder, use pork butt or shoulder. Adjust how much fat you grind and add to the meat based on how you will use/cook the chorizo. Sausages are better with more fat. Burgers and chorizo meat cooked up in a skillet are better on the leaner side with less fat.