Similar to a quiche, but with lots of sautéed onions and melted cheese, this Vidalia onion pie is one amazing side dish.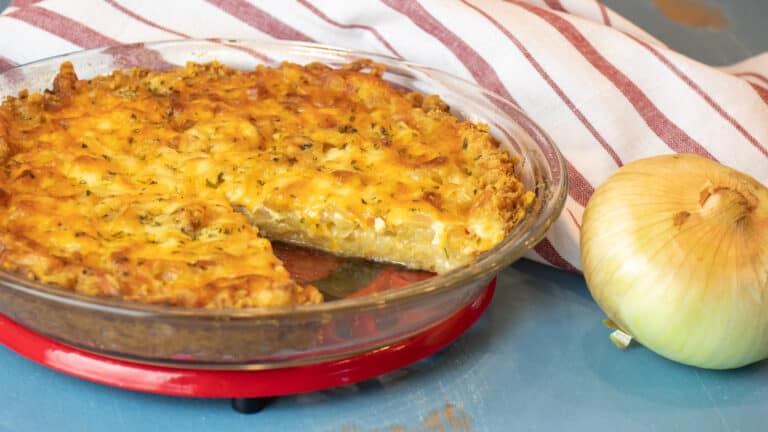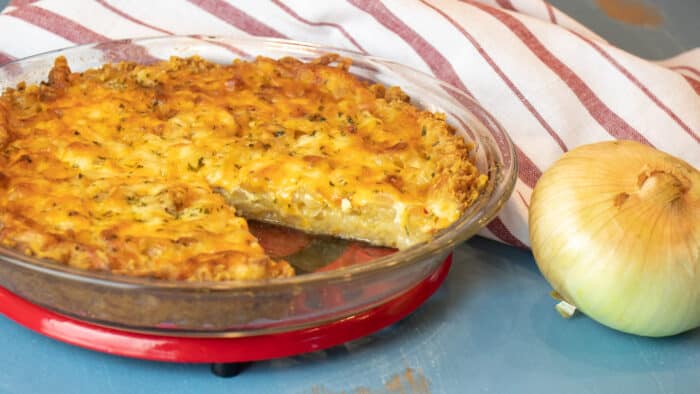 There are so many recipes that I remember my mom cooking when I was a child and over the years, I have tried to learn most of them. Partly to experience those delicious dishes again, but more importantly, I want to pass down these great recipes to my kids as well.

One of my favourite recipes that my mom used to make might sound strange.

Onion pie.

Yup, you heard correctly. It is a pie with onions as the filling. It is actually not that strange of a recipe at all and has been around for many many years. This is a classic side dish that is loved by many.

My mom, like many others out there, use Vidalia onions when making this pie. The sweet onion is ideal for this recipe, so my mom would wait for the Vidalia's to come in season and then, once available, bake this incredible pie. Sweet onions are available year round anymore, so even though I use Vidalia onions, any sweet onion works great.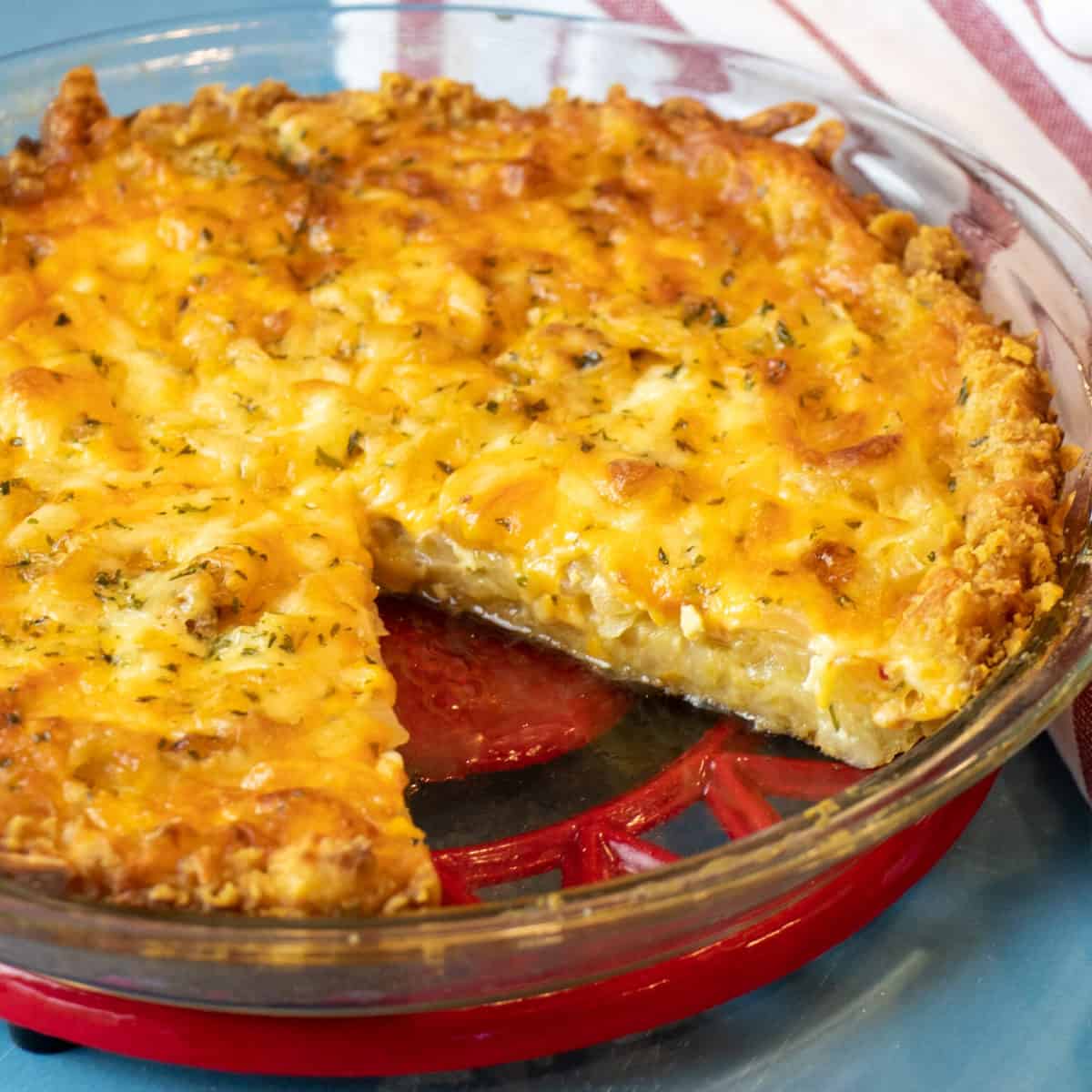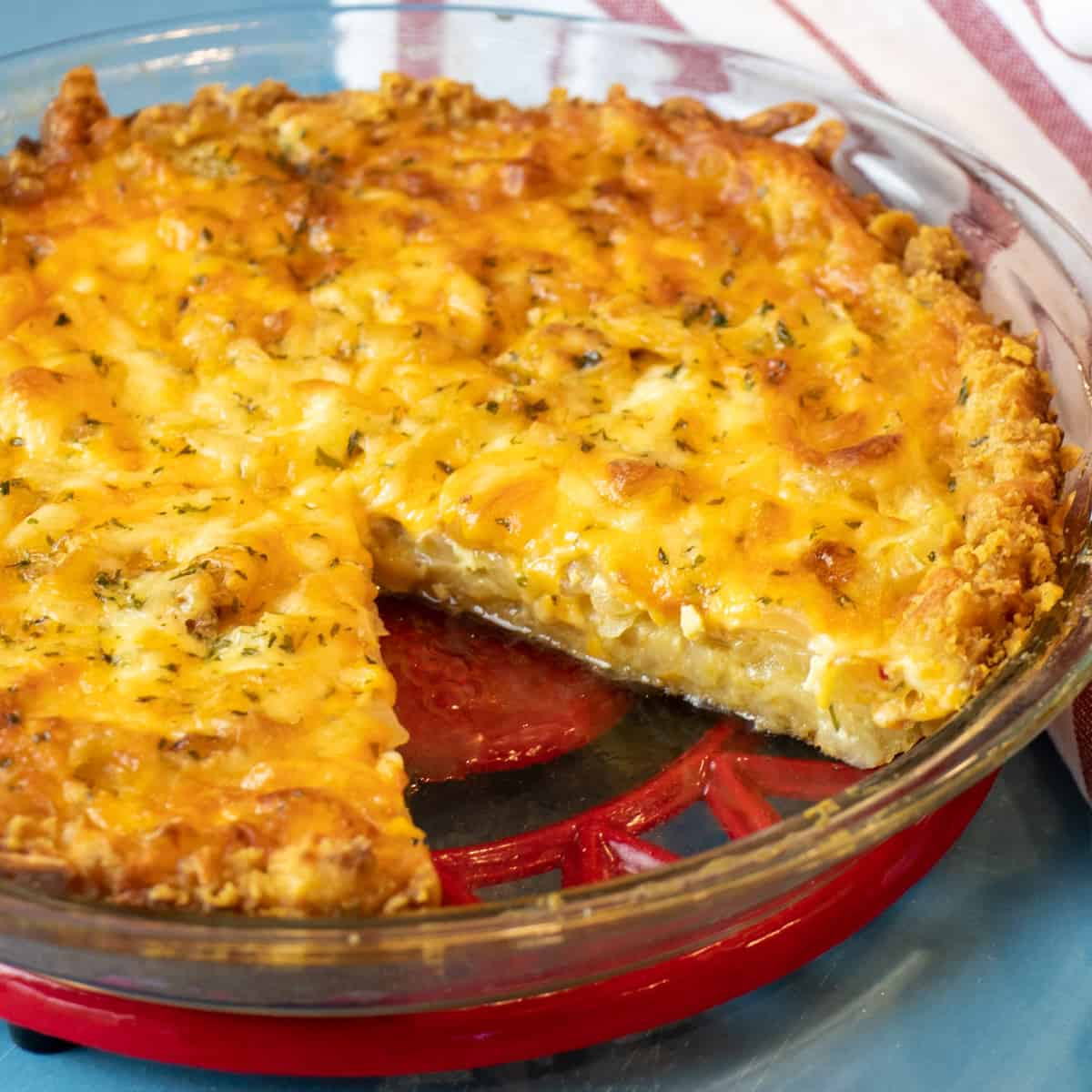 Ingredients for the Pie
This Vidalia onion pie is so delicious. It is somewhat similar to a quiche, but since there is more onion in it than egg, the onion has a more pronounced flavour. It is sweet from the vidalia onions, but savoury at the same time. The cheese is gooey and the cracker crust is so buttery!
To make this pie, you will need:
Crackers (Ritz or saltines work great)
Butter
Vidalia or other sweet onions
Eggs
Milk
Salt
Pepper
Hot sauce
Cheddar cheese
Dry parsley (optional)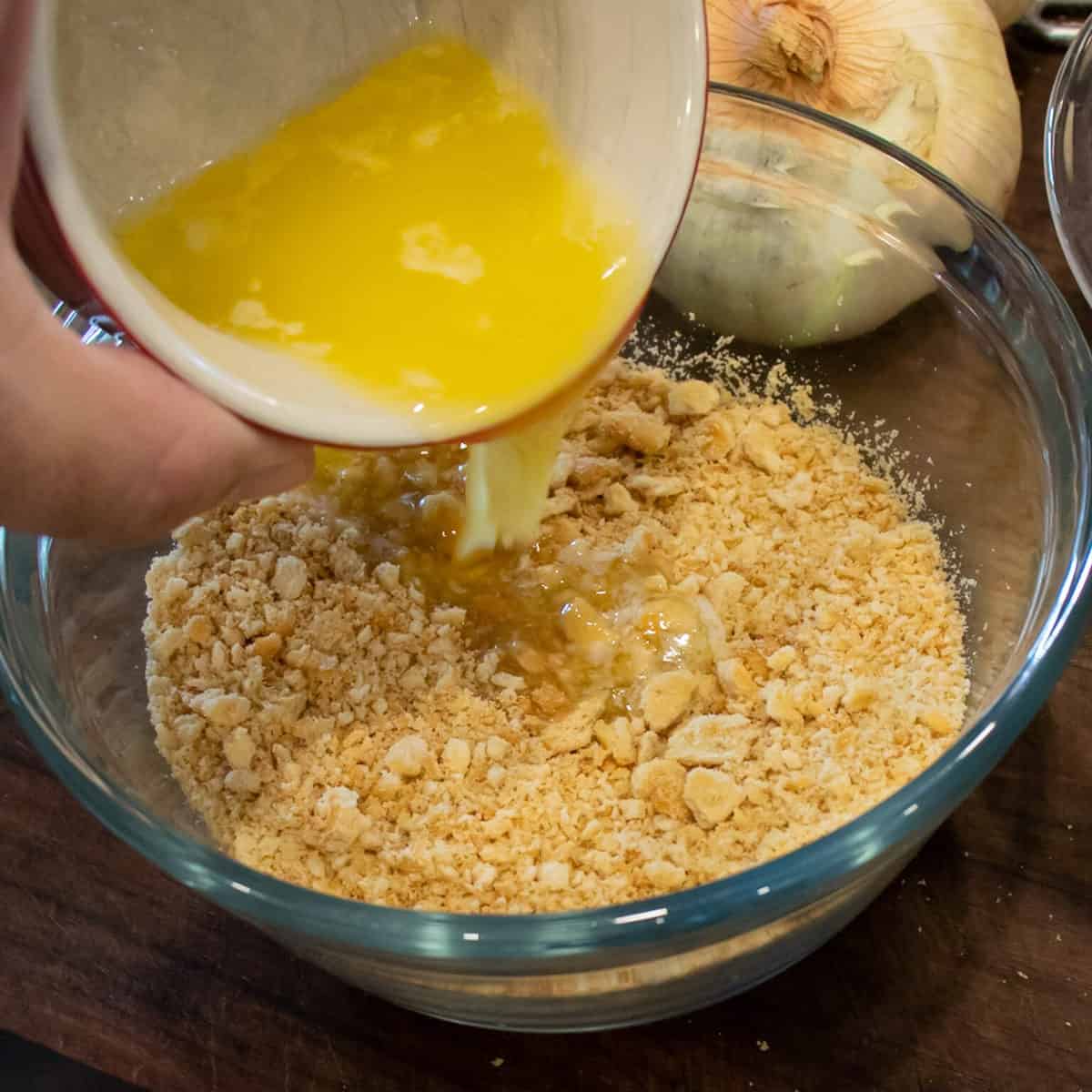 How to Make the Pie Crust
To make the crust for this pie, I crumble a bunch of crackers and then mix in some melted butter. It is simple and works great as a crust for this pie.
My mom used to always use saltine crackers and those work very well. In these photos I used Ritz crackers. Both are great and can work interchangeably.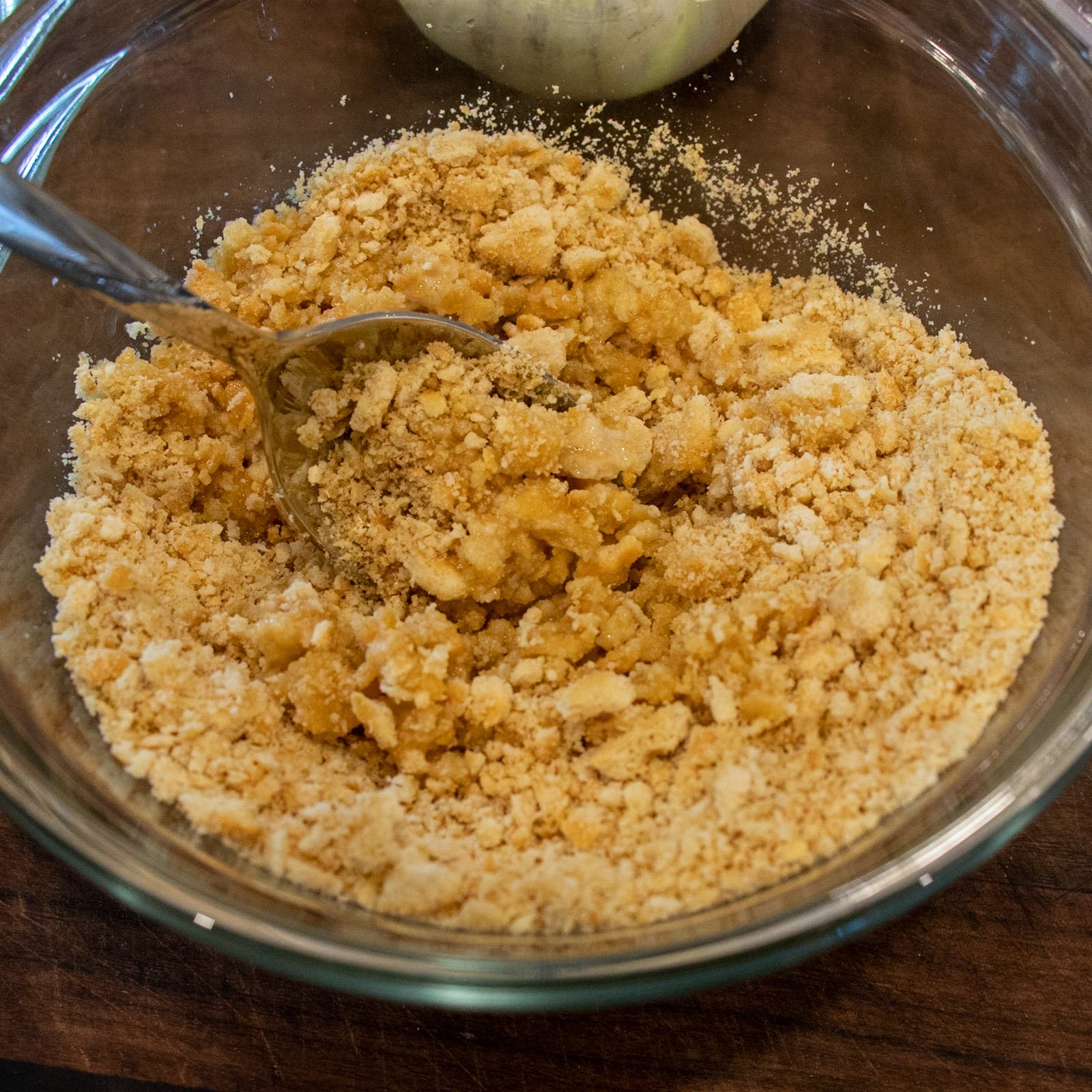 Mix the melted butter in the crushed crackers until all the crumbs are somewhat moist. This allows the crumbs to be pressed into a pie shape.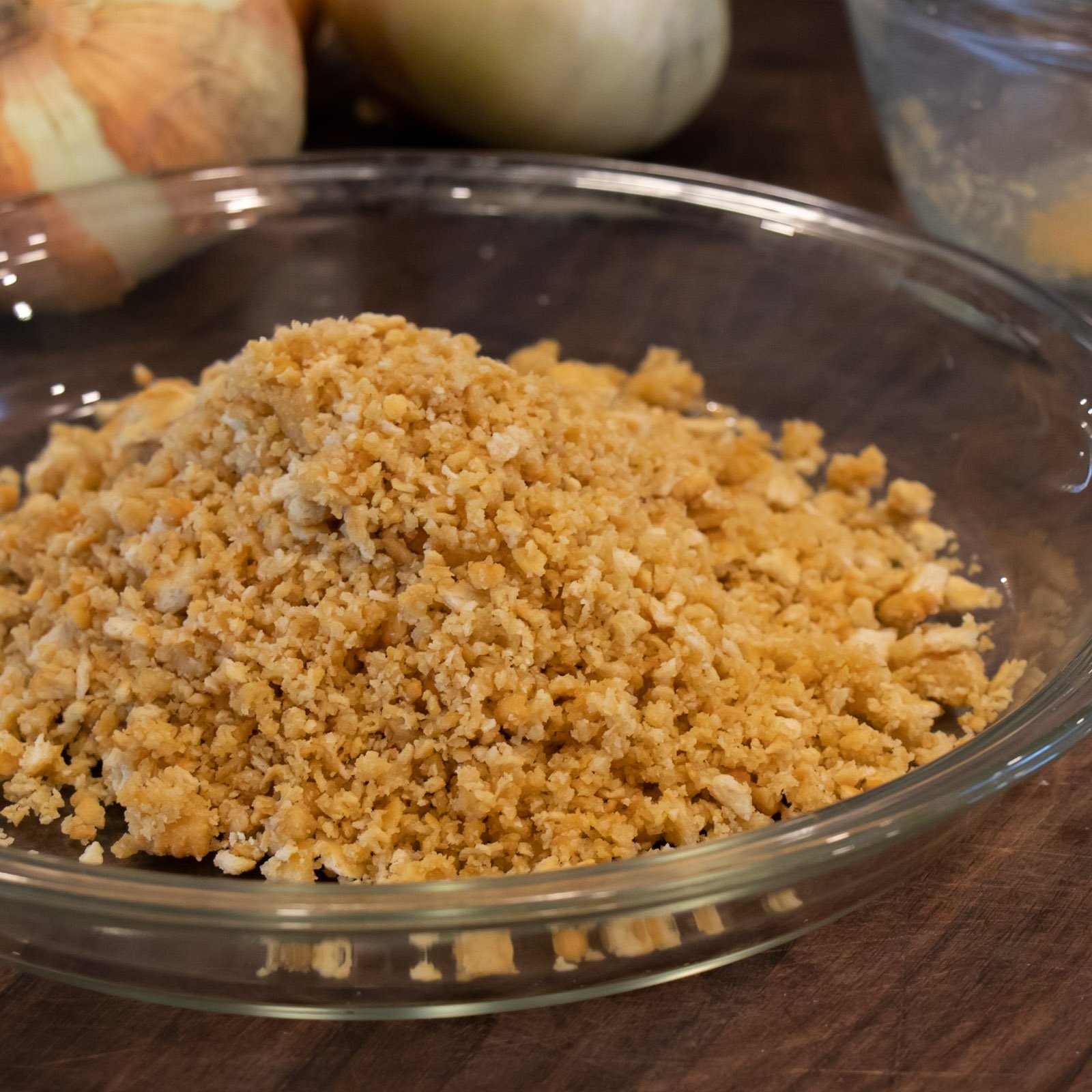 Dump the cracker crumbs into a 9 inch pie pan. This is a shallow pie, so you do not need a deep dish pie pan. I use my old Pyrex 9 inch pie plate and it works perfect.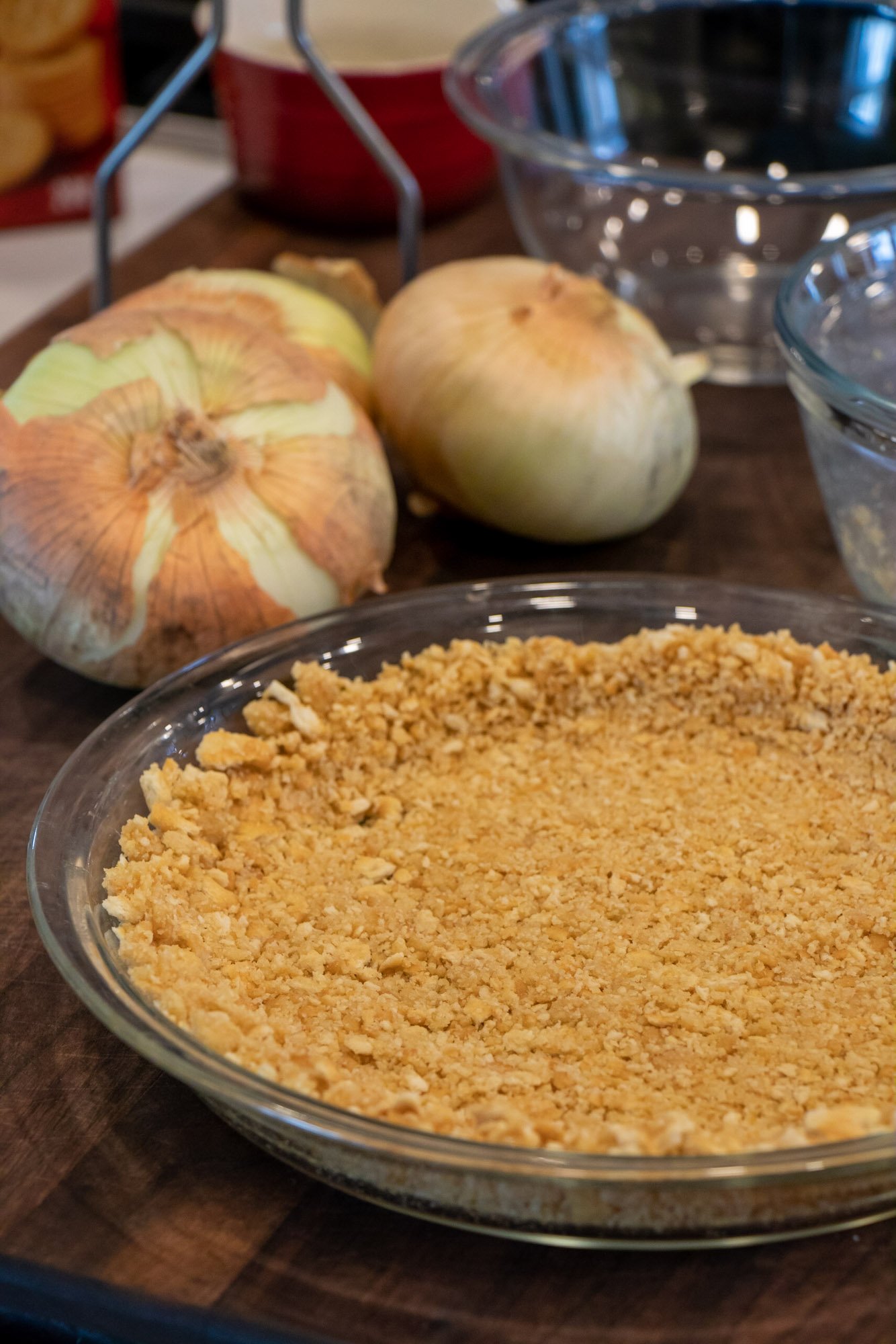 Gently press the crumbs evenly across the bottom of the pie plate and up the sides as well. Try and ensure that the crust is an even layer. Since the cracker crumbs are not a uniform size and there are some larger chunks, do not worry if the crust looks a little rough. It will come together once it is baked.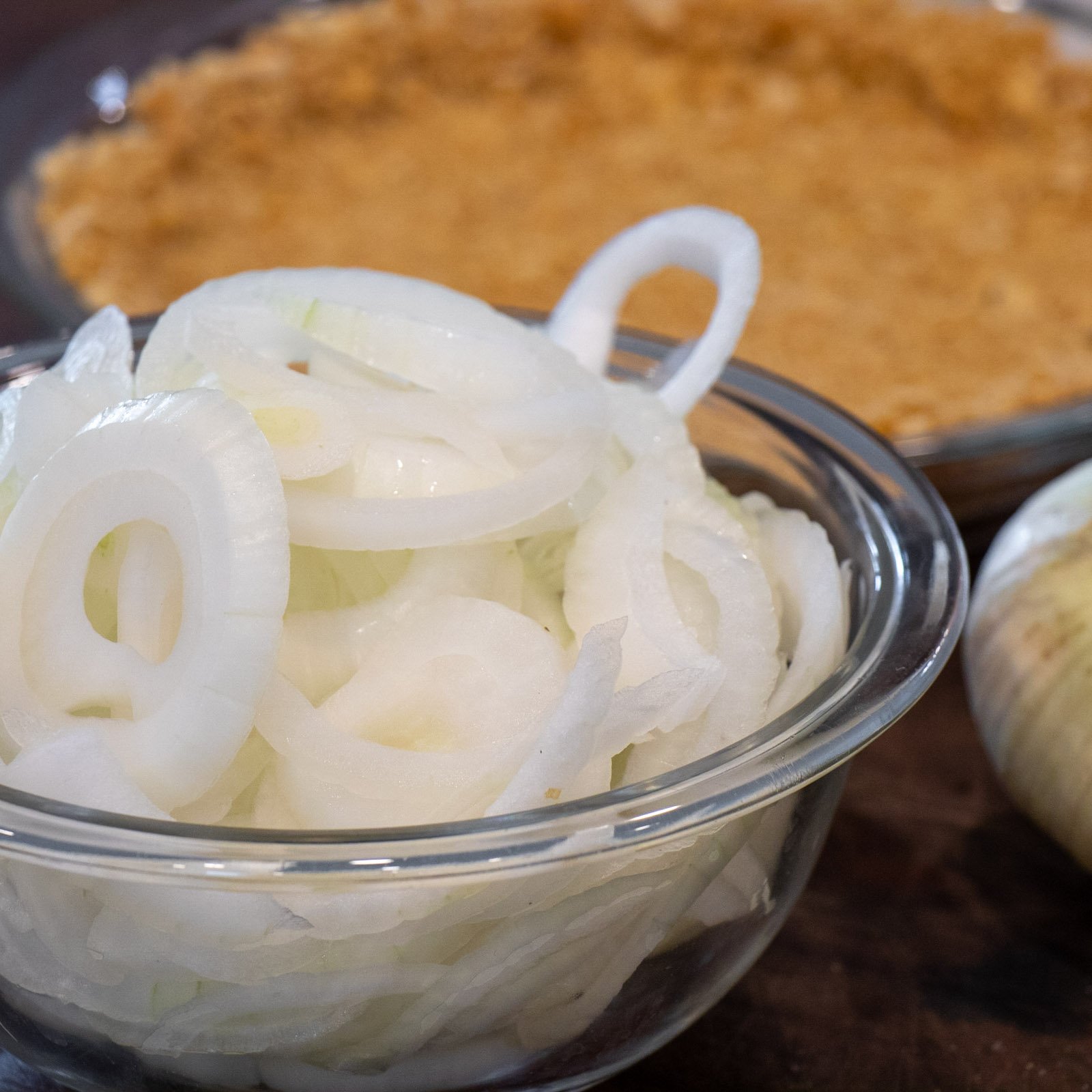 Time to Sauté the Onions!
This pie is best used with sweet onions. I use Vidalia onions because that is what my mom always used, but any sweet onion should work just fine.
Slice the onions fairly thin. The recipe calls for 2 1/2 cups of thin sliced onions. This worked out to be 2 large Vidalia onions.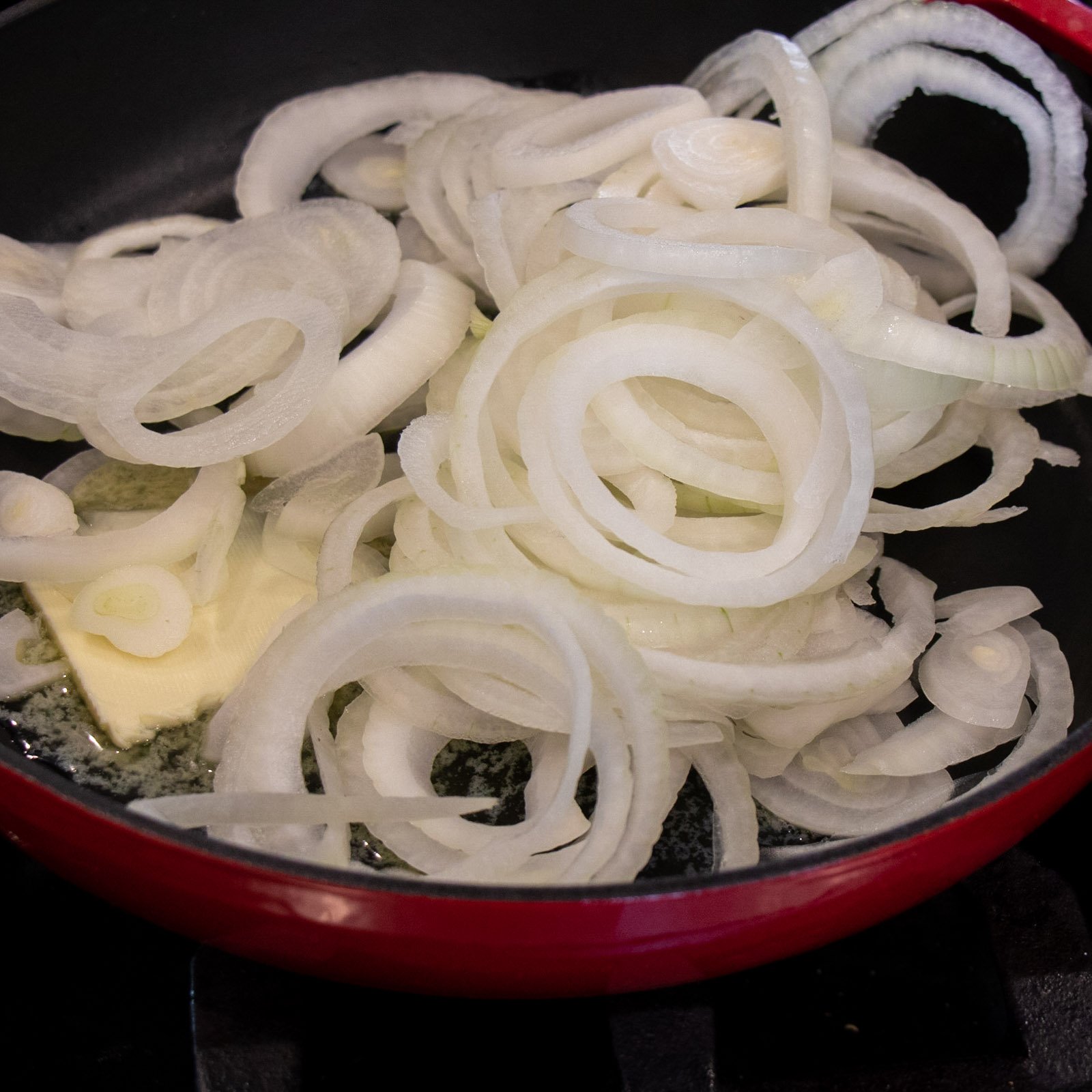 Sauté the onions with 2 tablespoons of butter over medium low heat. I like to have the heat low because I am not wanting to brown the onions too much. Instead, I just want to cook them and get them tender.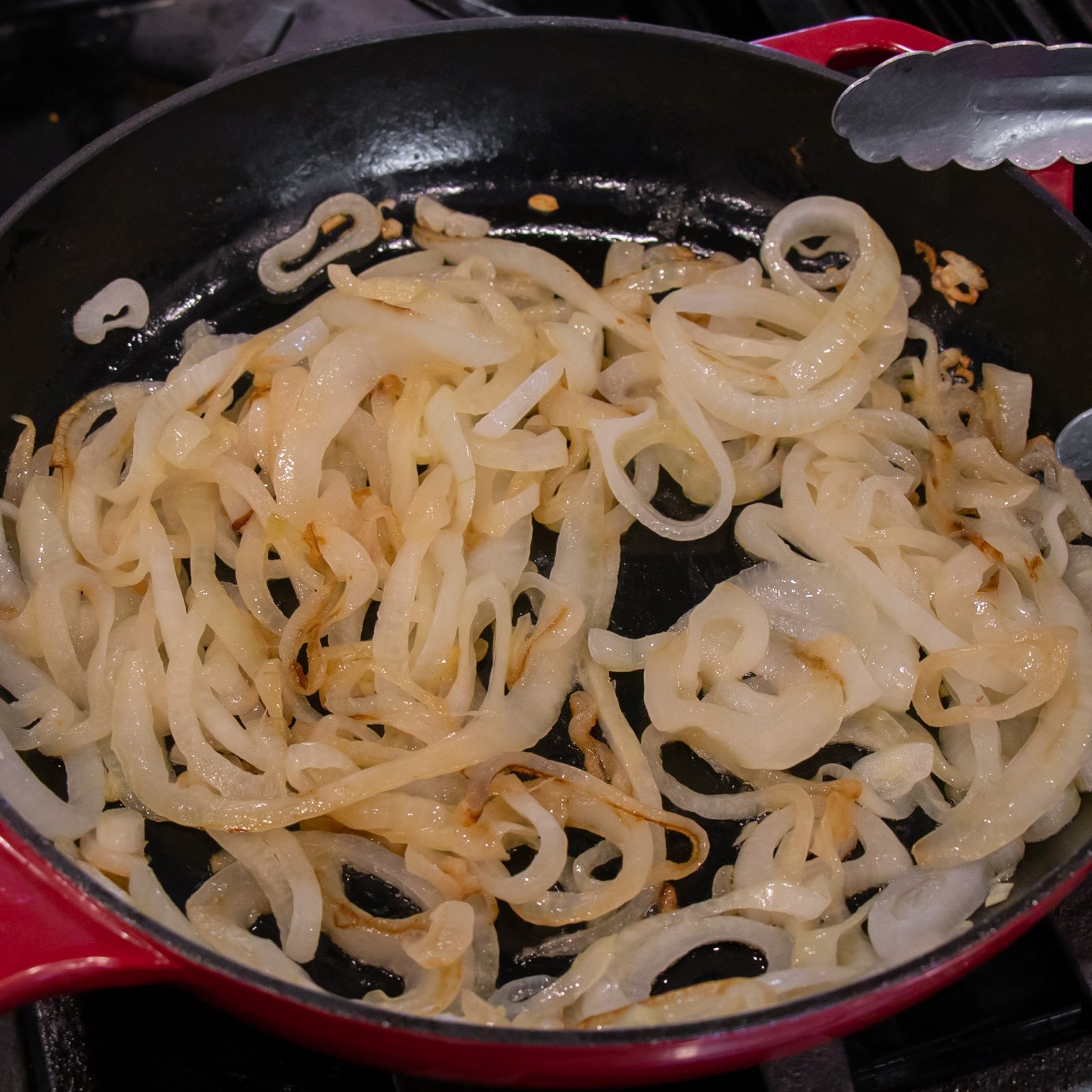 Cook the onions until they are tender, soft and translucent. This should take about 10 minutes or so. Make sure to stir them often.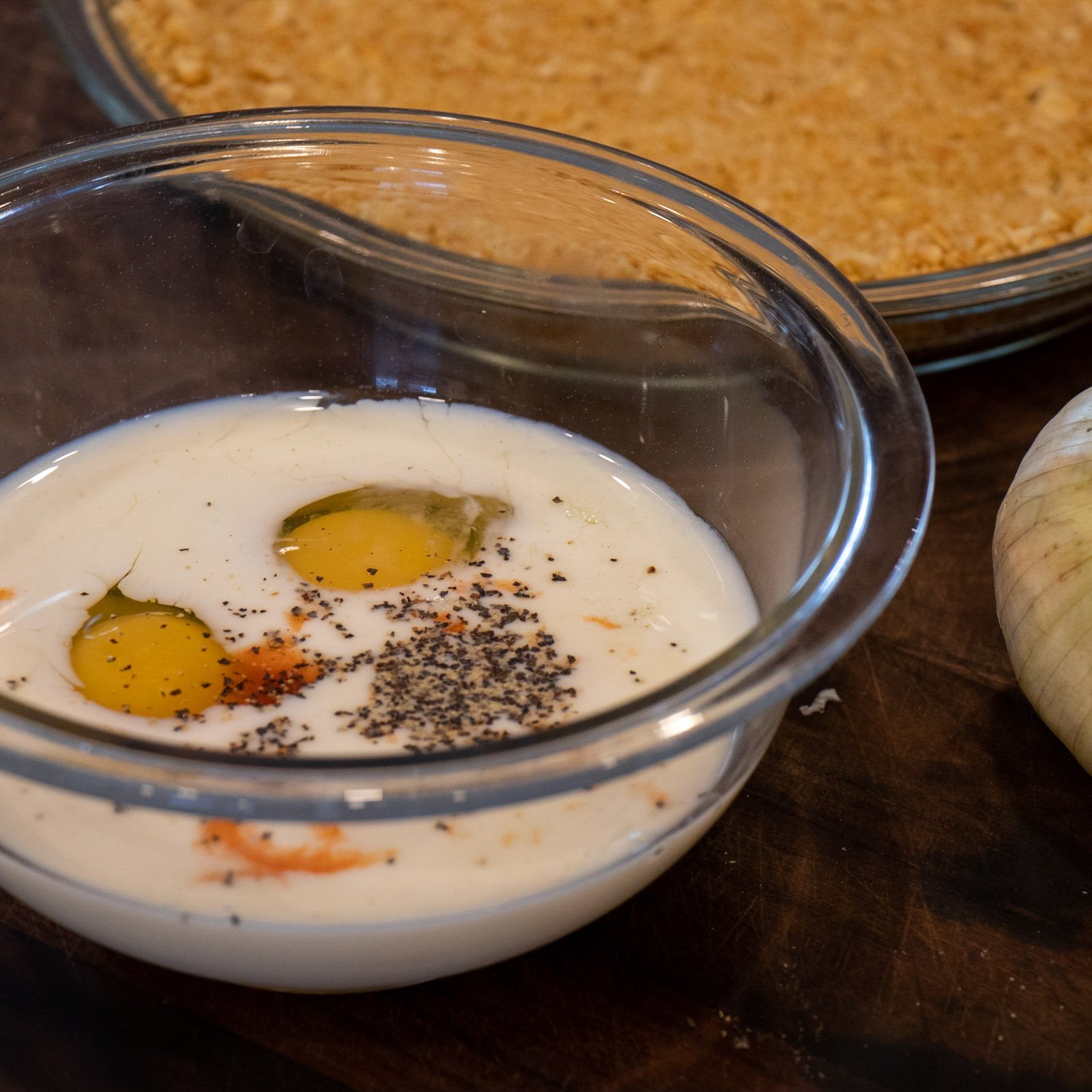 While the onions are cooking, you can get the egg mixture ready. In a separate bowl, mix together the milk, eggs, salt, pepper and hot sauce. Don't worry, the hot sauce does not make this pie spicy. It just gives it a little added depth of flavour.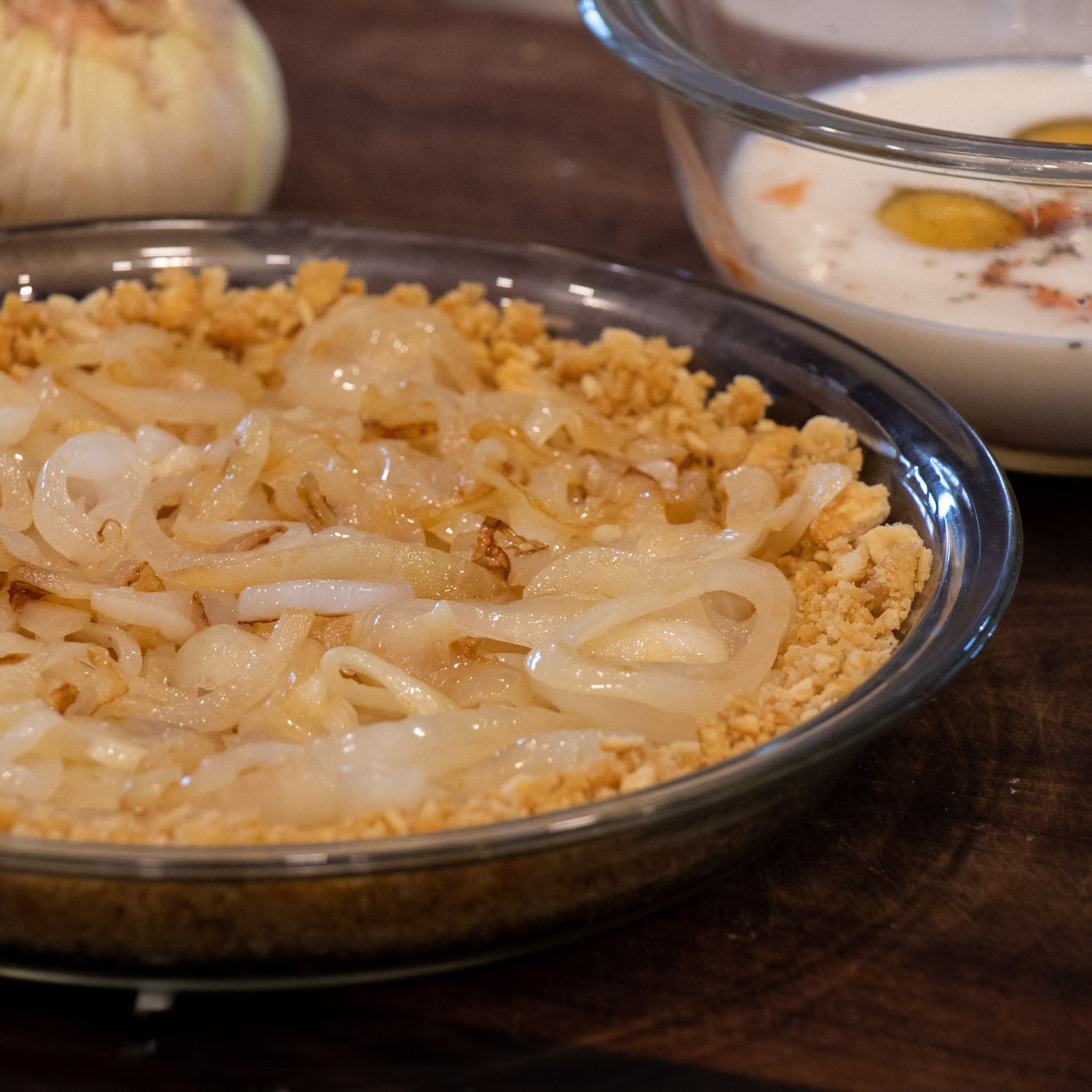 Spread the onions in the pie crust. Try to ensure it is an even layer.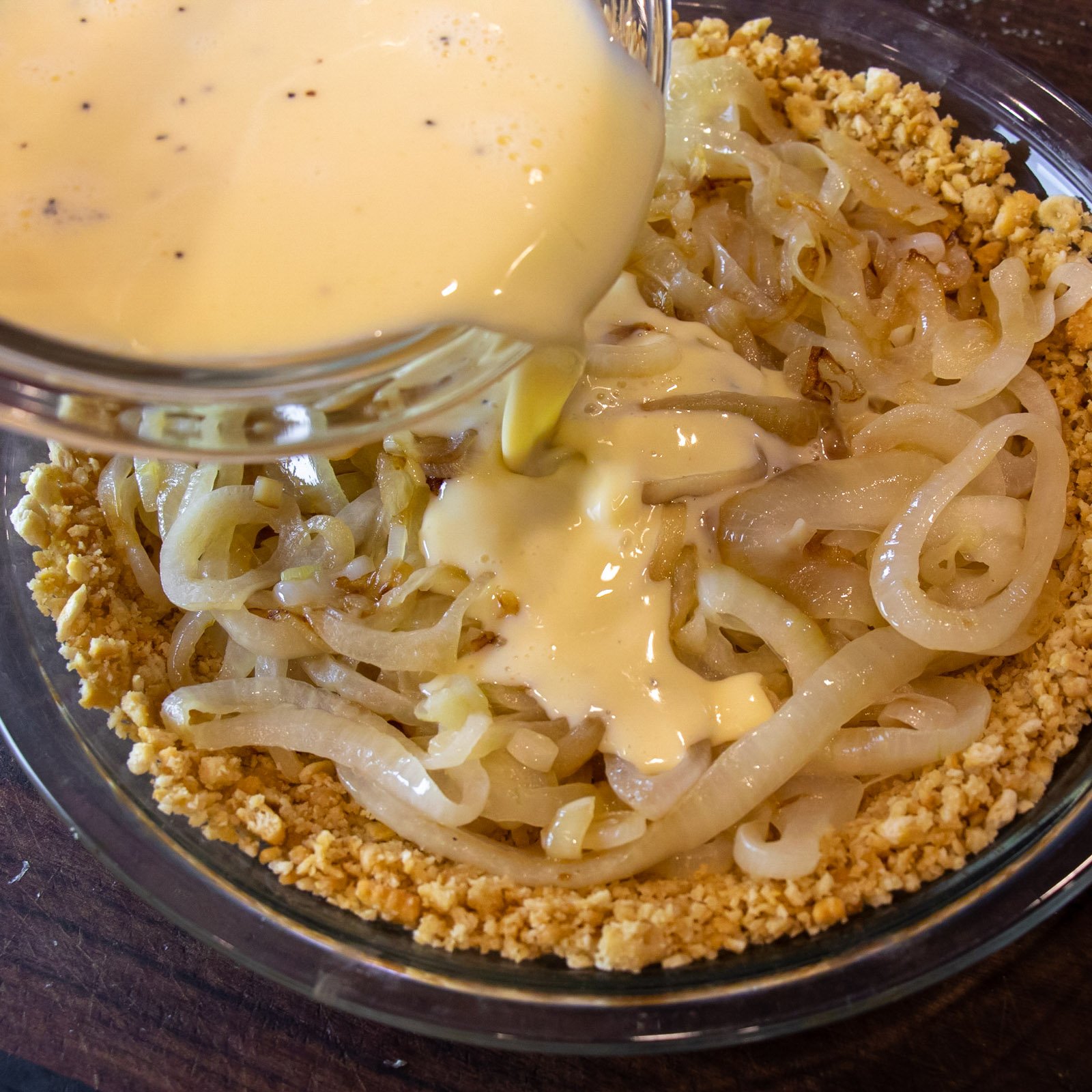 Pour in the whisked egg/milk mixture. Use a spoon or fork to spread the egg mixture so that it evenly covered the pie and works its way around the fried onions.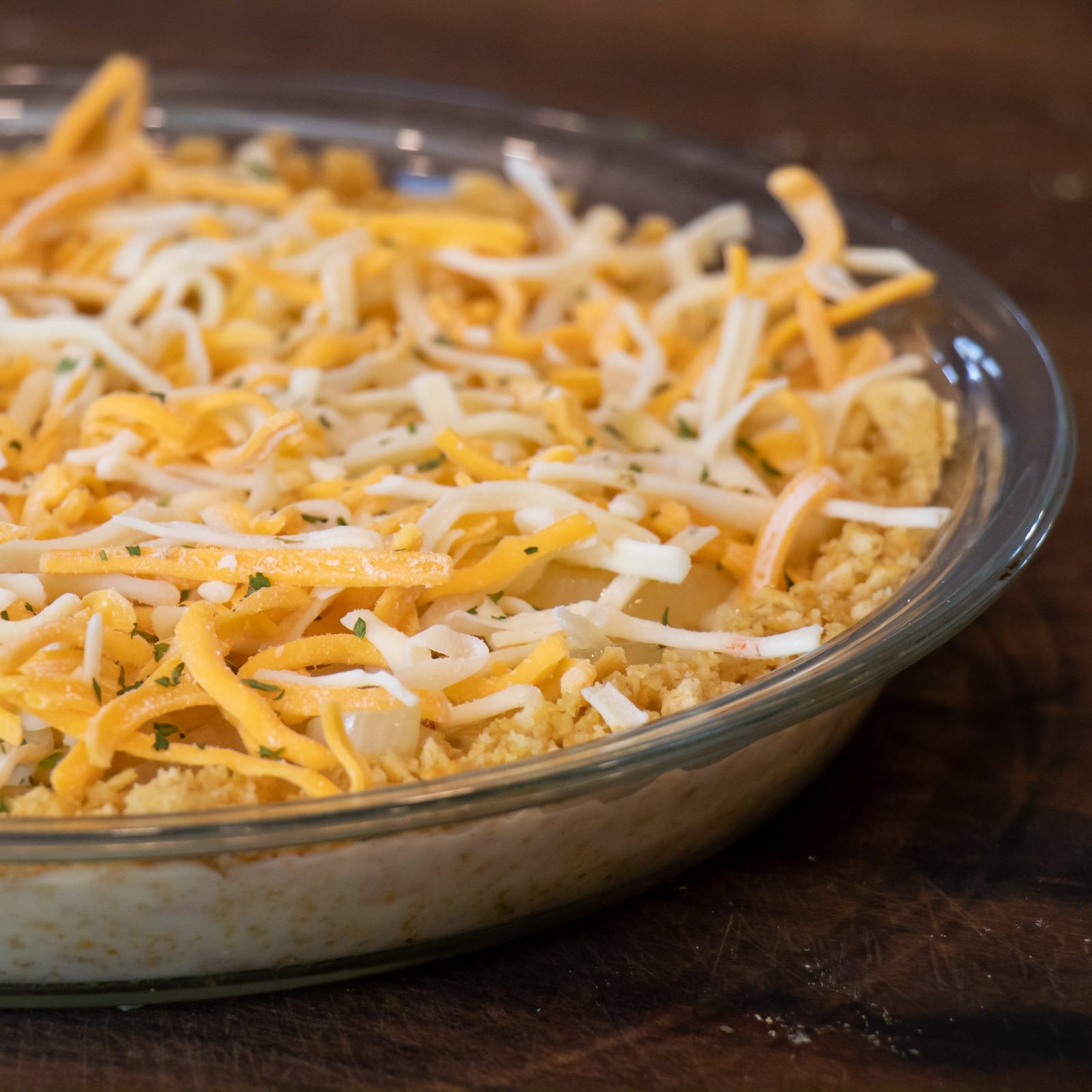 Top with grated cheddar cheese and sprinkle with dry parsley.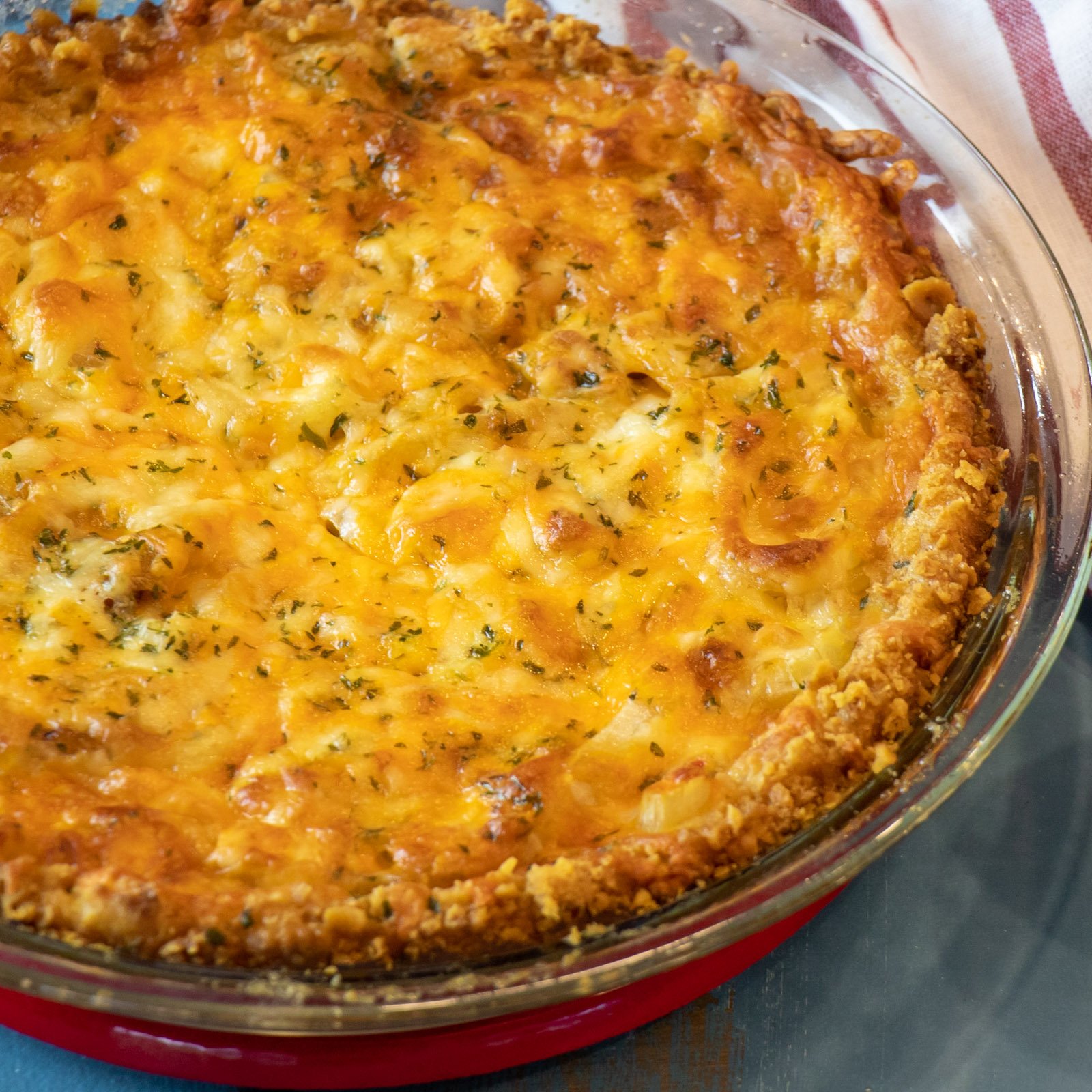 How Long to Bake Vidalia Onion Pie
Bake in a 350F preheated oven for 40 minutes. Once finished, take the pie out and let it rest for 5 minutes.
The pie will puff up as the eggs cook, but will settle right back down once it rests.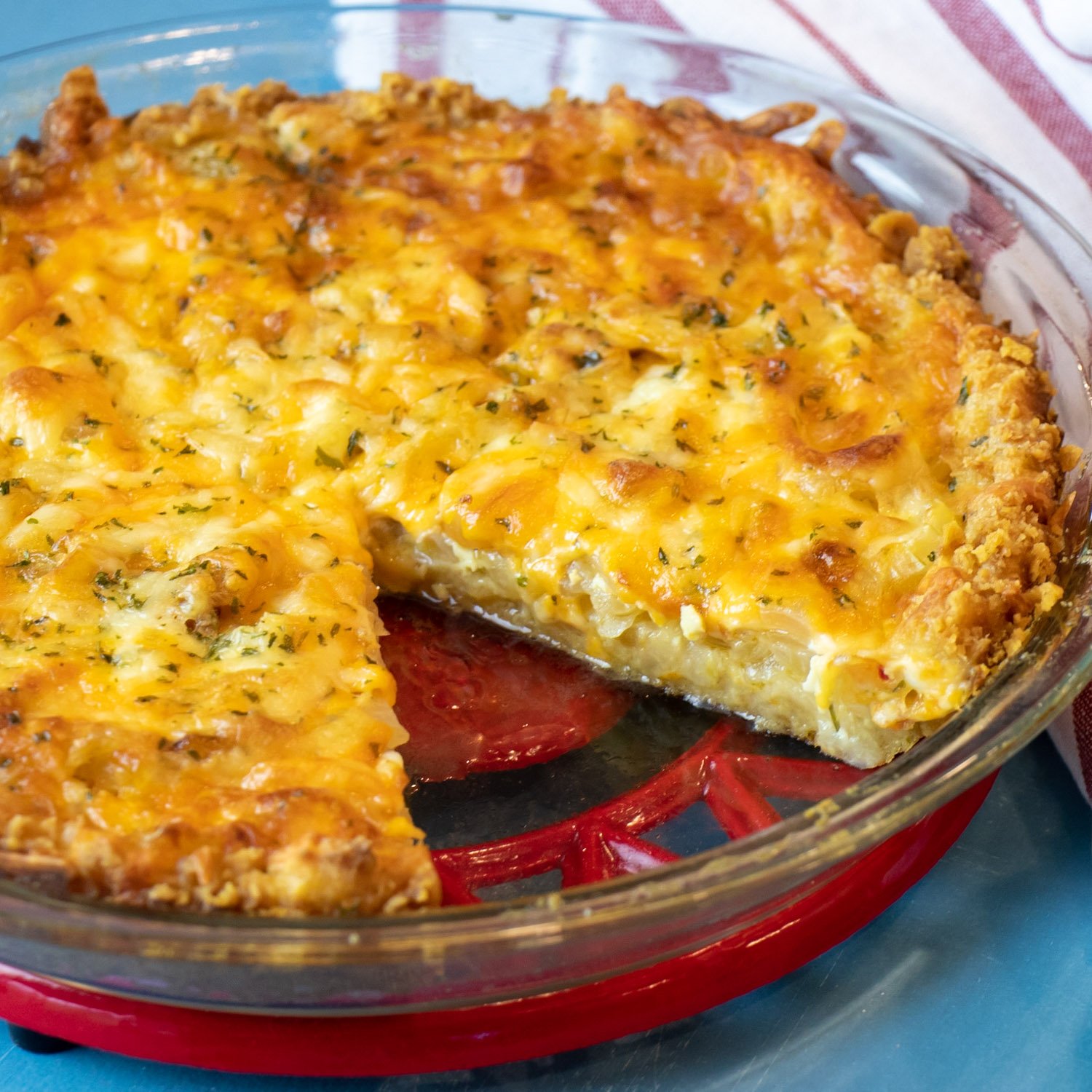 Vidalia onion pie is best served warm and is great for breakfast, brunch and even works very well as a side dish for dinner.
Here are some recipe ideas that will go very well with this pie!
Vidalia Onion Pie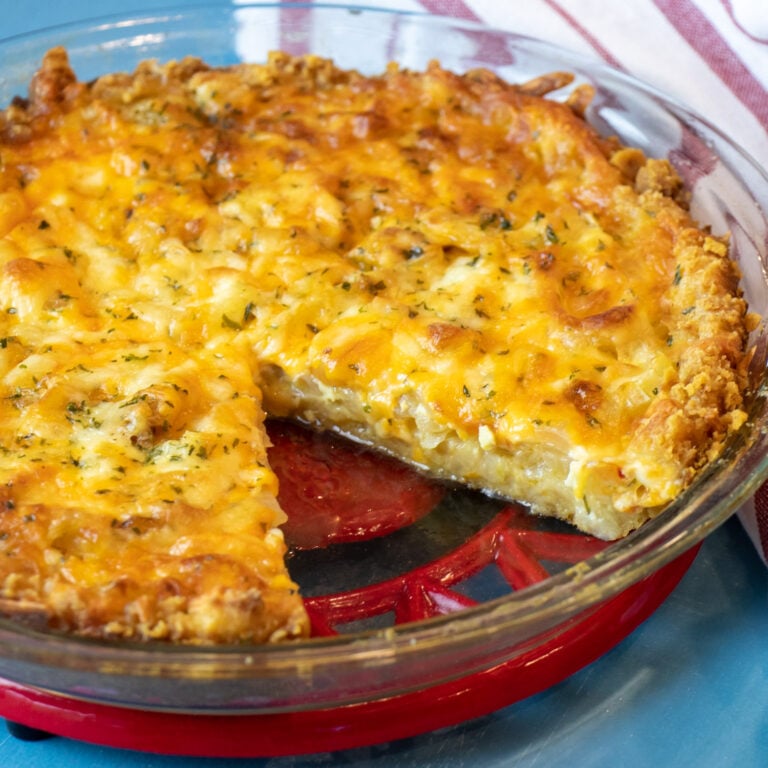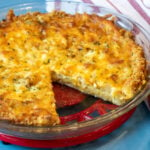 Print
This baked sweet onion pie is a classic southern recipe. Made with Vidalia onions, crackers (Ritz or saltines), eggs, cheese, milk and butter. Delicious savoury pie!
Servings: 8 servings
Ingredients
Pie Crust
2 1/2 cups crumbled crackers , Ritz or saltine crackers
1/3 cup melted butter
Pie Filling
2 tbsp butter
2 1/2 cups thinly sliced vidalia onions
3/4 cup milk
2 eggs
1/2 tsp salt
1/4 tsp black pepper
dash hot sauce
3/4 cup grated cheddar cheese
1/2 tsp dry parsley , optional
Instructions
Preheat oven for 350F.

Mix the melted butter into the crumbled crackers until the butter is absorbed all the crackers are wet with the butter. Evenly spread into a 9 inch pie pan and press on the bottom and along the sides to make a pie shell.

Heat the 2 tbsp butter in a skillet over medium low heat. Add the sliced onions and saute until they are tender. This should take about 10 minutes.

While the onions are sauteeing, whisk together the milk, eggs, salt, pepper and hot sauce in a bowl until well mixed.

Once the onions are tender, evenly spread on the cracker pie crust. Pour egg mixture over the onions in the pie crust. Top with grated cheese and parsley.

Bake in 350F oven for 40 minutes.

Let cool for 5 minutes. Slice and serve.
Nutrition
Per serving:
Calories: 274kcalCarbohydrates: 17gProtein: 7gFat: 20gSaturated Fat: 11gCholesterol: 82mgSodium: 499mgFiber: 1gSugar: 5g