Meatloaf – Classic Homemade Recipe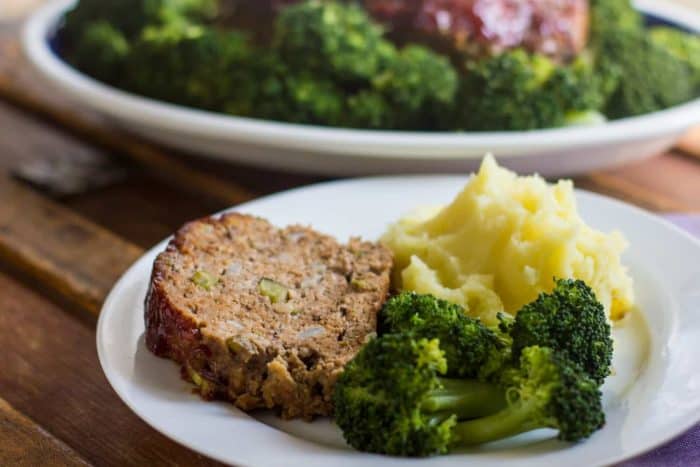 Meatloaf is one of those classic homemade meals that my mom used to make and I loved it so much! Meatloaf is classic comfort food and it is super simple to make with this easy recipe.
This might be the best meatloaf recipe I have made, but it really is just a classic version of meatloaf. Over the years I have tried getting creative with meatloaf but in the end, I find that I crave the meatloaf my mom used to make!
I mix in a little bit of ground pork in with my ground beef. I find that we prefer the taste of the meatloaf with a little bit of pork added. I also add some diced onion and green peppers for flavour. Egg, bread crumbs and milk are very helpful for binding the meatloaf together as well as enhancing the texture.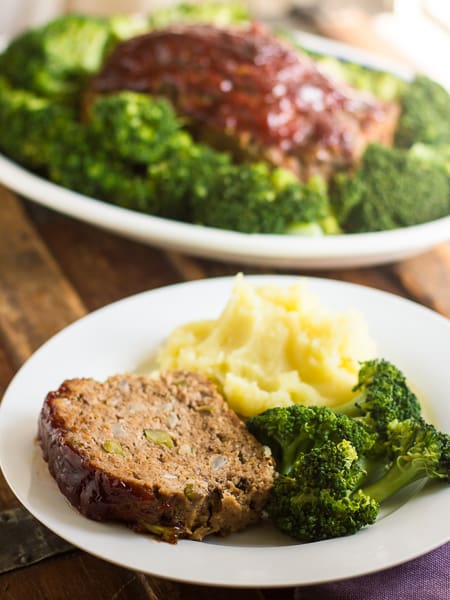 Any time that the temperature outside starts to drop and I am willing to turn on the oven for a couple hours, it is the perfect time for meatloaf! It is starting to feel like fall around here and I was craving some down home comfort food. So, I decided to make some of my favourite meatloaf.
This meatloaf is very easy to make and it takes so little time to mix it together and throw it in a loaf pan. Then, while it is in the oven, you can work on the side dishes to go with the meatloaf.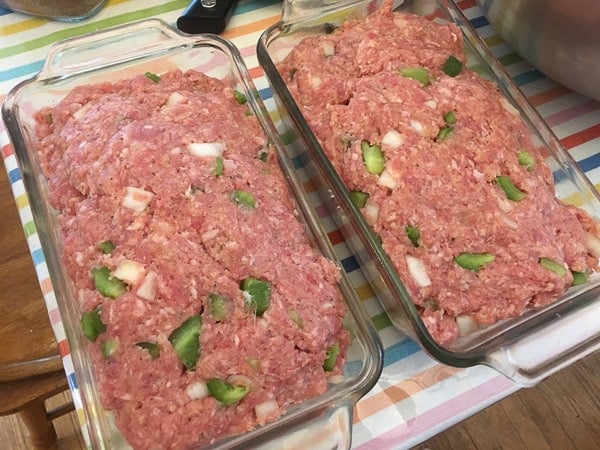 Knead the meatloaf ingredients together in a large bowl until well combined. You want to make sure that the bread crumbs, egg and milk are all thoroughly incorporated into the meat.
Press the meat mixture into a loaf pan and form the meat into the shape of a loaf.
One meatloaf is never enough for our family. Plus, since the oven is already going, it just makes sense to add another meatloaf!
I double this recipe to make 2 meatloaves.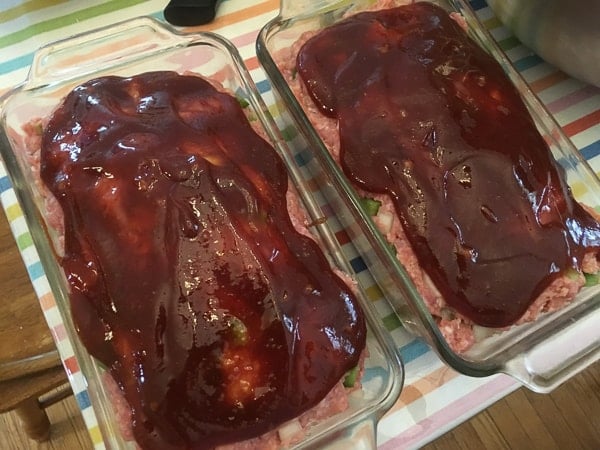 In a bowl, stir the ketchup, BBQ sauce, brown sugar, molasses and chili powder. Then spoon the sauce all over the meatloaf.
These guys are ready to go in the oven. I bake in a 350F preheated oven.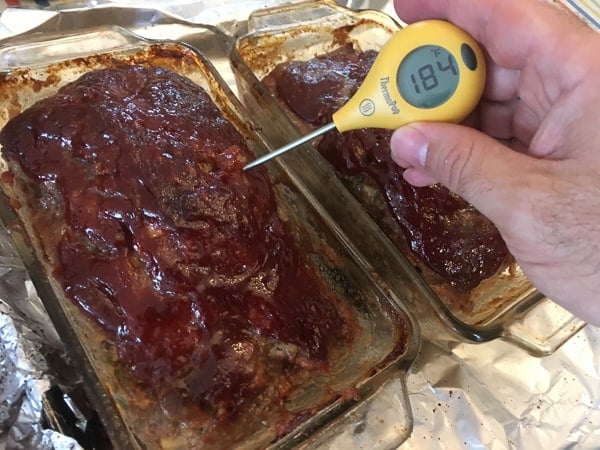 I use a digital thermometer to verify when the meatloaf is cooked through completely. It needs to reach an internal temperature of 165F and this takes at anywhere from 1 1/2 hours up to maybe 2 hours.
While some meat dries out when cooked well beyond the target temperature, ground beef does not and I actually find that I prefer the texture and taste of the meatloaf once the internal temperature is around 180F.
So delicious!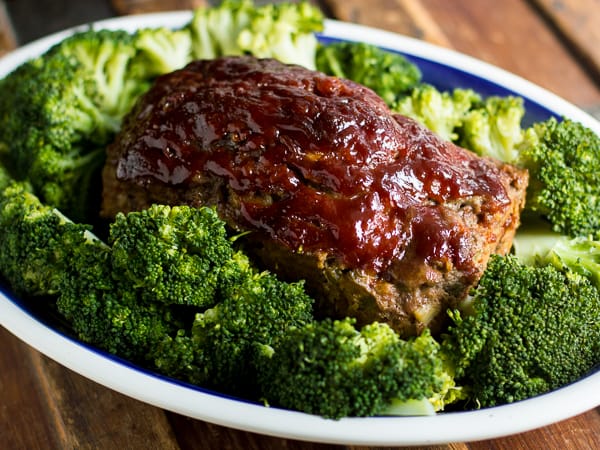 Once out of the oven, this meatloaf is ready to be served. You can let it rest for 5 minutes or so, but really, it is not needed.
Use a long sharp knife to cut the meatloaf into portion sized slices.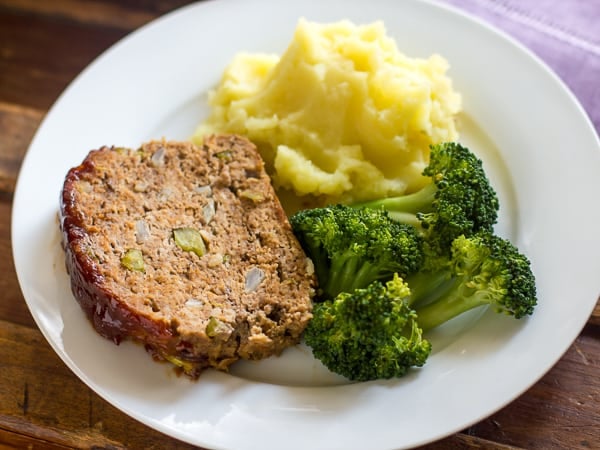 Since meatloaf is like the ultimate in comfort food, I find it goes great with mashed potatoes and steamed veggies.
A plate like the one in this picture so reminds me of meals I had as a kid. This is some classic home country cooking.
One other thing that is great about meatloaf is that it reheats very well. Any leftovers can be put in the fridge and reheated the next day.
If there are any leftovers that is!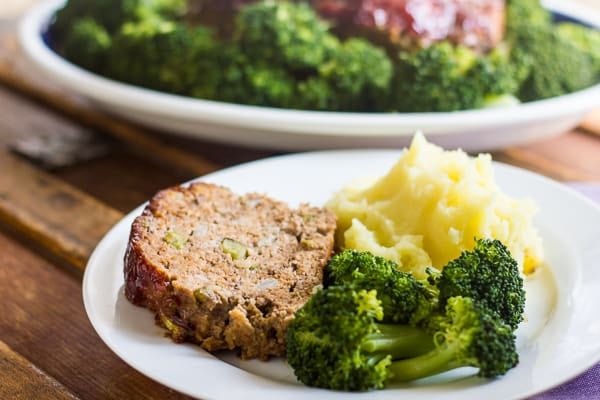 Meatloaf - How to make this classic recipe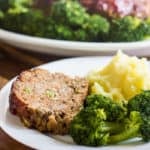 Print
Meatloaf that tastes like your mom made it could not be any easier! Simple recipe using both ground beef and ground pork. Super sweet BBQ glaze on top.
Servings: 6
Ingredients
Meatloaf
1 1/2 pounds ground beef
1/2 pound ground pork
1 onion , diced finely
1/2 green pepper , diced finely
2 eggs
1 cup bread crumbs
1/3 cup milk
1 tsp salt
1 tsp chili powder
1/2 tsp black pepper
1/2 tsp garlic powder
Sauce
3 tbsp ketchup
2 tbsp BBQ sauce
2 tbsp brown sugar
1 tbsp molasses
1/2 tbsp chili powder
Instructions
Preheat oven to 350F.

Knead all the meatloaf ingredients together until well combined. Dump mixture into a loaf pan and press down to form the shape of a loaf.

In a small bowl, stir together all the sauce ingredients until the brown sugar is dissolved. Spoon on top of the loaf and spread so the meatloaf is evenly covered in the sauce.

Bake in the oven for about 1 1/2 hours or until the internal temperature is at least 165F.
Nutrition
Per serving:
Calories: 411.79kcalCarbohydrates: 27.43gProtein: 35.96gFat: 16.71gSaturated Fat: 6.5gCholesterol: 153.44mgSodium: 789.91mgFiber: 1.73gSugar: 12.89g