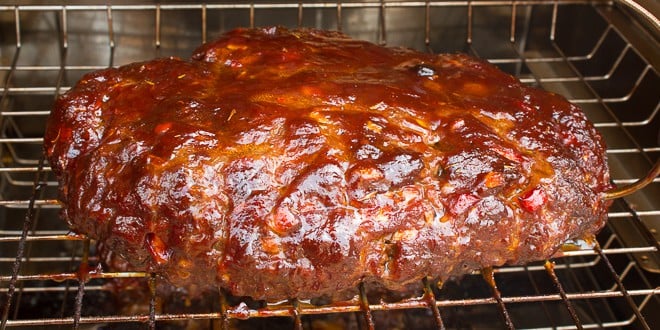 I look for any reason that I can to fire up the smoker. A couple days ago, I saw that ground beef was on sale and I bought about 10 pounds of the meat. Meatloaf is a glorious thing in my mind, as it as much a comfort food as any other dish out there. Now meatloaf is delicious in the oven, there is no denying that. But, just imagine how incredible it could be smoked!
Oh yeah!
This smoked meatloaf recipe is very similar to my traditional oven smoked recipe. There are onions, peppers and garlic in the meat mixture. Instead of milk (which I normally add to my meatloaf), I added some BBQ sauce.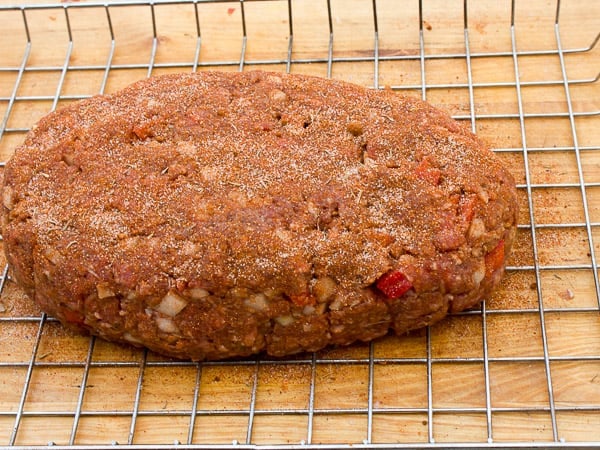 Shape the meatloaf into a log/loaf shape and place it on the smoker racks. Then, I like to shake some BBQ rub on the meatloaf for extra spice and flavor. There is no 'right' rub for this, but I like to use the rub that I also use for ribs and pork butts. Here is my recipe for Steve's BBQ Rub.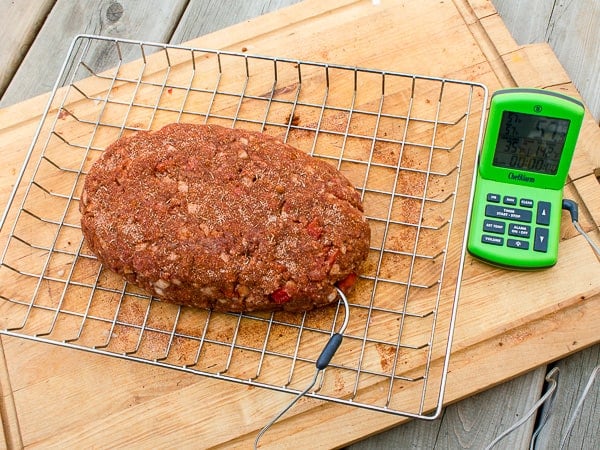 One of the most important tools for any smoking enthusiast is a digital thermometer. I love ThermoWorks and as seen in the picture, I use their ChefAlarm all the time! For the meatloaf, stick the thermometer probe in so that it is into the center area of the meat.
Start up your smoker and get it up to 250F. Now, regarding wood choice for this smoke, I used hickory, but really, almost any wood will work. My preference for a meatloaf would be hickory, pecan, mesquite, maple or oak.
Looking at the picture above, you can see that I smoked 3 meatloaves. Anytime I have the Bradley Smoker going, I like to fill it as much as possible. One of the meatloaves, I wrapped with a bacon weave. Oh yeah!
This was my first smoke for my new Bradley Original Smoker. It is quite obvious as there is still the silvery shine of the smoker walls! You should see how dark the walls are on my other smoker.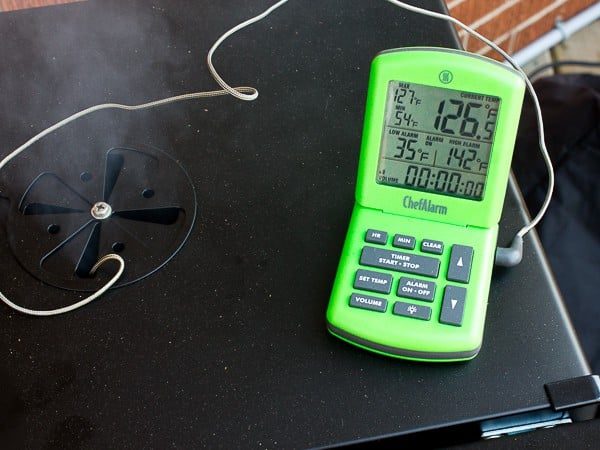 I placed my thermometer on the top of the smoker and the cable ran down through the smoke vent down to the meat. I set the smoker to go off at 142F. Obviously the meat is not done at that temperature, as it needs to go to an internal temperature of 160F. But, at 142F, I brushed on some BBQ sauce.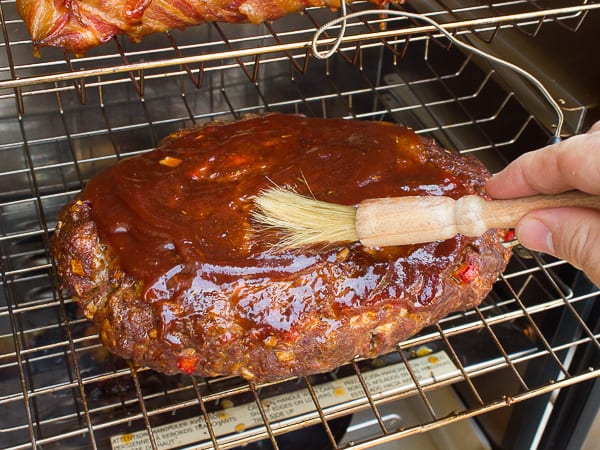 Once the 142F was reached, the ChefAlarm started beeping and it was time to brush on the sauce. Opening the smoker doors released an incredible aroma. The meatloaf smelled amazing and they looked pretty awesome as well!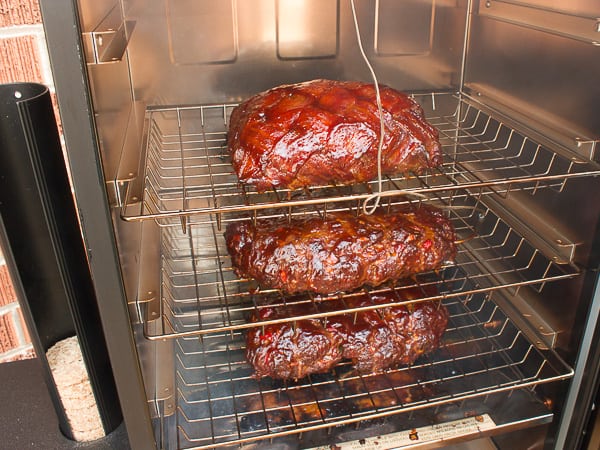 Midway, during the smoke process, I flip the racks around so that the meatloaf on the bottom rack was moved to the top. This just ensures an even smoke and cook between all the meatloaves.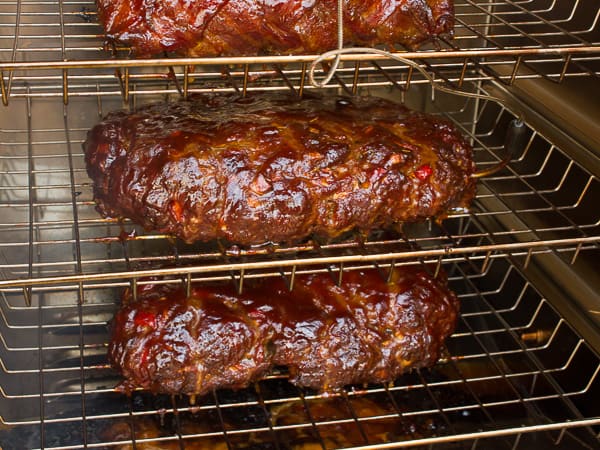 Once the meatloaves reached 160F they were ready to be devoured! The sauce thickened on the meat and created a sweet BBQ glaze. These were perfect, sliced and served with mashed potatoes and coleslaw. I also cut a few slices and made smoked meatloaf sandwiches! I enjoy meatloaves cooked in the oven, but smoking them took it to a whole new level.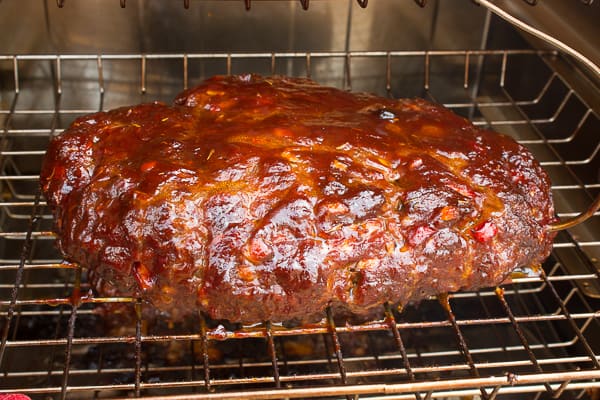 Smoked Meatloaf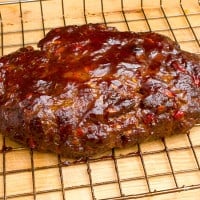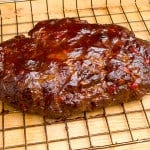 Print
Servings: 3 -4
Ingredients
2 pounds lean ground beef
1 onion , minced
1 red pepper , minced
3 garlic cloves minced
1 egg , slightly beaten
2/3 cup BBQ sauce , divided
1/2 cup bread crumbs
1 tsp salt
1/2 tsp black pepper
1/4 tsp cayenne pepper
3 tbsp BBQ rub
Instructions
In a large bowl, add the ground beef, onion, pepper, garlic, egg, 1/3 cup BBQ sauce, bread crumbs, salt, pepper and cayenne.

Using your hands, knead the meat mixture until everything is well combined.

Mold the meat into a log/loaf shape and sprinkle with BBQ rub.

Start up your smoker and get it to 250F. You can use many different types of wood (hickory, pecan, maple, mesquite). I used hickory for this smoke.

Place meatloaf in smoker once the smoker reaches 250F.

Brush with remaining 1/3 cup BBQ sauce after about 2 hours of smoking.

Remove when the internal temperature is at 160F.