Cheesy Caramelized Onion and Portobello Mushroom Smoked Fatty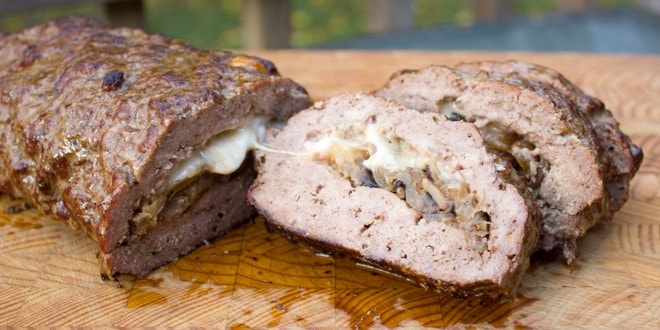 One of my favourite things to smoke is a fatty. Essentially, a fatty is some ground beef or other meat shaped into a log or meatloaf and then smoked. It is common to stuff the meat with cheese, sautéed veggies, other meat (like ham, pepperoni, etc.). The possibilities are endless and I have made many different kinds in the past.
This recipe uses a mixture of ground beef and pork. I find that a ratio of 2:1 of beef to pork results in the best flavour and texture for a fatty. The stuffing is made with caramelized onions and portobello mushrooms along with a healthy amount of mozzarella cheese.
This fatty is crazy delicious. The meat is total smoky goodness and the stuffing is packed with rich flavour.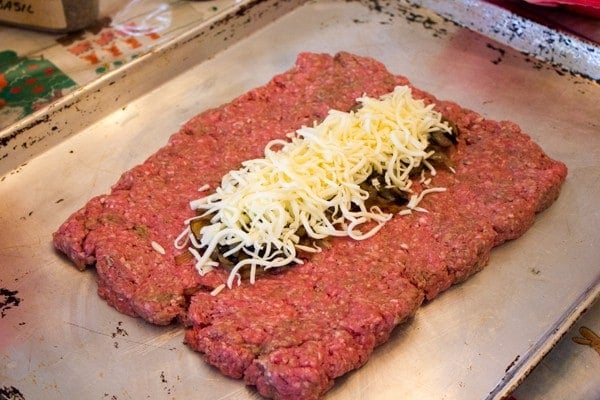 Shape or roll the meat mixture into a 10×10 inch square. If desired, roll in a large freezer bag or on parchment paper so the meat will roll into the fatty shape easily. Spread the caramelized onions and mushrooms along the middle of the meat. Top the filling with grated cheese. Roll up the meat into a log shape and make sure none of the filling is visible. Place on the smoker rack.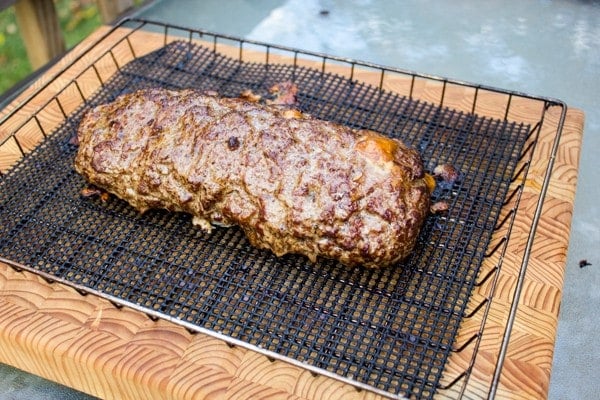 I smoke my fatties at 250F. I have lots of different types of wood, but I tend to use hickory or maple most often for fatties.
Smoke until the internal temperature reaches 165F. This should take about 2 1/2 hours. Obviously, this time depends on the smoker used, the outside temperature and how much other stuff is in the smoker.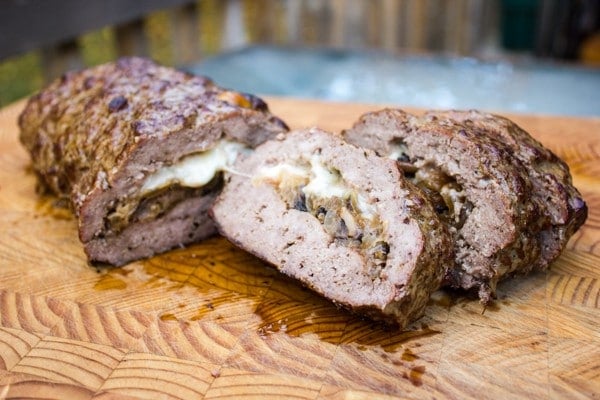 Cheesy Caramelized Onion and Portobello Mushroom Smoked Fatty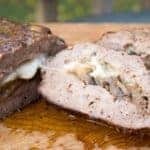 Print
Ingredients
3 tbsp butter
2 onions , minced
2 portobello mushrooms , diced very finely
1 pound ground beef
1/2 pound ground pork
2 tbsp Worcestershire sauce
1 tbsp balsamic vinegar
1/2 tsp garlic powder
1/2 tsp dried oregano
1/2 dried thyme
1/2 tsp ground black pepper
1 tsp salt
1 1/2 cups grated mozzarella cheese
Instructions
Melt butter in a saucepan on medium heat. Add onions and portobello mushrooms. Saute until they are caramelized. Set aside to come to room temperature.

Mix the ground beef, ground pork, worcestershire sauce, balsamic vinegar, garlic powder, oregano, thyme, pepper and salt until well combined. Roll the meat mixture into a 10x10 inch square. Roll in a large freezer bag or on parchment paper so the meat will roll into the fatty easily.

Spread the onions and mushroom mixture in the middle of the sausage meat. Sprinkle the grated mozzarella on top of the veggies.

Roll up the fatty so that the cheese, onions and mushrooms are completely surrounded by the meat mixture. Place the fatty on a smoker rack.

Start up your smoker using wood of choice and get it to 250F. Smoke the fatty for about 2 1/2 hours. Remove when the internal temperature is at 165F.