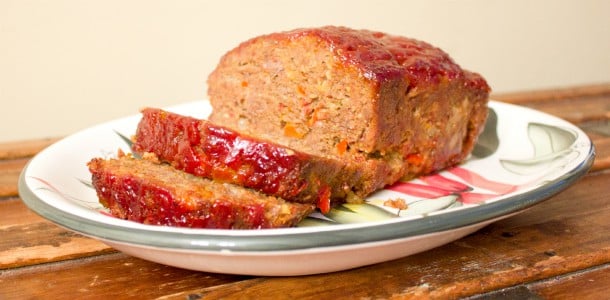 I am not a watcher of the TV show The Simpsons but I do know that Homer is known for drooling over certain foods. I have a similar experience to Homer when I smell bacon cooking. I LOVE bacon. I know the imortance of eating healthy and limiting the amount of fat we consume, but I have a weakness for a crisp slice of bacon!
Would I like a slice of bacon on my tomato sandwich? YES!
Do I like bacon on my pizza? YOU BET!
Am I a fan of bacon on my burger? FOR SURE!
Do I put bacon in my cabbage rolls? WHY WOULDN'T I!
How about a bunch of bacon in a plate of pasta carbonara? YAY!!
The other day I was in a local grocery store and there was a manager's special selling a pound of bacon for 99 cents. It was 75% off and I bought….. well, I am almost embarrassed to say how many pounds I got. Let's just say that the freezer is well stocked!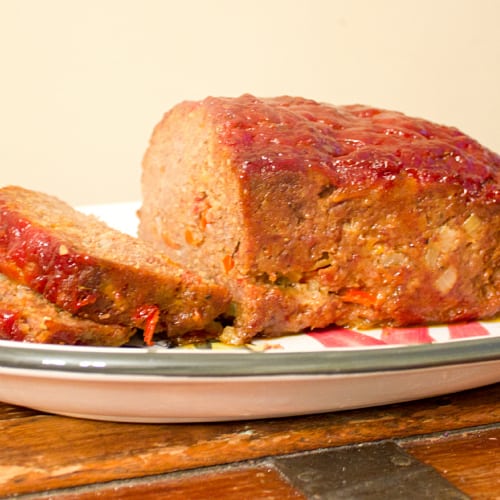 Today's post is a meatloaf that has been 'baconated'. Typically, when meatloaf is made, the slices of bacon are laid on top of the meatloaf. That is tasty, but it doesn't enhance the flavour of the meatloaf too much. To baconate this meatloaf requires a pound of cooked crumbled bacon and mixed into the meatloaf mixture itself! The end result is a meatloaf that an essence of bacon in every bite. Who wouldn't want that!?!?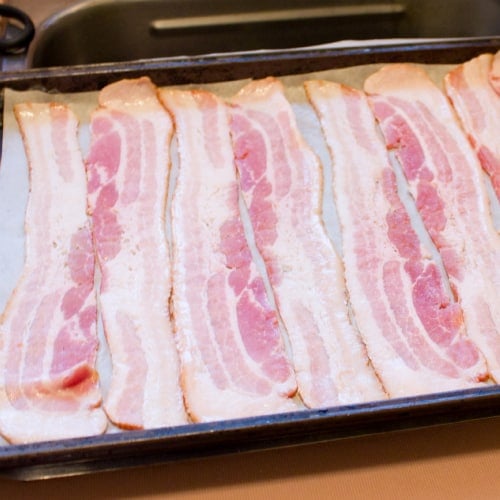 I cook bacon in the oven because I find it easier and cleaner. Lay the bacon slices on a cookie sheet lined with parchement paper and bake at 400F for 20 minutes. Easy as that!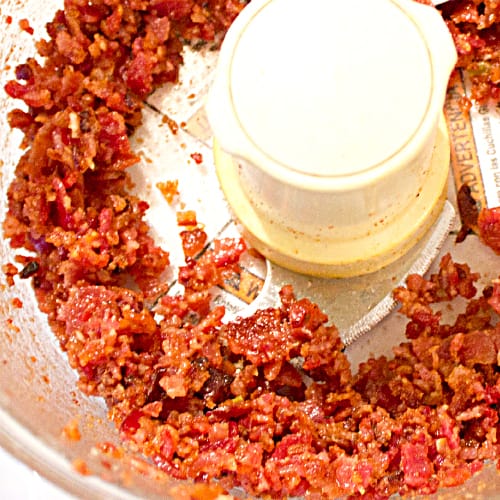 To make the bacon crumble, simply pulse the crisp bacon in a food processor for a few seconds until it has a crumbly consistency.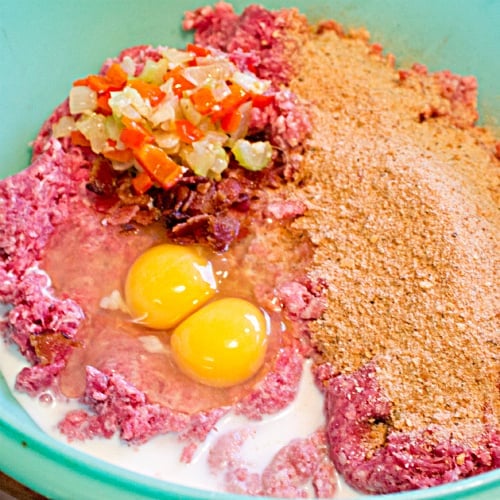 Knead all the meatloaf ingredients together in a large bowl, then put it in a loaf pan.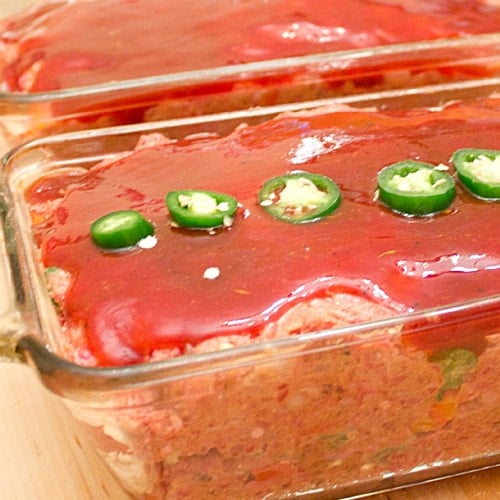 Pour some of the BBQ sauce over the meat and bake it in an oven at 350F for 30 minutes. Then lower the heat to 325F and bake another hour.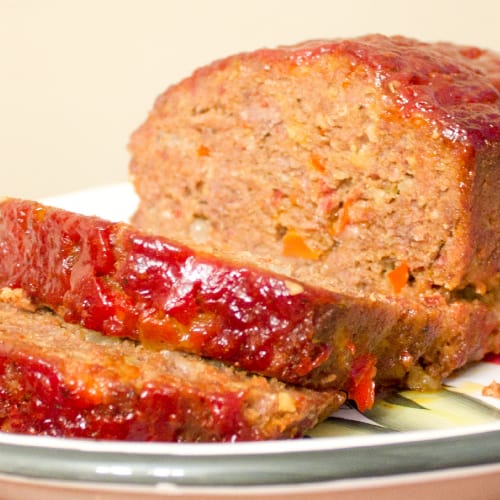 Baconated Meatloaf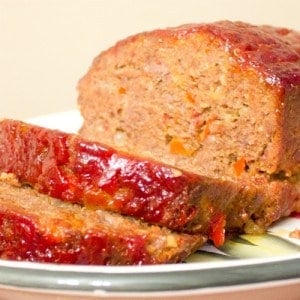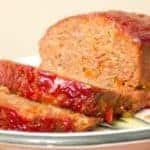 Print
Crumbled bacon is mixed in with the ground beef to 'baconate' this meatloaf recipe. Full of flavour, this meatloaf will not dissapoint for those who love bacon!
Servings: 1 meatloaf
Ingredients
1 1/2 pounds ground beef
1 pound sliced bacon
1 cup bread crumbs
2 eggs
1/4 cup milk
2 tbsp Steve's BBQ rub
1 tbsp oil
1 onion minced
1/2 red pepper minced
2 ribs celery minced
3 jalapenos minced (optional)
1/2 cup ketchup
1/4 cup corn syrup
2 tbsp brown sugar
1 tbsp molasses
1 tbsp vinegar
2 tsp Steve's BBQ rub
Instructions
Cook the bacon in the frypan or the oven and lay on paper towels to remove some of the grease. To cook bacon in the oven, lay the bacon on a cookie sheet lined with parchment paper and bake in a 400F oven for 20 minutes or until crisp. Crumble the bacon by pulsing the strips in a food processor for a few seconds.

In a frypan, heat the oil and then cook the garlic, onion, pepper, celery and optional jalapeno until mostly cooked and soft. Let cool.

In a bowl make the sauce by mixing the ketchup, corn syrup, molasses, brown sugar, vinegar and 2 tsp of BBQ rub spice (link to recipe in notes below)

Mix the ground beef, bacon, eggs, cooked onion mixture, bread crumbs, milk and 2 tbsp BBQ rub spice mix.

Place the meat mixture in a loaf pan and pour the sauce on top. Bake the meatloaf in a 350F oven for 30 minutes. Lower the heat to 325F and bake another 60-75 minutes.