Fajitas are easy to make using a cast iron skillet or frying pan. Fresh ingredients and drizzled with chipotle lime cream sauce, this is perfect for a weeknight Tex Mex feast!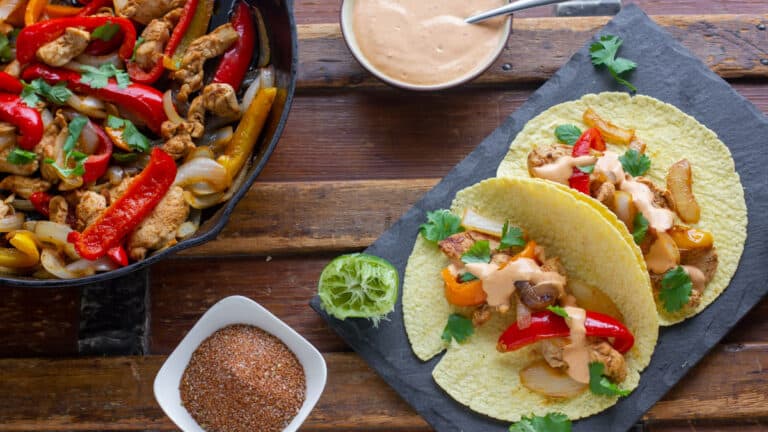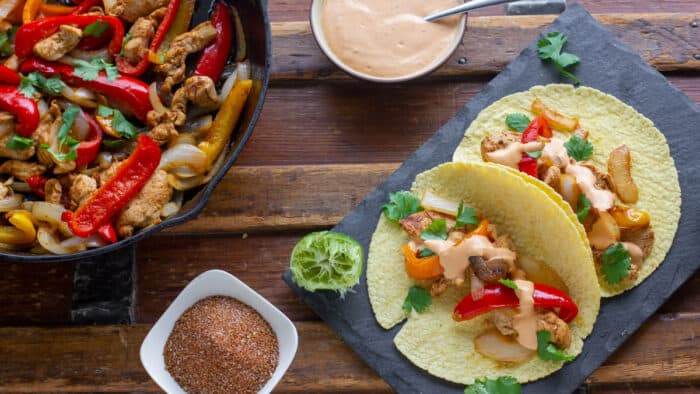 As a huge fan of Mexican and Tex Mex cuisine, I absolutely love fajitas! These skillet chicken fajitas are so good and they are perfect for a weeknight meal or game day snack. This simple method results in delicious fajitas that can easily feed a big family.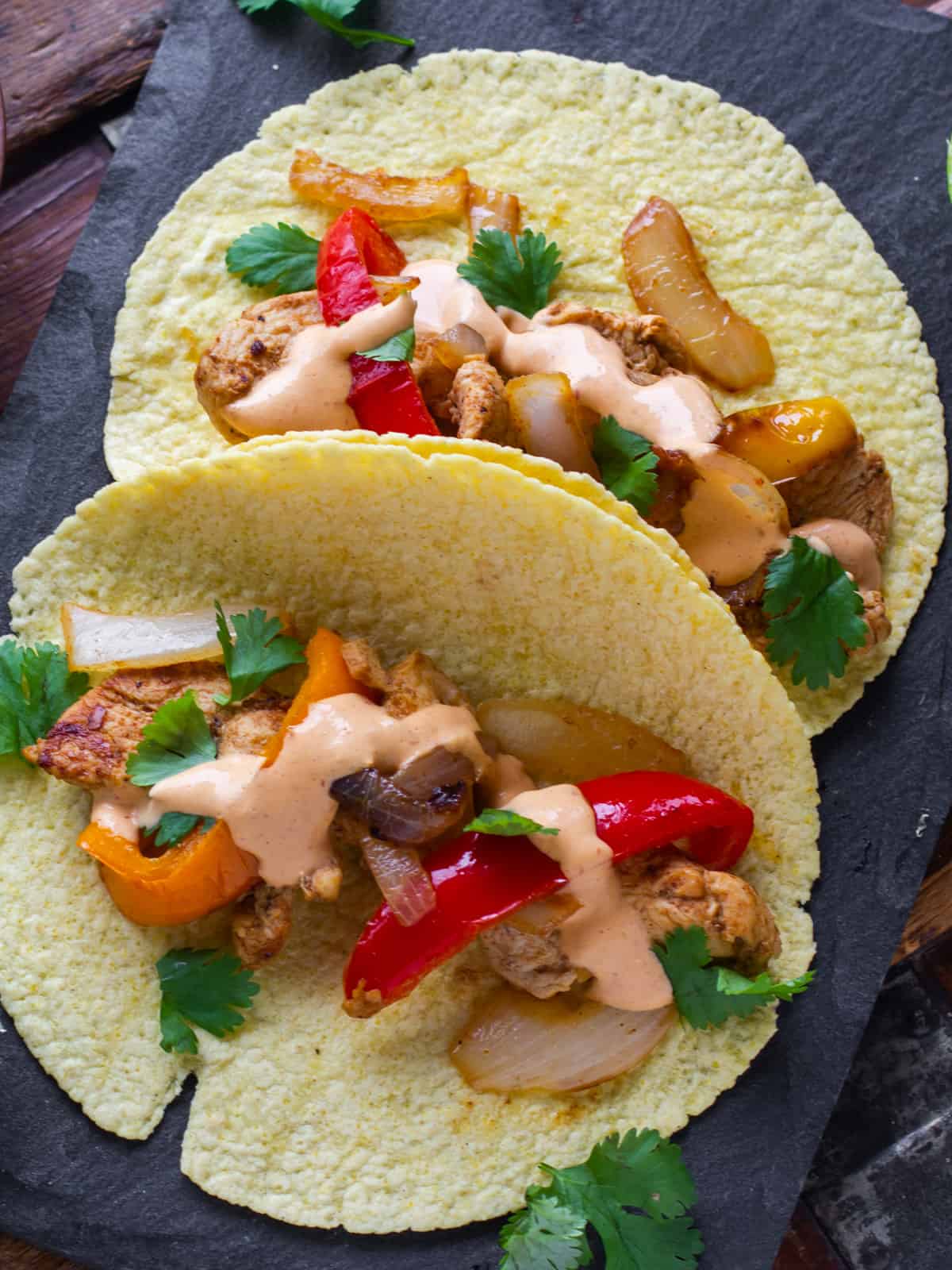 Skillet For Fajitas?
It does not matter if you have a cast iron skillet, or a simple frying pan, both are perfect for fajitas. Skillets are ideal for cooking meat as well as vegetables. The cast iron material holds the heat very well and it naturally non stick.
Serve in the Skillet! There is no need to transfer the sautéed chicken and vegetables into a serving dish. Instead, place the cast iron skillet right in the middle of the table on a trivet and let people assemble their own fajitas. If the skillet is hot and the food sizzling, then it is just like the experience at a restaurant.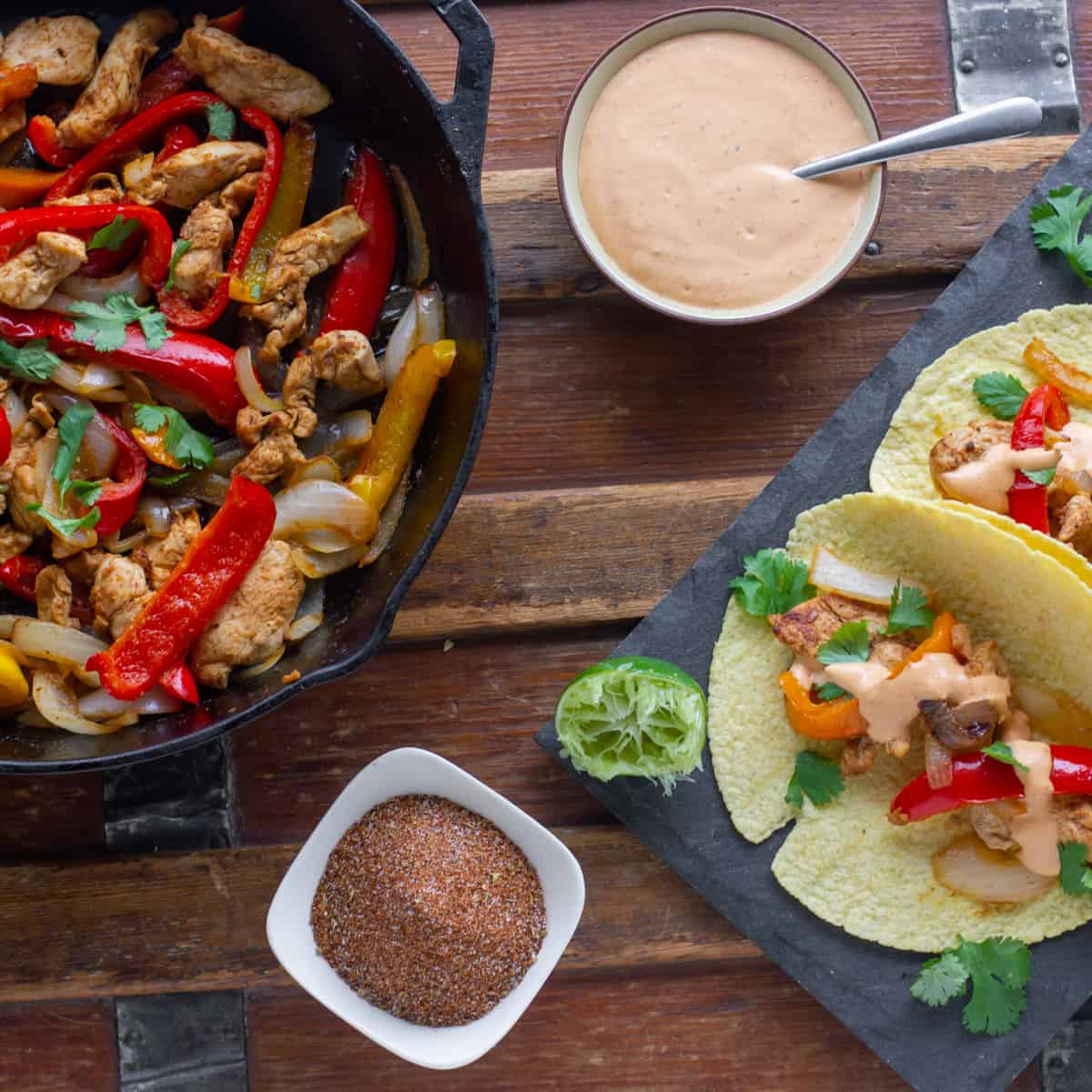 Ingredients Notes
Chicken breast – I use boneless skinless chicken breast and cut them into thin strips.
Onion – feel free to use cooking onions, sweet onions or red onions. Peel them and cut them into thin slices.
Sweet peppers – any kind of sweet capsicum peppers are great. I like to use a couple of different colours to give the fajitas a colourful look. Core them and cut them into thin slices.
Fajita seasoning mix – This blend is a recipe that uses spices you likely have in your pantry.
Chipotle lime cream sauce – A recipe for a creamy sauce that has a hint of tang and smoky heat.
Lime juice – this adds a nice tang to the meat and veggies.
Cilantro – This fresh herb adds a nice enhancement to these skillet chicken fajitas.
Soft tortilla shells – Both wheat and corn soft tortillas are great with these fajitas.
Other Protein? Instead of chicken, you could also use steak, which makes for awesome fajitas. I have also tried shrimp and it also works great!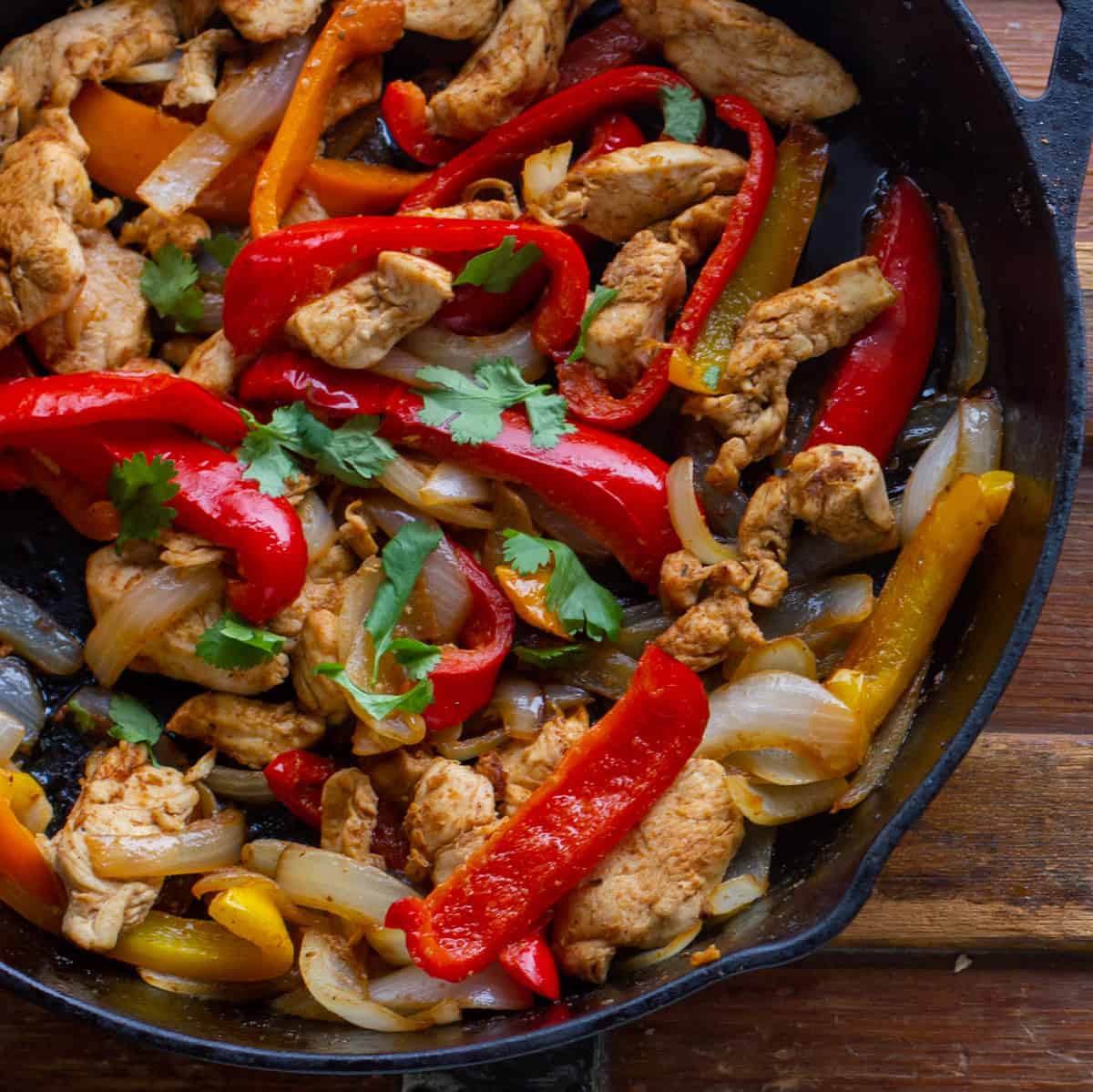 How To Cook The Chicken and Veggies
The seasoning for these fajitas has incredible flavour. Toss the raw sliced chicken in this spice mix before cooking the meat. Heat some of the oil in the skillet over medium heat. Add the seasoned chicken and cook for about 8 to 10 minutes, or until the chicken is fully cooked. Make sure to stir regularly so the chicken does not burn or stick to the bottom of the skillet.
Remove the chicken and set aside for later. Add remaining oil and sliced peppers and onions. Cook the veggies in the skillet for 5 to 7 minutes. Finally, add the meat back in and cook a little longer. Squeeze the lime juice all over the meat and vegetables.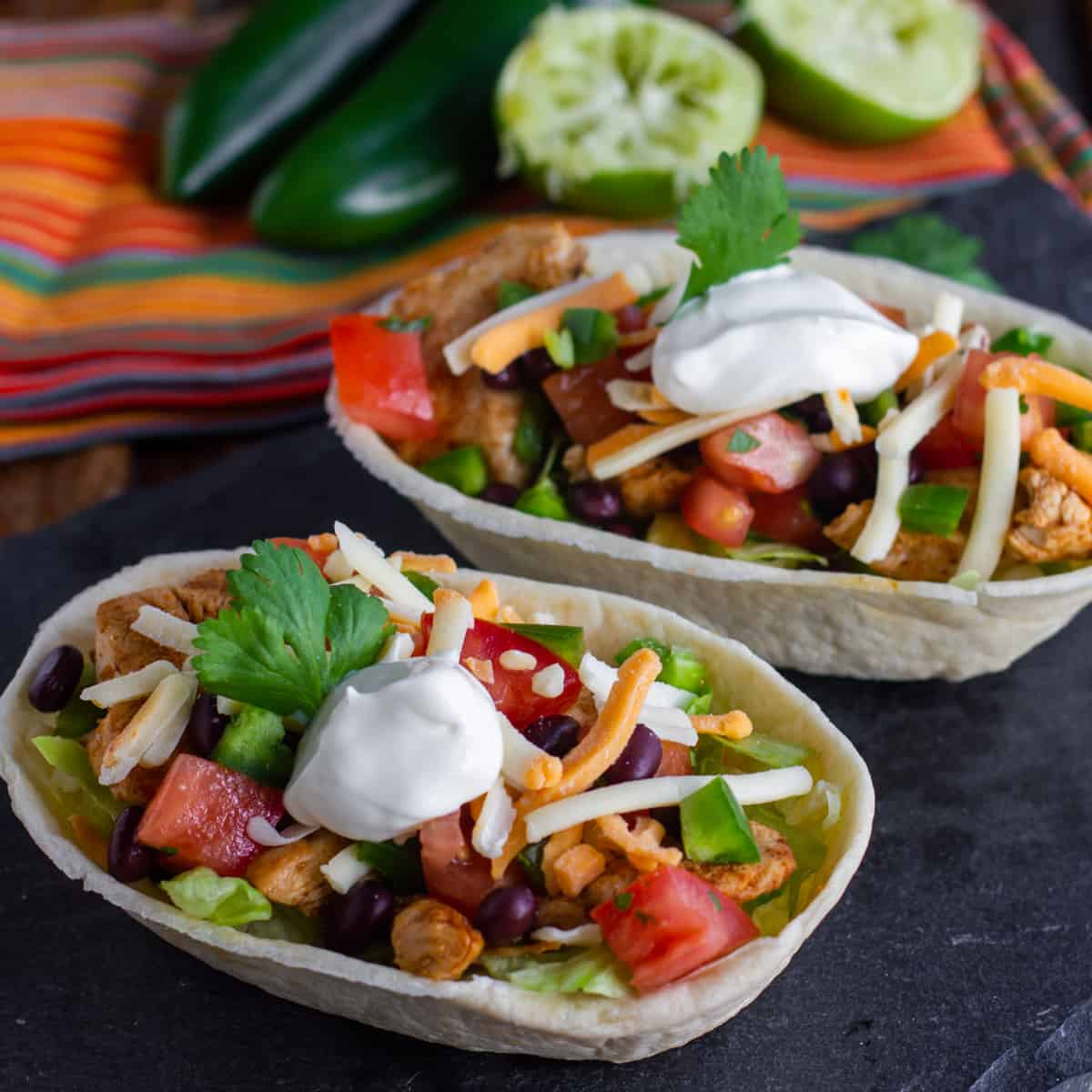 How To Assemble Fajitas
Take a soft tortilla shell and add some of the cooked chicken, onion and pepper. Drizzle some of the chipotle lime cream sauce and sprinkle some fresh cilantro on top.
Easy To Adapt! Fajitas are perfect for varying the ingredients based on your own preference. You could also top with beans, tomatoes, lettuce, jalapeño pepper, cheese and other ingredients. Instead of using a soft shell, you could also use a tortilla bowl to make fajita power bowls!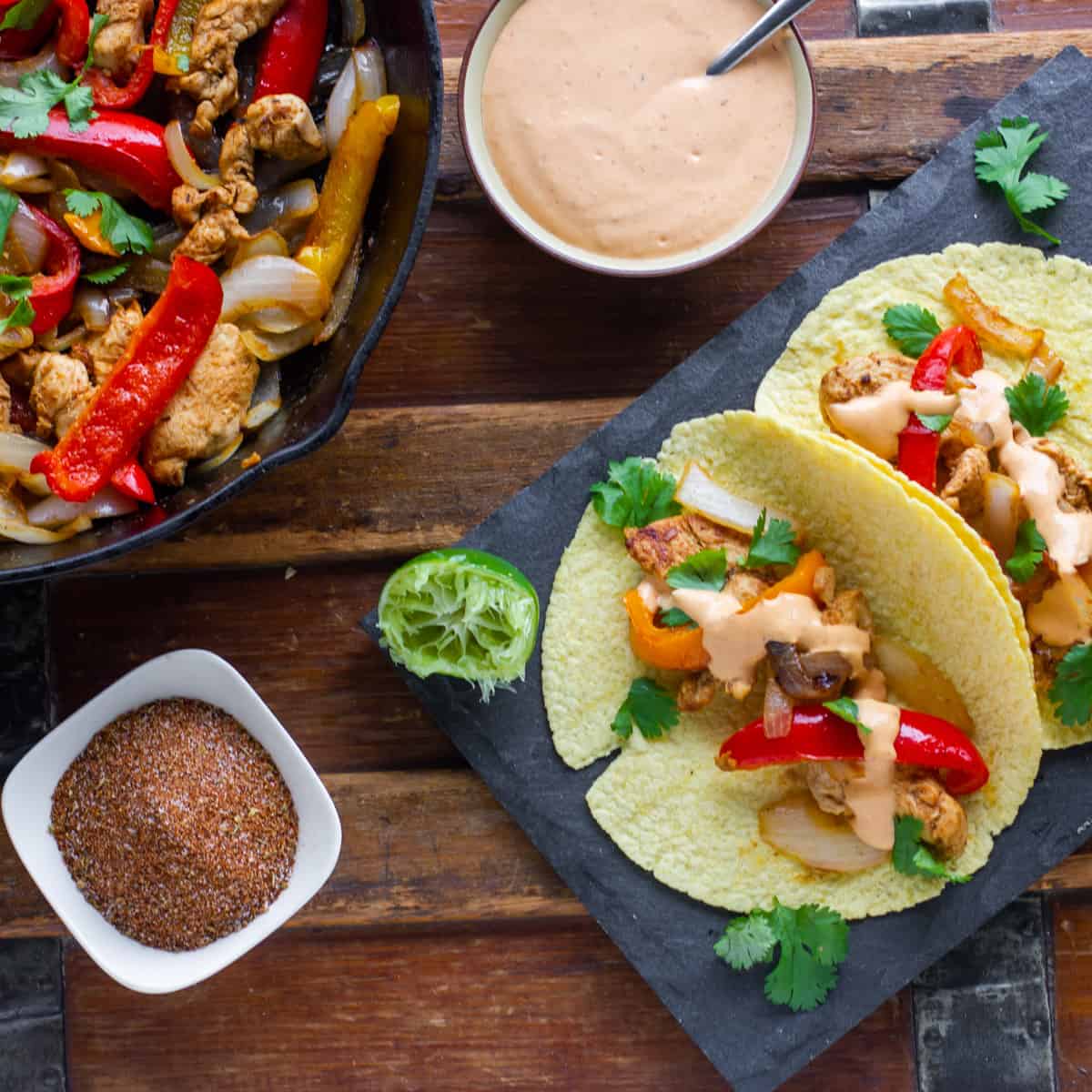 Other Mexican Recipes
If you are planning these skillet chicken fajitas as part of a larger meal then check out these other recipes!
Skillet Chicken Fajitas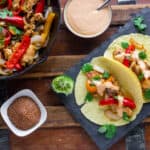 Print
Tex-Mex fajitas made with seasoned chicken breast, onions and peppers. Serve on soft shells with lime chipotle cream sauce.
Servings: 12
Ingredients
3 tbsp oil
3 chicken breasts , boneless and skinless
1 red pepper , cored and sliced
1 orange pepper , cored and sliced
3 medium onions , peeled and sliced
4 tbsp fajita seasoning
2 tbsp lime juice
12 soft taco shells
1/2 cup lime chipotle cream
1/3 cup fresh cilantro , chopped
Instructions
Cut the chicken breast into thin slices. Toss chicken in the fajita seasoning so they are well coated.

Heat 2 tbsp of oil in a skillet over medium heat. Add the chicken and cook until they are browned on all sides and the chicken is fully cooked, approximately around 8-10 minutes.. Use tongs to stir them around and flip them over plenty while they are cooking. Remove the chicken from the skillet, place on a plate, and set aside till later.

Add remaining 1 tbsp of oil to the skillet and dump in the sliced onion and peppers. Saute the vegetables, stirring often until they are tender, approximately around 5-7 minutes.

Add the chicken back to the skillet and pour the lime juice all over the meat and vegetables. Toss the chicken and vegetables until will mixed. Remove from the heat.

Assemble fajitas by placing some the chicken and vegetables in a soft fajita wrap. Spoon a little lime chipotle cream and sprinkle some chopped cilantro on the fajita. If desired, add any other toppings like lettuce, tomatoes, jalapeños ,and grated cheese.
Nutrition
Per serving:
Calories: 191kcalCarbohydrates: 19gProtein: 9gFat: 9gSaturated Fat: 2gCholesterol: 24mgSodium: 259mgFiber: 2gSugar: 3g