Grilled Chipotle Shrimp Tacos with Mango and Cilantro Salad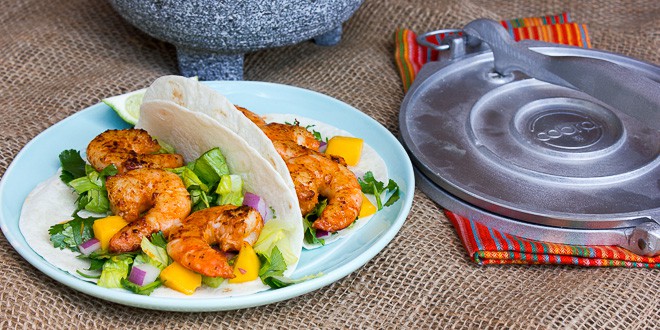 During the summer, my grill is often on and I am regularly trying new kinds of recipes. Last week I received a grillstone from Island Grillstone. Eager to try it out, I bought some shrimp, as shrimp can fall through the cracks of the grill and a large flat stone is perfect for grilling them.
Building a dish around the grilled shrimp, I decided to make shrimp tacos. I love any form of taco – beef, steak, chicken, fish and shrimp. It doesn't matter, as there are so many options and variations to make something delicious in a soft flour tortilla!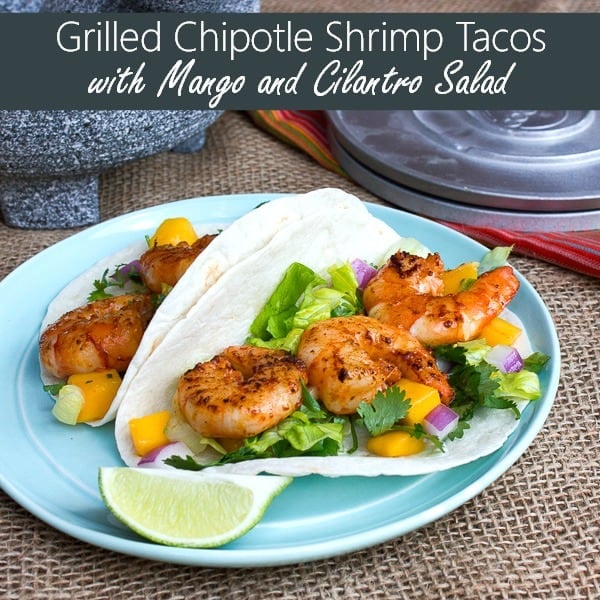 This is not just any grilled shrimp – oh no! These shrimp have been marinated in a chipotle puree. This gives them a robust and spicy flavor. To fill out the taco I made a tropical salad with romaine lettuce, mangoes, red onions, cilantro and a light lime dressing.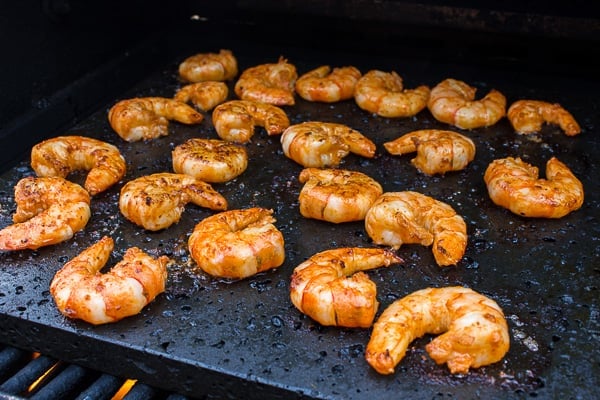 For my first time using the grillstone, it went really well. The shrimp did not stick at all and there was plenty room on the stone for more than 20 shrimp.
Assembling the taco is very easy, just throw on some of the salad and top with a few shrimp. The tacos had a really nice fruity flavor from the salad and a little heat from the shrimp.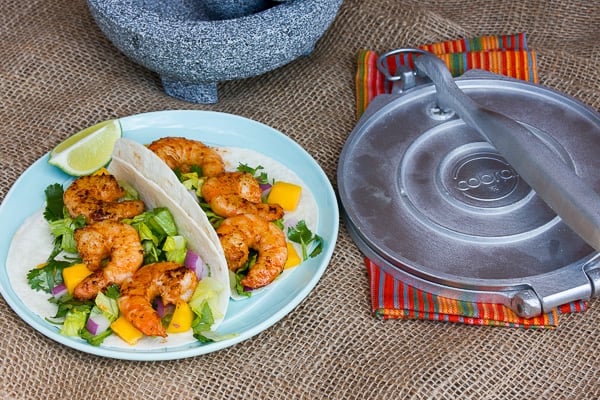 Grilled Chipotle Shrimp Tacos with Mango and Cilantro Salad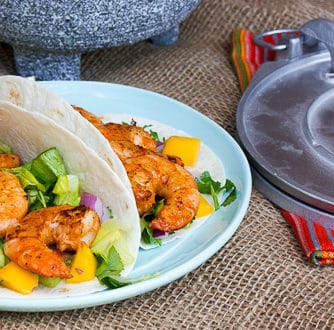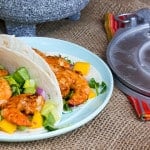 Print
Servings: 4
Ingredients
1 pound fresh shrimp
1-2 chipotle peppers in adobo sauce
1 tsp adobo sauce
1 garlic clove
1/4 cup oil
1 tsp salt
2 ripe mangos
1 romaine lettuce head
1 red onion
1/2 cup fresh cilantro
1 limes
1 tbsp honey
3 tbsp oil
soft flour tortillas
Instructions
Peel and devein the shrimp.

In a food processor or blender, make the chipotle marinade, by pureeing the chipotle peppers, adobo sauce, garlic clove,1/4 cup oil and salt until smooth.

Toss the shrimp in the marinade and place in the fridge for 30-60 minutes.

Peel and core the mango. Cut the mango into small chunks. Chop the romaine lettuce into small pieces. Peel the red onion and dice it. Roughly chop the cilantro.

Squeeze the juice of the limes into a small bowl. Whisk the honey and 3 tbsp oil with the lime juice.

In a large bowl toss the mango, romaine lettuce, red onion and cilantro with the lime dressing.

Preheat the grill to high heat. Grill the shrimp on a large grill stone or skewer the shrimp and place them directly on the grill. The shrimp will cook quickly and flip them after just a few minutes on the grill. After a few more minutes remove them from the grill.

Assemble the tacos by placing some of the mango cilantro salad on the flour tortillas and top with some grilled shrimp.