Grilled Pesto Shrimp Skewers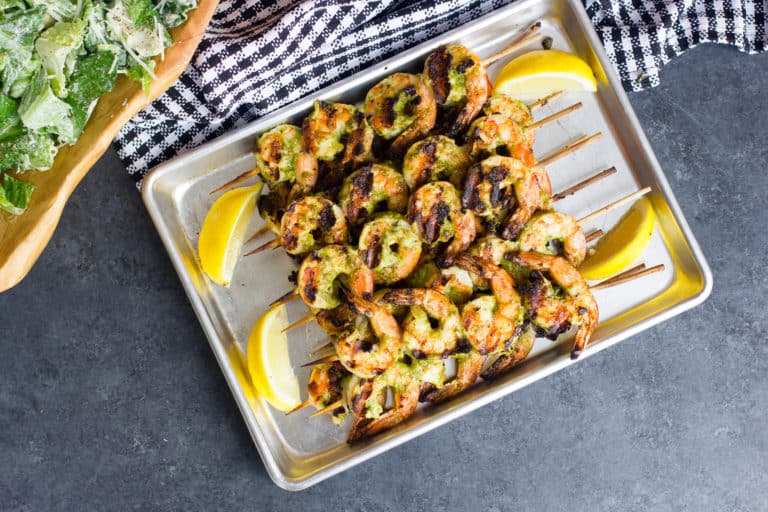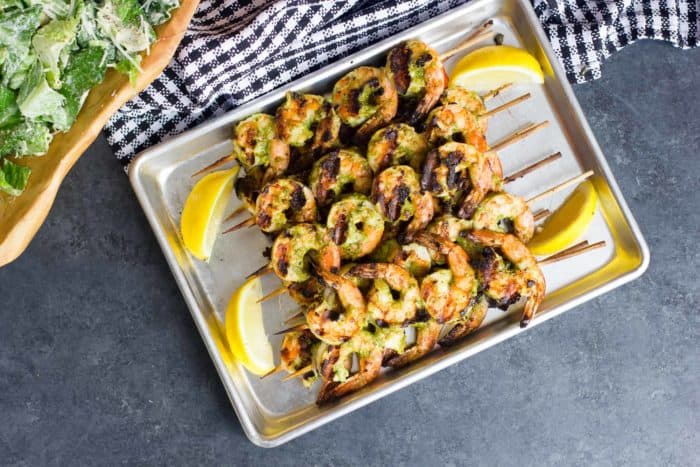 Grilling skewers of shrimp coated in pesto has become one of my most requested recipes. Shrimp and pesto go very well together as all the bright and fresh flavours of pesto perfectly compliments many kinds of seafood and especially shrimp.
How to grill shrimp is super easy and while this recipe has the shrimp brushed with pesto, you could easily coat the shrimp with many different seasonings, marinades or glazes.
I love grilled shrimp, but because of their small size and the space between grill grates, it is possible for the shrimp to either fall through or get stuck. That is one of the main reasons why I prefer to grill the shrimp on skewers. It allows for easy grilling, flipping and serving.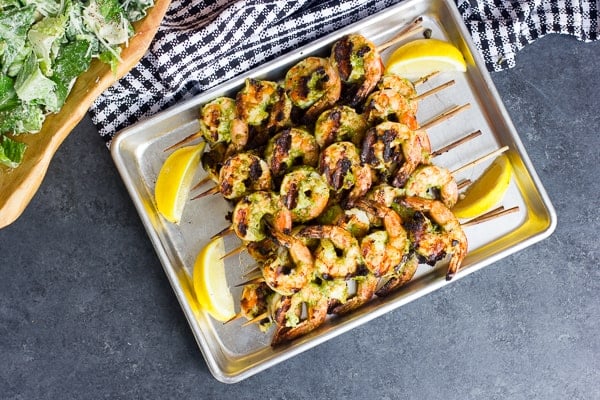 Pesto is a sauce, originating in Italy, that has fresh basil, pine nuts, parmesan cheese (or pecorino) and olive oil. Processed in a blender or food processor until smooth, pesto is full or bright flavours and excellent in pasta, with vegetables, chicken or seafood.
Most supermarkets sell pesto and it should not be that difficult to find. Usually it is located with pasta and marinara sauces. Actually some of my favourite pesto is the Kirkland brand, sold at Costco. Now, while you can purchase a jar of pesto at most local supermarkets, making pesto is not very difficult.
Preparing pesto at home does require you to have some specific ingredients that you may not regularly stock. I have a recipe for making homemade pesto that is extremely delicious and perfect for these grilled shrimp skewers. The recipe can be found here – How to Make Pesto.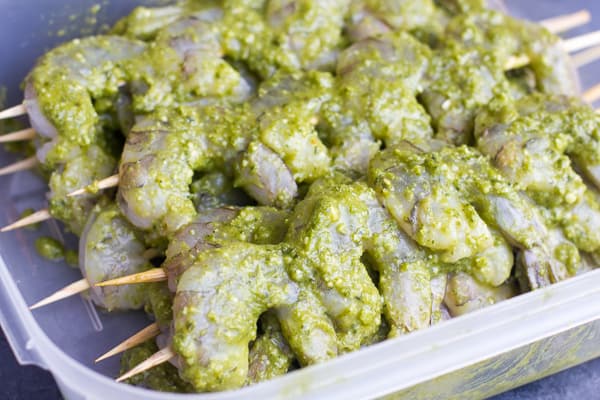 If the shrimp has not already been peeled, make sure to do that before trying to get them on the skewers. You can leave the tail on or feel free to remove if you prefer.
Make sure that you soak the wooden skewers in water for an hour prior to threading the shrimp onto them. Skewers come in all sorts of different sizes, and the length of it will determine how many shrimp will fit on each skewer. If I am making this for an appetizer or party, I like to use shorter skewers, but if this will be served as a main course with pasta or rice, I generally use longer skewers.
Once the shrimp are threaded onto the skewers, brush them with the pesto. Make sure you get both sides of the shrimp and ensure that all areas are coated in the pesto.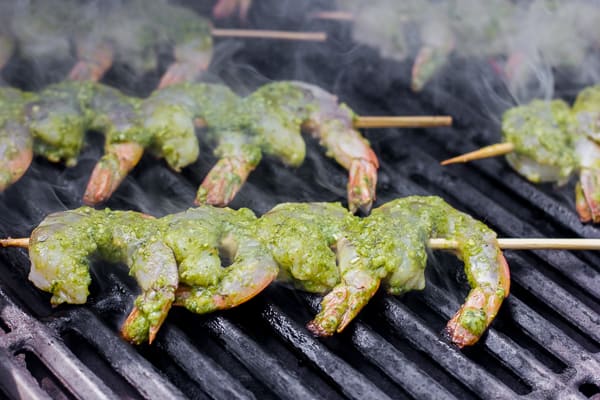 Heat the grill to medium high and brush the grates with some oil to prevent sticking. The pesto does like to stick to the grill. Place the shrimp on the grill and you will immediately hear a loud sizzle.
The smell is amazing!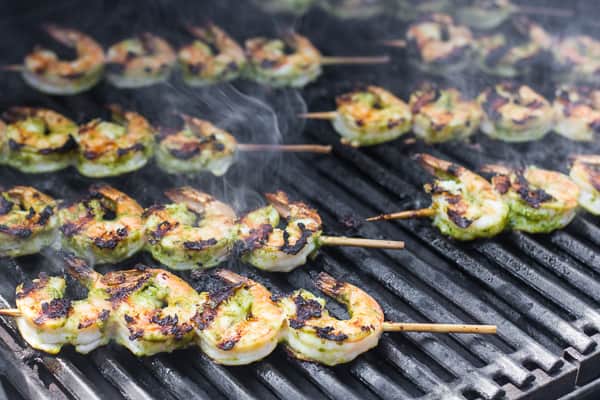 Shrimp does not take long to cook and I find that almost by the time I placed the last skewer, it was time to flip the first one I put down! You want to grill the shrimp for just a few minutes per side. Shrimp is one of the easiest things to cook because it actually shows you once it is cooked by changing colours.
Once the shrimp is cooked through, remove them from the grill and squeeze them with some lemon juice. Serve right away and be prepared for them to be gobbled up immediately. These taste incredible.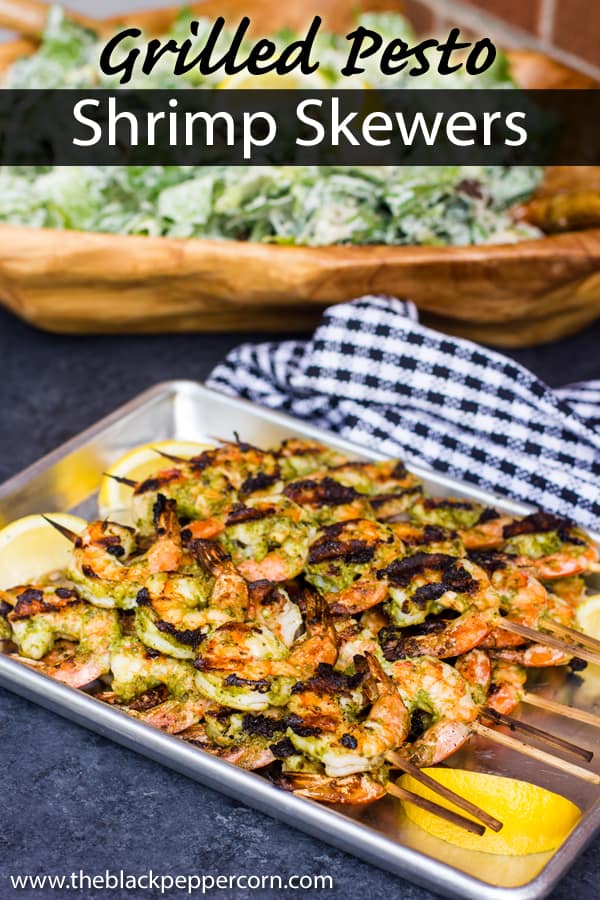 If you are looking for some other grilled skewer recipes, check out some of these great ideas!
Grilled Pesto Shrimp Skewers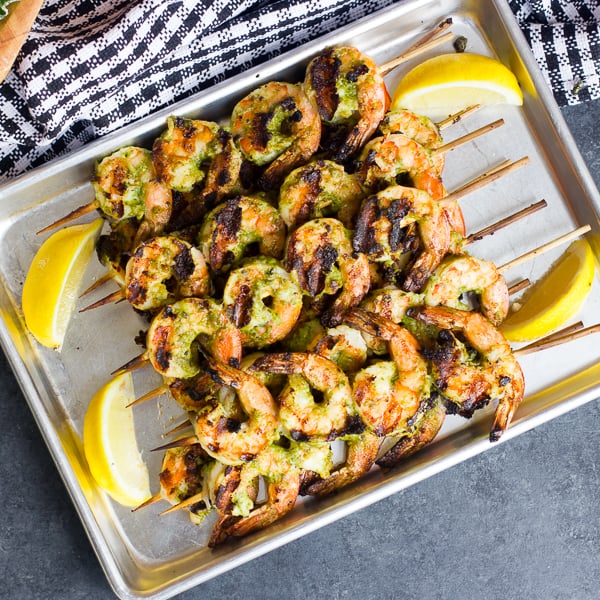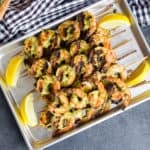 Print
Amazing recipe and with simple instructions for how to grill shrimp skewers. These shrimp are brushed with fresh pesto made with basil, pine nuts, parmesan cheese and olive oil!
Servings: 8 shrimp skewers
Ingredients
2 pounds shrimp , raw and peeled
1 cup pesto
1 lemon , cut into wedges
8 wooden skewers
Instructions
Soak the wooden skewers in water for one hour.

Thread shrimp on the skewers. Brush the pesto all over the shrimp.

Fire up the grill to medium high heat.

Place shrimp on the grill and cook for a few minutes. Use tongs to flip the shrimp and continue to grill for a few more minutes, or until cooked through.

Place grilled shrimp on a serving platter. Squeeze lemon juice on the shrimp.
Nutrition
Per serving:
Calories: 234kcalCarbohydrates: 2gProtein: 24gFat: 13gSaturated Fat: 2gCholesterol: 288mgSodium: 1171mgSugar: 1g