Tequila Honey Lime Smoked Salmon and Pineapple Skewers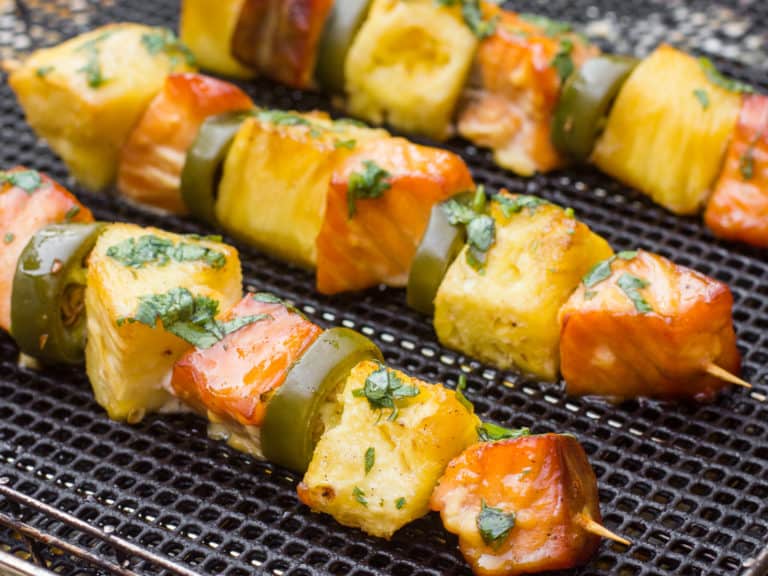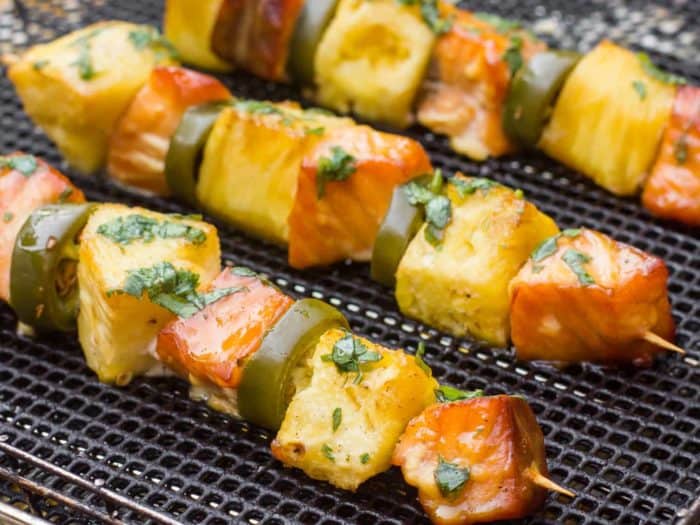 Smoking salmon is one of my favourite dishes to prepare in my smoker. I love pretty much any smoked fish but salmon is the one I smoke most often. How to smoke salmon is a question I commonly get asked and it is very easy. Usually, I smoke the salmon as a large fillet, but this time I wanted to try them as skewers.
Instead of skewers being just salmon, I cubed up some pineapple and sliced some jalapeño peppers. This provided a spicy and fruity combination that worked so well with the salmon.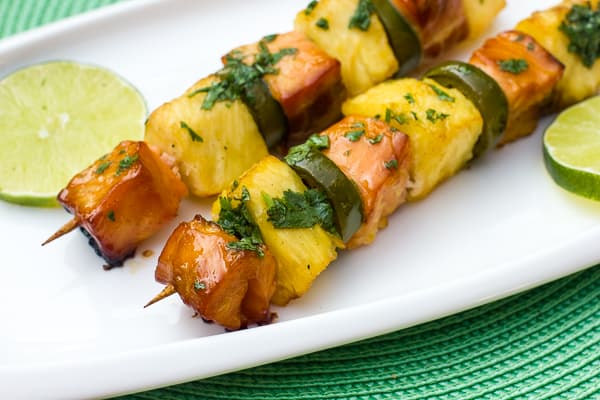 The marinade that is used for these skewers has tequila (OH YA!), honey, lime juice and cinnamon. I love this marinade! It is sweet, tangy and gives these skewers such a nice tropical infusion of flavour.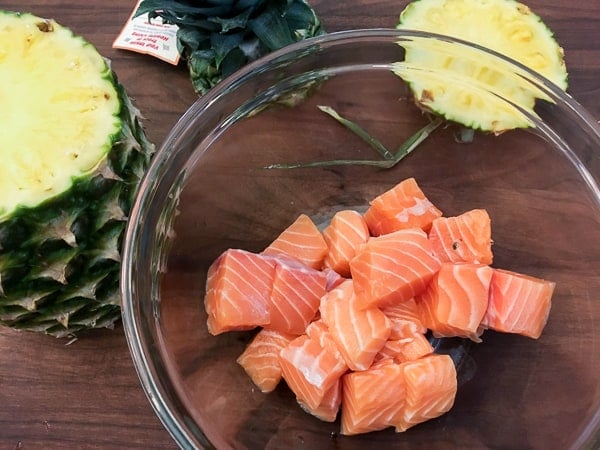 Slice the skin off the salmon (unless already removed) and cut the salmon into even cubes of about one inch in size. Do the same for the salmon.
Try to keep the size of the salmon and pineapple cubes to be of similar size.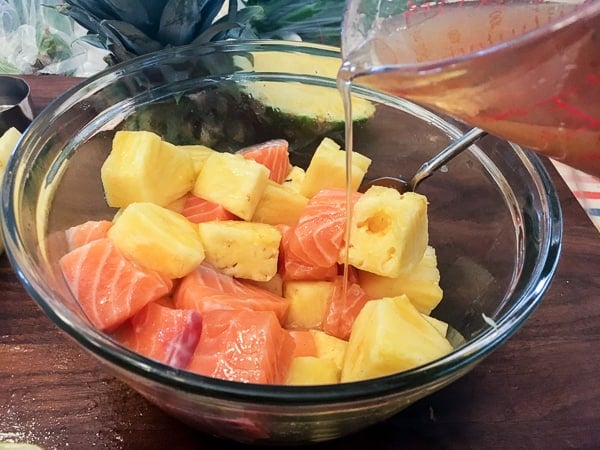 Mix together the marinade. Divide it in half and pour one half of the marinade over the pineapple and salmon. Cover with plastic wrap and place in the fridge to marinate for 1 hour.
Stir the minced cilantro with the remaining half of the marinade. Set aside for later.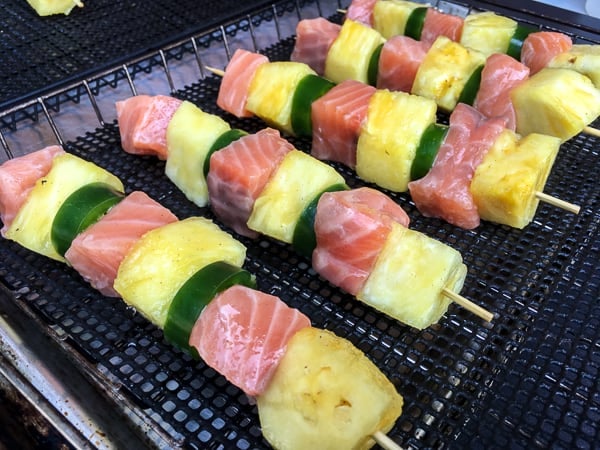 Thread the salmon, pineapple cubes and jalapeño slices onto wooden skewers that have been soaked in water.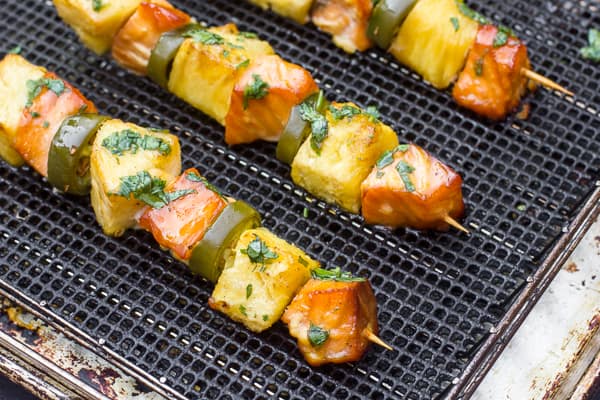 Start up the smoker and get it up to a temperature of 250F. Regarding wood, I like to use sweet mild wood for fish. Apple, Cherry or alder are excellent choices for these salmon skewers.
Smoke the skewers until the salmon has cooked through, which should take around 2 1/2 hours. Once the skewers have finished smoking, brush them with the marinade that had been set aside.
Serve the skewers immediately.
Tequila Honey Lime Smoked Salmon and Pineapple Skewers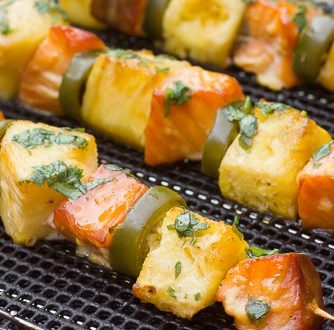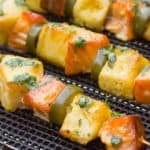 Print
Smoked Salmon and Pineapple Skewers with a sweet tangy tropical marinade.
Servings: 4
Ingredients
1 pound salmon fillet
2 cups cubed pineapple 1 inch cubes
3 jalapeno peppers cut into 1/2 inch round slices
1/4 cup tequila
1/3 cup honey
1/4 cup lime juice
1 tsp salt
1/2 tsp cinnamon
1/4 cup fresh cilantro minced
wooden skewers soaked in water for 15 minutes
Instructions
Set up smoker for 250F using mild wood (apple, cherry or alder work great)

Carefully slice the skin off of the salmon (if not already removed). Cut the salmon fillet into 1 inch cubes.

In a bowl mix together the tequila, honey, lime juice, salt and cinnamon. Divide into two small bowls. Stir the minced cilantro in one bowl of marinade.

Pour the bowl of the marinade without the cilantro over the salmon and pineapple cubes. Cover with plastic wrap and let marinate for 1 hour.

Thread the cubed salmon, pineapple, and jalapeno slices onto the wooden skewers.

Place the skewers on a smoker rack and smoke for about 2 1/2 hours or until the salmon is cooked through.

Use the bowl of marinade with cilantro and brush on the smoked skewers.

Serve.