Grilled Cajun Shrimp Skewers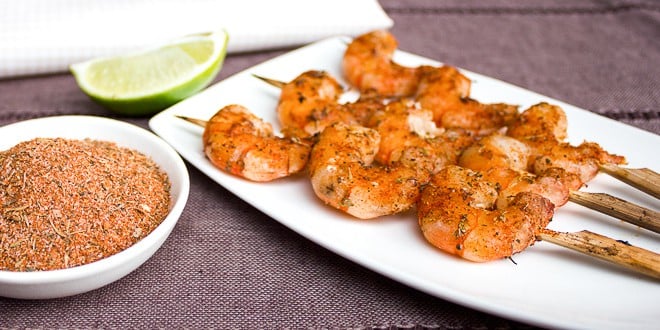 It is almost May and, even though the weather has been cold, I have been looking for any opportunity to fire up the grill. Skewers are one of the more common ways that I grill food. Whether it is skewers of chicken, pork, lamb or veggies, these are a practical way to cook food on the grill. Skewers are also a great was to keep smaller sized food from falling through the grill grates. This is the perfect way to grill shrimp and these skewers are great for an appetizer or main course. Take the shrimp off the skewers and use them for po' boy sandwiches, in a wrap or even a salad. There are so many options with this shrimp and the Cajun seasoning makes these shrimp just 'pop' with flavor.
I make my own Cajun spice blend and the recipe for it can be found here: Rajin' Cajun Rub. Once the shrimp come off the grill, I squeeze a little lime juice on them which provides a nice tang and draws all the flavors together.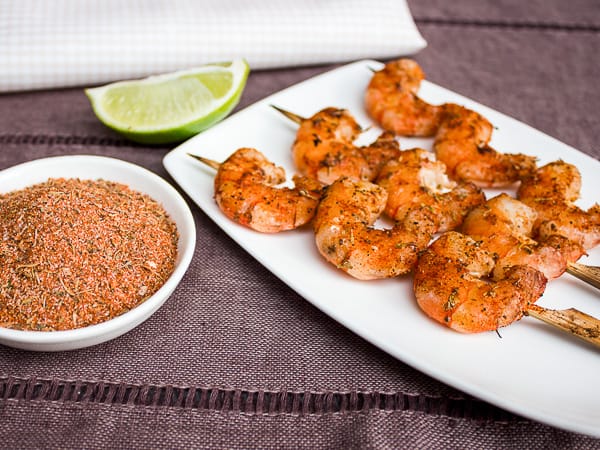 Grilled Cajun Shrimp Skewers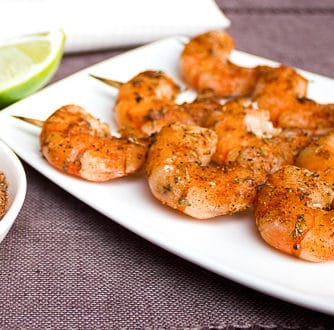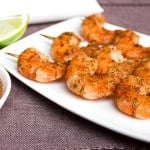 Print
Servings: 3 -4
Ingredients
16-24 raw shrimp , peeled and deveined
3 tbsp oil
4 tbsp Cajun spice rub
1 lime
skewers
Instructions
If using wood or bamboo skewers, soak them in water for 15 minutes before grilling.

Thread the shrimp on the skewers,

Brush both sides of the shrimp with oil and sprinkle them with the Cajun spice rub.

Heat the grill to high heat. Place the shrimp on the grill and cook for about 3 minutes per side, or until the shrimp is fully pink.

Remove from the grill. Squeeze lime juice on the shrimp and serve.