Grilled Vegetable Skewers with a Balsamic Vinaigrette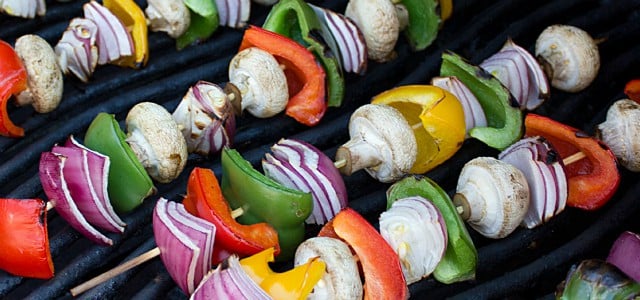 The weather over the last few days has been incredible! I know some people who have traveled away from Toronto, heading south to warm weather, only to discover that Ontario is so warm it is breaking records. It has been a perfect March break for the kids. They have enjoyed hours in the backyard, at the park and touring the zoo. There has been plenty of time spent playing soccer, sitting on the deck, working in the yard, and GRILLING!
Warm weather calls for grilling, relaxing on the deck with a cold beverage in hand.
Often, when grilling, the focus is on the meat. I will be the first to admit that when I grill, meat is the highlight!
But these vegetable skewers are the perfect side to any meat. Grilling vegetables creates a sweet caramelized flavour while keeping them summery fresh. Also, the balsamic vinaigrette, brushed on after grilling, adds a tang and burst of flavour that beautifully enhances the vegetables. I brush the vinaigrette on after grilling as I find brushing it on while grilling can cause flare ups which can char the skewers.
If you make these skewers, make sure you make plenty. People will gobble these up so quick you will wish you made more!
You can also use other vegetables including cherry tomatoes, yellow squash, zucchini and more!
Grilled Vegetable Skewers with a Balsamic Vinaigrette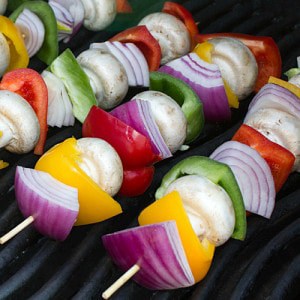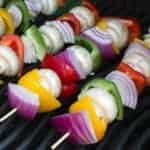 Print
Prep Time: 15 minutes
Cook Time: 15 minutes
Total Time: 30 minutes
Servings: 4
Ingredients
1 red pepper
1 green pepper
1 yellow pepper
2 medium red onions
15-18 large mushrooms
1/4 cup olive oil
1/4 cup balsamic vinegar
1 tbsp dijon mustard
1 tbsp honey
1/2 tsp salt
1/2 tsp ground black pepper
2 cloves garlic , crushed
1 tsp dried oregano
wooden skewers
Instructions
Soak the wooden skewers in water for 15 minutes.

Whisk together the oil, vinegar, mustard, honey, salt, pepper, garlic and oregano. Set aside until needed.

Wash and cut the vegetables (except the mushrooms) into large, evenly sized, chunks.

Stick the vegetables on the wooden skewers, in any order you wish.

Place on a hot grill and cook until they are just tender. Baste with the vinaigrette and serve.