Grilled Korean Chicken Skewers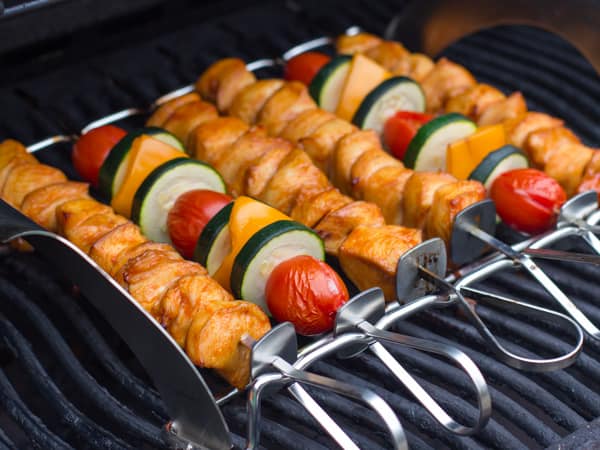 Gochujang is a popular ingredient in Korean cuisine. It is a fermented chili paste that is used as a condiment and part of many dishes from salads, stews, meat dishes and more. Made with chili peppers, glutinous rice and fermented chilies, gochujang has a thick paste-like consistency. It is excellent to use as part for a marinade like I did for these grilled chicken skewers.
Let the chicken marinate for at least 1-2 hours, or more if you are able. These Korean inspired skewers have a mix of Asian flavors that go so well together, but the gochujang is definitely the highlight!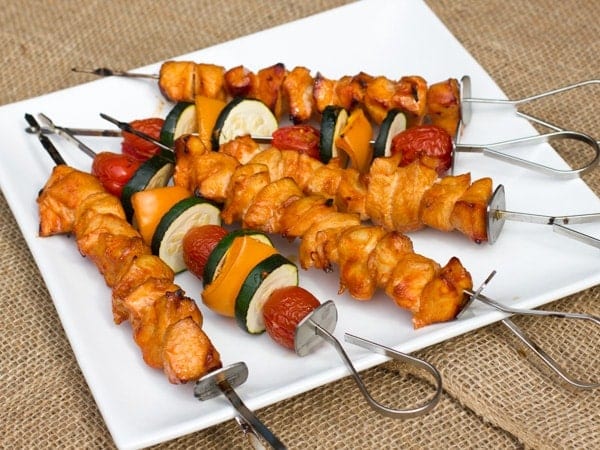 Bamboo or metal skewers can work with this recipe. I like to use skewers that rest on a stand like this as lifting them up off the grill can help to prevent burning. But, having a family of five, usually means that I need to cook more than what the number on a stand like this can feed, so I often go with the bamboo. Veggie skewers go great alongside these Korean skewers.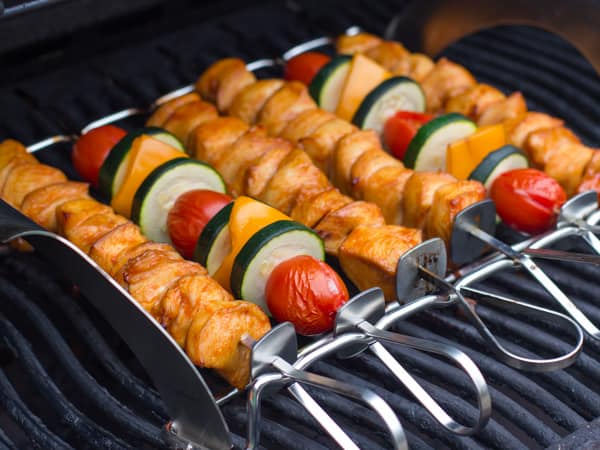 Grilled Korean Chicken Skewers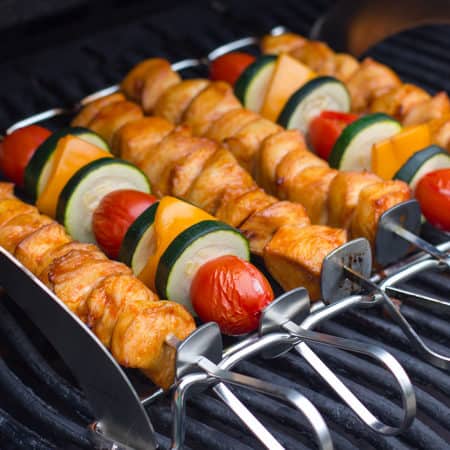 Print
Grilled chicken skewers with Korean marinade made with gochujang, sesame oil, sugar, rice wine, ginger and garlic. Cubed chicken is grilled on skewers. Fermented chili paste.
Servings: 4 People
Ingredients
1/3 cup gochujang
1/4 cup sugar
2 tbsp soy sauce
1 tbsp rice wine
1 tbsp sesame oil
2 garlic cloves , minced
1 tbsp grated ginger
2-3 boneless skinless chicken breasts
skewers
Instructions
Cut chicken breasts into 1 inch cubes.

Make the marinade by mix all the ingredients, except chicken, in a bowl.

Pour the marinade over the cubed chicken and toss to make sure all the chicken is coated.

Cover with plastic wrap and set in the fridge for 1-2 hours.

If using bamboo skewers, soak in warm water for 15 minutes.

Remove chicken from the fridge and thread the chicken onto the skewers.

Heat grill to high heat. Place chicken skewers on grill and cook for about 8 minutes. Flip and cook another 8 minutes or until the chicken is no longer pink. Remove from the grill.