Asian Sesame Beef Skewers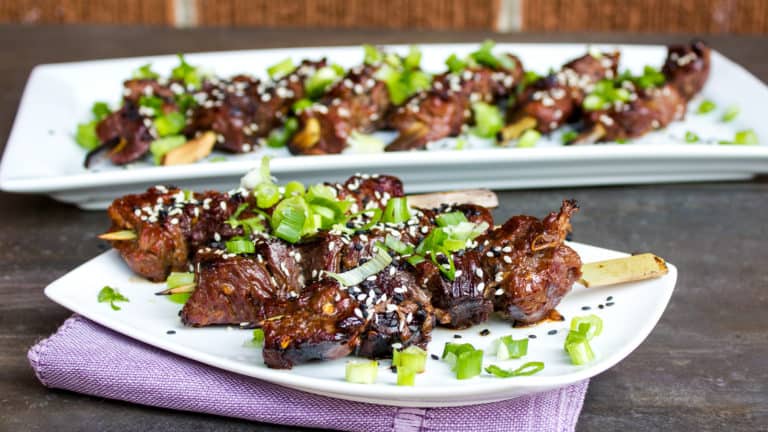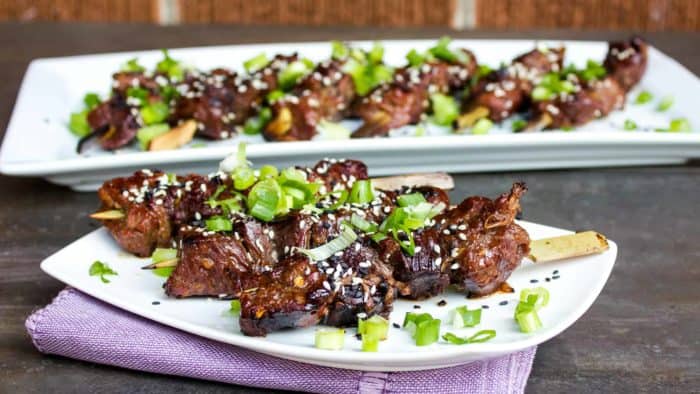 Each Canada Day, my family hosts a large BBQ and I have the joy of cooking plenty of meat. The grill and smoker are both going most of the day to make sure there is enough meat for everyone. This past July 1st, we had around 30 people and it filled up our backyard pretty well. The day is a lot of fun and it has turned into one of my favourite days of the year! This event, rightly called Meat Extravaganza, is on its fifth year. This name fits as there is no shortage of meat including beef, pork, chicken, salmon, shrimp, etc.
Each year I like to try and make a couple different dishes to mix it up and give some variety. Instead of large slabs up meat, this year I did a couple of skewers so that people could try more things, instead of filling up on one. One of the skewers I made was these Asian Sesame Beef Skewers. The day following the Meat Extravaganza event, my brother in law emailed me saying he couldn't find the recipe on the blog. Since I hadn't even posted it and I never got any pictures of the final dish, I knew I had to make it again.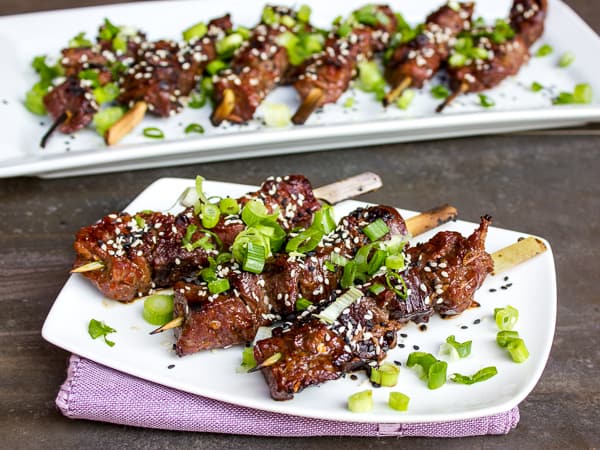 I have tried something new for The Black Peppercorn. I recorded a video food demo of this recipe and uploaded it on Youtube. Below is the Youtube video showing step by step instructions for making these delicious skewers!
These skewers are made with the prime cut of beef. The tenderloin or filet is a little on the pricey side, but after you try these, you will not regret it. The skewers are tender and melt in your mouth delicious! Once cut up, the tenderloin makes a lot of skewers and can feed plenty of people!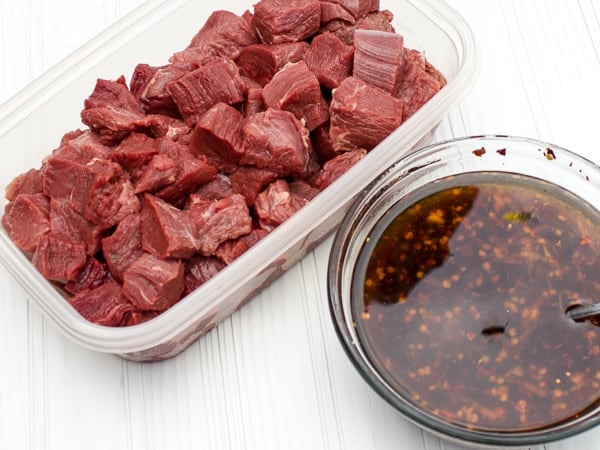 Since there is no acidic ingredient in the marinade, like lemon juice or vinegar, it is possible for the beef to marinate for many hours. I typically let the beef cubes marinate for 2-3 hours, stirring them occasionally.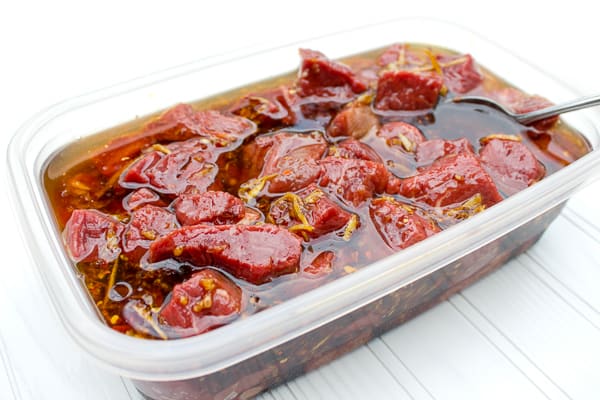 Once skewered, the beef does not take long to cook on the grill. Six minutes of grilling results in a medium rare beef skewer that is tender and delicious, but you can adjust the grill time to reach your desired doneness.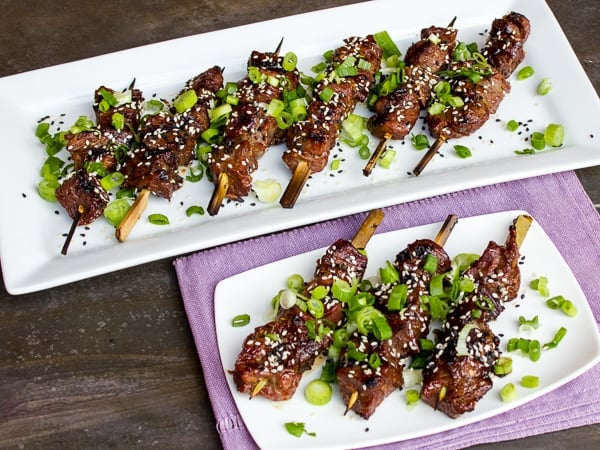 Once grilled, place the skewers on a serving platter and garnish with sesame seeds and sliced green onions. Not only does this garnish create an attractive plated dish, it also enhances the flavour of the skewers.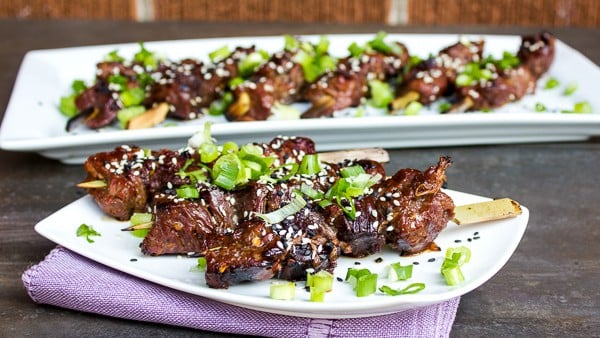 Grilled Asian Sesame Beef Skewers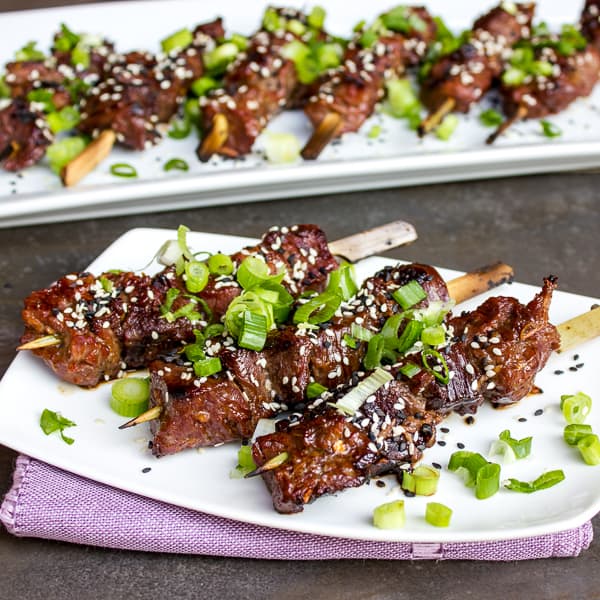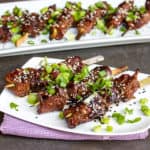 Print
Grilled beef tenderloin skewers marinated in an Asian sesame marinade. Sesame oil, soy sauce, ginger, garlic and green onions.
Servings: 4
Ingredients
1 beef tenderloin (3-4 pounds) , or other lean cut of beef
1/2 cup sesame oil
1/2 cup vegetable oil
2/3 cup soy sauce
1/2 cup sugar
10 garlic cloves , minced
4 tbsp grated ginger
1 tsp dried chili flakes
2 tbsp sesame seeds
2 tbsp black sesame seeds
8 green onions , sliced
skewers
Instructions
Trim the beef tenderloin of any fat and membrane. Cut into 1 inch cubes.

Make the marinade by mixing the oils, soy sauce, sugar, garlic, ginger and chili flakes together.

Place beef cubes in a bowl, pour the marinade over them and toss to ensure all the beef is coated in the marinade. Cover the bowl with plastic wrap and place in the fridge for at least one hour to marinate.

Soak skewers for at least 15 minutes before adding the meat.

When ready to grill, place the meat on the skewers.

Grill on medium high for about 6 minutes, flipping halfway through. This will cook the beef to medium rare. Adjust the grill time for suit your desired doneness.

Place on a serving platter. Sprinkle with sesame seeds and green onions.