These grilled Thai beef satay skewers are the perfect Thai appetizer and great served with peanut sauce. How to grill beef skewers with this easy recipe.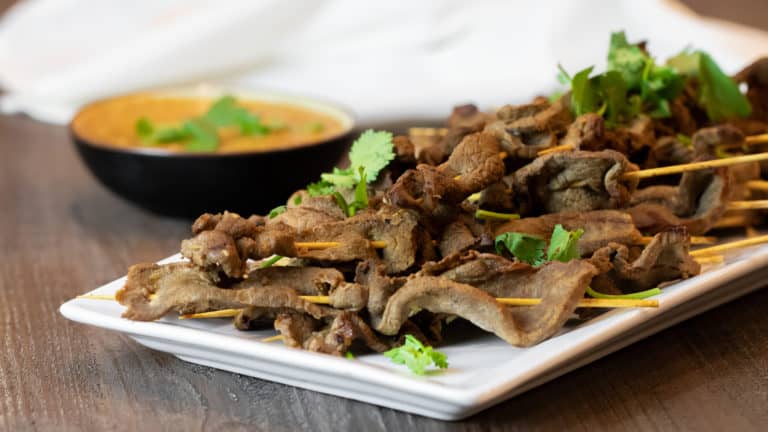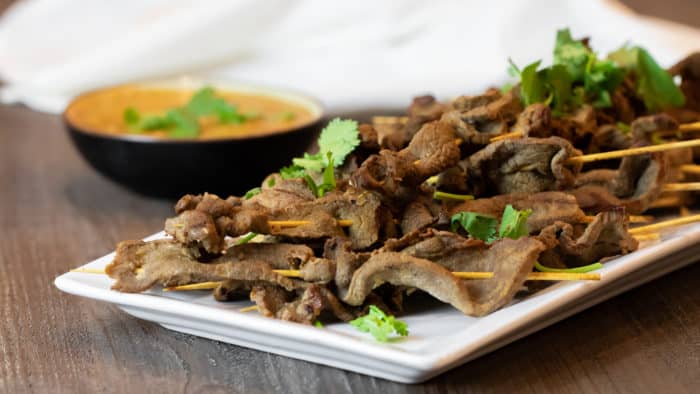 These Thai beef satay skewers are an amazing appetizer, that are great as part of a full Thai dinner. These grilled skewers are also perfect for parties and gatherings. I have made them many times, for events like New Years, the Super Bowl and other holidays and these beef satays are a hit every single time I make them.
There is a local Thai restaurant and most times we go there, we order the beef satay skewers. They are so good. I have been making them at home as well for many years and we love them so much!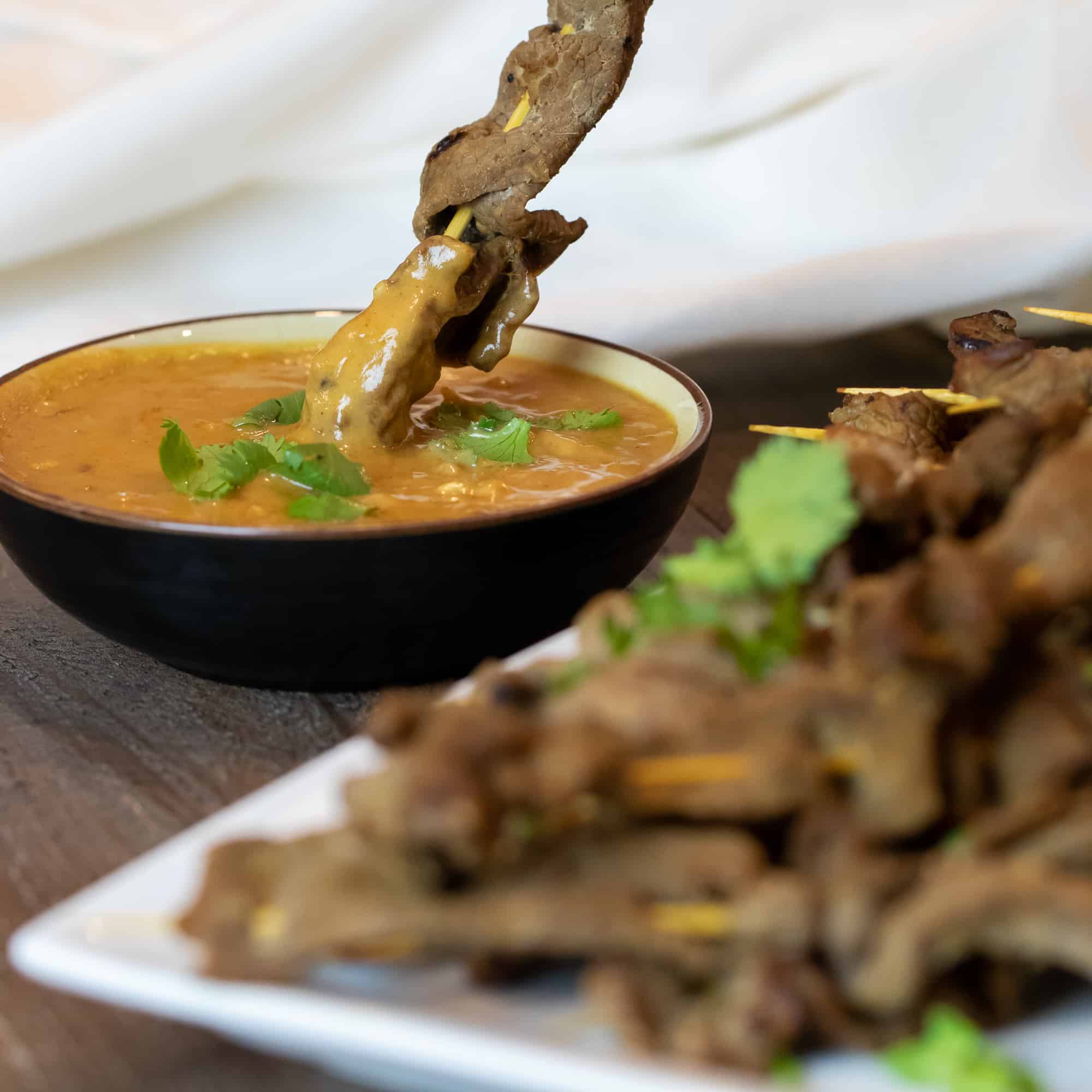 These Thai beef satay skewers are delicious, but providing the right sauce to dip them in will move these appetizers from good to great. Normally, I make a peanut sauce to go with the beef satay. It is the perfect compliment sauce and people rave every time they try it. Here are a few recipes for some great dipping sauces.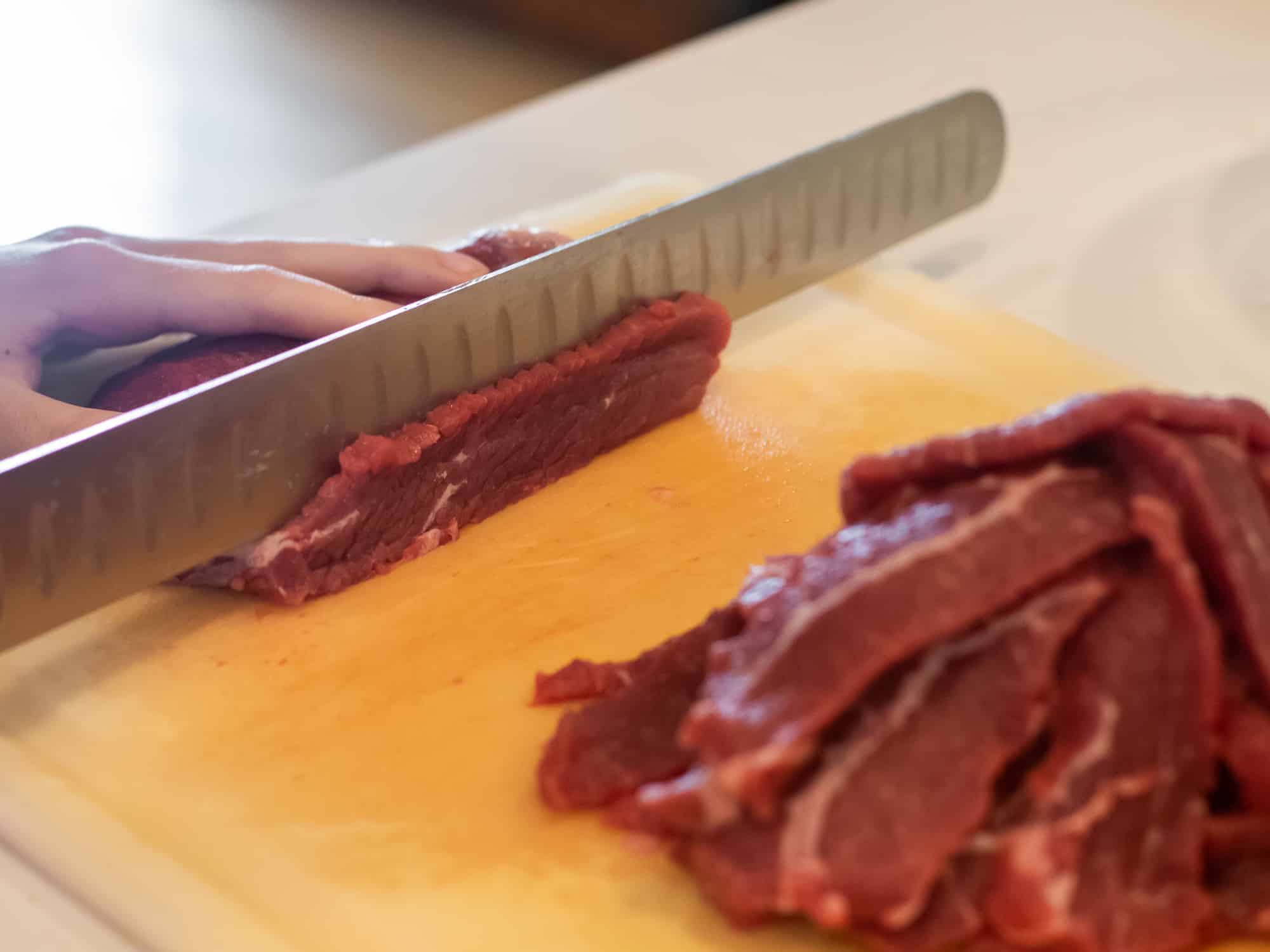 Choosing and slicing the beef
The cut of beef that I usually use for Thai beef satay is round roast. It is a lean and cheap cut of meat that is able to slice into consistent strips of beef for the wooden skewers. There are many different cuts of beef that works very well, like sirloin tip, top sirloin and more. You could even use a fairly thick steak and cut into strips.
Use a very sharp long knife and cut beef into thin strips that are around 1/4 inch thick. Cutting against the grain will result in a more tender beef satay.
The perfect marinade
One of the most important aspects of Thai beef satay skewers is the marinade mixture. The majority of these ingredients should be available at your local supermarket. The chili oil is the one that might be difficult to find. I pick up a bottle of this spicy oil at an Asian supermarket near me. If you are having difficulty finding it, you can just use another type of oil (vegetable, canola, peanut, etc.) and mix in a teaspoon of sriracha sauce for the heat.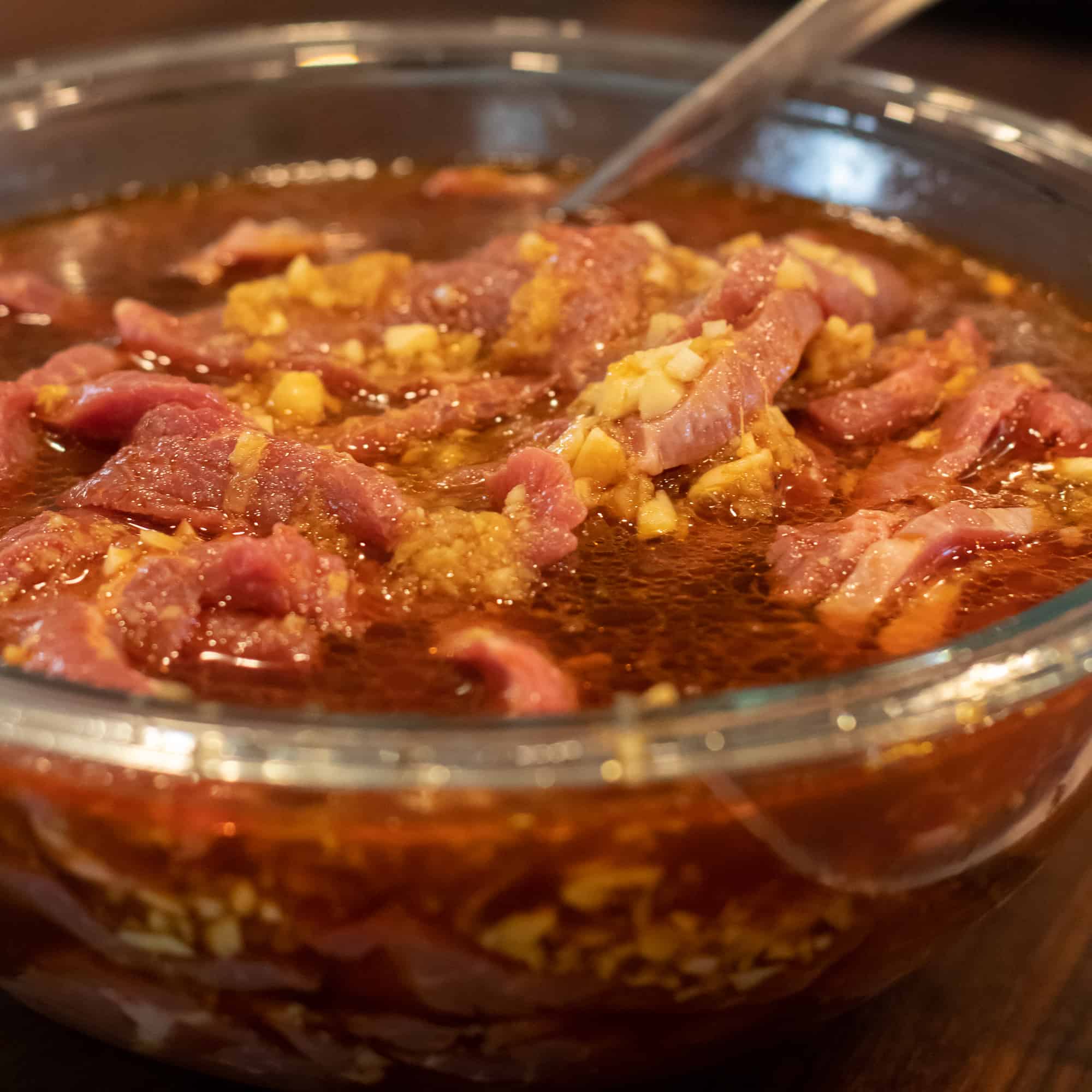 How long to marinate the beef?
Make sure to toss the beef well in the marinade, so that all of the strips of beef have been coated in the liquid. Cover the bowl with plastic wrap and place in the fridge. Generally, I let the beef marinate for 1 to 2 hours. That is long enough to tenderize the meat and allow the marinade to penetrate into the beef.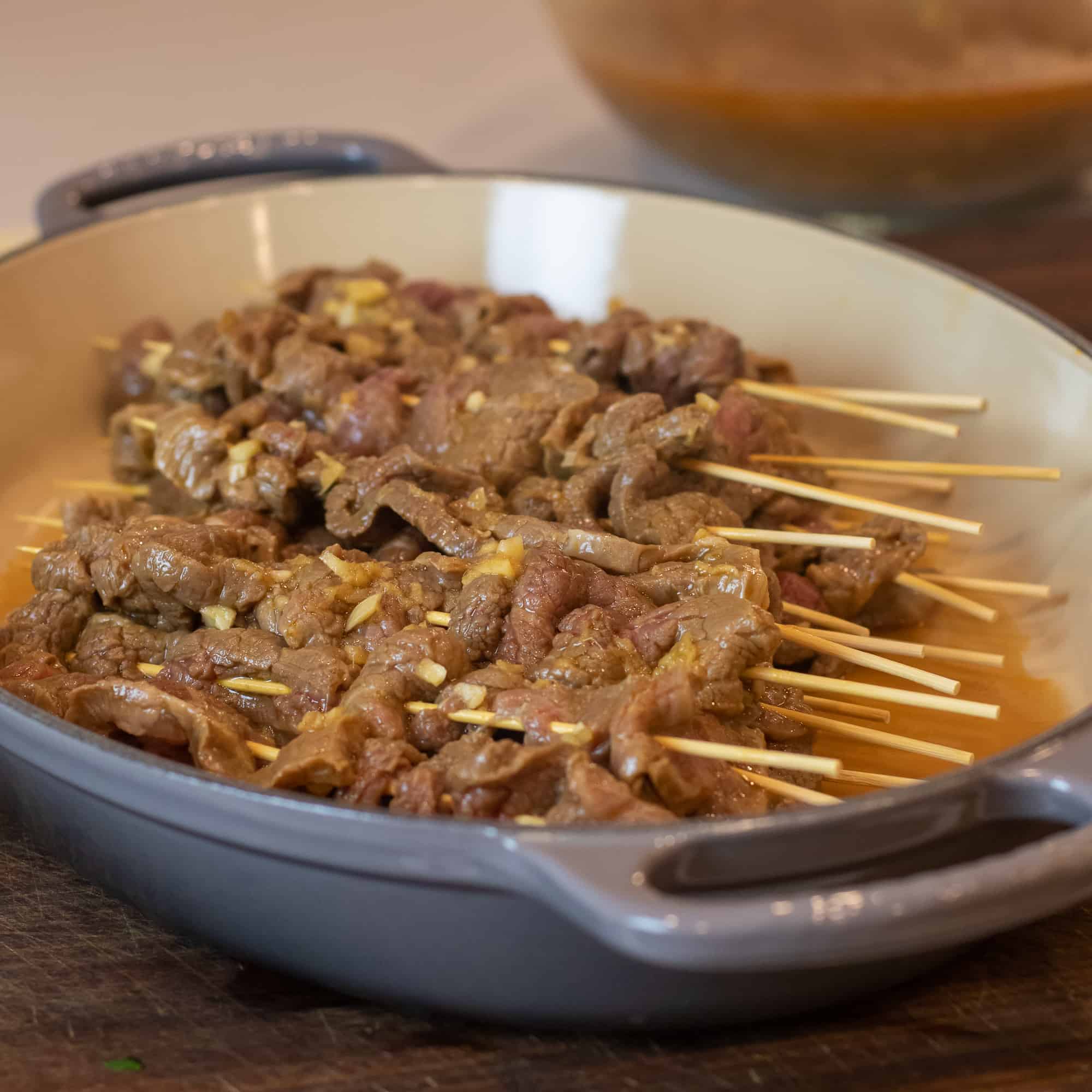 After the beef has had a chance to marinate, it is time to put them on the skewers. Thread the strips on wooden skewers poking the end through the beef and go back and forth. Putting the beef on a skewer is similar to sewing with some string.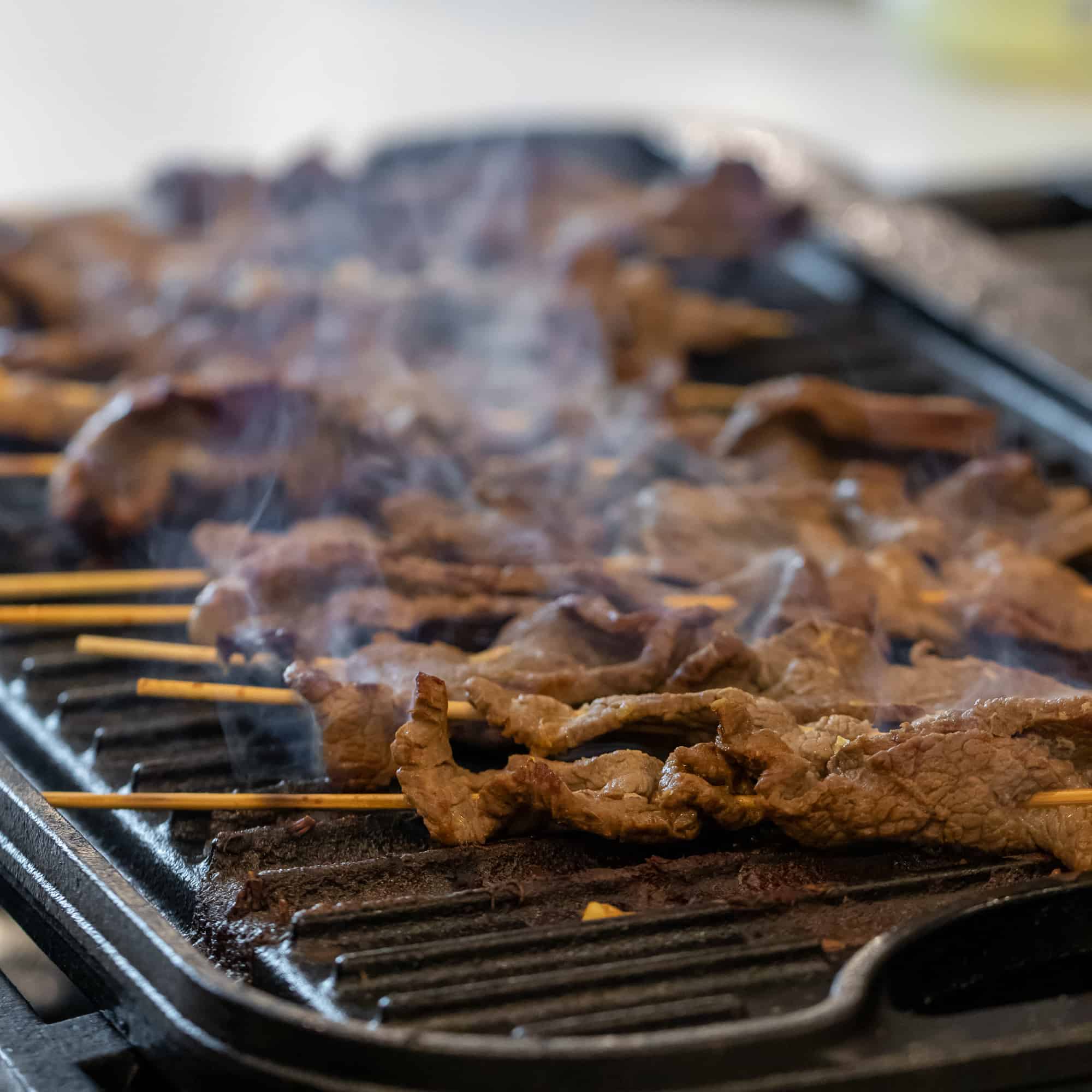 How to cook satay skewers
Depending on the season and weather, I either grill the Thai beef satay on an outdoor gas grill, or on an indoor griddle/grill. Both work very well.
Grill over medium high heat and since the strips of beef are very thin, they will cook very quick. I cook them for 2 minutes and then flip them over to cook for another couple minutes.
If you are cooking indoors, make sure to have the hood fan on high, since the marinade may cause a decent amount of smoking.
These are great as part of a full Thai dinner. If you are planning a menu of Thai dishes, then check out some of these other recipes.
Beef Satay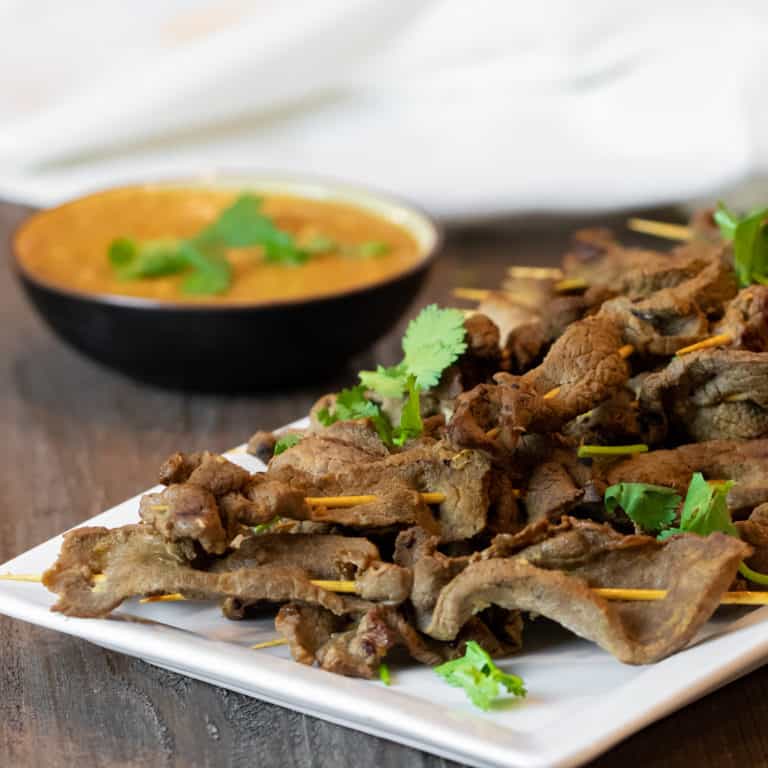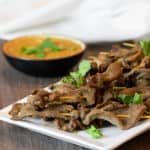 Print
These grilled Thai beef satay skewers are the perfect Thai appetizer and great served with peanut sauce.
Servings: 8
Ingredients
1 pound beef roast , sirloin, round, etc
Bunch of skewers
1/2 cup soy sauce
1/2 cup vinegar
3 tbsp sugar
3 tbsp hot chili oil
3 cloves garlic , minced
3 tbsp grated ginger
Instructions
Slice the beef, against the grain, into thin 1/4 inch strips.

Make the marinade by mixing together the 1/2 cup soy sauce, vinegar, sugar, hot chili oil, garlic and ginger. Pour the marinade over the meat. Marinate for 1-2 hours moving the meat around to make sure that the marinade covers it all.

Thread the marinated beef strips on wooden skewers.

Heat the outdoor or indoor grill over medium high heat. Place the beef on the grill and cook for about 2 minutes per side for medium rare, or your desired doneness. Serve with peanut sauce.
Nutrition
Per serving:
Calories: 159kcalCarbohydrates: 6gProtein: 14gFat: 8gSaturated Fat: 2gCholesterol: 35mgSodium: 843mgFiber: 1gSugar: 5g