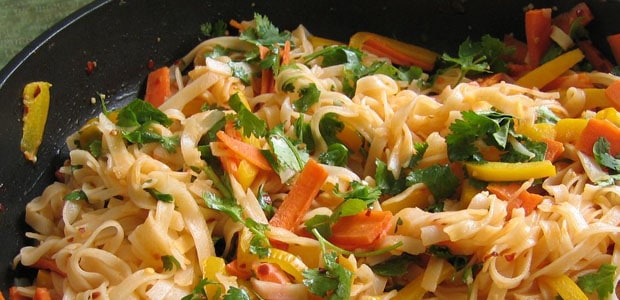 Tonight I was wanting a noodle dish that went well with the Beef Satay's I was making. This is the result. It turned out really well although it was a little too spicy for the kids – they didn't stop eating it though.
Sweet Chili Thai Noodles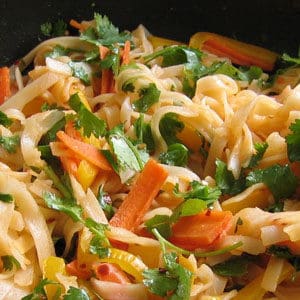 Print
An easy to make Thai chili noodle recipe that is a great side dish. Made with rice noodles
Servings: 4 people
Ingredients
1 package of rice noodles (cooked according to instructions on the package)
1 tbsp oil
1 yellow pepper , thinly sliced
1 carrot , thinly sliced
1/3 cup water
1/3 cup vinegar
1/4 cup sugar
1 tsp crushed garlic
1 tsp slivered ginger root
1 or 1/2 tsp dried chilis (hot or medium hot - your choice!)
2 tbsp ketchup
1/2 cup chopped cilantro
Instructions
In a large pan, heat the oil at medium high.

Add pepper and carrot. Stir for 1 minute.

Add remaining ingredients (except noodles and cilantro) and stir until a nice sauce forms.

After 3 or 4 minutes lower heat to a simmer and add the noodles and stir so they are covered well in the sauce.

Remove from heat and stir in the cilantro.