This recipe for Chinese chow main noodles is simple to make and tastes just like take out! Perfect for a weeknight meal or part of a Chinese dinner.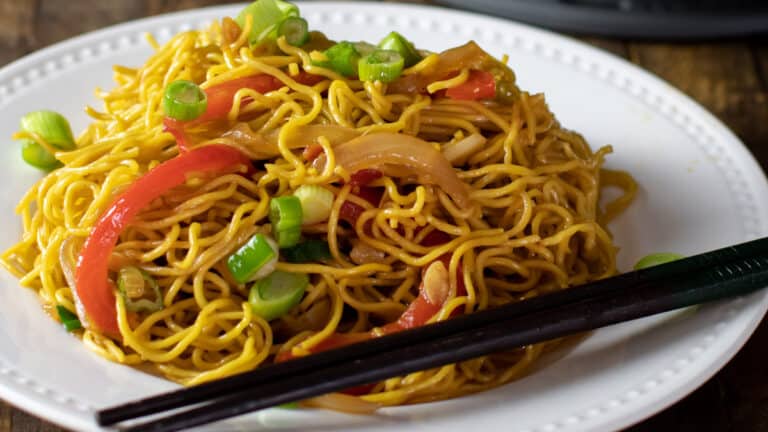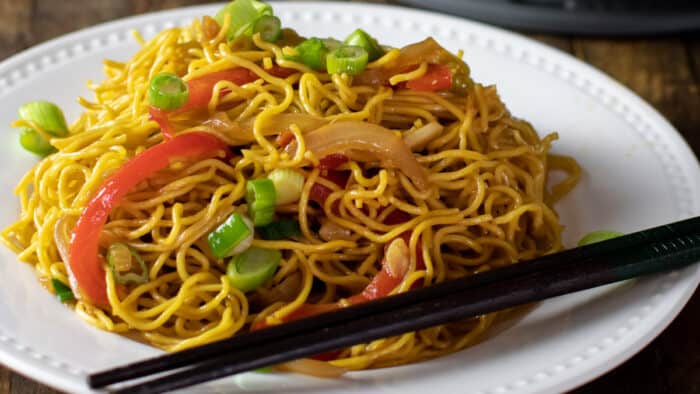 One of my favourite dishes for Chinese take out is chow mein noodles. I usually order vegetable chow mein and I love how simple this dish is and it is great alongside some lemon chicken, sweet and sour pork or beef and broccoli.
Preparing this dish at home is very easy, and this recipe will show you how to make chow mein noodles just like you ordered it from your favourite restaurant.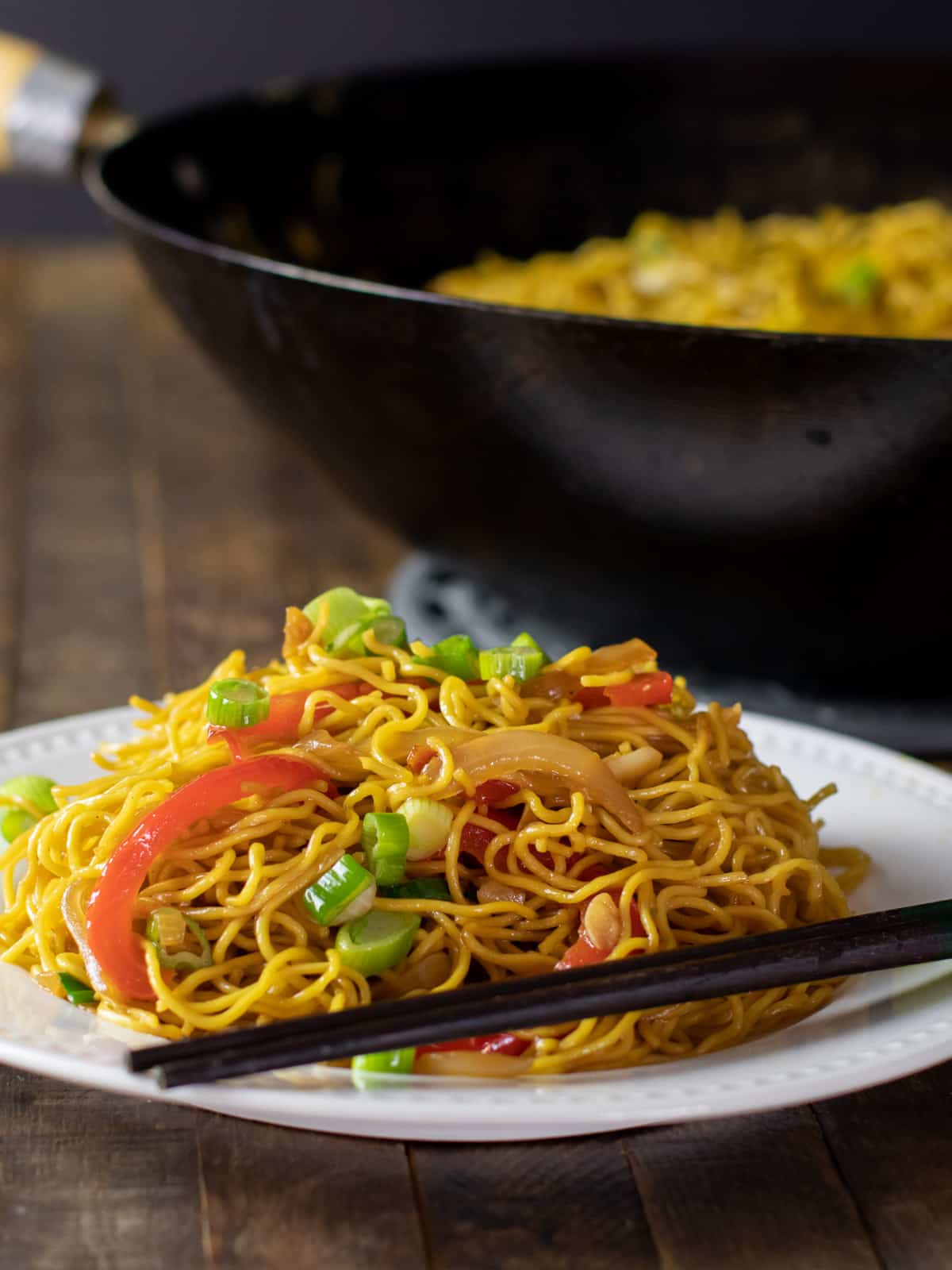 What Makes Chow Mein So Great
Simple to make! This noodle dish can be prepared so quickly that it is ideal for weeknight meal.
Great for leftovers – Chow mein tastes just as good the next day!
Work or school lunch – Make this on Sunday and you can package them up into glass lunch containers. Then you can bring one package to work and heat it in the microwave.
Easy to add other ingredients – throw in some cooked chicken, pork or shrimp. Add in some more vegetables. There are so many options!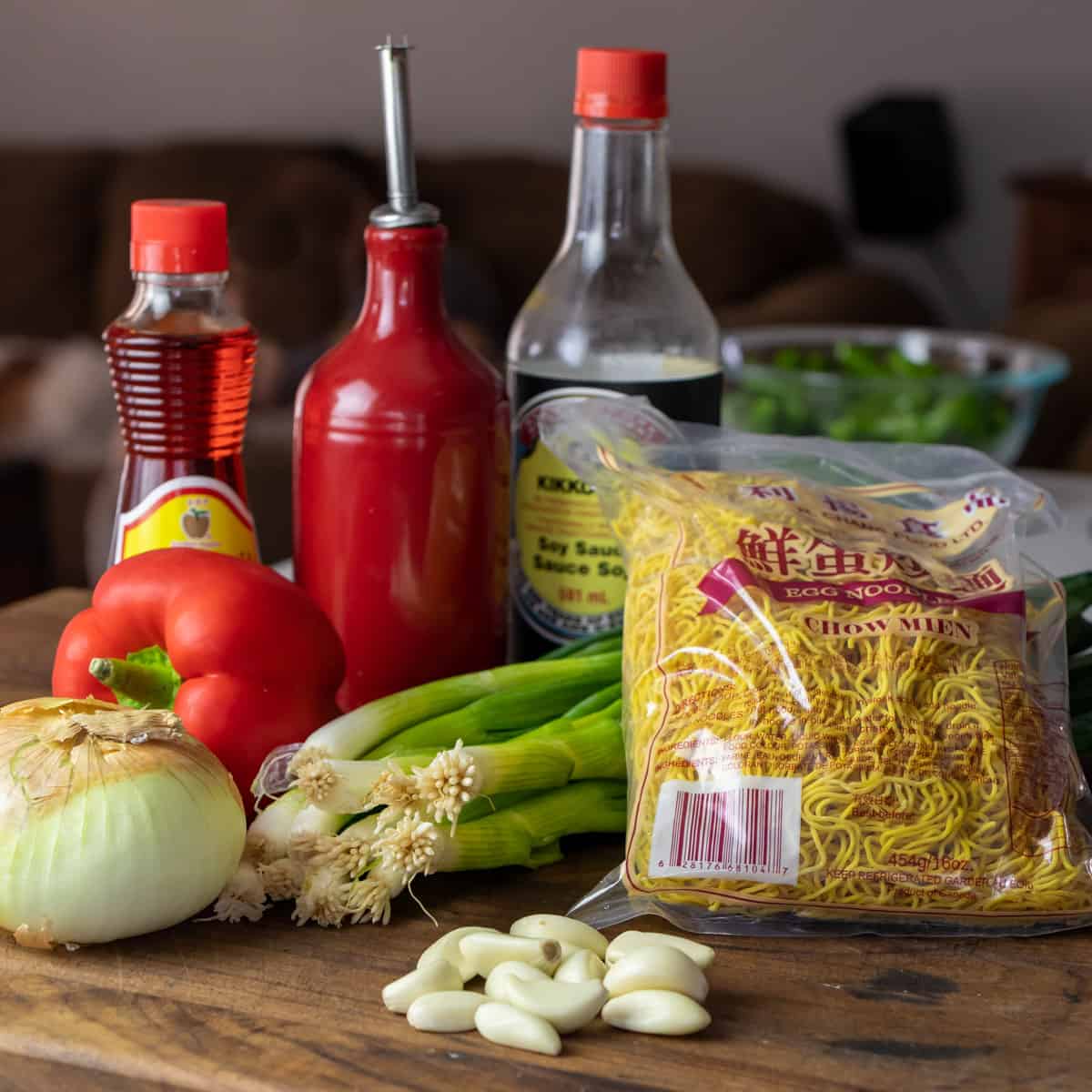 Ingredient Notes
Chow Mein Noodles – these egg noodles are available at most Asian supermarkets. They are fresh and very easy to prepare. The kind I purchase need to be added to boiling water for 2-3 minutes and then rinsed. After that, they are ready to be added to this recipe.
Onion – You could use cooking onions or red, Vidalia, white or other types of onion.
Red Pepper – While I used red, any sweet pepper (capsicum) is great.
Garlic Cloves – While this recipe uses whole cloves that are minced, you could also use minced garlic that can be purchased in a jar.
Green Onions – Also known as scallions, these are added once the chow mein is finished cooking and adds a very nice flavour to each bite.
Oyster Sauce – This is an important addition to the chow mein sauce and really deepens the flavour.
Soy Sauce – A typical ingredient to Chinese dishes, soy sauce adds a nice salty flavour.
Chili Oil – This will add some heat to the noodles. You could add more or less, depending on your heat preference.
Sugar – This will provide a nice sweetness to the sauce that coats the cow mein noodles.
Oil
Water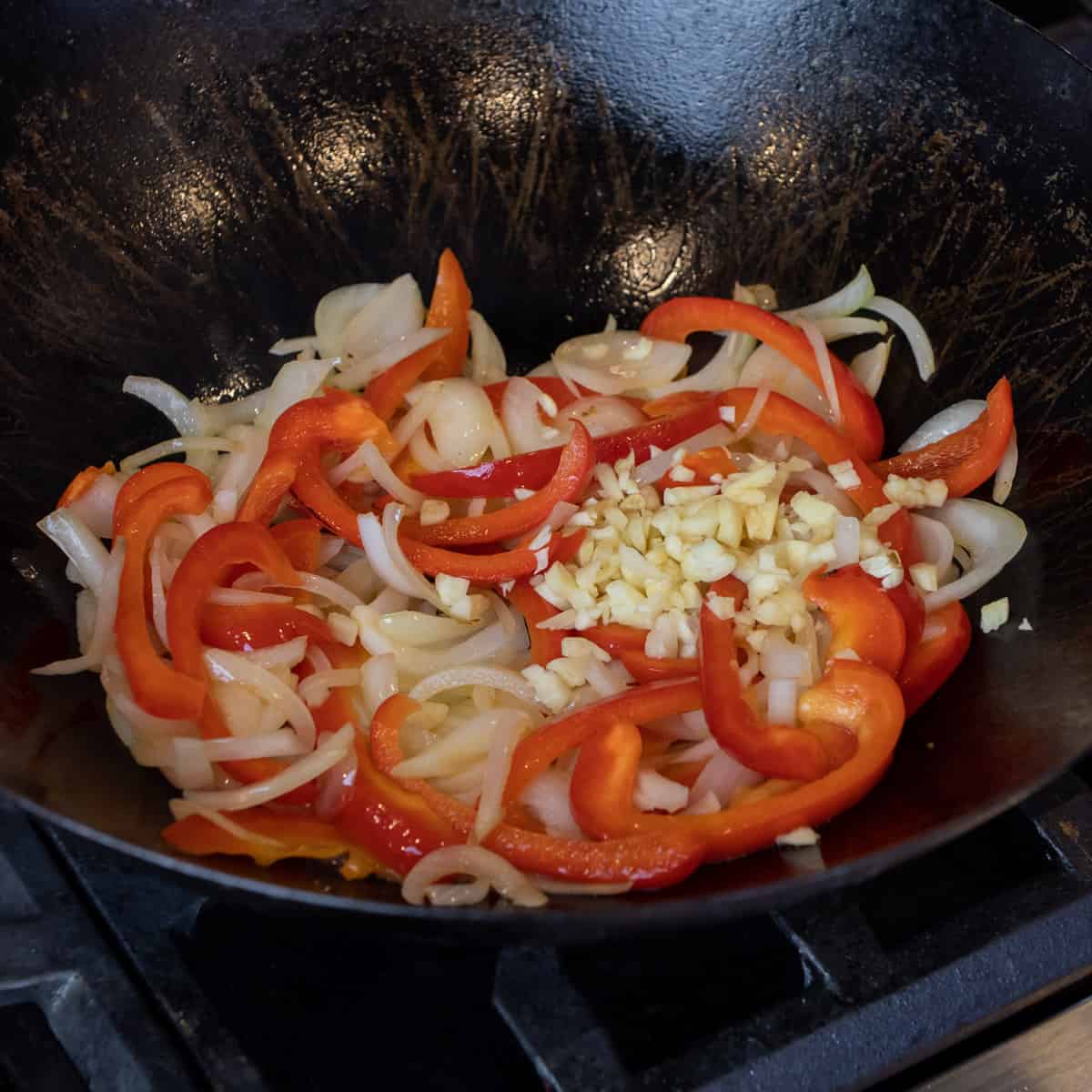 Step 1: Sauté The Vegetables
To get things started, heat the oil in a wok over medium high heat. Add in the sliced onion, red pepper and minced garlic. Cook for about 5 minutes. The onions will start to turn translucent and the peppers will soften.
Expert Tip! While this vegetable chow mein recipe uses a wok, it is possible to use a large skillet or even big saucepan. Just make sure that it is large enough for you to be able to toss the noodles.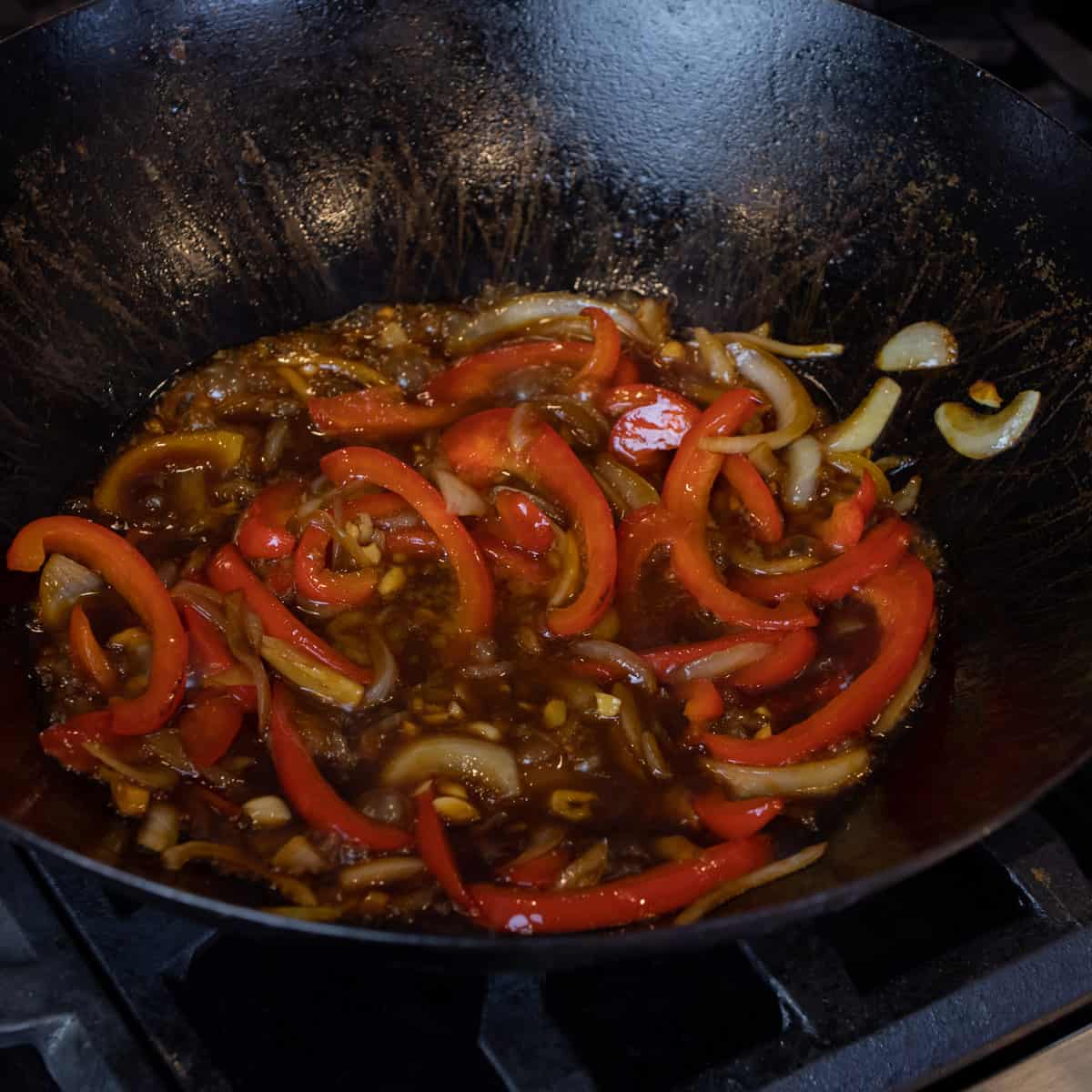 Step 2: The Sauce!
It is best to stir the ingredients for the sauce prior to adding them to the wok. Use a separate bowl and add the oyster sauce, soy sauce, chili oil, water and sugar. Stir until well mixed.
Add the sauce to the wok and stir. Then add the butter and once it is melted, stir everything together. Cook for a few more minutes, stirring often.
Expert Tip! The butter may seem like an odd choice for a Chinese noodle dish. But, the butter will coat the noodles and give a richer flavour. We have made it multiple times both with and without butter and the added butter really elevates this dish.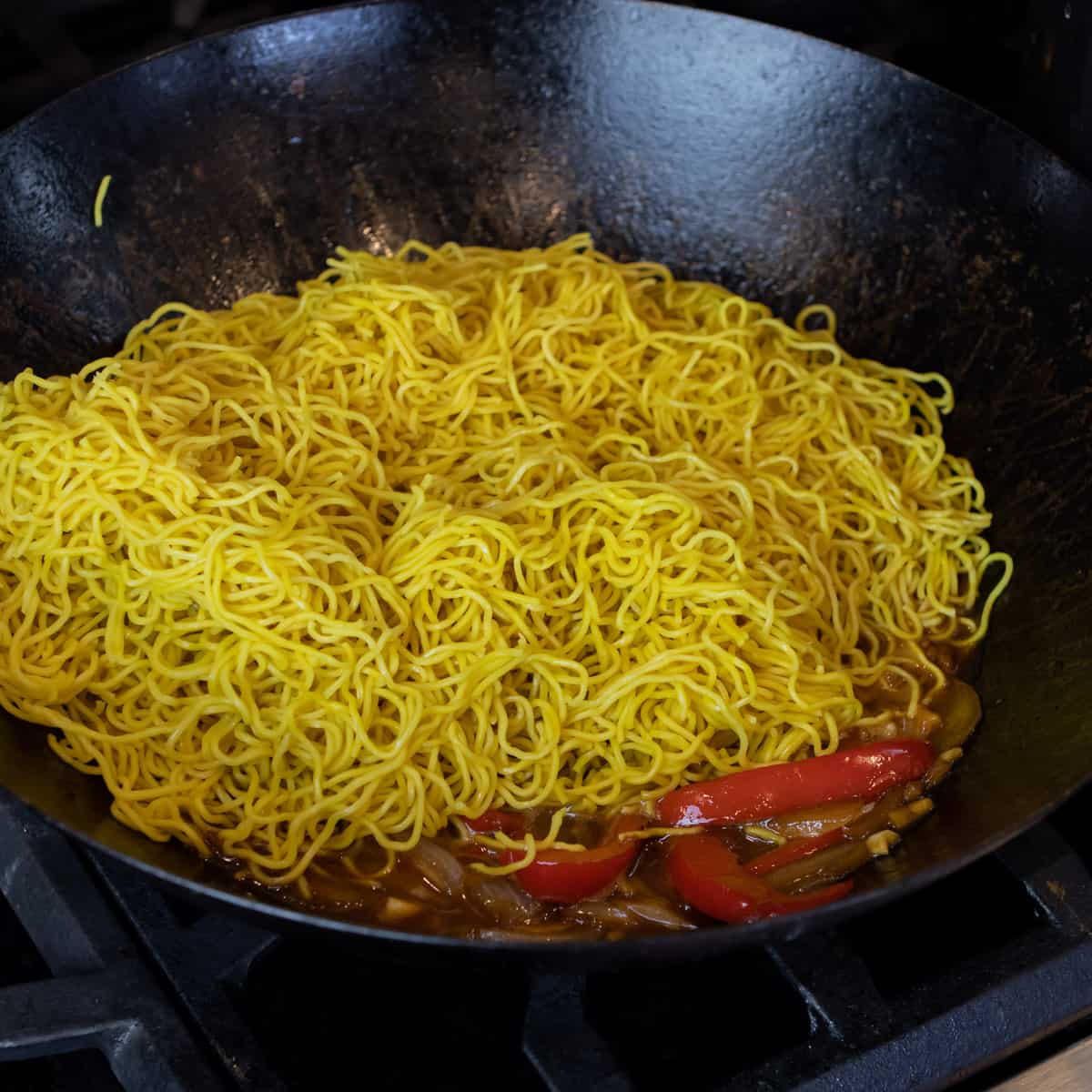 How To Cook Chow Mein
Typically, there are instructions on the package for how to prepare chow mein noodles. The simplest way is to boil water and then add the noodles and let the chow mein cook for 2-3 minutes. Then drain the water and give the noodles a rinse. I prepare these first and set it aside before I cook the pepper and onions. Then, the noodles can be stirred when needed.
Step 3: Stir In The Noodles
Once the onions and pepper have been cooking in the sauce for a bit, it is time to add the noodles. Stir in the chow mein and toss until they are all coated in the sauce. There should just be enough sauce to cover all the noodles with no extra pool of sauce at the bottom of the wok.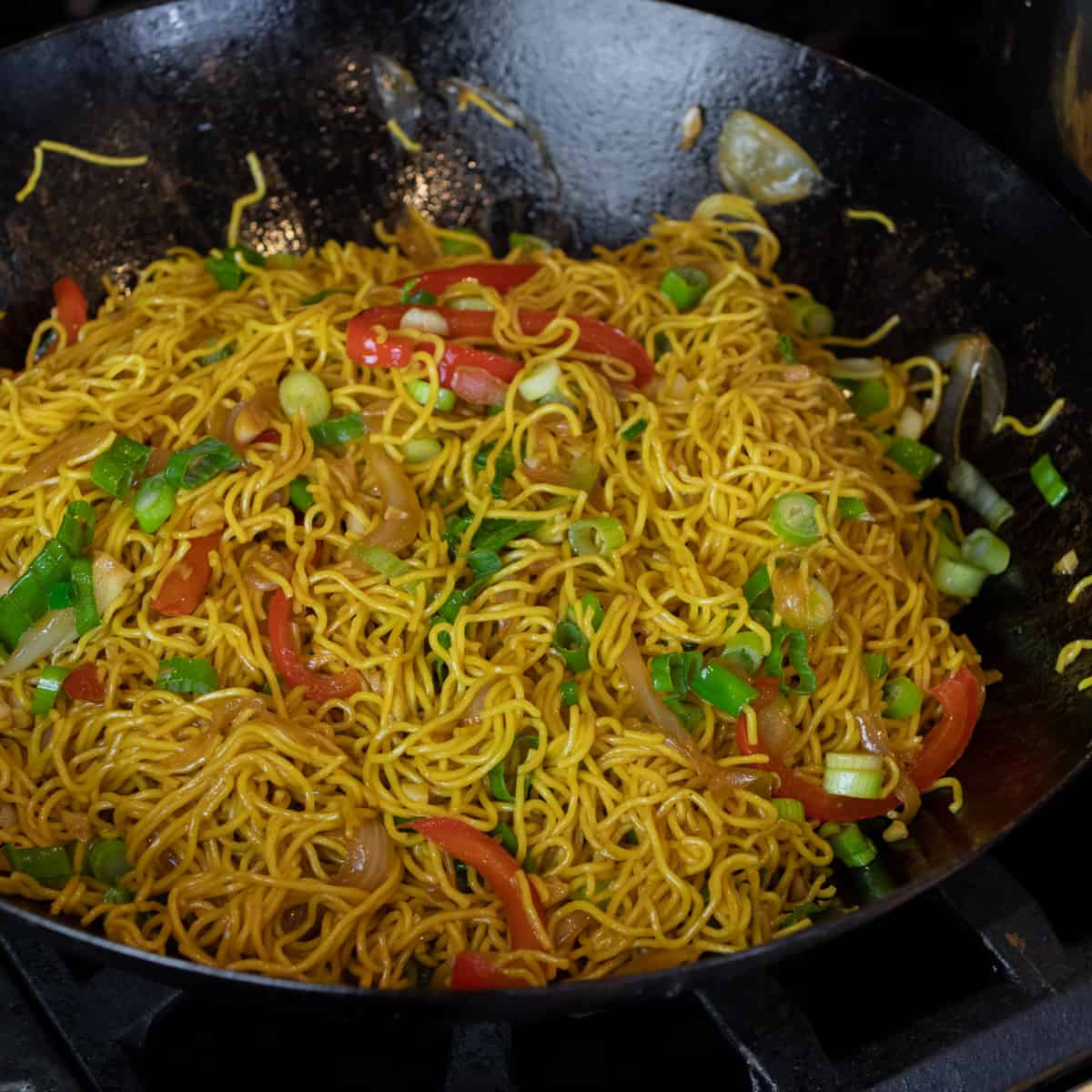 Step 4: Simmer Time!
Reduce the heat to medium low and let the chow mein cook for a few more minutes. Make sure to stir often and scrap the bottom of the wok so that the noodles do not stick. Turn off the heat, stir in the sliced green onions, and serve.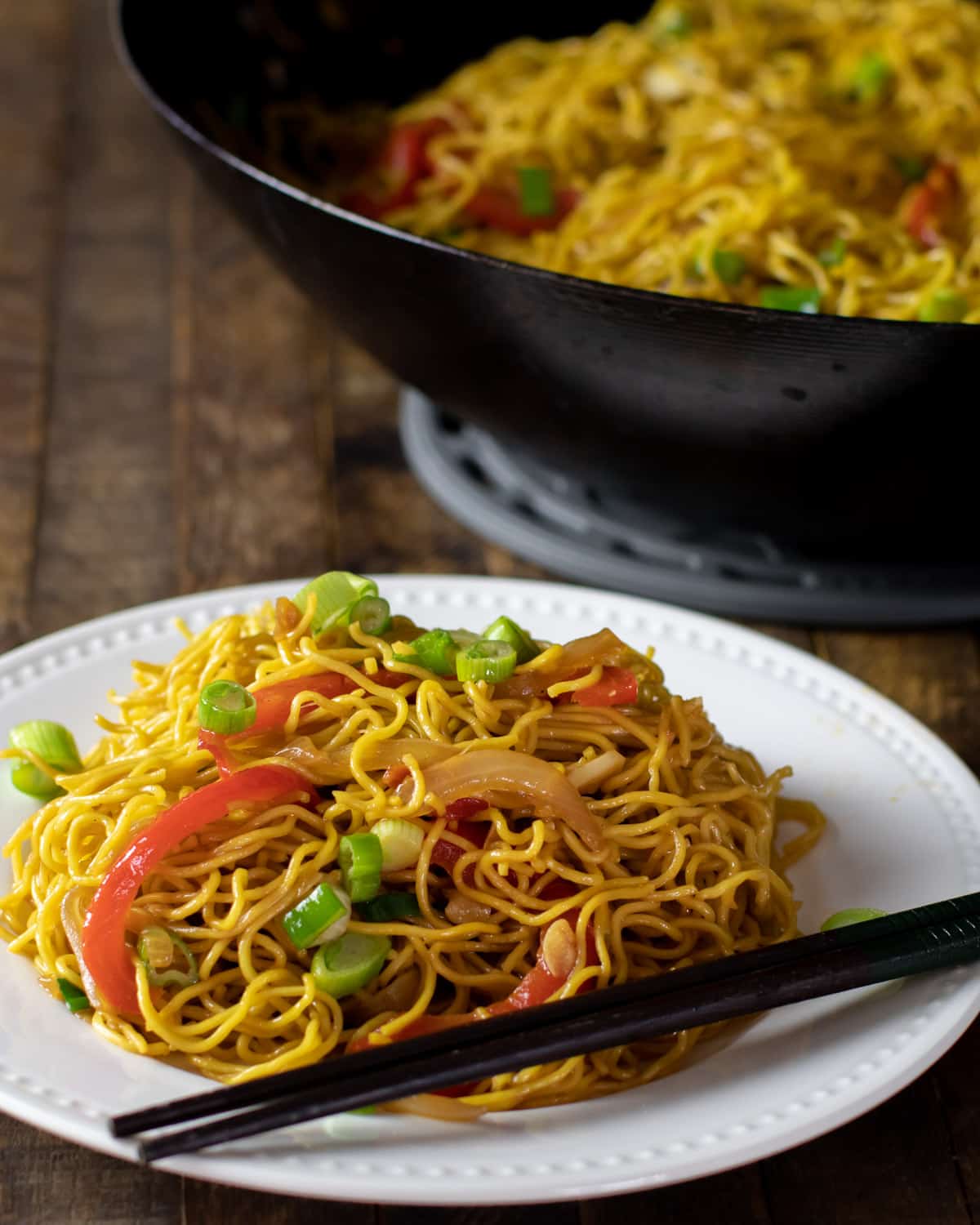 Other Noodle Recipe Ideas
There are many different types of Asian noodle recipes using all sorts of different types of noodles. Some are great as a side dish, while others are so fully packed with ingredients that it can be a full meal. If you like this vegetable chow mein, then check out these other great recipes!
Vegetable Chow Mein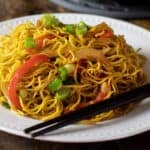 Print
Easy to make classic Chinese stir fried noodles. This chow mein has pork and shrimp along with peppers, celery, green onions and more.
Servings: 6 people
Ingredients
16 oz chow mein noodles
3 tbsp oil
8 garlic cloves , minced
1 red pepper , sliced
1 onion , sliced
8-10 green onions , sliced
4 tbsp oyster sauce
3 tbsp soy sauce
4 tbsp water
2 tbsp sugar
1 tsp chili oil
2 tbsp butter
Instructions
Cook the chow mein noodles according to instructions on the package. Set aside for later.

Heat oil in wok over medium high heat.

Add the sliced onion, red pepper and minced garlic. Cook for about 5 minutes, stirring often.

In a separate bowl, mix together the oyster sauce, soy sauce, water, sugar and chili oil. Pour into the frypan and stir so the vegetables are covered. Add in the butter and stir until melted and well mixed into the sauce. Cook for a few more minutes

Dump in the chow mein noodles and toss until they are all coated in the sauce.

Lower the heat to medium low.

Place a lid on the frypan to cover it and let the noodles and vegetables cook for another 3-5 minutes. Check occasionally to make sure nothing sticks to the bottom of the pan.

Stir in the green onions and serve.
Nutrition
Per serving:
Calories: 422kcalCarbohydrates: 64gProtein: 13gFat: 13gSaturated Fat: 3gCholesterol: 10mgSodium: 1338mgFiber: 5gSugar: 8g