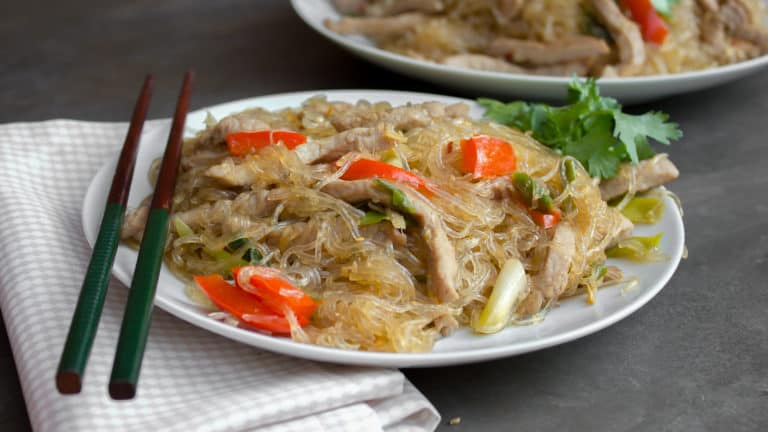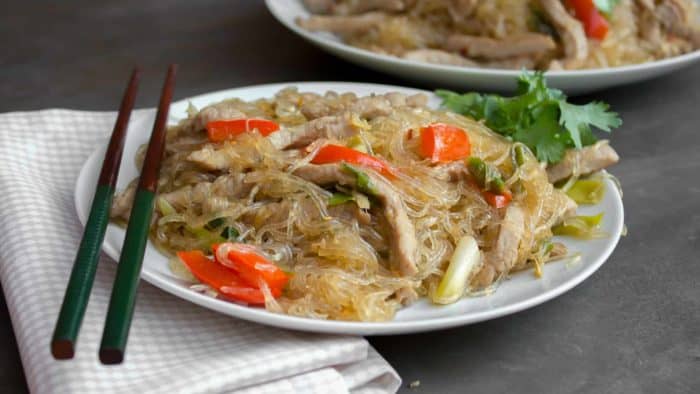 During my vacation, I had the opportunity to teach a couple of cooking classes. We were at our cottage for the week which is at a Christian campground. During the week, it was family camp on the grounds, and hundreds of people were there. Since my wife was the director of family camp, she recruited me to offer some cooking classes to anyone interested . She actually asked me to do it for last years camp, but I declined.
At the time I did not feel qualified to offer any classes as I do not have any formal culinary training. But, over the course of this past year, I started The Black Peppercorn and when she asked me to do some cooking classes for this current year, I felt that I could do it – although, I was unsure anyone would be interested in even coming.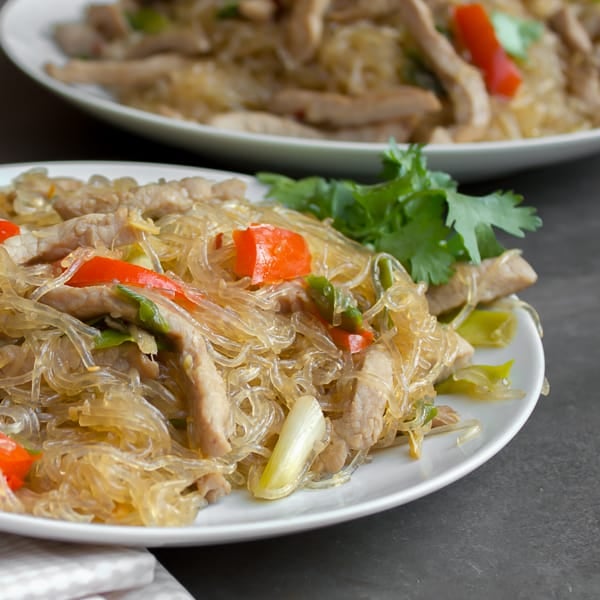 The first class I offered was teaching a few canapé recipes. They are bite size appetizers which are great for parties. I provided a demo of three appetizers, allowed everyone to try each one and then gave recipes for each. It went over really well and there were about 15 people who came to our cottage for the session.
The second session was a lesson on Thai cuisine and close to 20 people came. I first taught about the many ingredients that are unique but common to Thai food. Then I showed how to make three Thai dishes: Thai cold spring rolls, green curry chicken and glass noodles with pork.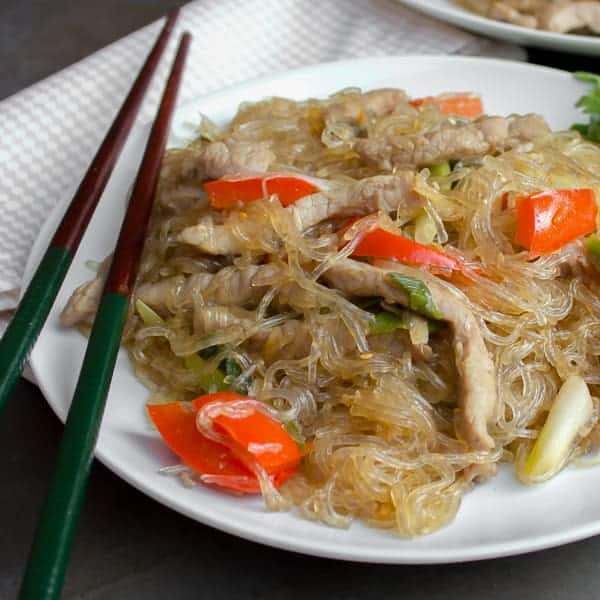 Glass noodles are so easy to make and quite a bit different than Western noodles. Made from beans or peas, these noodles are naturally gluten free. Prior to cooking, they are hard, brittle and white. Once soaked in boiling water, they are totally transparent and tender.
If you are looking to purchase these in a grocery store, they go by a number of different names: glass noodles, cellophane noodles, crystal noodles, Chinese vermicelli and more. Make sure they are made from bean or peas and NOT wheat or rice.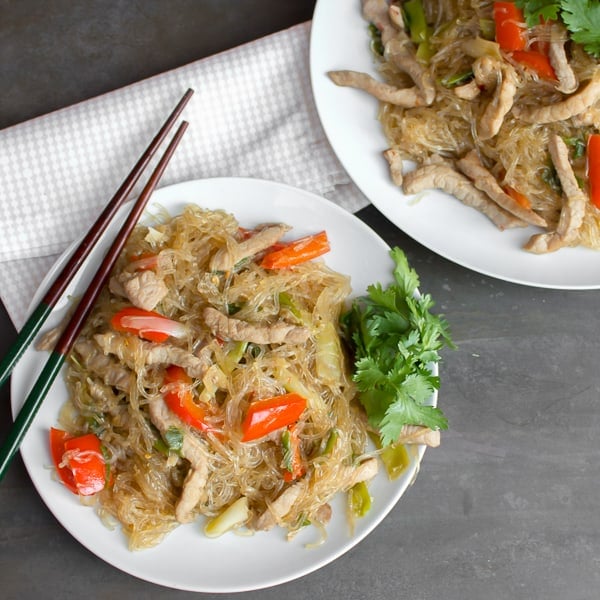 Glass Noodles Stir Fry with Pork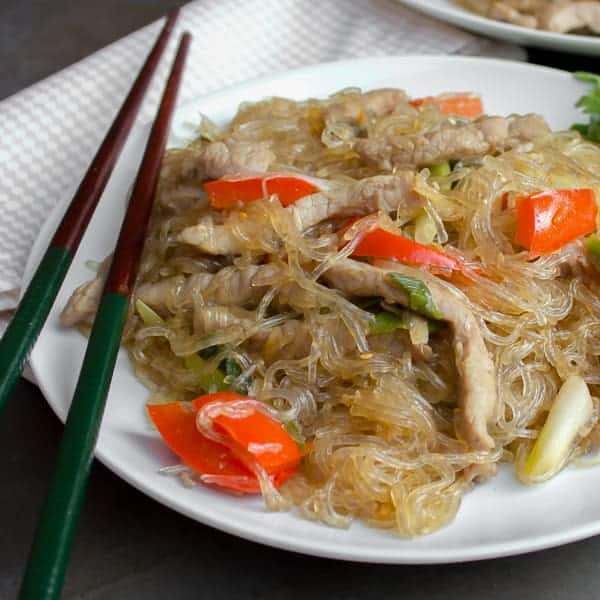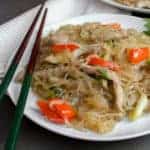 Print
A recipe for an Asian inspired dish with pork, red peppers and green onions/scallions and glass noodles. Also known as crystal noodles, cellophane noodles or Chinese noodles, these are made with bean or peas.
Servings: 6 people
Ingredients
1 package of glass noodles (bean vermicelli noodles)
1 pound boneless pork loin chops thinly sliced
2 tbsp oyster sauce
2 tbsp oil
1 tbsp fish sauce
1 tbsp soy sauce
1 tbsp white sugar
3 cloved garlic minced
2 Thai chilies chopped
1 tbsp grated ginger
1 red pepper diced
8 scallions/green onion sliced
1/2 cup chicken broth
1/2 cup chopped fresh cilantro
Instructions
Make the marinade for the pork by mixing the oyster sauce, oil, fish sauce, soy sauce, sugar, garlic, ginger and Thai chilies. In a bowl, pour the mixture over the chopped up pork and toss until the meat is all coated in the marinade. Let the meat marinate in the fridge for about 30 minutes.

To cook the glass noodles, place them in a large bowl. Pour boiling water in the bowl, enough to cover the glass noodles entirely. Once they are transparent , soft and tender (about 5 minutes), drain the water.

Heat a large skillet to medium/high heat. Add the pork with all the marinade, red pepper and scallions. Stir often and cook until the pork is fully cooked, about 7 minutes.

Lower the heat and stir in the glass noodles and 1/2 cup chicken broth. Cook for another couple minutes.

Remove from the heat and stir in the fresh cilantro.