Thai Sweet Chili Pork with Rice Noodles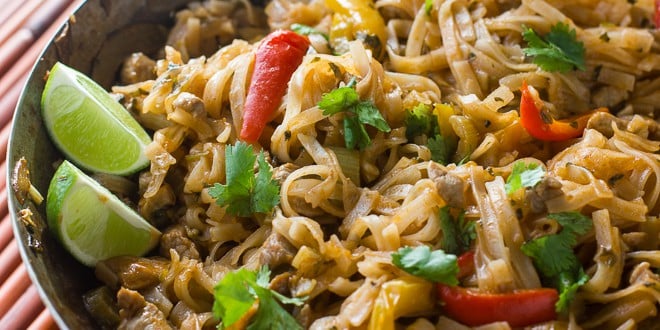 Even though I am developing a number of new recipes every week, I do always appreciate those 'quick to make' weeknight meals. With dance lessons, football practices, piano and drum classes, there are lots of evenings that we do not have lots of time to make a big meal.
On those hectic days, I love those meals that can be thrown together in less than 30 minutes. I try to limit how many prepackaged meals we eat. So, while it it definitely easiest to throw some box meal from the freezer into the oven, I still like to make the effort and make a meal from scratch.
Over the years, I have developed a bunch of fast dinner dishes. These meals take less than 30 minutes to make, and that includes the prep and the cooking. Basically, I want to get the stuff from the fridge to the dinner plate in less than half an hour.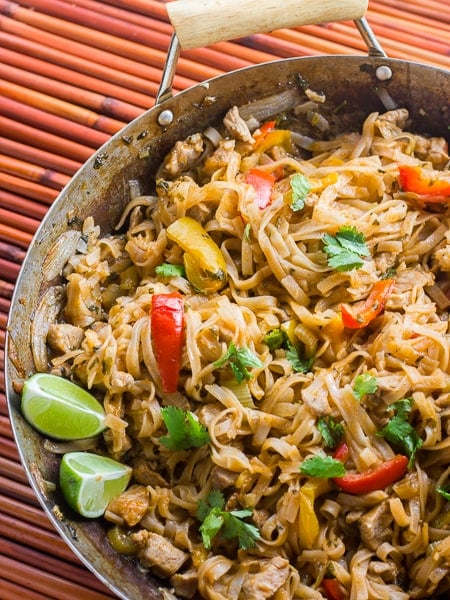 This dish is one of those meals that is surprisingly fast to prepare, but tastes amazing. I love that this meal takes as long to cook as a box of frozen chicken nuggets and oven baked french fries, but this is healthy and made from wholesome ingredients.
Not only is this dish quick to make, but the whole family loves it! The sauce resembles a sweet and sour sauce, but there is a little bit of heat with the dried chilies. Don't think that this is very spicy, because it is not. My wife and kids, some of whom do not like spicy food, were all fine with this dish and did not find it hot.
I made this with sliced strips of pork meat, but that could easily be switched up with many other protein options. Chicken and shrimp would be awesome, and even some other variations like chunks of salmon or even tofu works out well!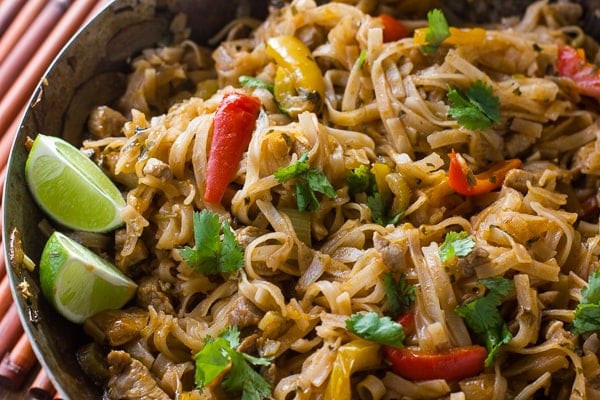 Thai Sweet Chili Pork with Rice Noodles Recipe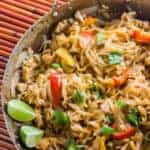 Print
Thai sweet chili pork stir fry with wide rice noodles. Delicious sweet and sour type sauce in the stir fry that also includes onions, peppers, celery and cilantro.
Servings: 4 people
Ingredients
1 package Rice noodles (cooked according to instructions on package)
1 tbsp oil
1 pound pork chops or small roast , cut into thin sliced
1 red pepper , cored and thinly sliced
1 yellow pepper , cored and thinly sliced
1 onion , peeled and sliced
3 celery stalks , sliced
1/3 cup water
1/3 cup vinegar
1/4 cup sugar
2 garlic cloves , minced
1 tsp minced ginger root
1/2 tsp dried chilies
2 tbsp ketchup
1/2 cup cilantro , minced
1 lime , juiced
Instructions
In a large pan, heat the oil at medium high. Add sliced pork and saute for 3-4 minutes. Add peppers, onion and celery and cook for a few more minutes.

In a small bowl, whisk together the water, vinegar, sugar, garlic, ginger, chilies and ketchup. Stir until the sugar is dissolved. Pour into the pan and cook for a few minutes, stirring constantly. The sauce should thicken a little bit to a nice glaze.

Lower heat to a simmer and add the noodles and stir so they are covered well in the sauce.

Remove from heat. Stir in the minced fresh cilantro and squeeze lime juice all over the noodles.