Red Beans and Rice Pressure Cooker Recipe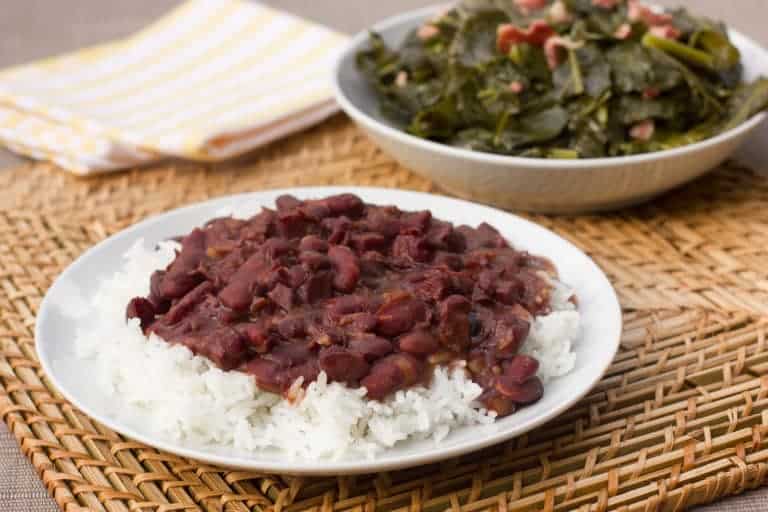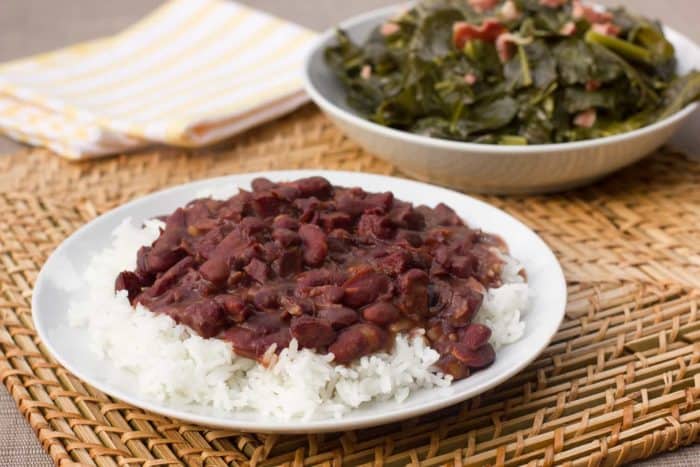 Red beans and rice is a staple dish in Lousiana cuisine. Typically served on Monday's, this dish would slowly cook away on the stove. Ham was traditionally served on Sunday and the ham bone was used to provide a wonderful flavor in the dish. Monday was laundry day and a pot of red beans and rice was perfect, as it was left unattended while the the clothes were washed and hung to dry. This laundry day tradition is part of the culture in Louisiana and today many homes still prepare this classic dish, although people make it any day of the week. It is also available at many restaurants in New Orleans, throughout the state of Louisiana and beyond.
Red beans and rice is slow cooked so that the flavor of the meat penetrates the kidney beans. Also, the bean get nice and soft through this prolonged cooking time. Some of the beans are broken and mashed to help thicken the broth into a nice creamy gravy. There are different options for meat in the dish, although it is typically pork, ranging from ham or tasso, to smoked sausage like andouille. Served on rice, this dish is economical but tastes incredible!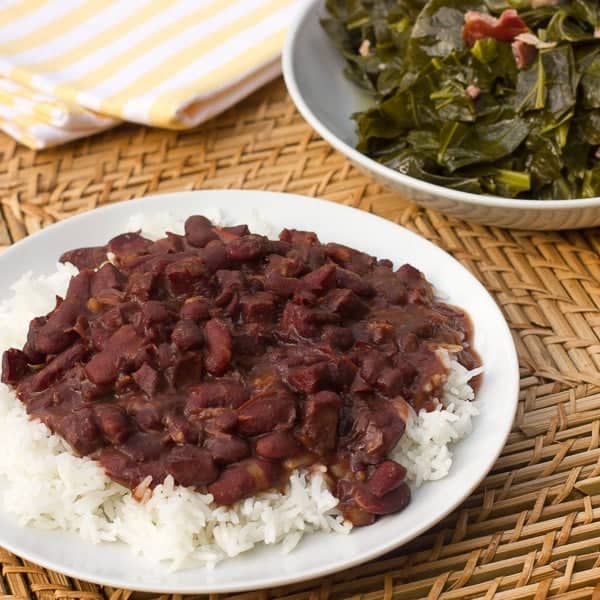 I received a pressure cooker a month ago and I was interested to see how this dish would fare in a machine that speeds up the cooking time. Since red beans and rice takes so long to cook, many people do not have the time to make it. If the pressure cooker can make this dish well, in a fraction of the time, it can become a far more manageable dish to prepare.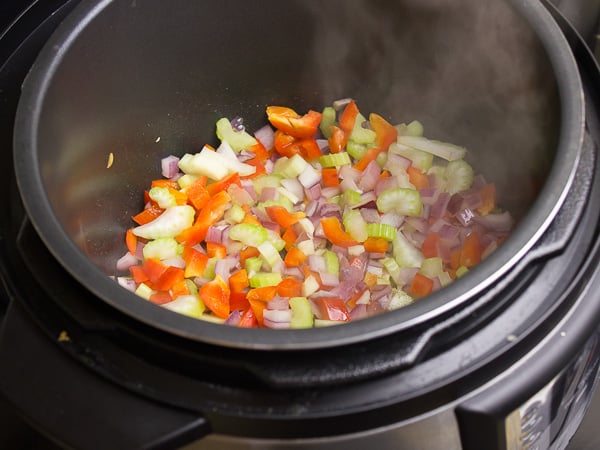 The pressure cooker that I use can brown food, so I fried up the onion, pepper and celery (aka the trinity in Louisiana). Then I added some cubed ham and garlic.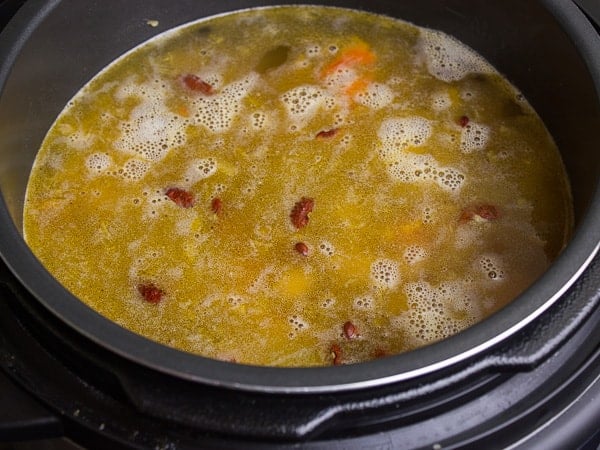 Add the rest of the ingredients (dry red kidney beans, water, and spices) to the pressure cooker. Close the lid and make sure the vent is also closed. Set the pressure cooker to high pressure and select 60 minutes. Then, walk away and let the pressure cooker take care of the rest. The 60 minutes should be enough to cook the beans until they are tender, but it is possible they may need a bit more time. Try using a wooden spoon spoon to press a kidney bean against the side of the pot. It should mush up easily and if it seems a little hard, then set the pressure cooker to cook for another 30 minutes. That should be plenty of time to soften those beans up.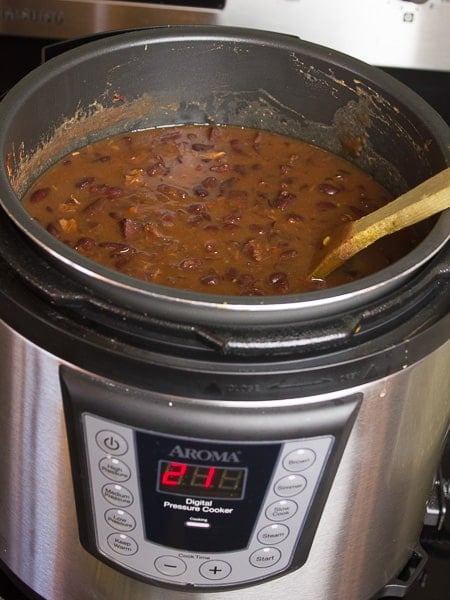 Mash up about 1/3 of the beans and stir to thicken the sauce. My pressure cooker has a simmer function, so I let the red beans and rice simmer for a bit until the rice was cooked and we were ready to eat.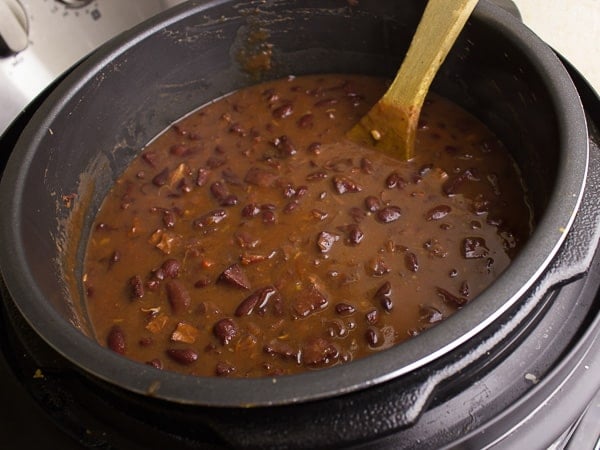 Even though these red beans and rice were cooked in under 2 hours total time, they had a full and rich flavor. If you did not know, you would assume that a pot had been simmering on the stove all afternoon! Serve with white rice and a side of collard greens for the full Louisiana experience!
Get the recipe for collard greens here! – Collard Greens with Ham Hock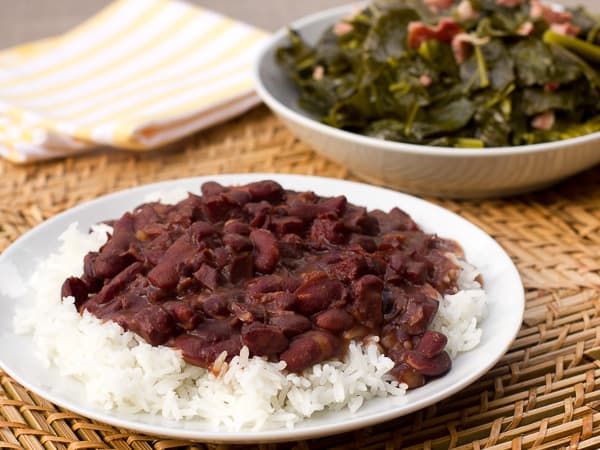 Red Beans and Rice Pressure Cooker Recipe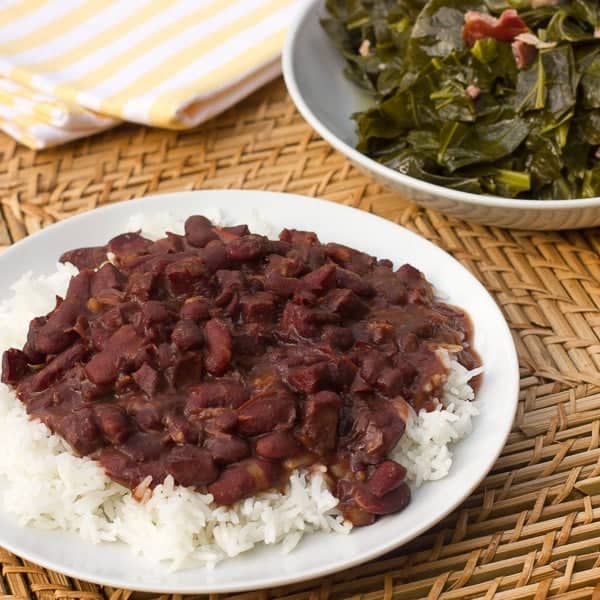 Print
Make this classic Lousiana dish in a fraction of the time by using a pressure cooker like an Instant Pot. Kidney beans, ham, sausage, onions, pepper and celery make this great dish served on rice.
Servings: 8
Ingredients
2 tbsp oil
1 onion , diced
1 pepper , diced
2-3 celery stalks , chopped
3 garlic cloves , minced
1 1/2 pounds ham , smoked sausage, tasso, cut into cubes
1 pound dry red kidney beans
5 1/2 cups water
1 tsp salt
1/2 tsp black pepper
1/4 tsp white pepper
1/4 tsp cayenne pepper (or more if you want it spicier)
1/2 tsp dried thyme
2 bay leaves
Instructions
Heat oil on medium high and add onion, pepper and celery. Cook until they start to get tender, about 5 minutes.

Add garlic and chopped meat and cook for another 3-4 minutes, stirring often.

Rinse the kidney beans and drain.

Add all the ingredients (except the rice) to the pressure cooker. Close the lid and the vent.

Set the pressure cooker to high and select 60 minutes cooking time.

After the 50 minutes, let the pressure cooker release the pressure naturally. It should take 10-15 minutes.

Remove the lid and use a wooden spoon or potato masher to mash about 1/3-1/2 of the beans.

Stir thoroughly and the mashed beans should thicken the broth into a nice creamy gravy.

Serve with rice.
Notes
If after the 60 minutes the kidney beans are still not soft, you may need to cook them a bit longer. If needed, set the pressure cooker to high and select 30 minutes cooking time. After this, the bean should definitely be tender.