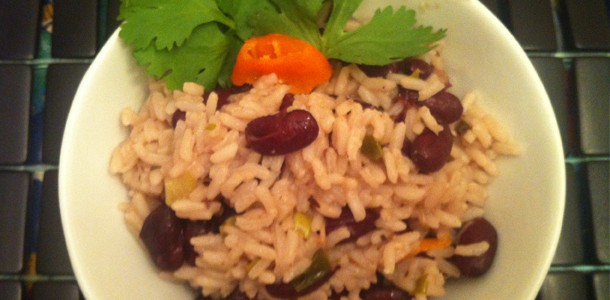 The other day I posted my recipe for jerk chicken. That is a standard Jamaican dish and when I cook ethnic foods I try to make sure everything on the plate is of the same region. There is no other Jamaican side that I like more than rice and peas. Rice and peas is a classic dish from Jamaica and it is made with pigeon peas. Usually when I make it I use kidney beans and that is what is in this recipe. Also, I mince a scotch bonnet pepper and throw it in the dish while it is cooking. That makes the rice very spicy so you could choose to keep it whole in the dish and remove it once the dish is done. The last time I made this I actually minced two scotch bonnets in the dish and it was probably the hottest dish I have ever eaten. Since my wife and kids were away at our cottage I thought I would punch it up a notch. Wow did it ever. My brother-in-law and I still enjoyed it, but wow, was there ever some heat in that rice!!
Rice and Beans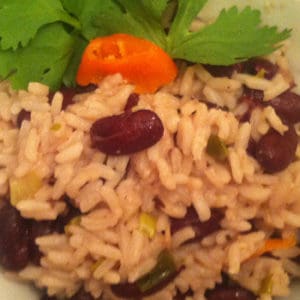 Print
Servings: 4
Ingredients
1/4 cup oil
1 onion , diced
6 green onions , thinly sliced
1 scotch bonnet pepper , minced
1 tsp salt
1/2 tsp thyme
a can of kidney beans drained
2 cups of uncooked rice
4 cups water
Instructions
Use a saucepan, pot, or dutch over that has a lid and is large enough for the whole dish.

Heat oil in the saucepan at medium high heat.

Add onions and green onions and cook for 3-5 minutes

Add scotch bonnet pepper, salt and tyme and cook for another 3 minutes

Stir in the kidney beans and cook for 5 minutes

Add rice and water and reduce heat to medium/low. Stir and cover with the lid. Stir it every 10 minutes or so and once the water absorbed by the rice taste it for consistency. If the rice is still crunchy then add a little bit more water, cover and wait until it is absorbed.

Serve with the jerk chicken for a taste of Jamaica!