Grilled Jerk Tilapia With Pineapple Coconut Salsa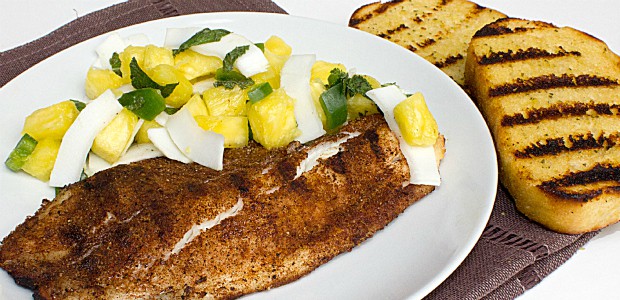 Are you ready to head out to the islands??
This recipe has wonderful flavours straight from the Caribbean islands. The fish used in this recipe is tilapia and up until this recipe, I was never a fan of this kind of fish. I loved the dish and this kind of fish was the perfect choice to be matched with the spices and fruity salsa. Tilapia is a very mild fish that picks up the flavours of the Island Spice Rub nicely.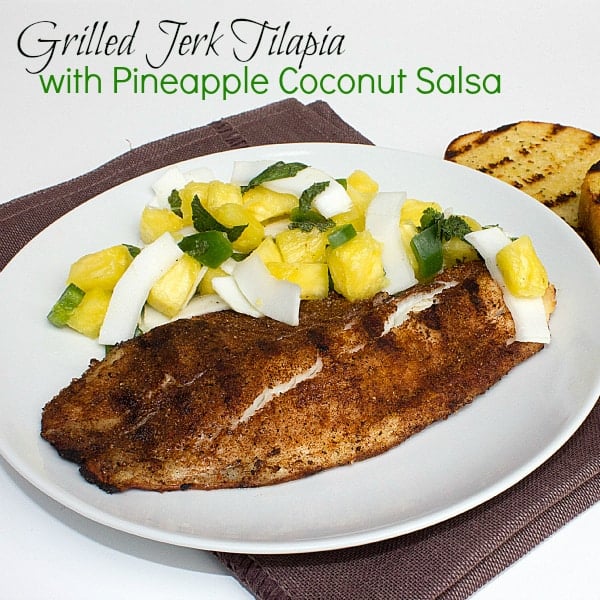 The recipe for the jerk spice rub is found here:
The spicy jerk flavour notes in the grilled tilapia are perfectly balanced with the bright a fruity flavour in the salsa. The spice blend gives the fish a medium amount of heat, which is offset by the bright and fruity pineapple coconut salsa.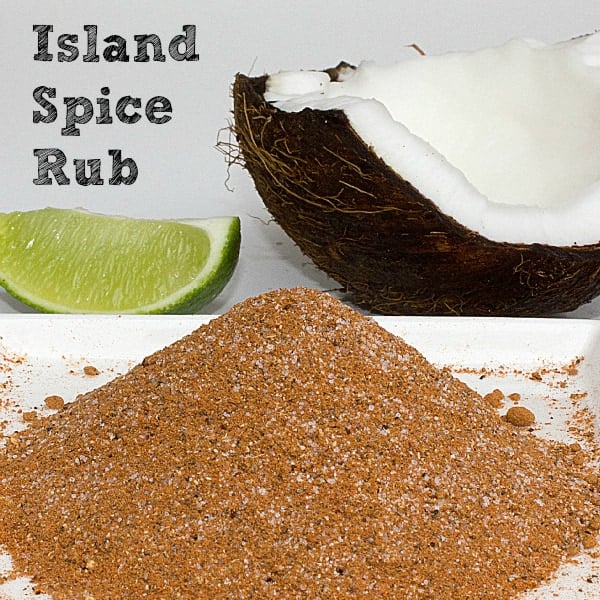 Grilled Jerk Tilapia with Pineapple Coconut Salsa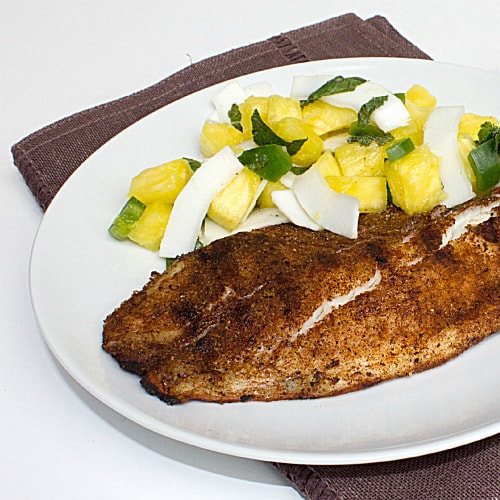 Print
Grilled tilapia fish with jerk spice blend. Served with a fruity salsa with a bit of heat.
Servings: 4 people
Ingredients
4 tilapia filets
4 tbsp Island Spice Rub
1 pineapple , cored, peeled and diced
1 cup fresh shaved coconut
1 or 2 jalapeno , seeded and minced
2 tbsp fresh mint , thinly sliced
1 lime , juiced
1 tbsp olive oil
1 tbsp honey
Instructions
Make the salsa by tossing the pineapple, shaved coconut, jalapeno and mint in a bowl. In a small bowl, whisk together the lime juice, oil and honey. Pour the dressing over the salsa and mix until evenly coated. Keep in the fridge until ready to serve.

Pat the tilapia with a paper towel to ensure the fish is dry. Rub the Island Spice blend all over each filet of fish.

Set the grill to medium (300F). Fold up a paper towel and dip it in oil. Using grill tongs, grab the paper towel and brush a light amount of oil on the hot grill grates.

Place the tilapia on the grill and close the lid. After about 4-5 minutes, gently and carefully flip the tilapia over. Lower the lid and cook for another 4-5 minutes.

The fish is done when it is white in the middle and is flakey.

Serve immediately with the pineapple coconut salsa.
Notes
Instructions to prepare fresh shaved coconut: Purchase a whole coconut. Hit the coconut with a hammer or the dull end of a cleaver until it cracks open. Completely open the coconut and drain the coconut water (or drink it as it tastes amazing!). Using a butter knife or other utensil, pry the coconut flesh from its shell. Peel the brown skin off the coconut flesh with a potato peeler. Make coconut shavings by peeling the side of the flesh into thin strip