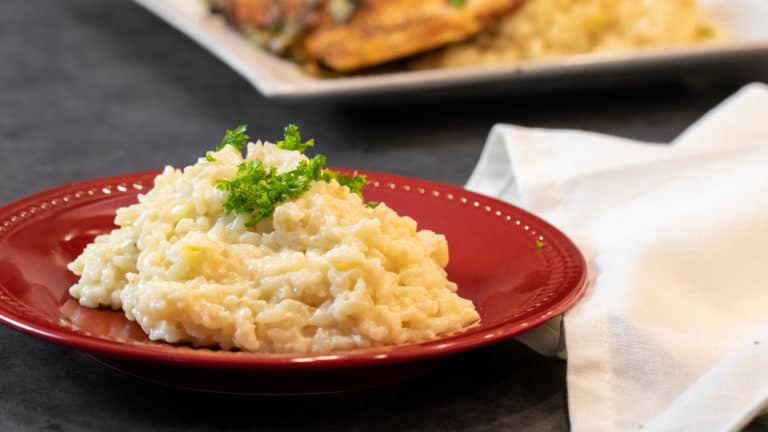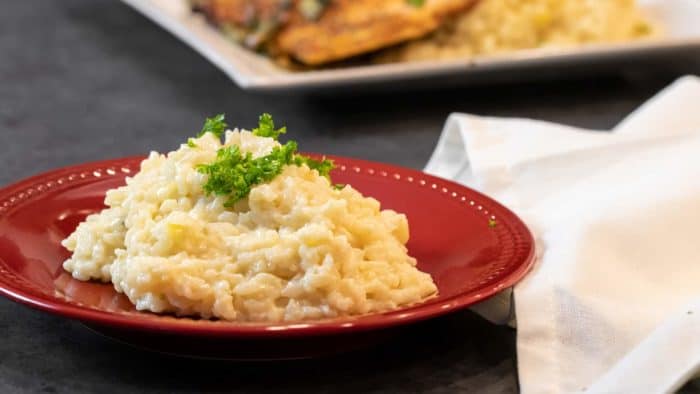 How to make risotto is one of those challenging culinary skills that many people are scared to even attempt. But, it is actually not that hard. Making the perfect risotto can be made right at home. It just takes a little bit of time and should not be rushed.
Risotto is a rice dish that comes from northern Italy. It is known for its creamy consistency and excellent and a side or even can be a full entree.
The typical rice used in risotto is arborio. This short grain rice is very high in starch, which is released during the slow simmering process of cooking risotto. This is what creates the creamy sauce in risotto.
There are many different types of risotto. Aside from plain risotto, there are many different other ingredients that can mix in the risotto to make variations. Sautéed mushrooms, bacon, pine nuts, butternut squash, shrimp, and so much more can be added to risotto.
This risotto in this recipe, is simple and delicious. Finely diced lemon peel and parmesan cheese create a creamy and cheesy risotto that has a bright citrus flavour.
Use the whole lemon peel, not just the zest. Dice the peel into small little pieces. Mince the shallots and garlic finely as well.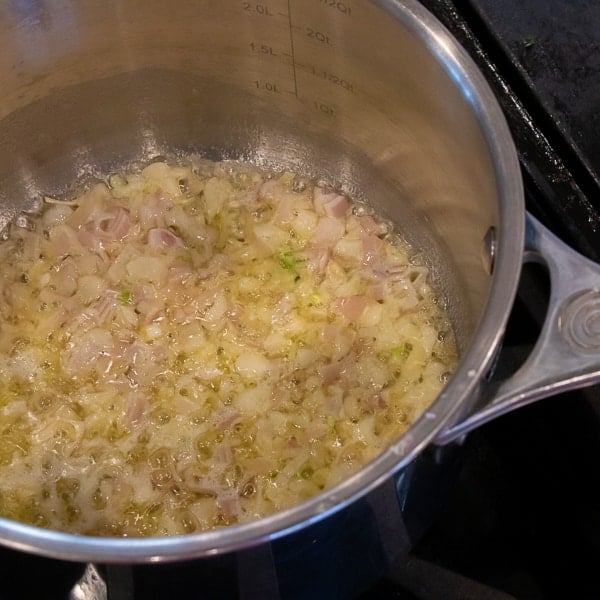 How to make good risotto
The first step is to heat 3 tablespoons of the butter over medium heat in a saucepan. Stir in the minced shallots and garlic and let them sauté, for about 3 to 4 minutes. You are looking for the shallots to soften and the aromatics to bloom.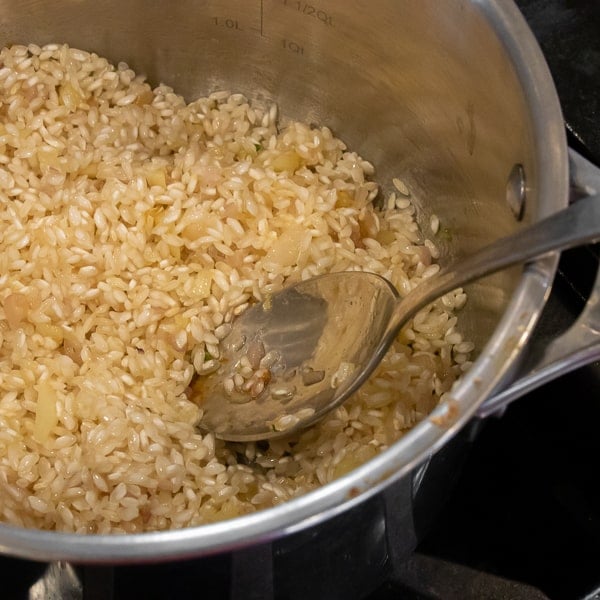 Stir in the arborio rice. This step toasts the rice to bring out its nutty flavour. It is important to stir this almost constantly so that the rice does not stick to the bottom of the pan and burn. Do this for another 3-4 minutes.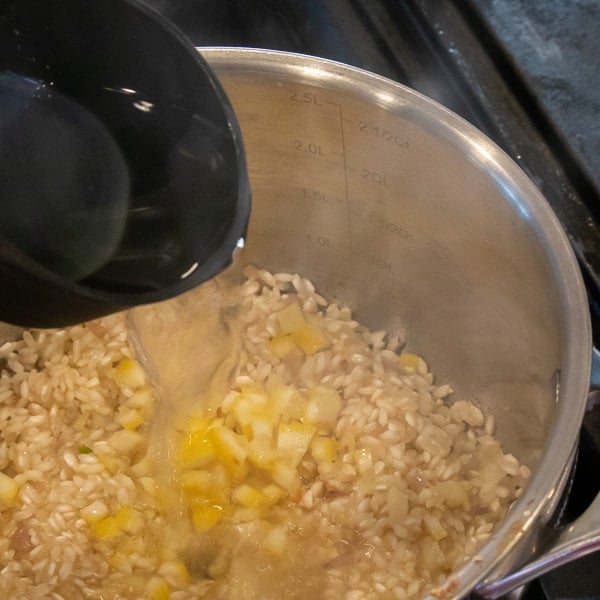 Add the diced lemon peel and white wine. Stir and lower heat to medium low.
The actual temperature that risotto is very important. It should be simmered low and slow. But, you also want to make sure that it is not too low. I aim for a temperature where you still see some small bubbles forming in the broth. Basically, it should still be boiling, but barely.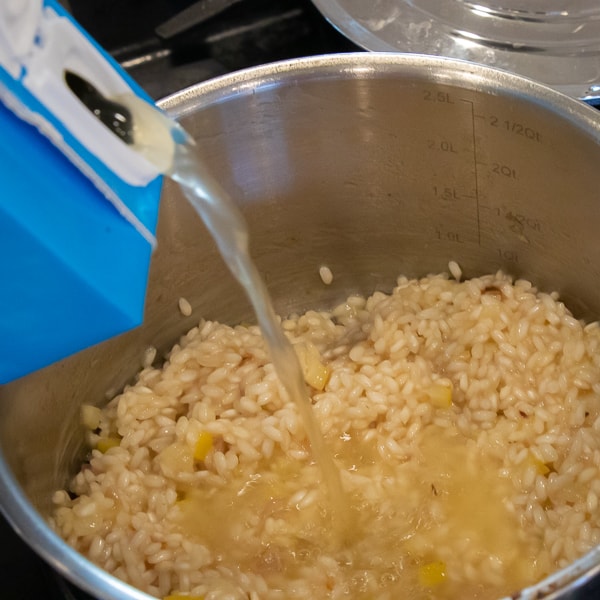 Once the wine has been absorbed into the rice, add 1/2 of the broth. The key to making risotto is by adding a small amount of broth – a little at a time. Stir it regularly and then once that broth has been absorbed, add some more broth.
This method of slowly adding the broth, creates the creamy sauce that everyone just loves about risotto.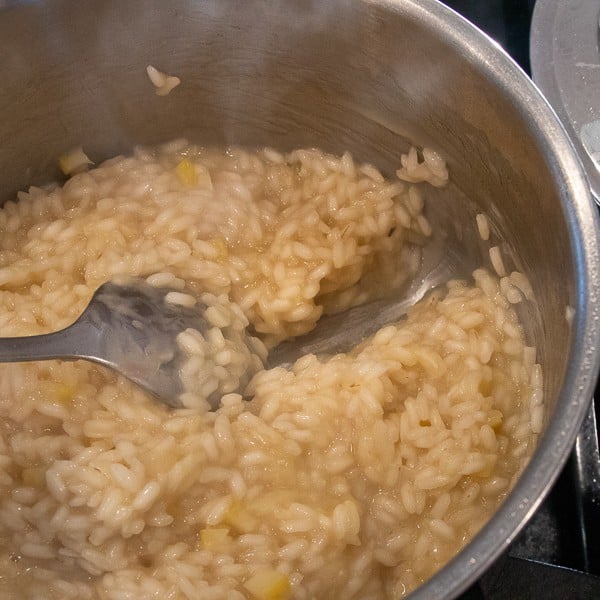 The method I use to determine when to add more broth, is by using a spoon and scraping the rice across the bottom. You can see this in the photo above. If, when scraped, the liquid quickly closes up the path the spoon made, then it needs to simmer a little more. But, if the path remains, and very slowly closes up from the rice/liquid then you can add some more broth.
Remember, add just 1/2 cup of broth at a time and let it simmer with the rice.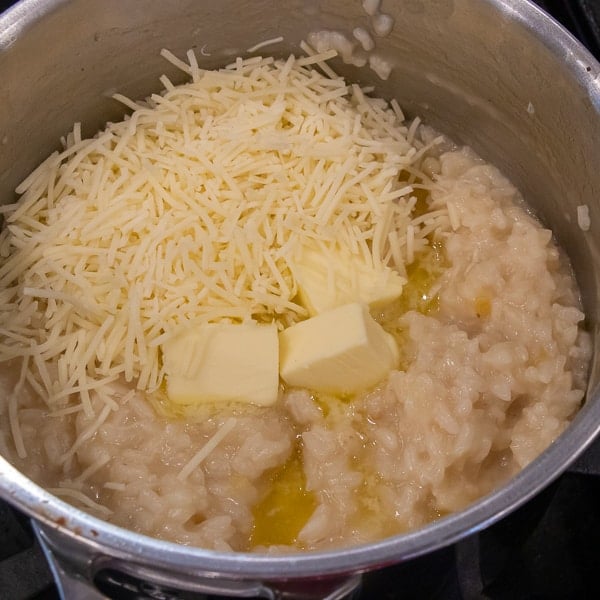 The risotto is done, when the arborio rice is soft. While, you don't want the rice mushy, you also do not want it crunchy in the middle. Once you have added around 4 cups of rice, taste a grain of rice to test its doneness.
The amount of broth that is needed for the risotto will vary based on many factors, like the actual heat it is simmering at, the type of rice and how often it is stirred. I find that the amount of broth I need is around 5 – 5 1/2 cups.
Once the rice is tender, remove the saucepan from the heat. Stir in the remaining 2 tablespoons of butter and parmesan cheese.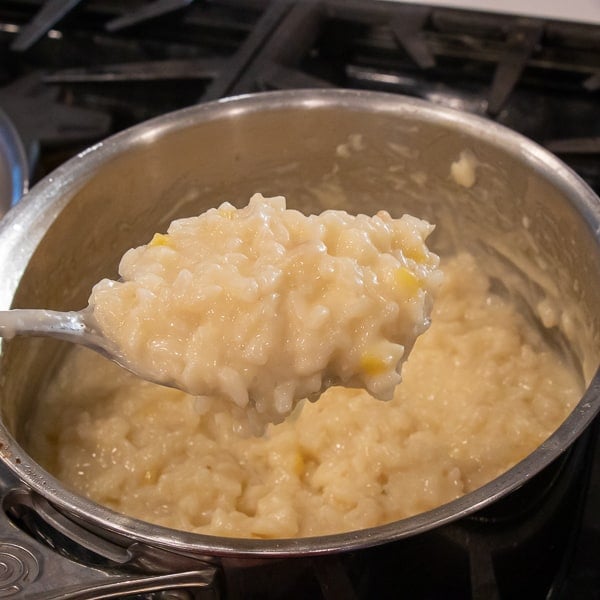 The finished risotto will be rich and creamy. It will be so delicious and sure to wow and guests you have over for dinner.
There are so many dishes that are great to go alongside risotto. In the photo below, I served some pan-seared trout (recipe coming soon) with the risotto. It was so good and went great with the sautéed summer squash and zucchini.
Recipes that go well with risotto.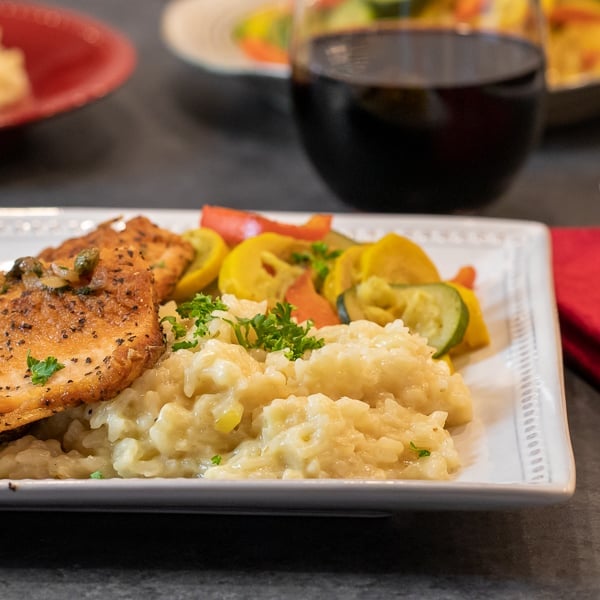 Lemon Parmesan Risotto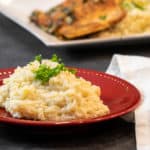 Print
Easy instructions for how to make risotto at home so that it is creamy and tastes just like a restaurant. Made with arborio rice, parmesan cheese, lemon, broth and more.
Prep Time: 10 minutes
Cook Time: 40 minutes
Total Time: 50 minutes
Servings: 6 servings
Ingredients
5 tbsp butter
3 shallots minced
3 cloves garlic minced
1 1/2 cups arborio rice
2 tbsp lemon peel diced finely
1 cup white wine
5-6 cups chicken broth
1 tsp salt
1/2 tsp black pepper
1 cup parmesan cheese
Instructions
Melt 3 tablespoons of the butter in a saucepan over medium heat.

Add the minced shallots and garlic. Saute for about 3-4 minutes, stirring often. The shallots should be soft.

Stir in the arborio rice. Let the rice heat and toast in the sauce pan for 3-4 minutes. Stir often while the rice is heated.

Add in the diced lemon peel and white wine. Lower heat to medium low. Let simmer, stirring often, until the white wine is absorbed into the rice.

Pour in 1/2 cup of the broth, and stir regularly until the broth is absorbed. Continue adding the broth, 1/2 cup at a time, until the rice is soft and tender. The exact amount of broth needed, will vary from as low as 5 cups to 6 cups, or perhaps even slightly more.

Once the arborio rice is tender, remove from the heat. Stir in the remaining 2 tablespoons butter, parmesan cheese, salt and pepper.

Serve warm.
Nutrition
Per serving:
Calories: 384kcalCarbohydrates: 45gProtein: 11gFat: 15gSaturated Fat: 9gCholesterol: 37mgSodium: 1460mgFiber: 2gSugar: 2g