How to Cook Chicken Breast in the Oven – Boneless and Skinless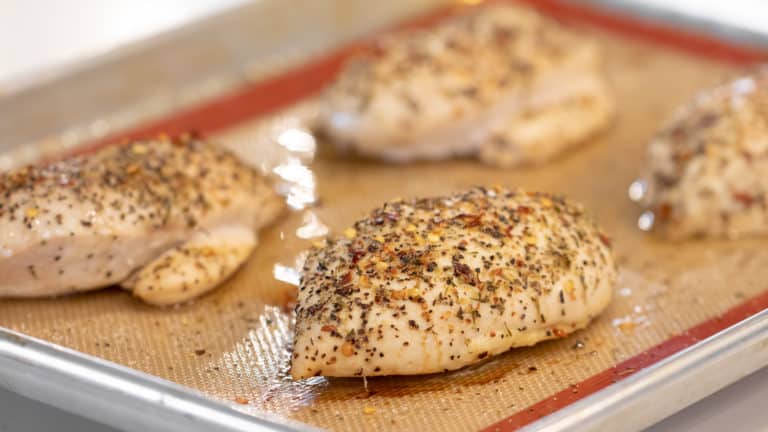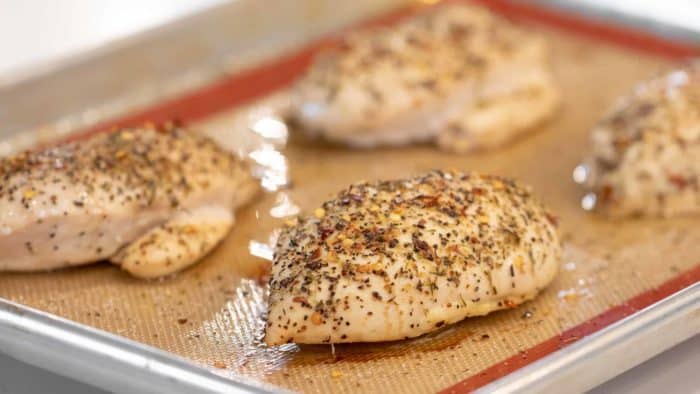 Baked chicken breast that is boneless and skinless is one of those challenging tasks. Often, they come out dry, tough and chewy. The reason is that the chicken breasts are overcooked and they come out like shoe leather.
But, baking a boneless skinless chicken breast in the oven, so that it is tender and juicy, is actually very simple. The method I will explain below is how I cook chicken breasts probably about once a week. It is simple and foolproof resulting in a delicious piece of chicken.
Like I said, I make this all the time. It is great served whole on a plate, or sliced and served hot on a pasta or rice dish. I slice it or cube it and keep it in the fridge. Then it is great served cold in wraps, salads, and sandwiches.
There are so many uses for boneless chicken breast, so I love to have an easy way to cook them.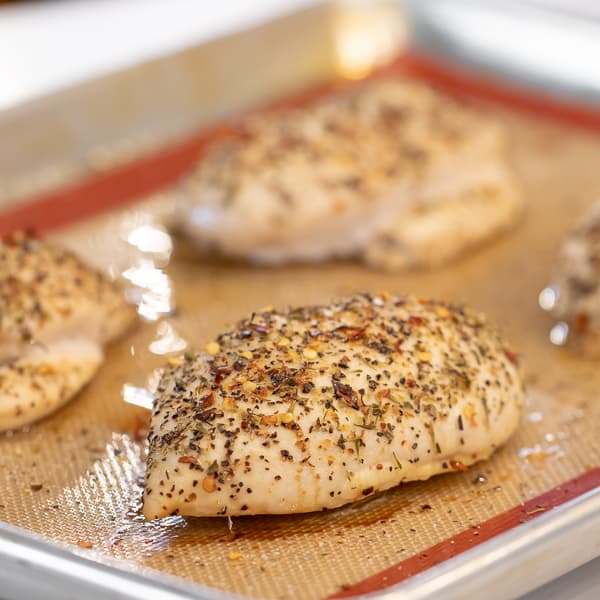 There are so many ways that you can use these baked chicken breasts. Obviously, one way is just to serve it alongside a couple sides. A plate with one of these chicken breasts along with sides like these Cilantro Rice, Ratatouille, or Sautéed Green Beans with Walnuts and Dried Cherries for a delicious dinner!
We love chicken caesar salad, so topping a bowl of the salad with some slices of chicken breast is a simple and healthy meal. Check out this Homemade Caesar Salad Dressing.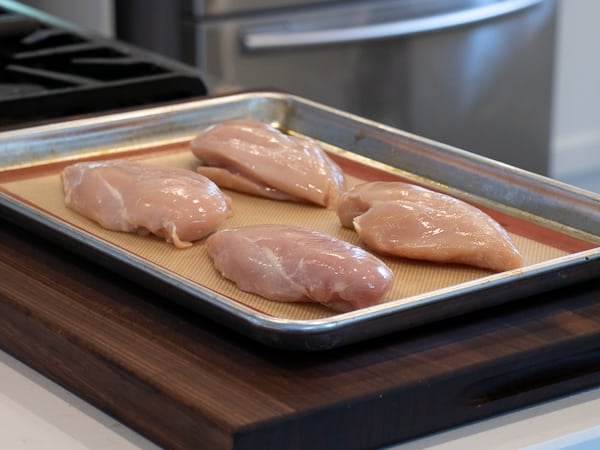 I place the chicken breasts on a silicone baking mat that fits on a baking sheet. I love silicone mats cause the the chicken does not stick and it is super simple to wash.
Check over the chicken breasts and if there is any excess fat, trim it away so the meat is nice and lean.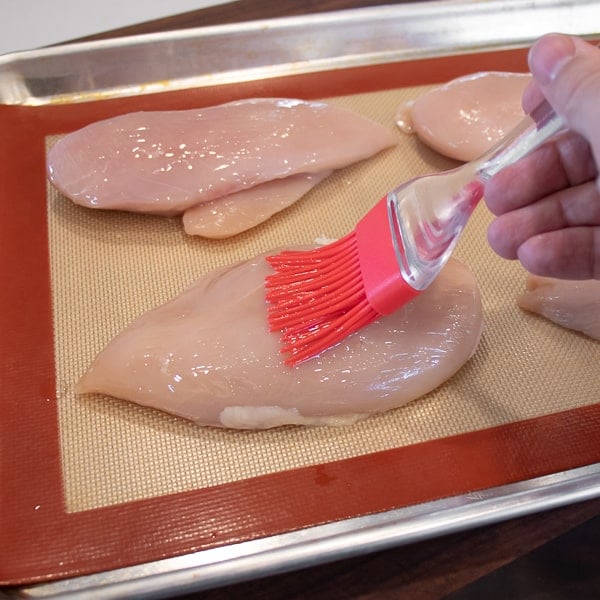 Brush the chicken breast with some oil. I find that the oil helps keep the meat juicy.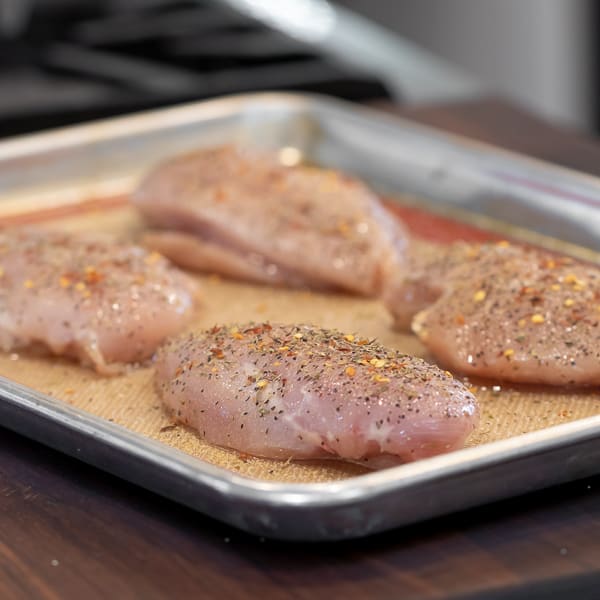 Sprinkle the chicken breast with the seasoning mixture. In this recipe, I have a classic herb and garlic seasoning that is great for Greek food, is awesome sliced for wraps or salads. This seasoning is my go to mixture for baking chicken breasts.
There are so many different seasoning blends that you can use.
If you are using the chicken for fajitas or other Mexican/Tex-Mex cuisine, you can make a seasoning blend with chili powder, chipotle powder, and a pinch of cumin. Try this Sweet and Smoky Chipotle Rub
If you want an Indian inspired flavours, sprinkle with curry powder or tandoori seasoning. This Curry in a Hurry Rub is perfect.
If you want some Jamaican seasoning, sprinkle some of this Island Spice Rub on the chicken.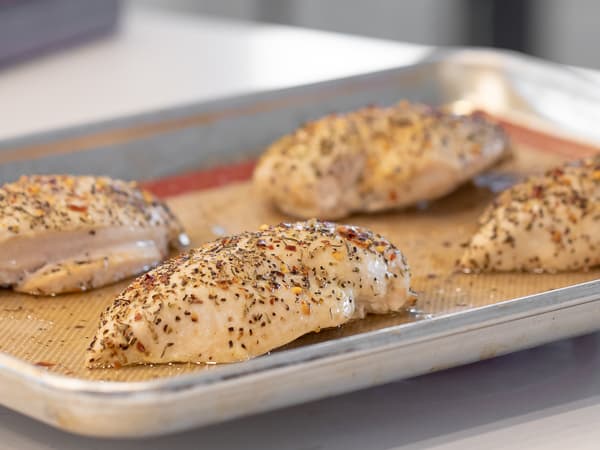 Bake the chicken in a 375F oven for 35 minutes or until the internal temperature of the chicken breast is 165F. I check them with a digital thermometer and stick the probe in the fates part of each of the breasts.
Once they have all reached 165F, they are done and they can come out of the oven.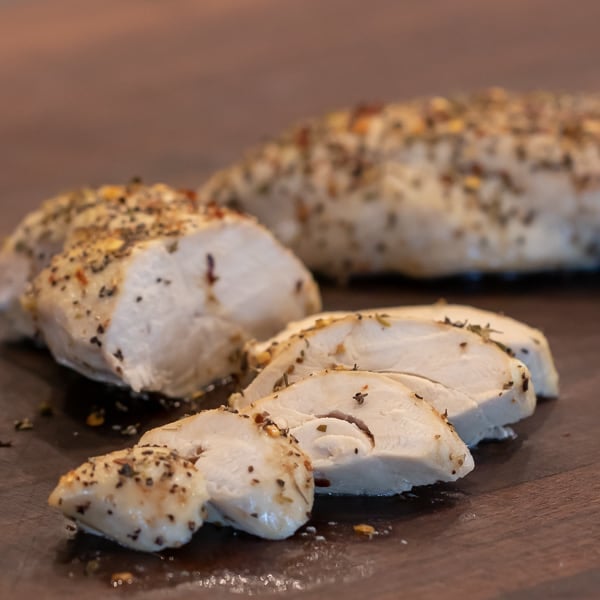 Let the chicken breasts rest for 3-5 minutes before slicing or serving. Resting the meat allows the juices the distribute evenly through the breast which results in a juicier piece of meat once sliced.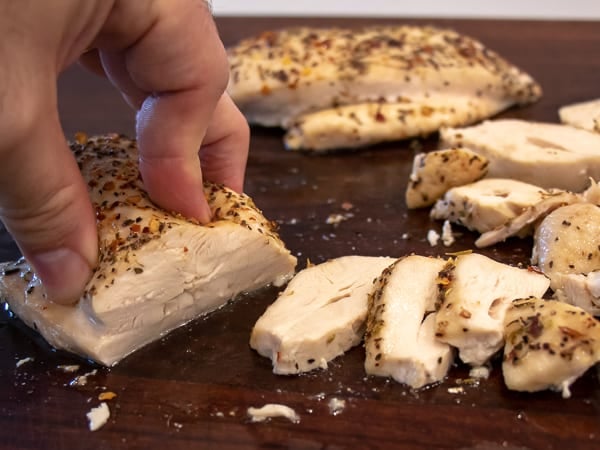 Cooking chicken breast this way is so easy and the meat is juicy and tender. When I press down on the chicken, juices just come pouring out. It really is incredible.
So often, people struggle to cook boneless skinless chicken breast in the oven. Many times they are overcooked, dry and tough. But they do not have to be.
Follow this method and your chicken breasts will be tender and delicious.
How to Cook Chicken Breast in the Oven - Boneless and Skinless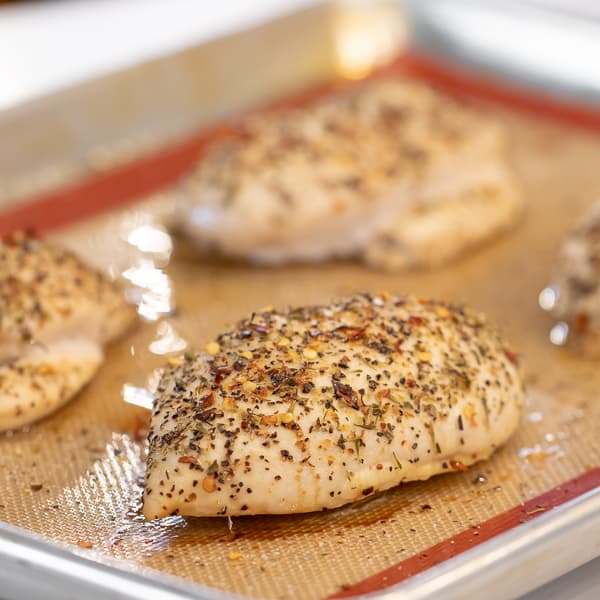 Print
Oven baked chicken breast recipe and instructions that is juicy and tender. Great for wraps, fajitas, chicken caesar salad or sandwiches.
Servings: 4 people
Ingredients
4 chicken breasts boneless and skinless
2 tbsp oil
1 1/2 tsp salt
1 tsp black pepper
1 tsp oregano
1/2 tsp thyme
1/2 tsp garlic powder
1/2 tsp dried chili flakes
Instructions
Preheat oven to 375F.

Trim chicken breasts of any excess fat. Place on a baking sheet lined with silicone baking mat or parchment paper.

Brush chicken breast with oil

In a small bowl, stir the seasoning ingredients so they are well mixed together.

Sprinkle the seasoning mixture on top of the chicken breasts.

Bake in the oven for 35 minutes or until the internal temperature reaches 165F.

Take out of the oven and let rest for 3-5 minutes before serving or slicing.
Nutrition
Per serving:
Calories: 195kcalCarbohydrates: 1gProtein: 24gFat: 10gSaturated Fat: 1gCholesterol: 72mgSodium: 1008mgFiber: 1gSugar: 1g