Sautéed Green Beans with Walnuts and Dried Cherries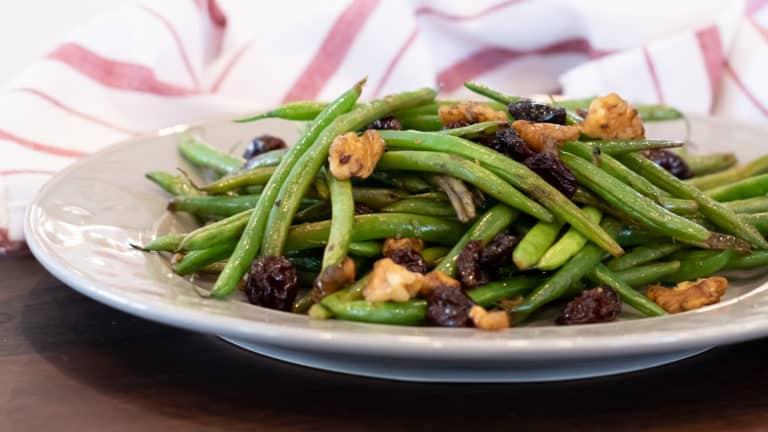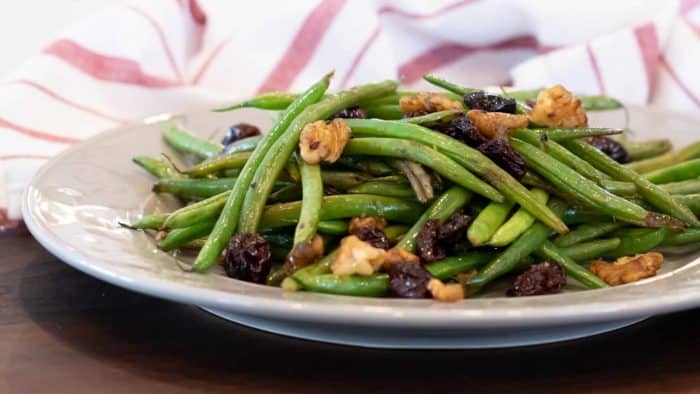 I just love it in the summer months when the fresh vegetables are in season. Whether it is making a fresh summer salad, sautéing them, or cooking them some other way, fresh vegetables are always superior to canned or frozen.
Green beans are one of the vegetables that I especially love in the summer. While I do use canned beans for some recipes like Bean Salad and don't mind frozen beans, the texture and flavour of fresh green beans just can not be matched.
The other day, I was in the grocery store and saw some fresh green beans that were on sale and I had to buy them.
My favourite way to prepare fresh beans is by sautéing them. This is a simple way to cook them which highlights their flavour and texture. Along with sautéing the beans, I often add different ingredients to mix up the flavours.
Garlic, sesame seeds and teriyaki sauce
Bacon and balsamic vinegar
Orange zest and pine nuts
For this recipe, I sautéed the green beans with some dried cherries and walnuts. This combination is bright, full of flavour and great any time of the year with many other dish combinations.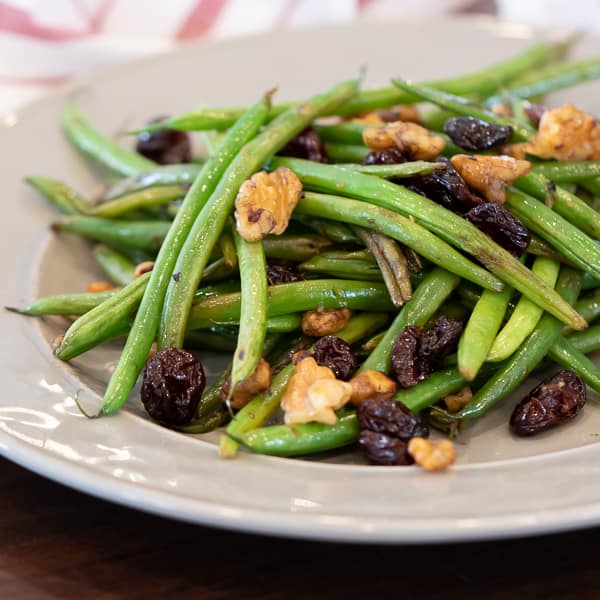 To get things started, you need to make sure that the green beans are trimmed at the ends. While this recipe could definitely work with frozen green beans, I far prefer the crisp texture when they are fresh. There is truly no substitute.
Also, while I use walnuts and dried cherries, there are lots of other nuts and dried fruits that can be used. Almonds, pecans, dried apricots, currants, and dried blueberries will all work fine in this recipe.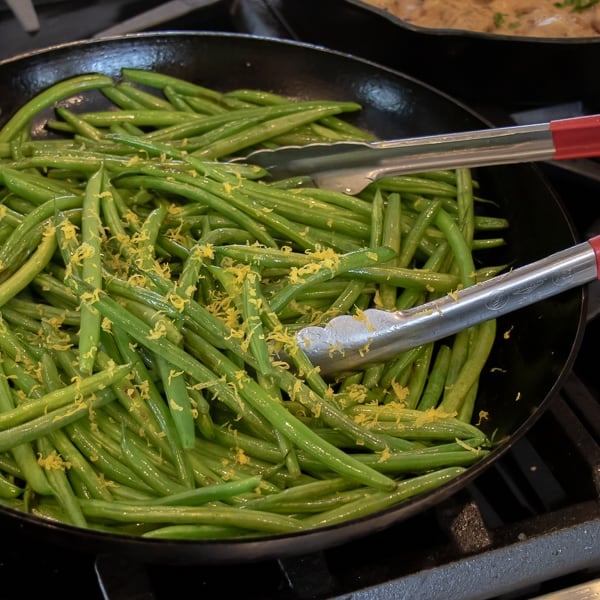 Now, heat some oil in a large skillet over medium heat. I use a carbon steel skillet, but a cast iron or other fry pan will work.
Add the green beans and zest from one lemon. You should immediately hear the beans start to sizzle. Stir the beans often to ensure that they do not burn.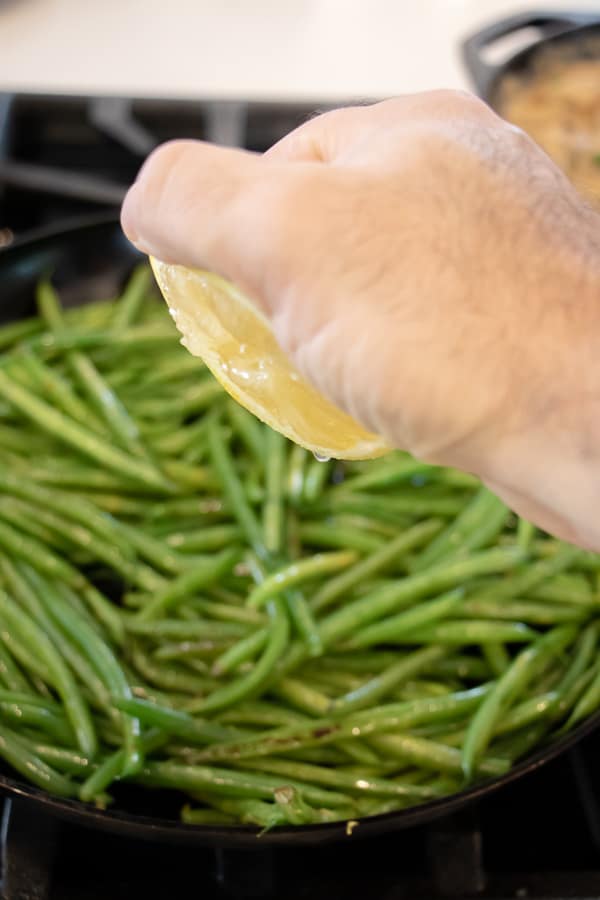 After the beans have had a chance to cook for a couple minutes, add the juice of one lemon and a little water. Continue to sauté the beans until they are fairly tender. This should take 5-8 minutes.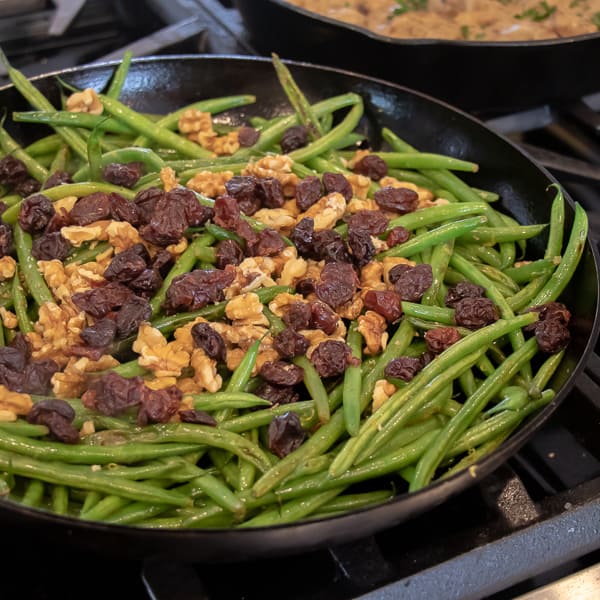 Once the beans are pretty much cooked through, you can add the chopped walnuts, dried cherries and salt.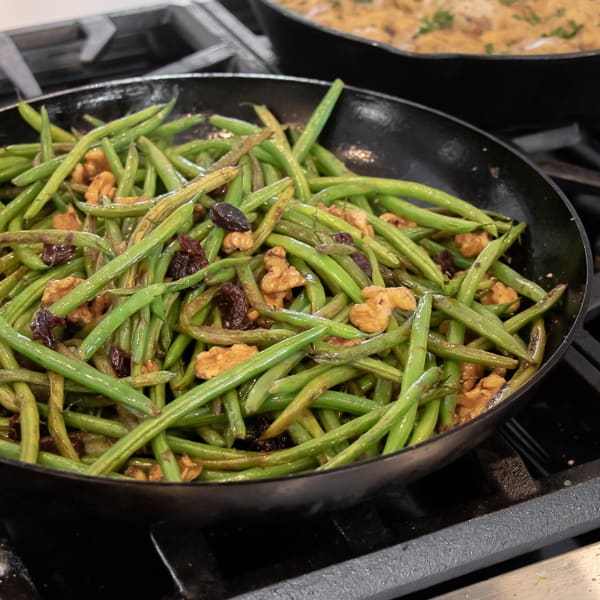 Mix the nuts and dried fruit in with the beans and let them cook for a couple more minutes. This is basically just to warm them up and soften the dried cherries a little.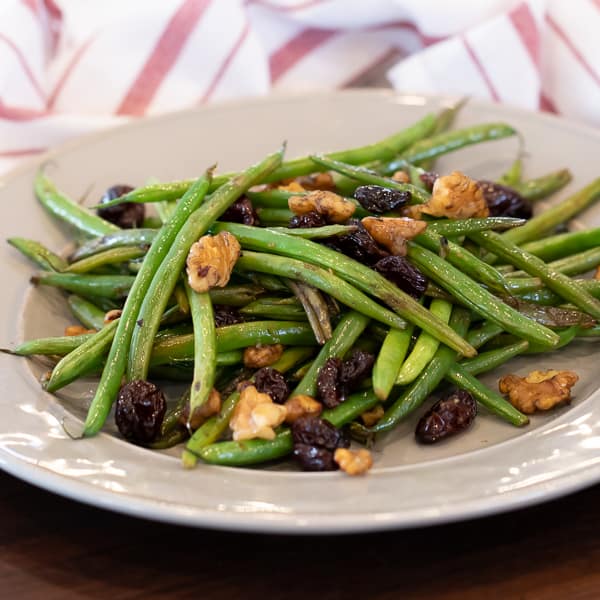 This is such a delicious side dish an excellent to go alongside so many meat dishes.
Here are some recipes that go great alongside these beans!
Meat dishes:
Some other side dishes that compliment the beans quite well:
Sautéed Green Beans with Walnuts and Dried Cherries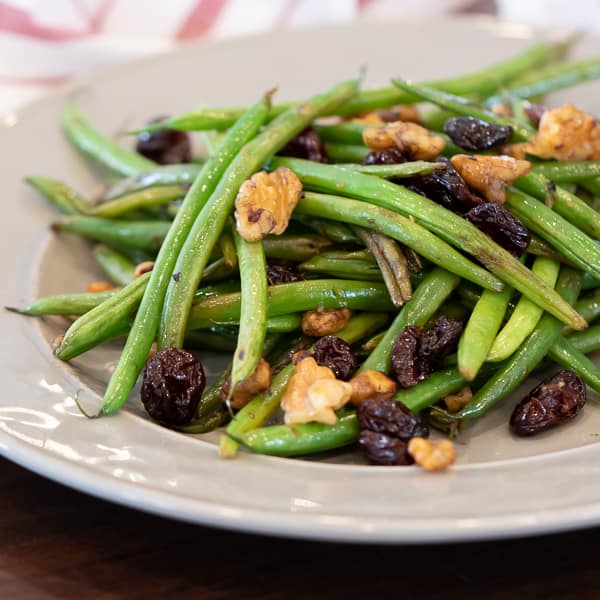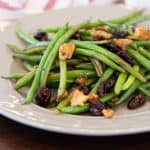 Print
Easy side dish recipe for fresh sautéed green beans with walnuts, dried cherries, lemon zest and lemon juice.
Servings: 6
Ingredients
2 tbsp oil
1 pound fresh green beans , trimmed
3 tbsp water
1 lemon
1/2 cup chopped walnuts
1/3 cup dried cherries
1/2 tsp sea salt
Instructions
Heat oil in a large skillet over medium heat.

Zest the lemon using a citrus zester. You should get about 1 1/2 teaspoons of zest.

Add the green beans and lemon zest and sauté the green beans for a few minutes. Make sure to stir often so they do not burn.

Add water and squeeze the juice from the zested lemon. Continue to sauté until the green beans are fairy tender.

Stir in the chopped walnuts, dried cherries and sea salt. Cook for another 2 minutes.

Serve warm.
Nutrition
Per serving:
Calories: 150.97kcalCarbohydrates: 11.86gProtein: 3.36gFat: 11.2gSaturated Fat: 0.98gSodium: 200.02mgFiber: 3.33gSugar: 6.33g