Smoked Salmon with Orange Hoisin Glaze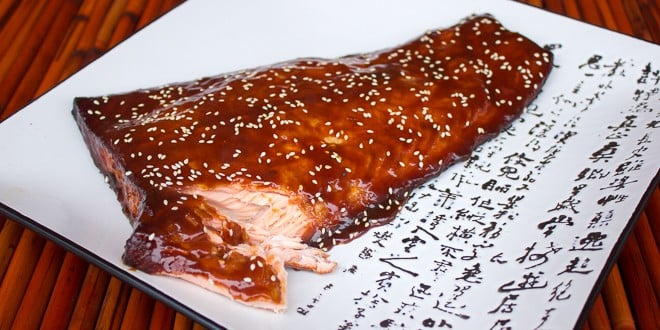 Smoking salmon is one of the most amazing recipes I make. I smoke salmon all the time and it seems like almost any time I have the smoker going, I am looking to throw in a fillet of salmon.
I have prepared salmon many different ways before throwing it in the smoker. I have tried a wet brine and dry brine. I have let it marinate overnight rinsed it and then let it dry and form a pellicle before smoking. Sometimes I have put on a simple rub or seasoning just prior to smoking the fish.
I have discovered that there is not only one way to prepare a great smoked salmon. Almost every method I have used can produce a great piece of salmon. To a degree, it just depends on your time and preference.
This recipe was one of those creative ideas I came up with at the grocery store. I saw the salmon fillets and picked it up. I knew I needed some hoisin sauce for another recipe and threw that in the cart. I also grabbed a bag of oranges for school lunches. All the ingredients were sitting in the cart and this recipe idea was born!
I am so glad that I developed this recipe because I have used it many times already. I like this because it does not need to be marinated overnight. Instead I marinate it in the fridge for 3-4 hours and then throw it in the smoker. Also, I smoke it at a straight 250F, which is great because it is the same temperature as many other meat I smoke, so I can smoke this along with pork, chicken, and more.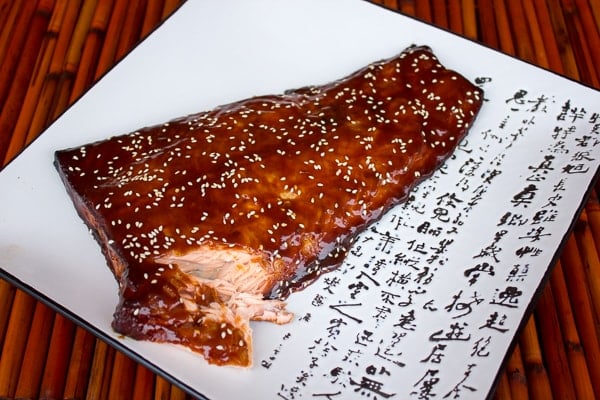 If you are looking for some more recipes for smoking salmon or other fish, check out some of these ideas: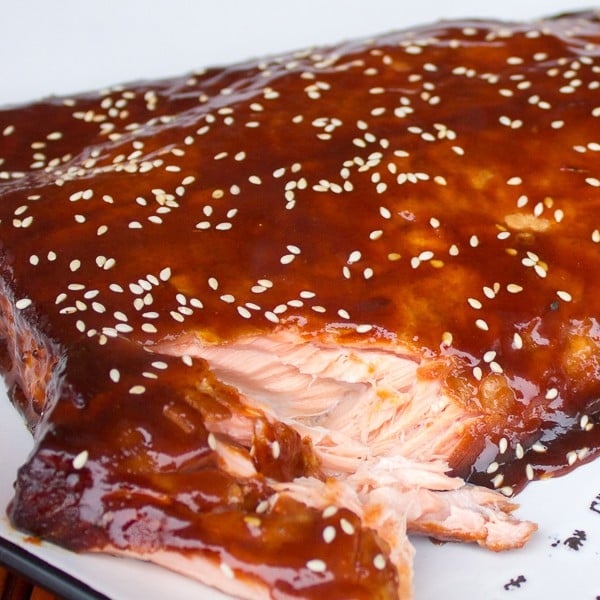 As great as this salmon is when it comes out of the smoker, I think that the glaze brushed on after it is smoked is just as important as the actual fish. I took 1/2 cup of the marinade and set it aside, not using it for marinating the salmon.
During the smoking process, I reduced this reserved 1/2 cup on medium to low heat. Let it simmer and thicken. This doesn't take too long, maybe 15 minutes or so. Once thickened, remove from the heat.
After the salmon is done smoking, brush this glaze all over the fillet and then sprinkle some sesame seeds on top. This salmon is moist, smokey and has a wonderful sweet flavour from the marinade and glaze.
Smoked Salmon with Orange Hoisin Glaze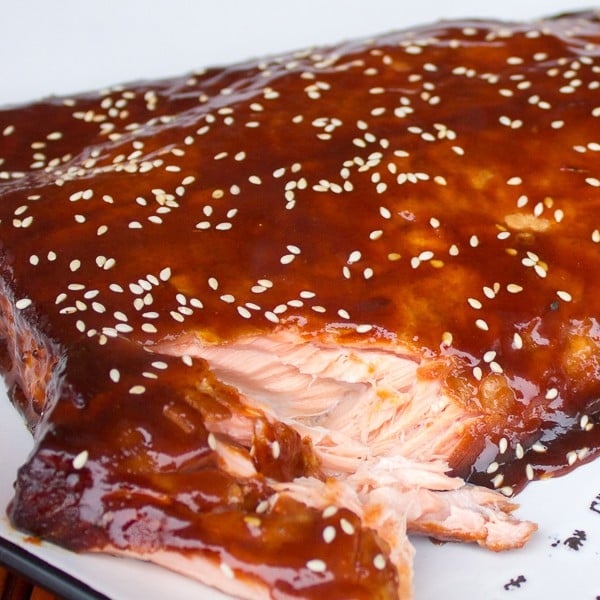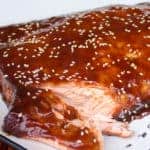 Print
How to smoke a salmon fillet could not be easier with this recipe. Moist and tender with a wonderful smokey flavour. The asian marinade and glaze give the salmon a wonderful sweet asian flavour.
Servings: 4 people
Ingredients
1 salmon fillet , about 1 1/2 pounds
1/2 cup hoisin sauce
2/3 cup orange juice
1/2 cup honey
1 1/2 tbsp Sriracha sauce
2 tbsp sesame oil
1 tsp garlic powder
1 tbsp sesame seeds , toasted
Instructions
Make the marinade by mixing together the hoisin sauce, orange juice, honey, sriracha sauce, sesame oil and garlic powder together in a small bowl. Measure out 1/2 cup of the marinade and set aside. Place the salmon in a flat dish and pour the remaining marinade over the salmon. Flip the salmon a couple times to ensure that all the salmon is coated in the marinade. Cover with plastic wrap and place in the fridge for 3-4 hours. Flip the salmon every hour.

Set the smoker to 250F using apple, cherry, alder or maple wood chips

Smoke the fish for around 3 hours or until the internal temperature of the fish reaches 145F.

During the smoking time, pour the 1/2 cup of reserved marinade in a small saucepan. Let it come to a low boil and let it reduce until it thickens and turns into a nice glaze. This takes about 10-15 minutes or so. Remove from heat.

Once the salmon has finished smoking, place it on a serving platter. Brush with the glaze. Sprinkle with toasted sesame seeds. Serve.
Nutrition
Per serving:
Calories: 541kcalCarbohydrates: 55gProtein: 36gFat: 20gSaturated Fat: 3gCholesterol: 95mgSodium: 762mgFiber: 1gSugar: 48g