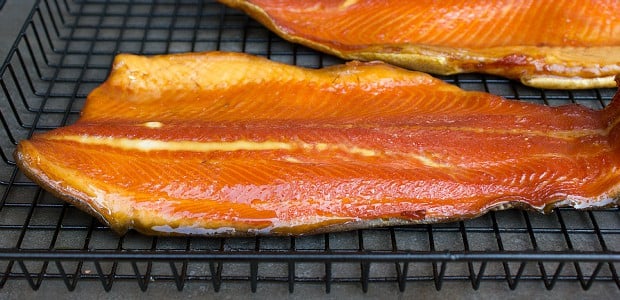 I am on a bit of a smoking kick. Earlier this week I shared a recipe for smoked salmon nuggets. They were delicious as are these smoked fillets of trout. Since the fish was smoked as a whole fillet, it came out incredibly moist with a wonderful sweet and smokey flavour. I have been using a dry brine the last few times I have smoked fish and I am quite a bit happier with the results compared to a wet brine.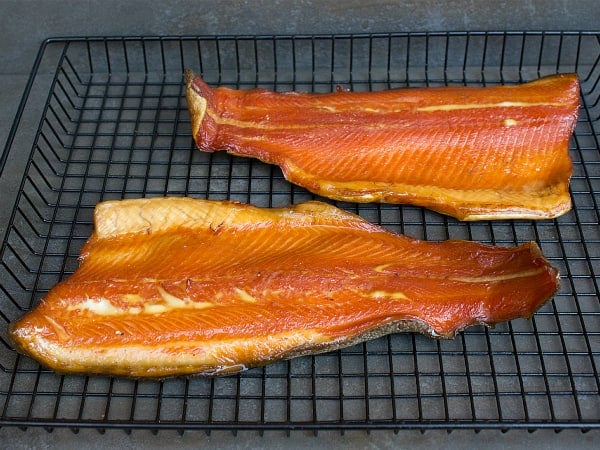 Smoked Rainbow Trout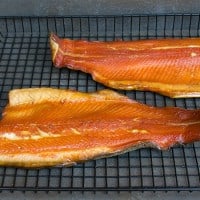 Print
Smoked rainbow trout done in the Bradley Smoker. Dry brined with brown sugar, salt and spices and smoked with alder wood.
Servings: 4 people
Ingredients
2 pounds of rainbow trout fillets
6 cups of brown sugar
1 1/2 cups kosher salt
2 tbsp garlic powder
2 tbsp onion powder
1 tbsp ground black pepper
2 tsp cayenne pepper
Instructions
Mix the brown sugar, salt and seasonings together. Rub the dry brine all over the fish. Place the fish in a bowl making sure the fish is totally surrounded and covered in the dry brine. Place in the fridge overnight (8-12 hours).

Rinse the fish thoroughly and place in a cool dry place of 2-3 hours to allow a pellicle to form on the outside of the fish. A fan can be used to speed up the process.

Smoke for 5 hours at a gradually increasing temperature, starting at 120F and increasing it 20F every hour. Leave it at 180F for the final 2 hours of smoking. The fish needs to have a minimum internal temperature of 140F.

Enjoy!