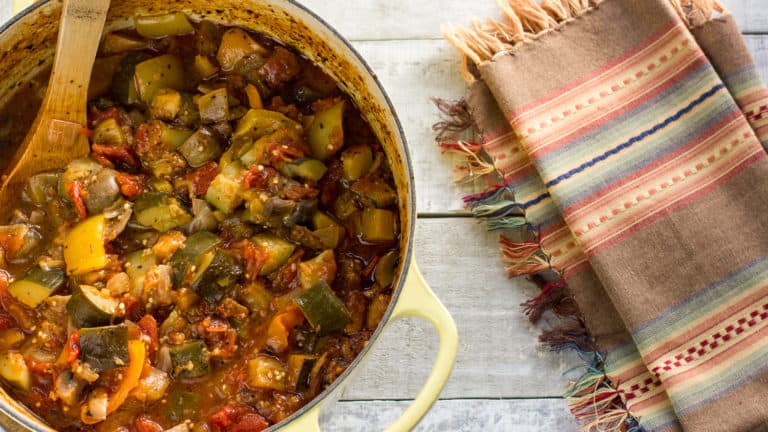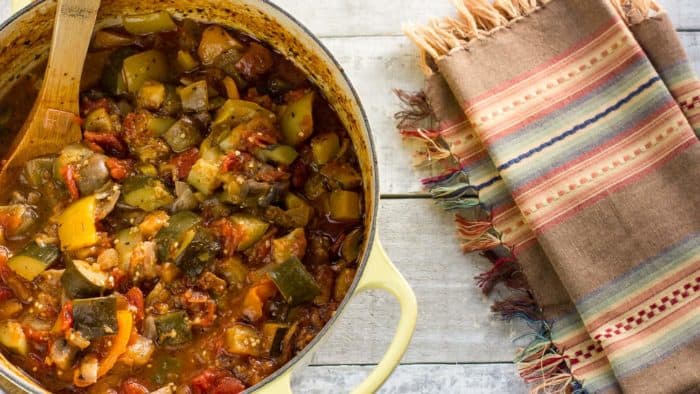 What is ratatouille you may ask. Well it is more than the Disney Pixar movie! The film Ratatouille was actually named after a classic French dish; a dish that was served during the movie. This dish originated in Nice, which is located in the province of Provence in France.
This dish is made with stewed vegetables, typically zucchini, eggplant, onions, peppers and tomatoes. It is seasoned with garlic, fennel and herbs like marjoram and basil.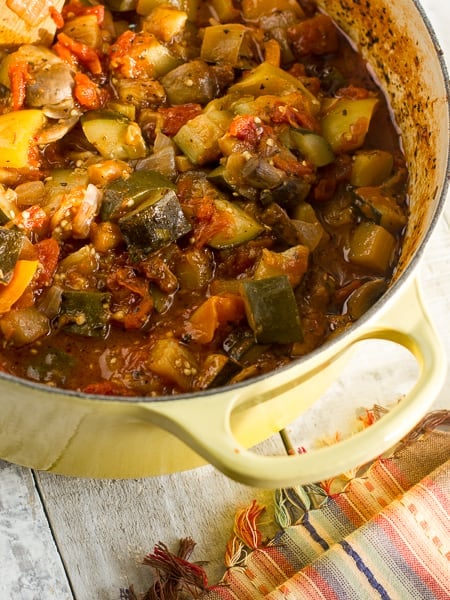 Ratatouille is a delicious dish, and one that I have made for a long time. I actually used to make it for years before the Pixar movie was even released.
There are a couple of different ways to cook ratatouille. You can slice the vegetables and bake a layered version of ratatouille. It is very tasty that way and the presentation is incredible!
The other way, which is also the more traditional way to cook ratatouille is to make it more like stewed vegetables. That is the way this recipe is prepared and I cook the ratatouille on the stovetop.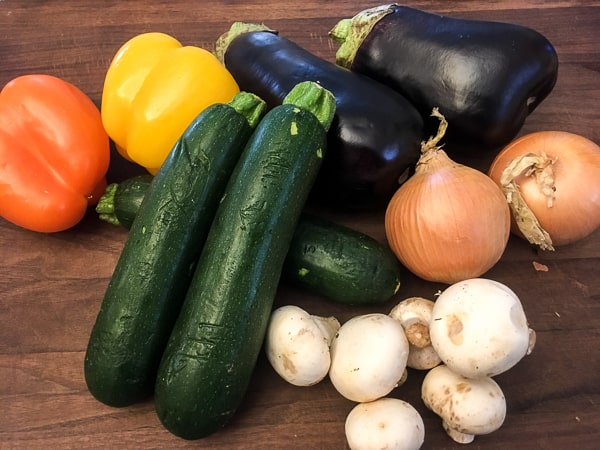 The eggplant that was at the store was smaller than normal, so I used 2 medium sized one which results in about the same amount as one large eggplant. Along with that, I used 3 zucchini, a couple onions, 2 sweet bell peppers and bunch of mushrooms.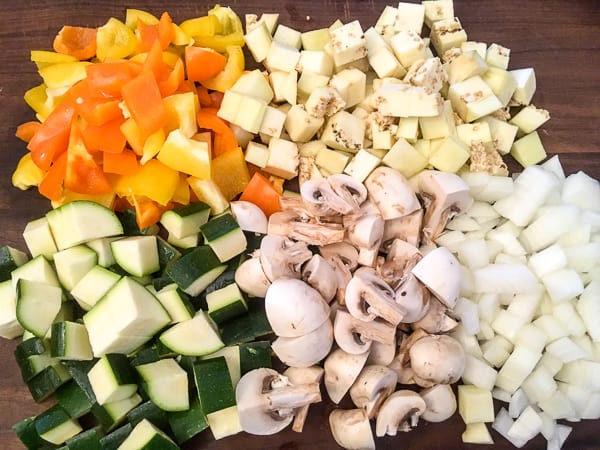 Chop all the veggies so they are similarly sized chunks.
Saute the onions, peppers and garlic with the oil in a dutch oven. Cook them for about 5 minutes, stirring often, so they don't stick to the bottom.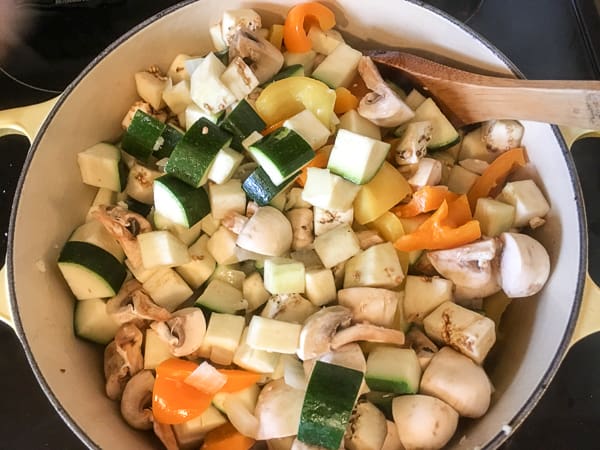 Add the eggplant, zucchini and mushrooms and cook them for about 8 more minutes.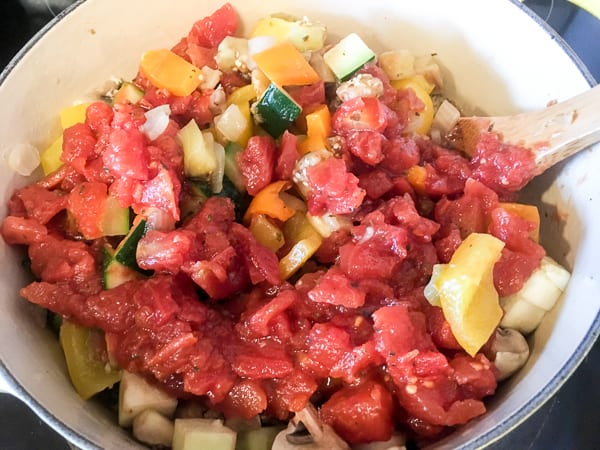 Stir in the can of diced tomatoes and spices. Bring to a low boil and then reduce heat to a simmer.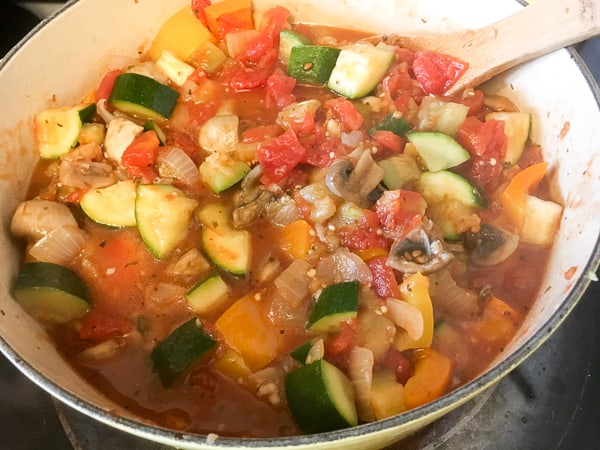 Let the ratatouille simmer for 30-40 minutes. The sauce should reduce and thicken during the simmering.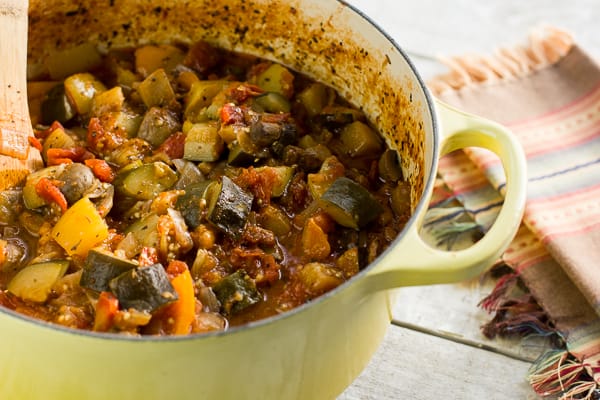 Ratatouille is essentially stewed vegetables and I find that the flavours are richer after a longer simmer. While the time in this recipe is perfectly fine for delicious ratatouille, I find myself sometimes letting is simmer longer – maybe a good hour and a half. Just make sure that the bottom does not scorch.
If I have a roast or chicken in the oven, I often have the ratatouille simmering away on the top of the stove. Once the roast is done, the ratatouille is ready to serve as well.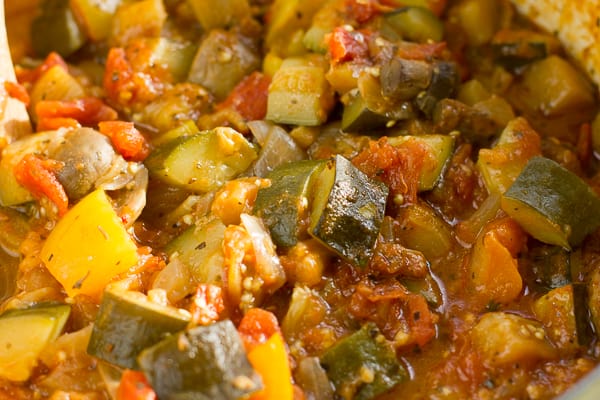 Over the years I have served ratatouille with many other dishes.
For the meat, ratatouille is awesome with roast beef, roast pork, chicken and duck. I also have served this alongside potatoes – either mashed or roasted. Sometimes I have spooned some ratatouille on rice or pasta and it has worked very well.
The great thing about ratatouille is that it is very versatile and it will add both colour and a rich and robust flavour to the plate. Plus it is a very healthy dish!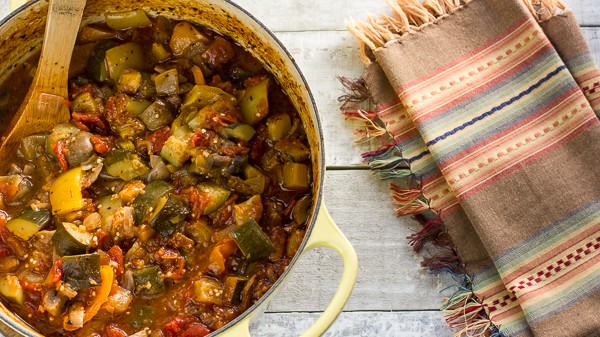 Ratatouille - Stovetop Recipe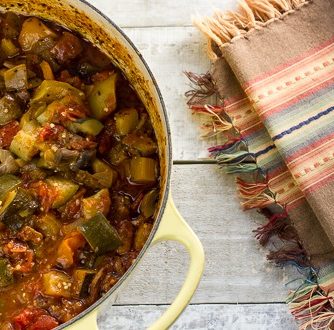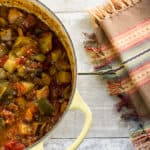 Print
A classic French vegetable side dish made with sauteed tomatoes, zucchini, onions and bell peppers. Oven baked or cooked on the stovetop.
Servings: 8 people
Ingredients
2 tbsp oil
2 onions , diced
2 bell peppers , diced
3 garlic cloves , minced
3 zucchini , sliced
2 medium eggplant (or 1 large) , peeled and cubed
2 cups mushrooms , quartered
1 can diced tomatoes , 28oz/796ml
1 tsp salt
1 tsp basil
1/2 tsp oregano
1/4 tsp dried red chilies
1/4 tsp bleack pepper
Instructions
Heat the oil in a large saucepan. Add the onions, peppers and garlic. Cook at a medium heat for about 5 minutes. Stir often to ensure they do not stick to the bottom of the saucepan.

After 5 minutes add the zucchini, eggplant and mushrooms. Continue to cook for about 8 minutes, stirring often.

Stir in the tomatoes, herbs and spices. Lower heat to a simmer and cook for another 30-40 minutes, stirring occasionally. The sauce should be reduced and thickened.
Nutrition
Per serving:
Calories: 117kcalCarbohydrates: 19gProtein: 4gFat: 4gSaturated Fat: 1gSodium: 445mgFiber: 7gSugar: 11g