How to Cook a Boneless Pork Rib Roast
This roast is beautifully marbled and very moist and tender. Easy to cook and will serve plenty!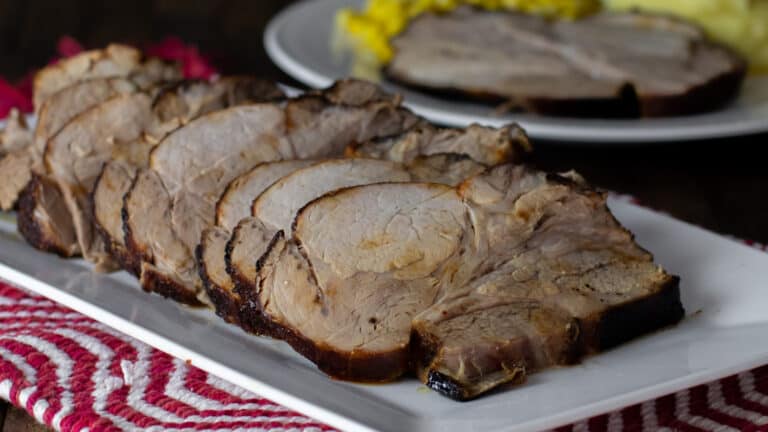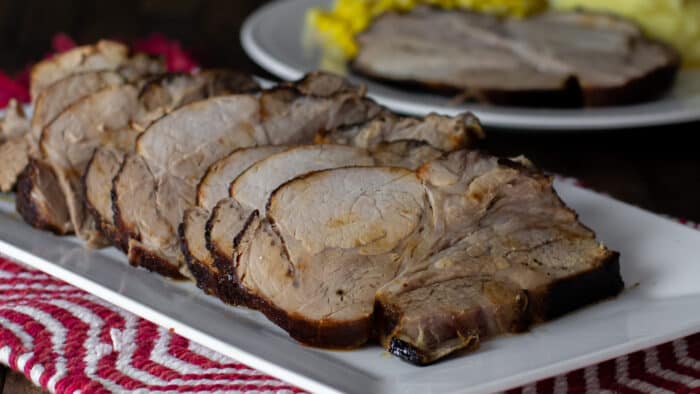 We love pork and have many different cuts of the meat from chops, ribs, roasts and more. A boneless pork rib roast is one of my favourite ways to cook pork and it is very easy. The following recipe and instructions will show you exactly how to cook a boneless pork rib roast.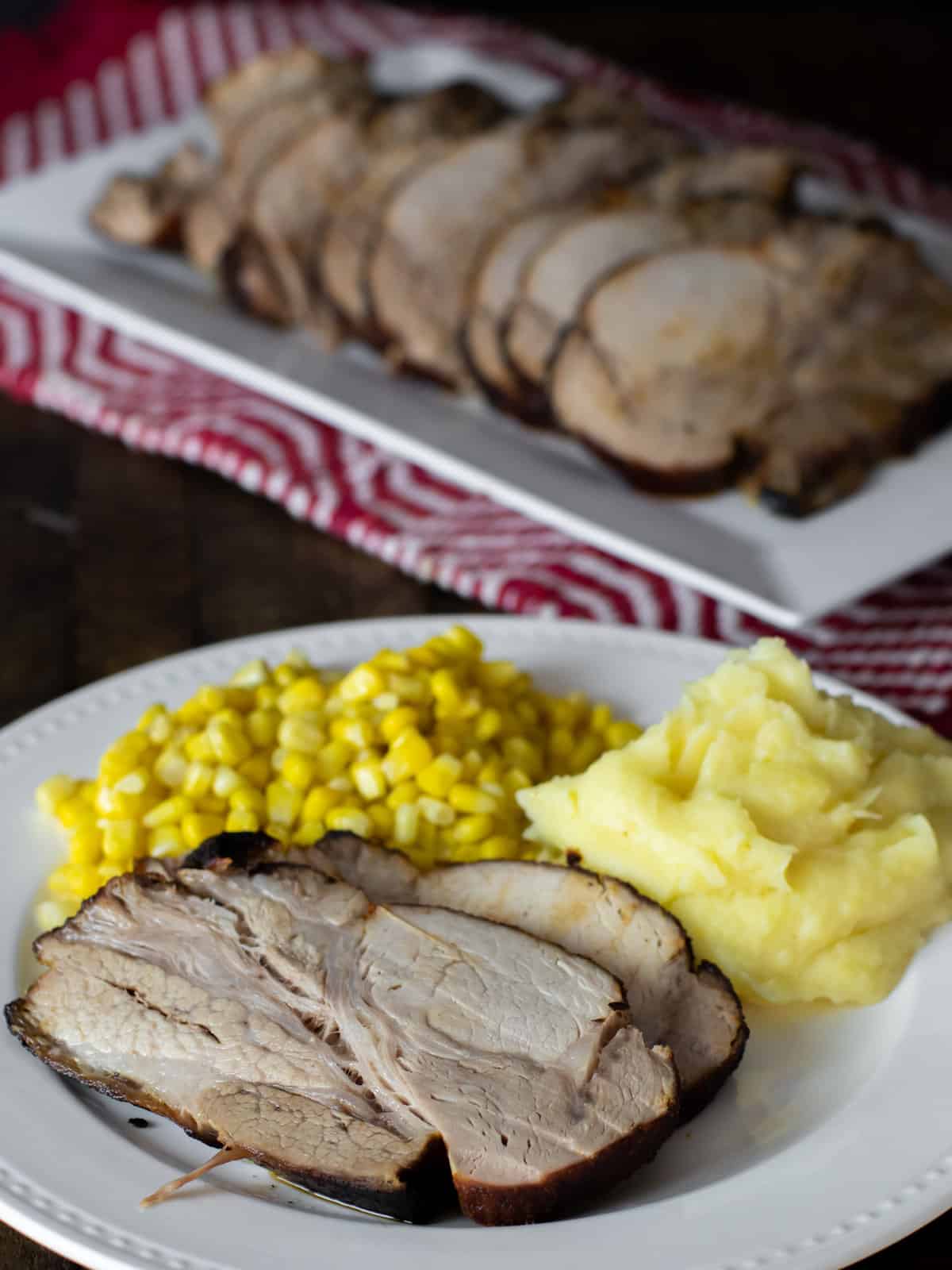 Perfect for a fall or winter day, a pork roast is like pure comfort food. Since the size of a boneless rib roast ranges from 3-4 pounds, it is large enough to serve a big family.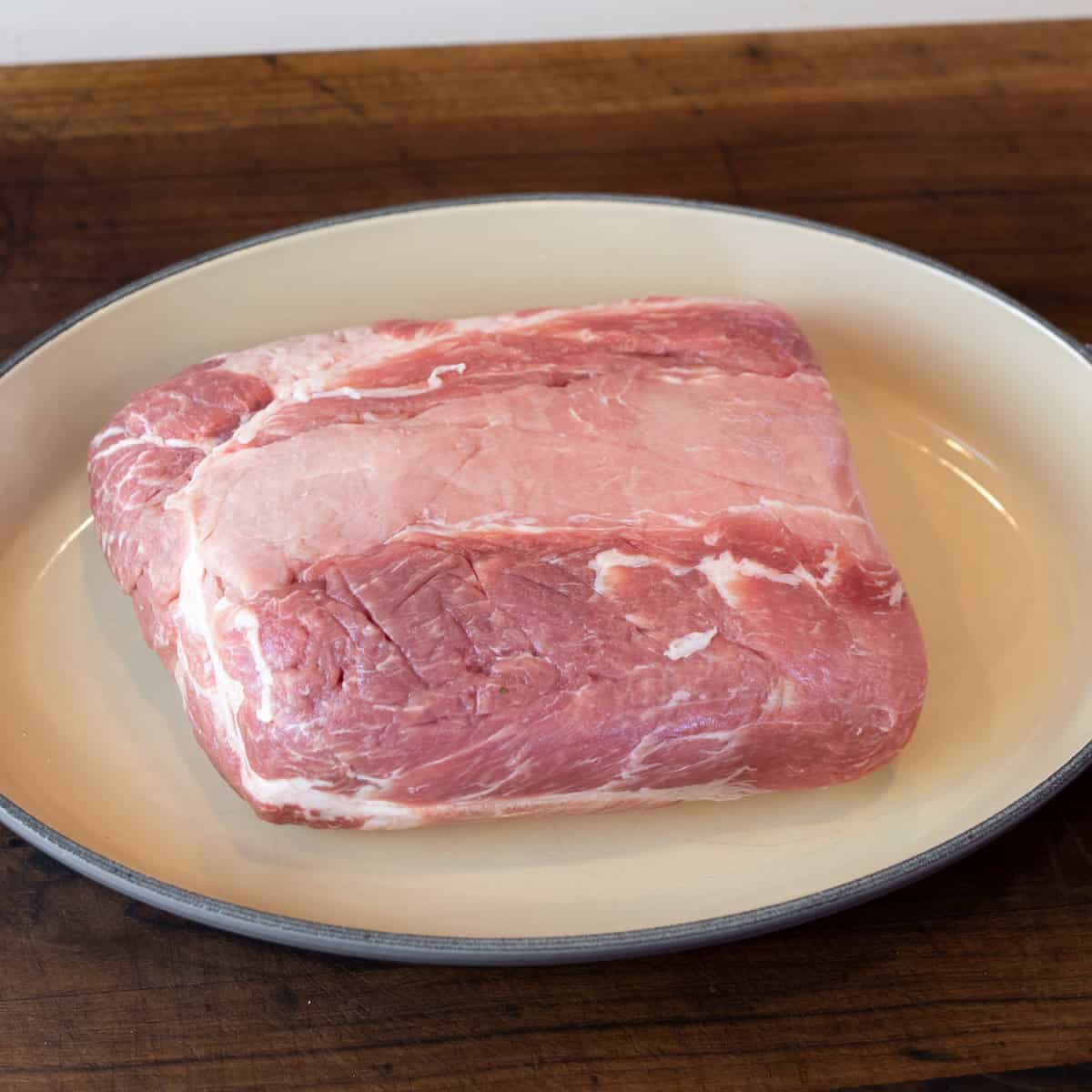 Choose a Right Cut of Pork
A boneless rib roast is one of my favourite cuts of pork. This roast is beautifully marbled and very tender. Ideally suited to be roasted in the oven, cooking a boneless pork rib roast is easy and pretty much fool proof.
This is a common roast, so you should easily be able to find it at your local supermarket, and I often grab it when it is on sale. Typically, this roast does not need any extra trimming after it is purchased.
One side of the roast has a fat cap. Make sure to have that side on the bottom when it is being cooked.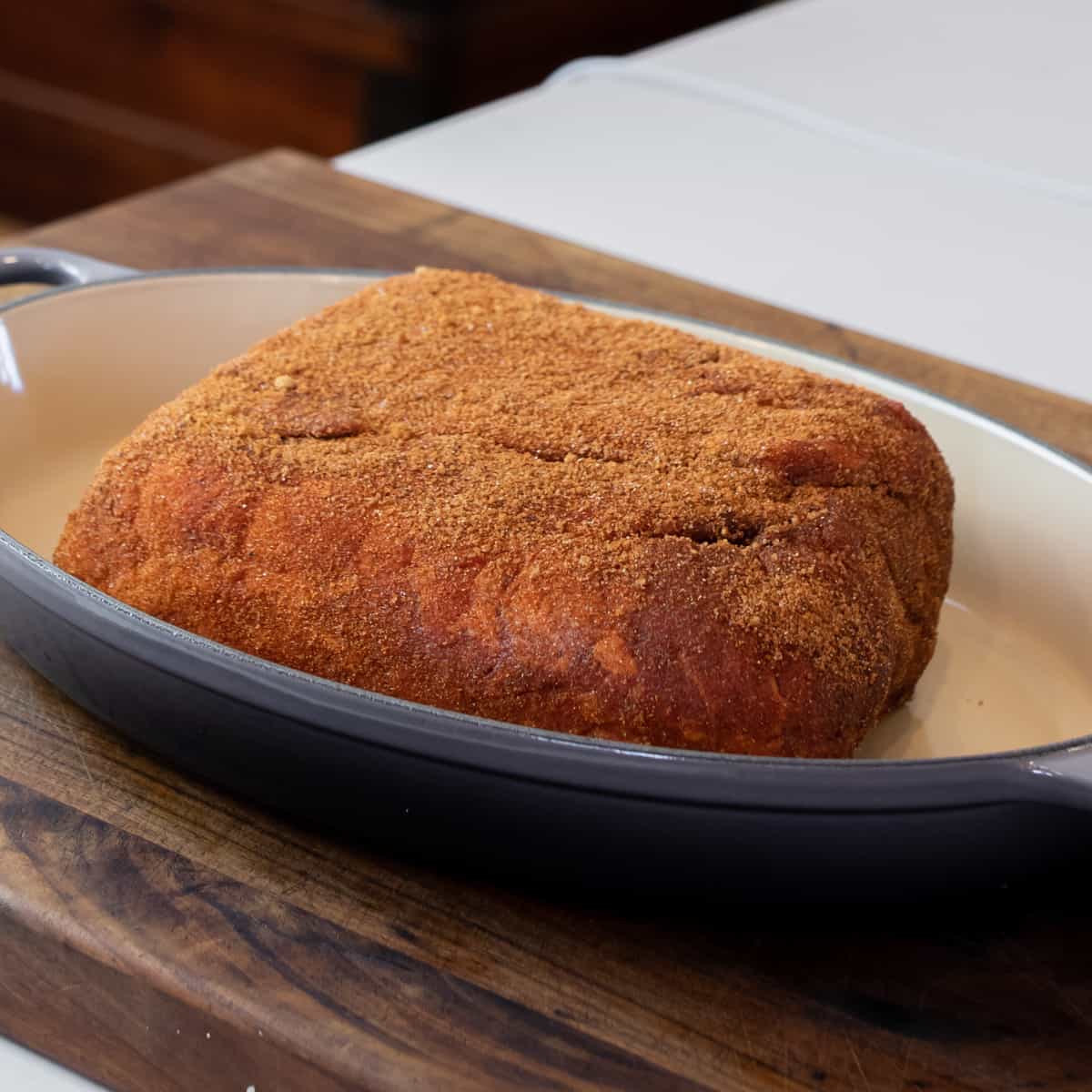 Seasoning the Pork
I like to coat the pork roast with plenty of this rub. It is mild and has a nice sweet seasoning. After it comes out of the oven, the rub turns into a tasty crust all over the roast. It is delicious and adds a wonderful flavour in every bite.
Brown sugar
Paprika
Salt
Pepper
Cumin
Garlic Powder
Cayenne Pepper
There are many different other types of seasoning blends that you could also try including an herb and garlic, Moroccan, Cajun, Curry spice rub.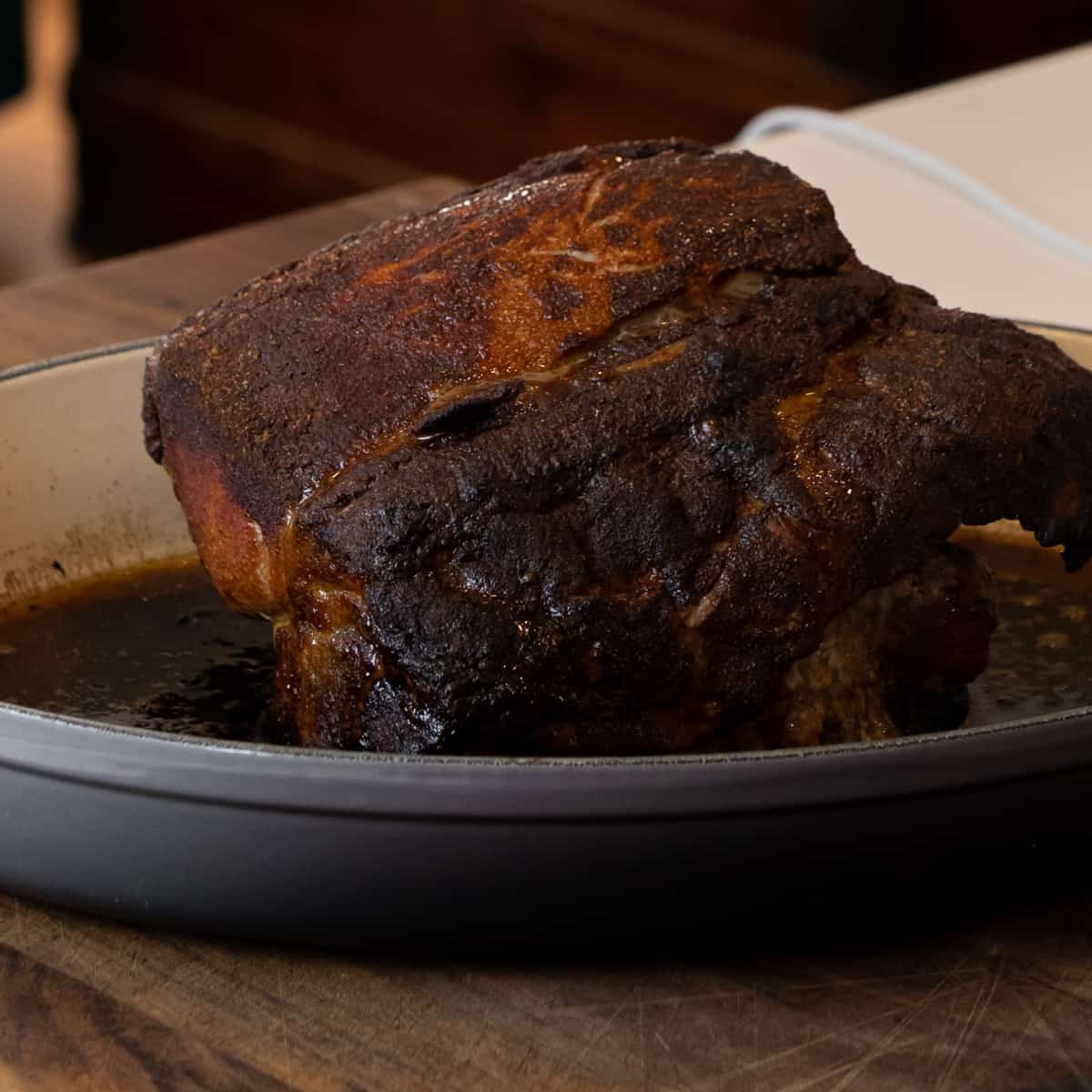 How Long to Cook Pork Rib Roast
I like to use a shallow baking dish to cook the pork roast. Also, I like to cook it uncovered, as it will allow the roast to develop a delicious seasoning crust on the outside of the meat.
Place the seasoned roast into an oven preheated to 375F. Cook it until the internal temperature of the pork roast reaches 145F. I find that a 4 pound roast takes about 2 hours to cook through and reach the desired internal temperature. Every roast is a different shape and size, so cooking to a target internal temperature is always preferable and more accurate than cooking for a set amount of time.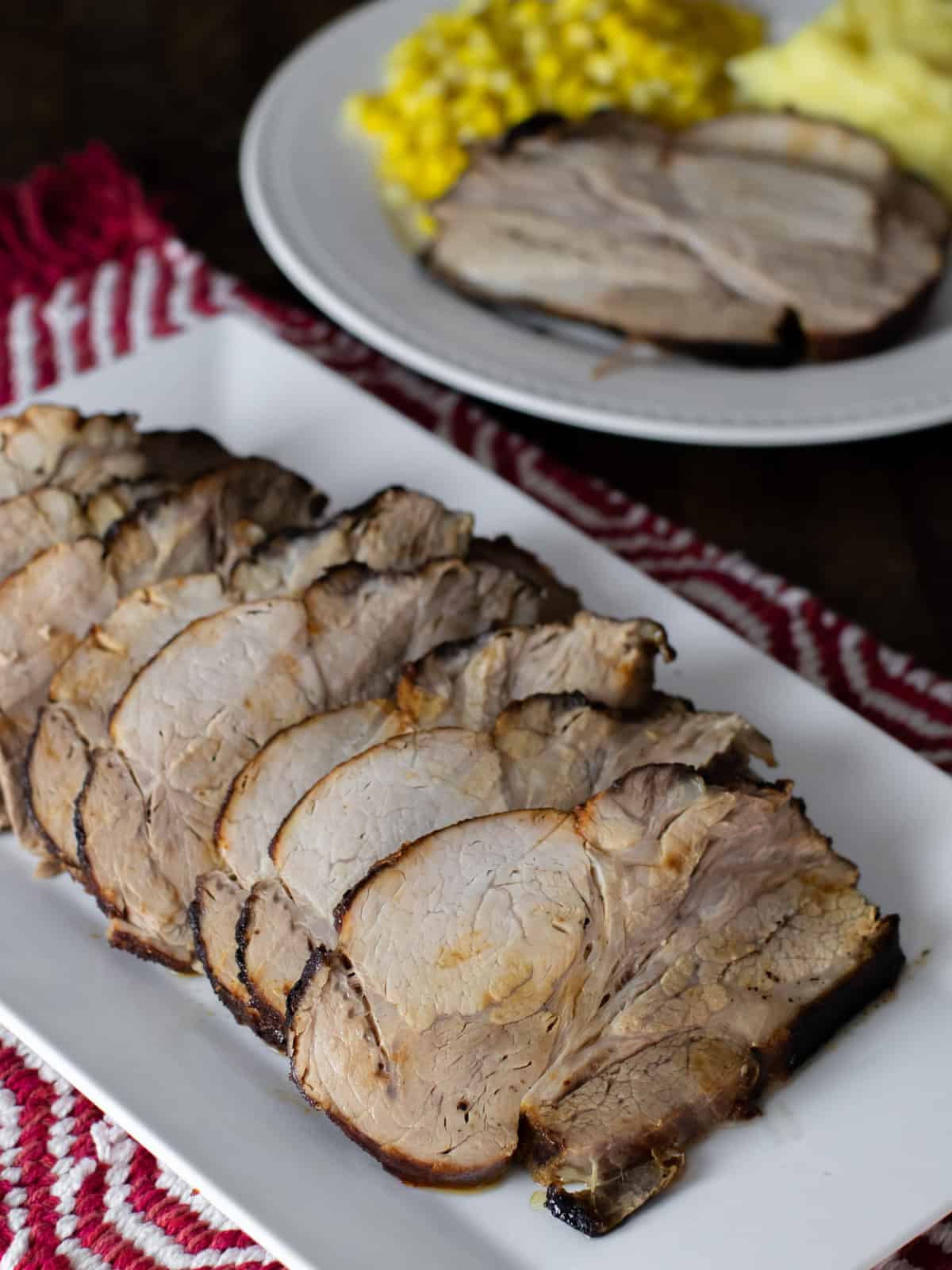 Let the Pork Roast Rest Before Slicing
Once the pork rib roast coms out of the oven, make sure to let it rest. Leave it for about 10 minutes, so that the juices draw back into the roast and the meat relaxes.
Carve the roast into 1/2 to 1 inch slices and serve immediately.
We love to have this pork roast with mashed potatoes or fingerling potatoes and corn. It is also great served alongside rice and many different types of vegetables.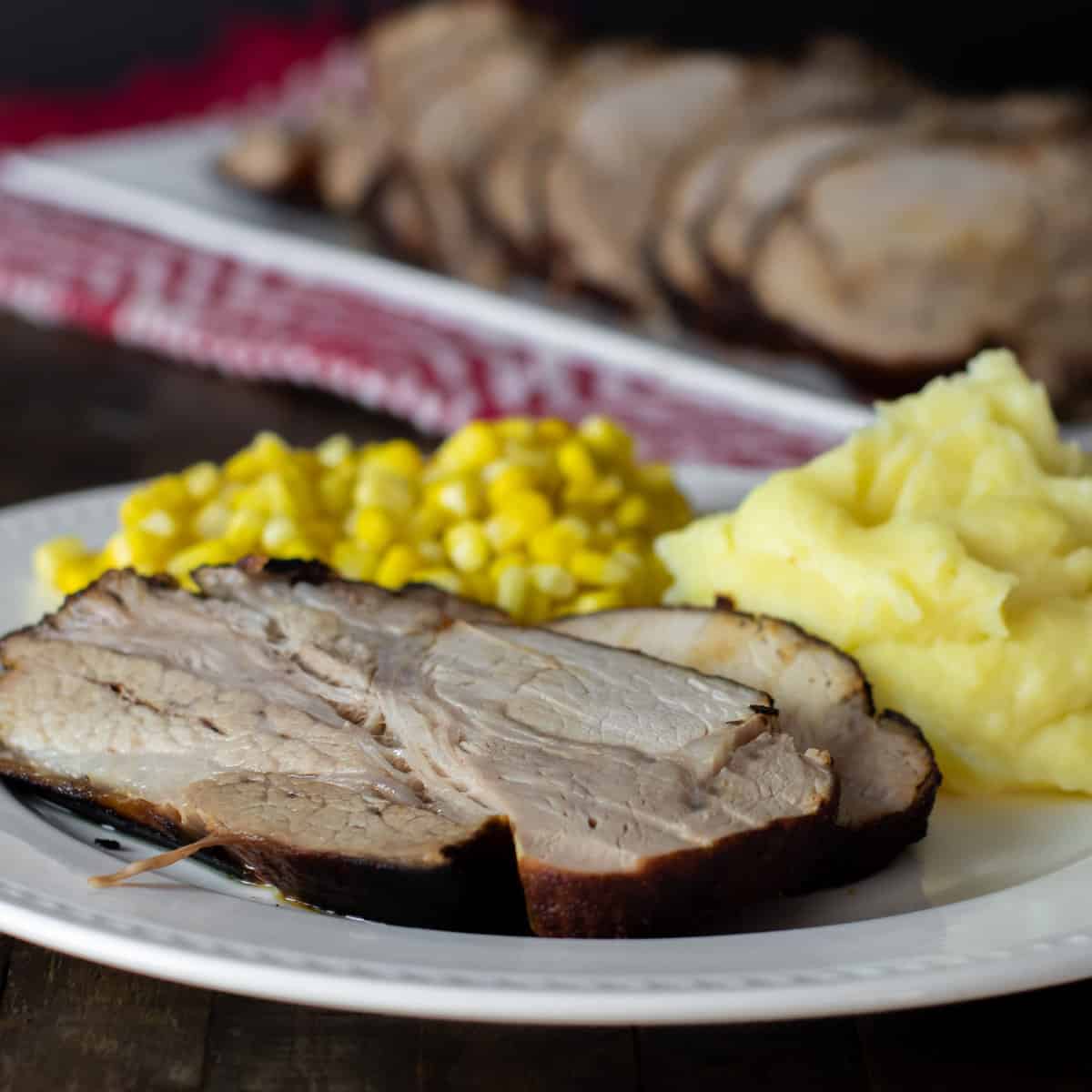 Other Great Pork Recipes!
Here are more ways to cook pork roasts and chops in the oven.
Boneless Pork Rib Roast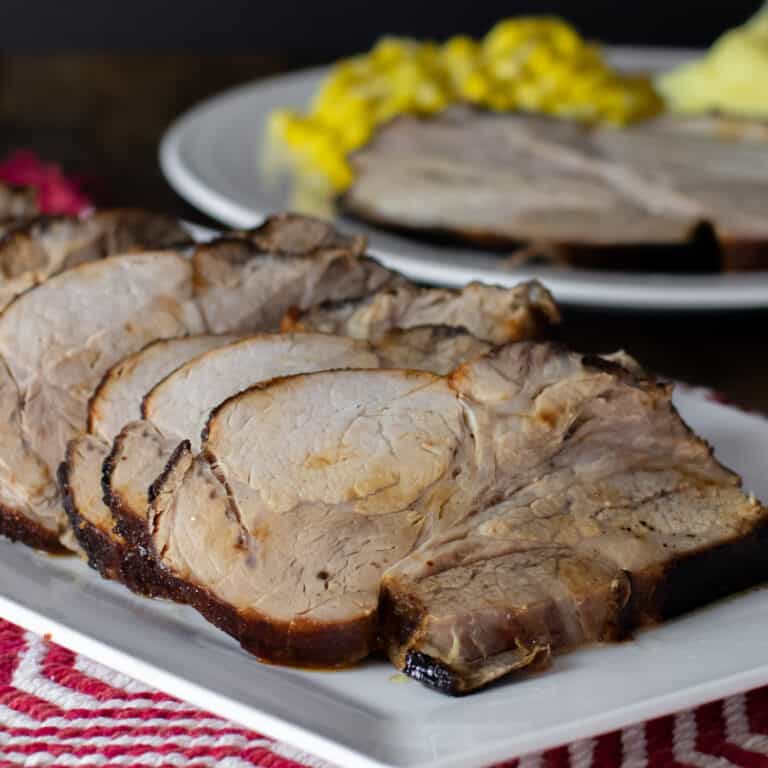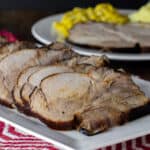 Print
Simple instructions for how to cook a boneless pork rib roast in the oven. A sweet seasoning rub coating the pork roast gives the meat lots of flavour.
Servings: 8
Ingredients
4 pound pork rib roast , boneless
Seasoning Rub
2 tbsp brown sugar
1 1/2 tbsp paprika
2 tsp salt
1 tsp pepper
1/2 tsp garlic powder
1/2 tsp cumin
1/4 tsp cayenne pepper
Instructions
Preheat oven to 375F.

In a small bowl mix together all the ingredients for the seasoning rub until well combined.

Rub the seasoning on the pork roast so that it is coated all over with the rub.

Place the seasoned pork roast in a shallow baking dish.

Put in the oven and cook until the internal temperature of the roast reaches 145F. This should take around 2 hours for 4 pound roast.

Remove from the oven and let rest 10 minutes before slicing.

Serve.
Nutrition
Per serving:
Calories: 443kcalCarbohydrates: 4gProtein: 40gFat: 28gSaturated Fat: 10gCholesterol: 121mgSodium: 668mgFiber: 1gSugar: 3g