Pork Loin Roast with Apple Cranberry and Walnut Stuffing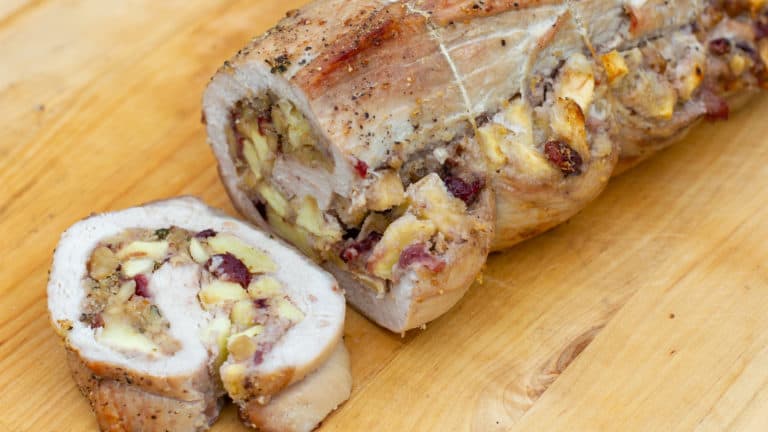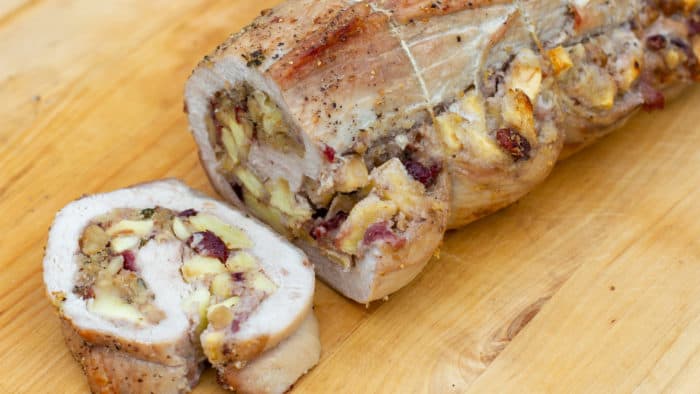 It is spring and I have a stuffed pork loin roast recipe. I know that seems odd, but this recipe and the photos have been sitting on my computer waiting to be posted on the blog. I figured that today is as good a day as any and I want to get this dish posted before the weather gets any warmer.
This roast pork has such wonderful flavors. I love roast pork loin especially when it is stuffed. Butterflying a pork loin is not difficult and there are many different stuffing mixes that you can use. Stuffed pork loin is a great alternative to roast beef or turkey.
Placing this on a table at dinner time is sure to wow and awe your dinner guests. It can be prepared ahead of time and kept in the fridge ready to go in the oven.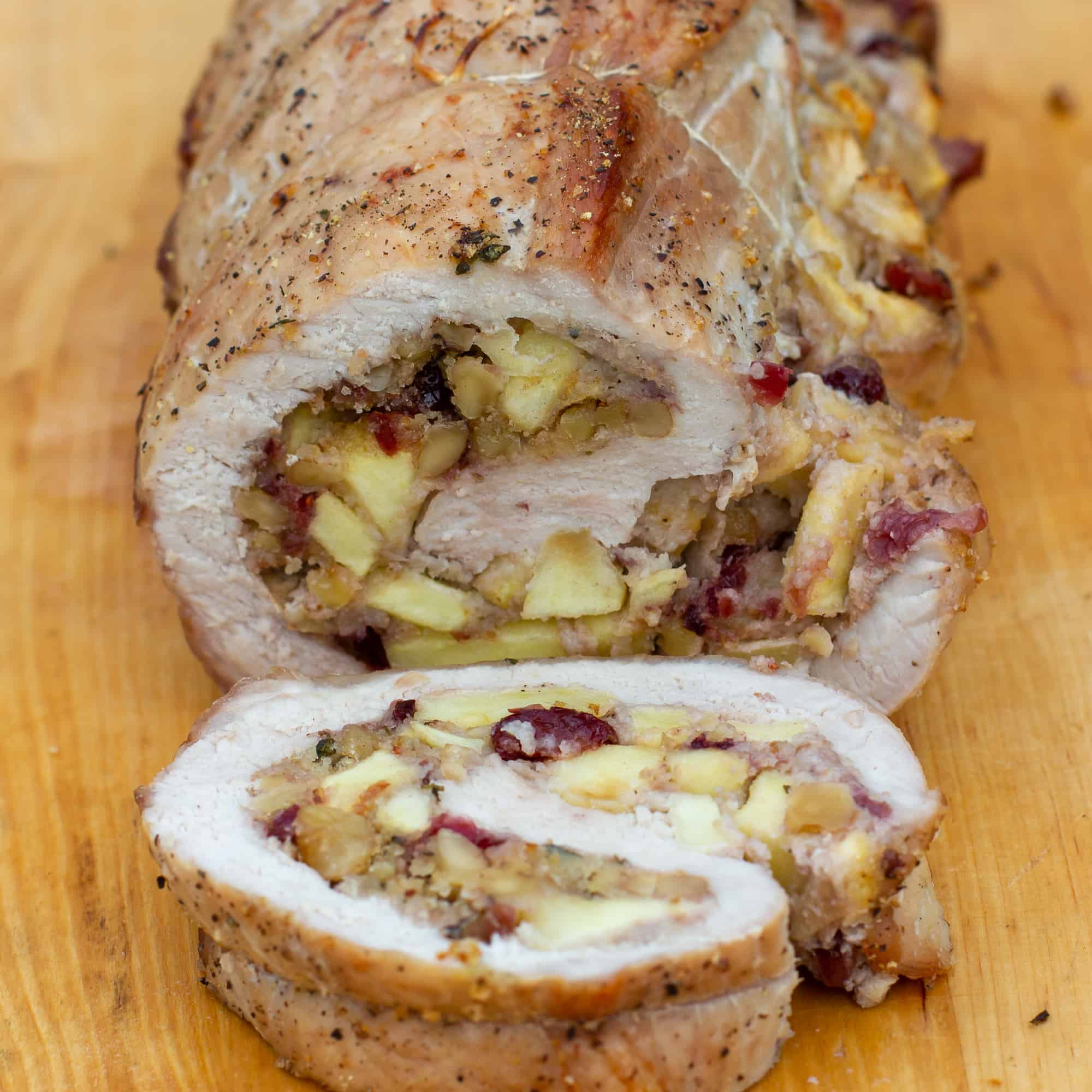 Pork loin is perfect for stuffing and this stuffing is sweet, tart and totally festive! This is the perfect roast to make for any holiday dinner. It is excellent during harvest season as well.
How to Butterfly a Pork Loin
To prepare a pork loin for stuffing you need to butterfly it. A butterflied pork loin is flat and allows the stuffing to be evenly spread across it and then rolled up, jelly roll style.
First, trim the pork of any excess fat.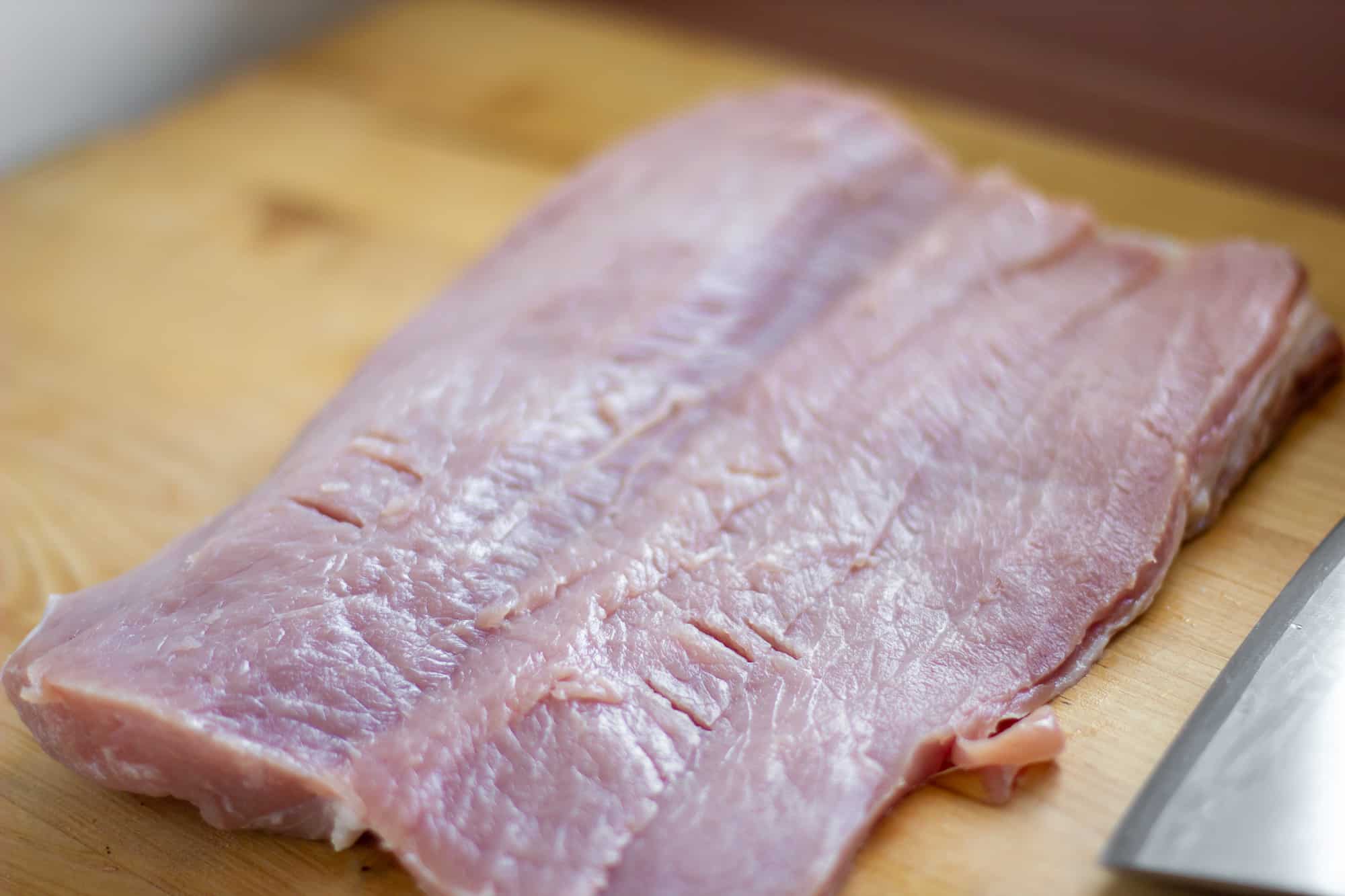 Using a sharp knife, cut along the long side of the pork loin. The cut should be about one third from the bottom/base of the pork loin. Cut evenly into the loin, stopping about 1/2 inch from the other side. Open up the loin (as seen in the picture above.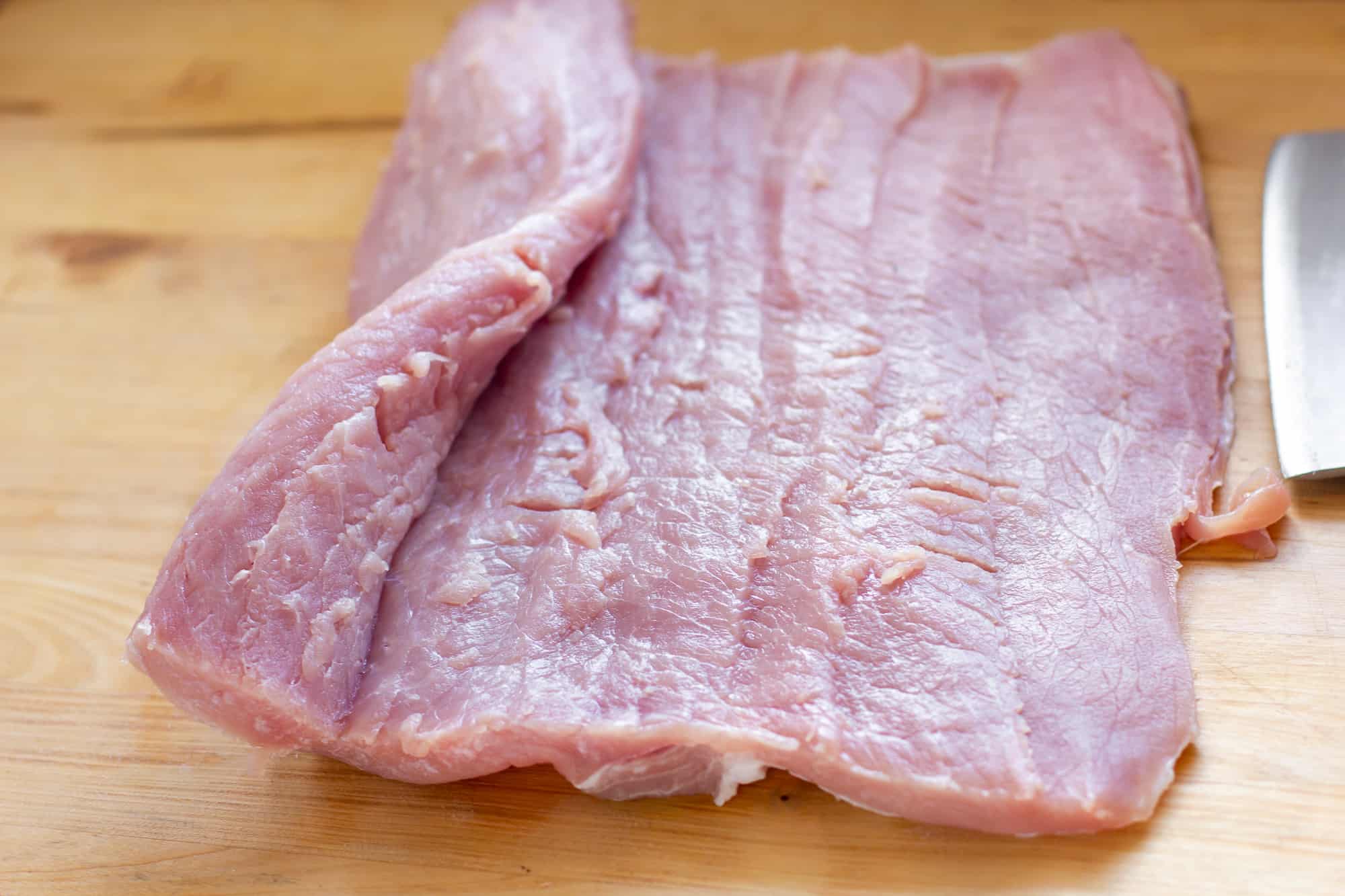 The left side should be much thicker than the right side. Now, carefully cut along the middle, cutting into the thicker, left half portion of the pork loin. Cut evenly, halfway through and open up the loin. You now have a butterflied pork loin that should be an even thickness all across the meat.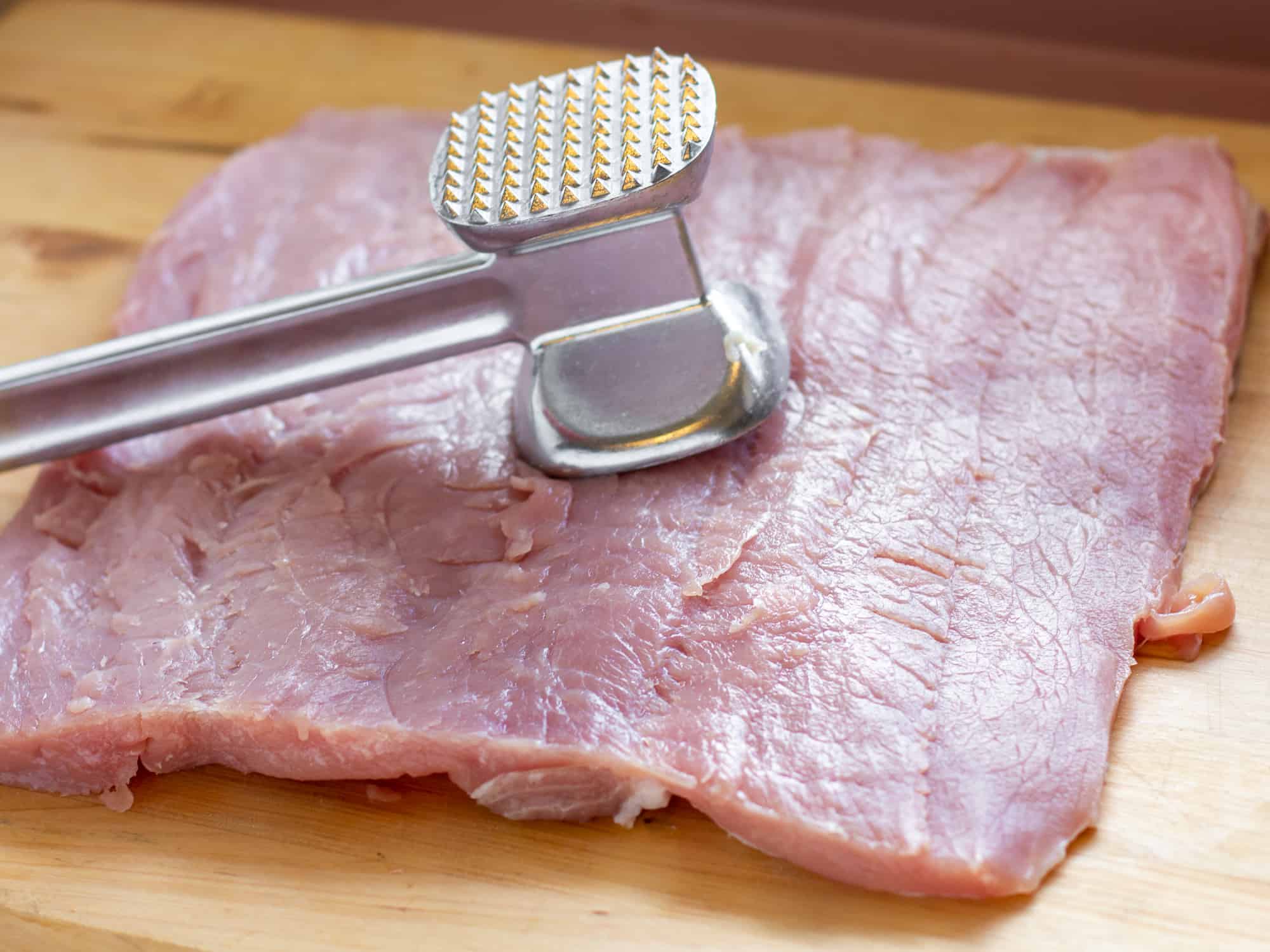 Using a meat mallet, pound the meat to flatten it. This allows the stuffing to go on evenly and helps a great deal with the rolling of the pork loin.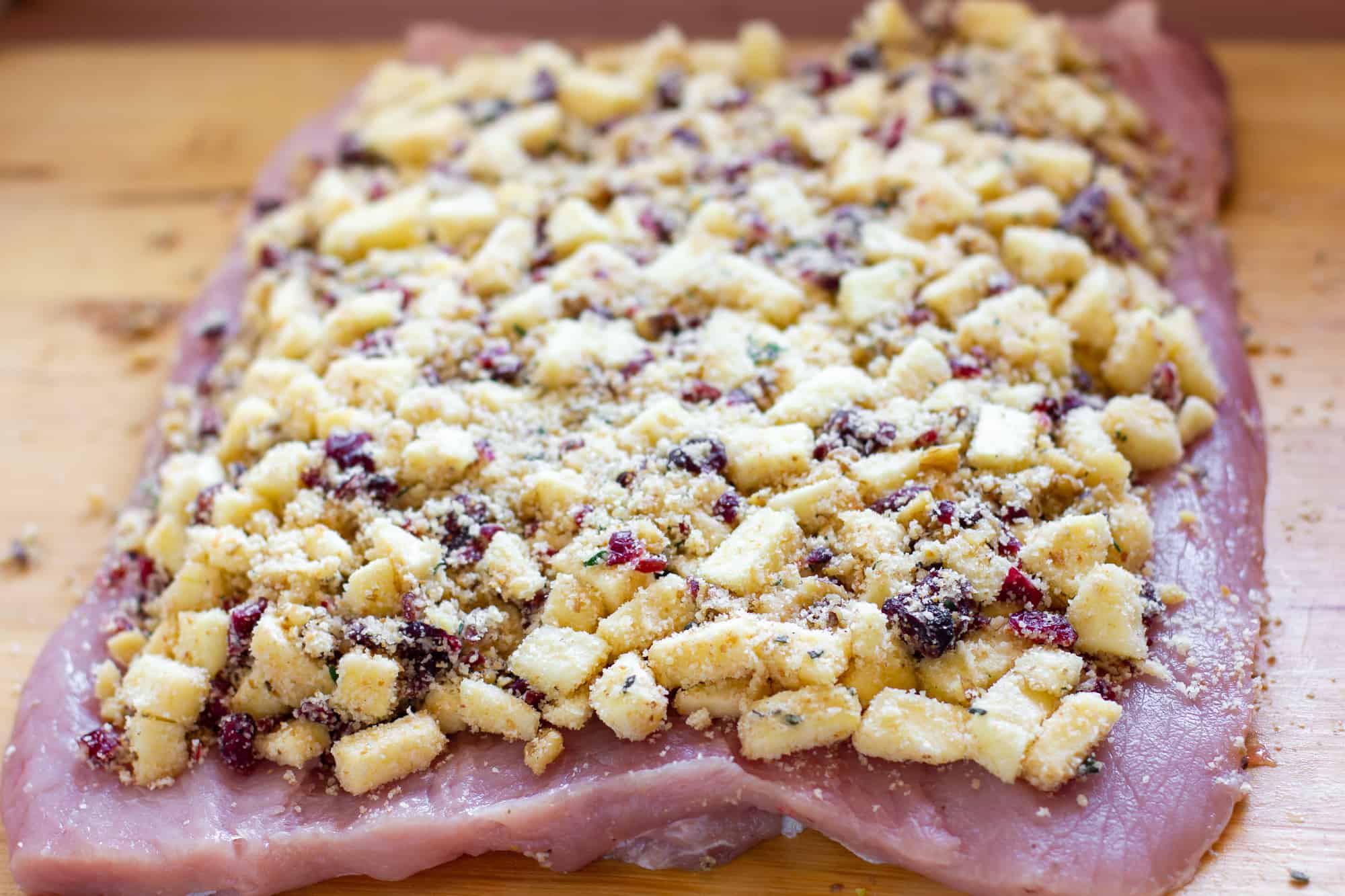 Spread the stuffing evenly across the meat. Leave about 1/2 inch along the edge of the loin with no stuffing.
How to Roll up a Pork Loin
Carefully fold one side of the loin over. It should be about 1/3 or 1/4 of the loin folded over.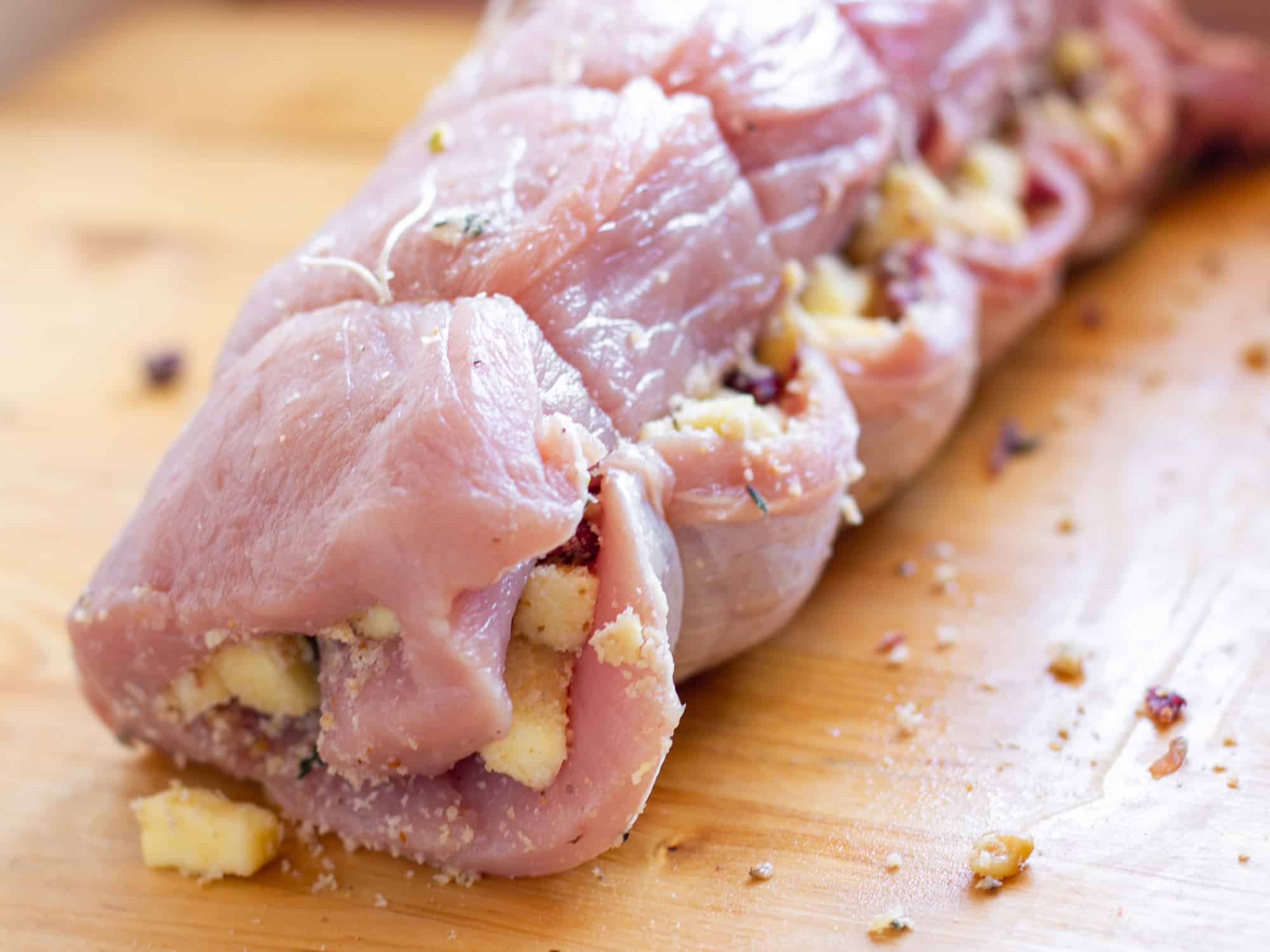 Next, continue to fold/roll the loin so that it is looking like the picture above. Be careful not to let any of the stuffing fall out.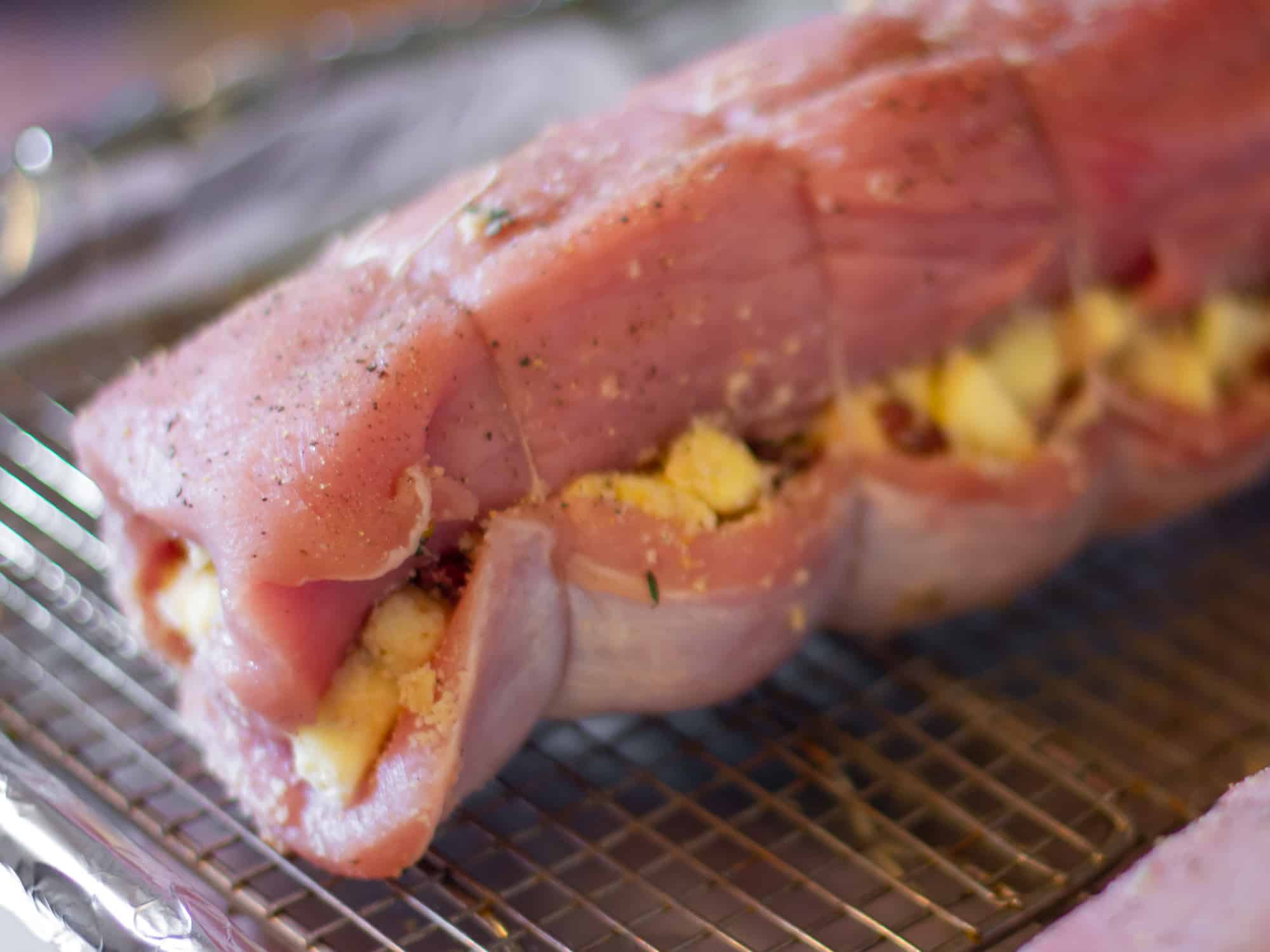 Using kitchen string, tie up the loin about 5 or 6 times. The stuffed loin can be prepared hours before and kept in the fridge until it needs to be cooked. it is possible to stuff the pork loin the night before and keep it in the fridge.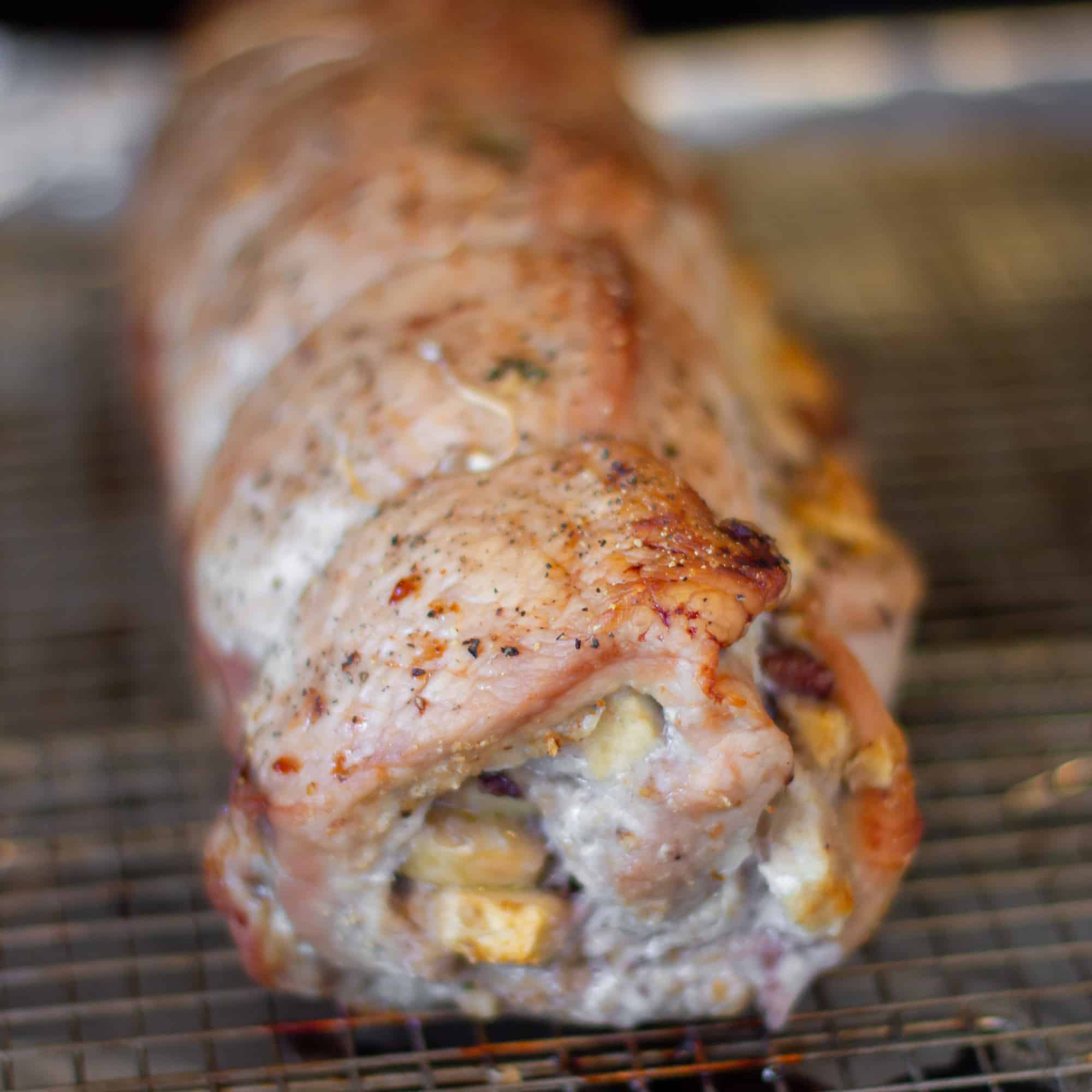 How Long to Roast a Stuffed Pork Loin?
Roast the loin on a baking sheet or roasting pan with a rack. The rack helps the loin to cook evenly an not burn or dry out on the bottom.
I roast the stuffed pork at 350F. This roast took about 1 hour and 15 minutes. But, since every roast is different in size and shape, it is better to cook according to the internal temperature. Roast until an internal temperature of 145-150F and then take it out of the oven and let it rest for 10 minutes before slicing.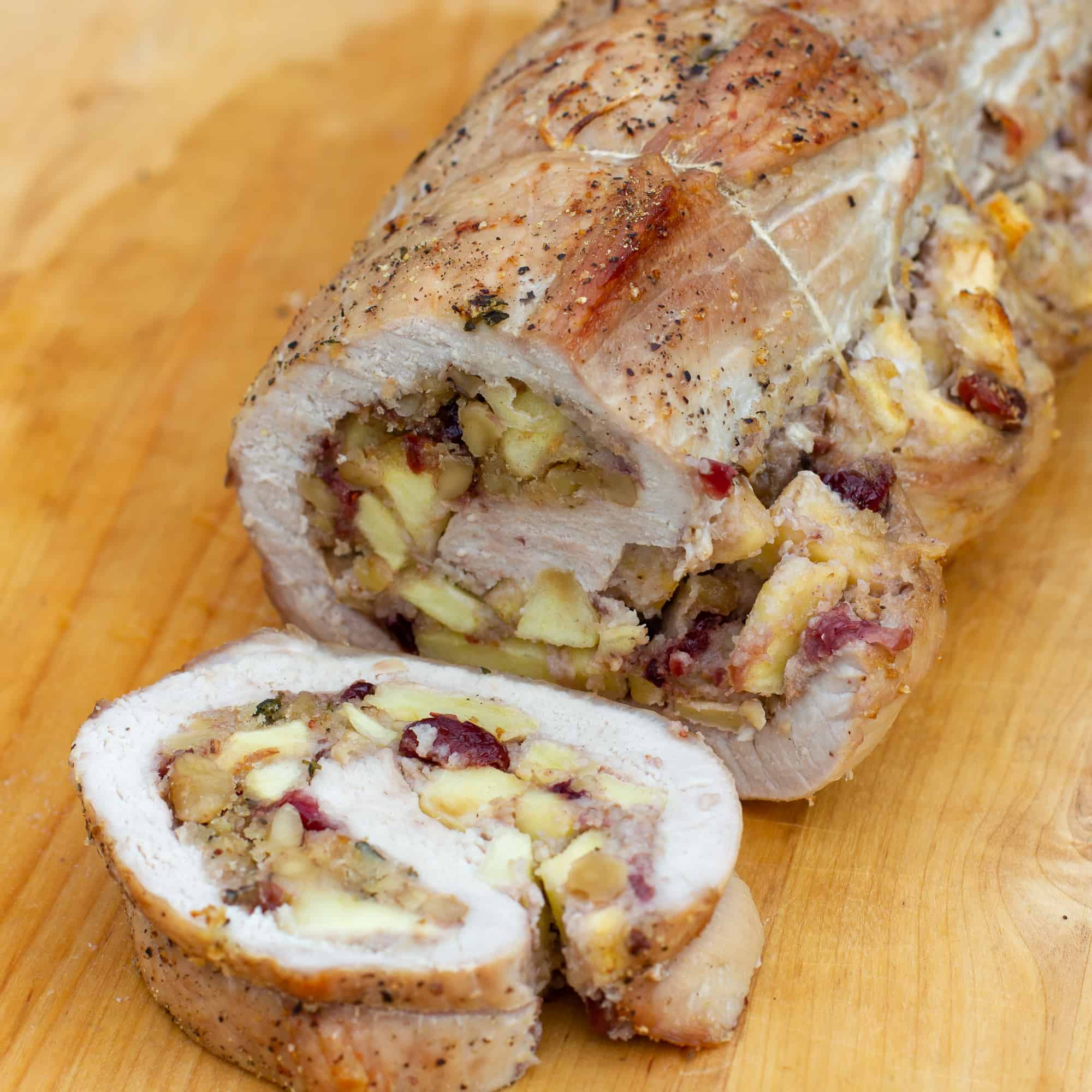 If you like stuffed pork roast, then check out these other delicious recipes!
Pork Loin Roast with Apple Cranberry and Walnut Stuffing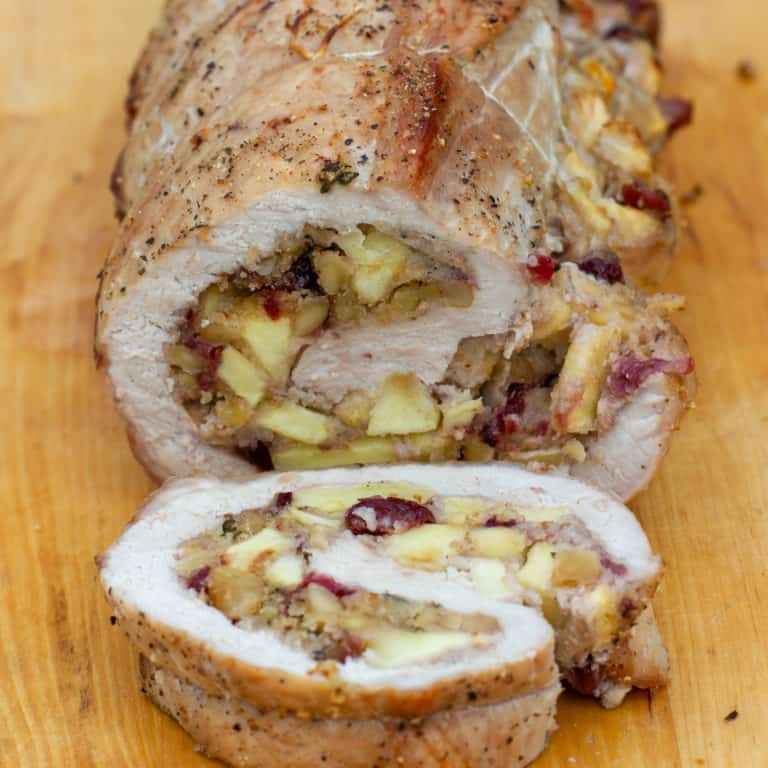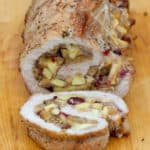 Print
A butterflied boneless pork loin stuffed with apples, cranberries, walnuts and fresh thyme. How to instructions to butterfly a pork loin.
Servings: 8 people
Ingredients
1 boneless pork loin roast (about 3 to 3 1/2 pounds)
3 apples peeled, cored and diced
1/2 cup chopped walnuts
1/2 cup chopped dried cranberries
2/3 cup bread crumbs
1/3 cup melted butter
2 tsp fresh thyme minced
Salt and pepper to taste
Instructions
In a large bowl, make the stuffing by stirring together the diced apples, chopped walnuts, cranberries, bread crumbs, melted butter and thyme. Set aside.

Butterfly the pork loin by following the pictures and instructions above.

Spread the stuffing across the butterflied pork loin, leaving about 1/2 inch edge on all sides. Roll up the pork loin and tie it up using kitchen string (refer to the pictures above to see how to roll up a stuffed pork loin).

Place in the fridge until ready to cook.

Preheat oven to 350F.

Place stuffed pork loin on a roasting pan or baking sheet with a rack. Sprinkle with a little bit of salt and fresh ground pepper.

Cook in the oven for about 1 hour 15 minutes. The internal temperature of the pork should be 145-150F.

Remove from the oven and let rest for 10-15 minutes.

Slice and serve.