How to Roast a Whole Chicken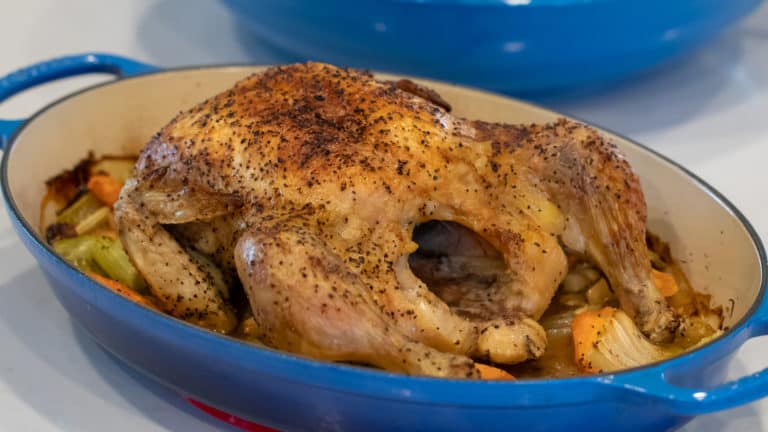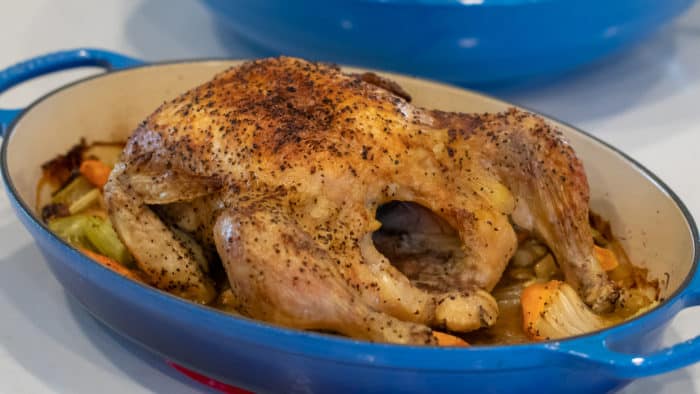 One of my most common fall meals is roast chicken. It is simple, delicious and a great way to make a meal for a family. If you have ever wondered how to roast a whole chicken, then this recipe is for you. Here you will find instructions for how to cook a whole chicken in the oven with simple seasoning.
Roasted chicken is one of the most popular meals I make at home. Anytime the kids see that I am putting a chicken in the oven, they freak out. I can't say I blame them. The chicken tastes so good. It is moist and juicy with super crispy skin. Many times, I actually have to roast two chickens at once because everyone loves it so much!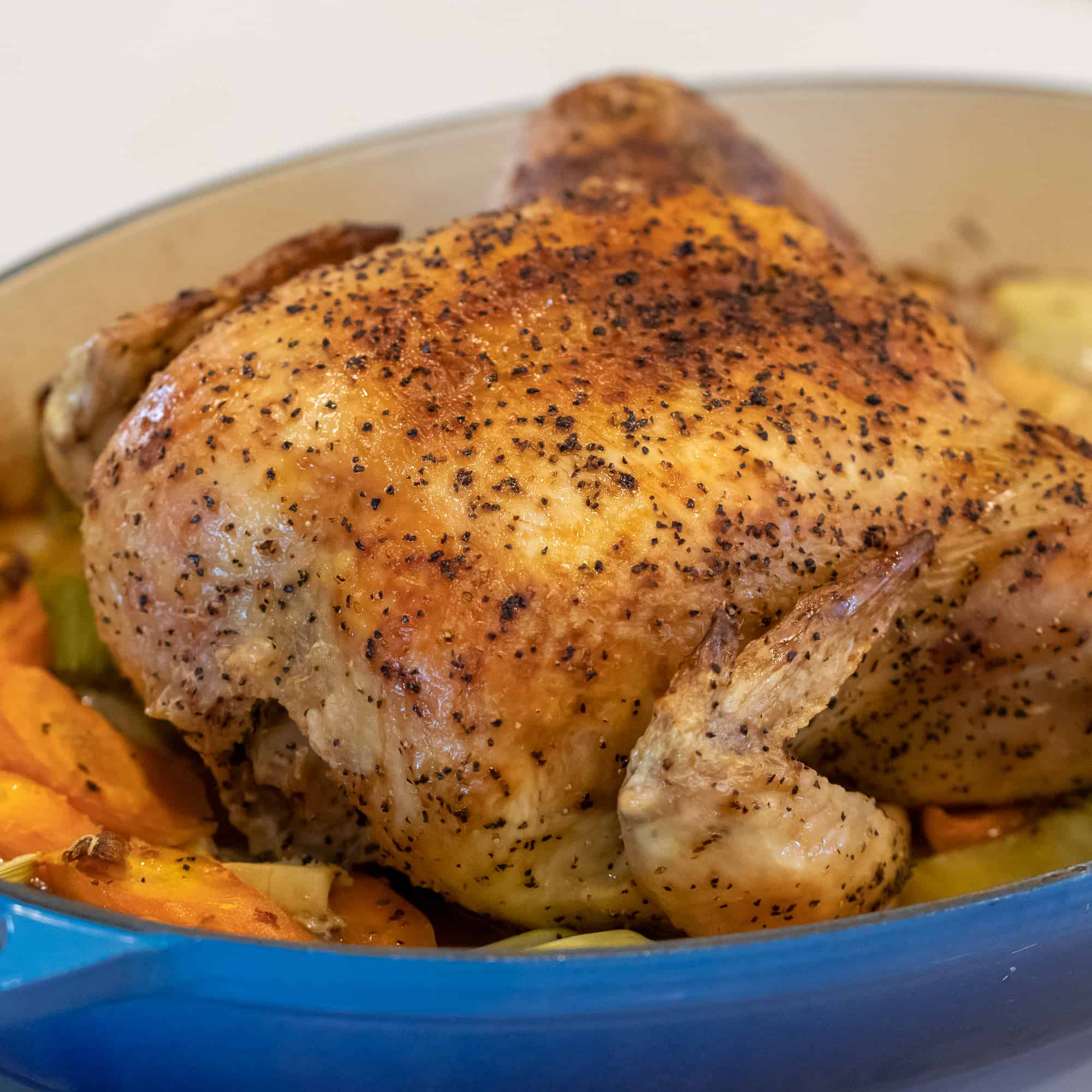 I like to brine chicken prior to roasting it in the oven. Brining is a method letting the whole chicken soak in a brine liquid of water, salt and other seasoning. This results in a roasted chicken that is more moist and juicy and full of flavour.
If you have never tried brining a chicken, I would highly recommend that you give it a go. For detailed information, check out this link: How to Brine a Chicken.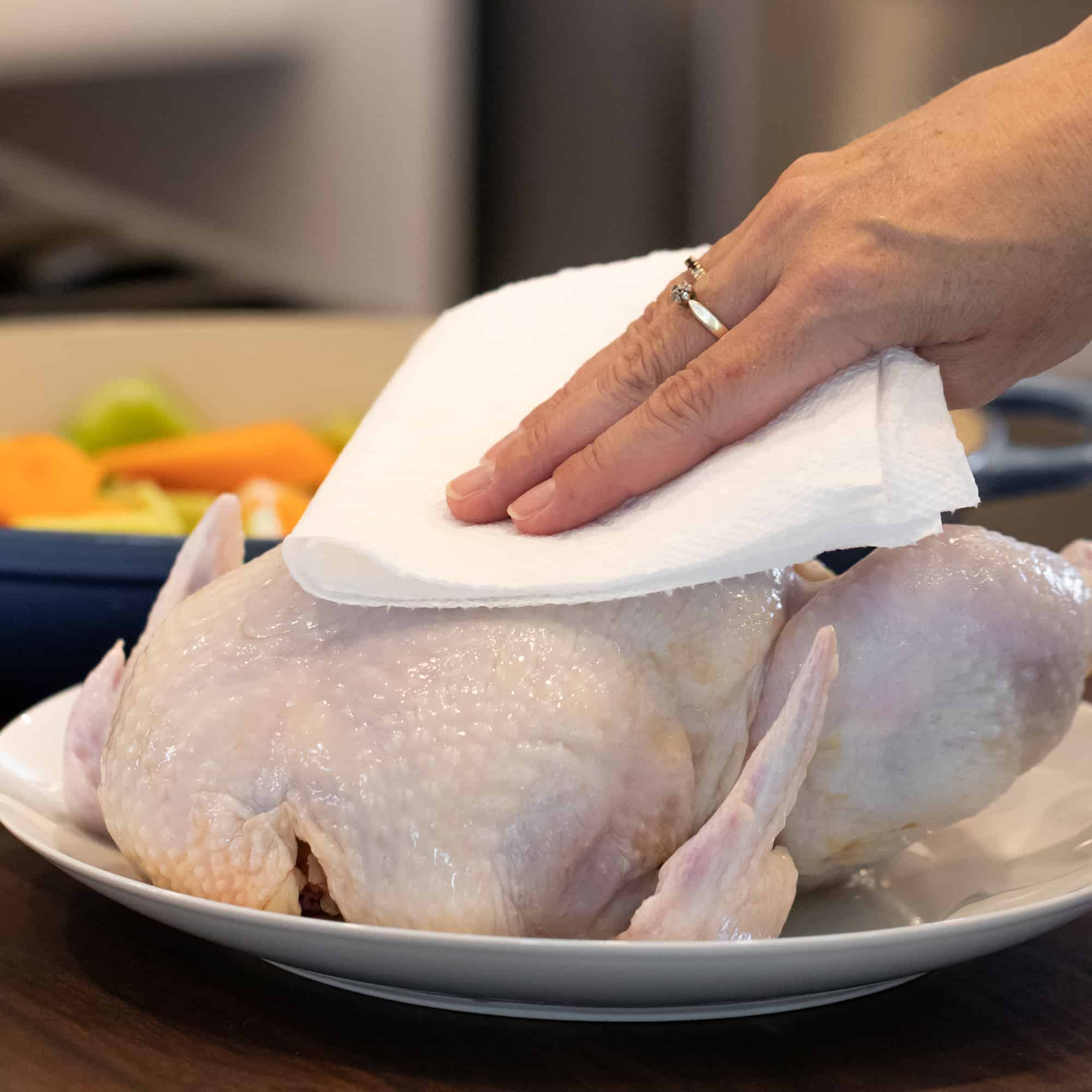 How to Prepare the Chicken for Roasting
Whether you brine the chicken or not, it is good to pat the skin dry with a paper towel. Removing any moisture from the skin will help the chicken brown and crisp nicely.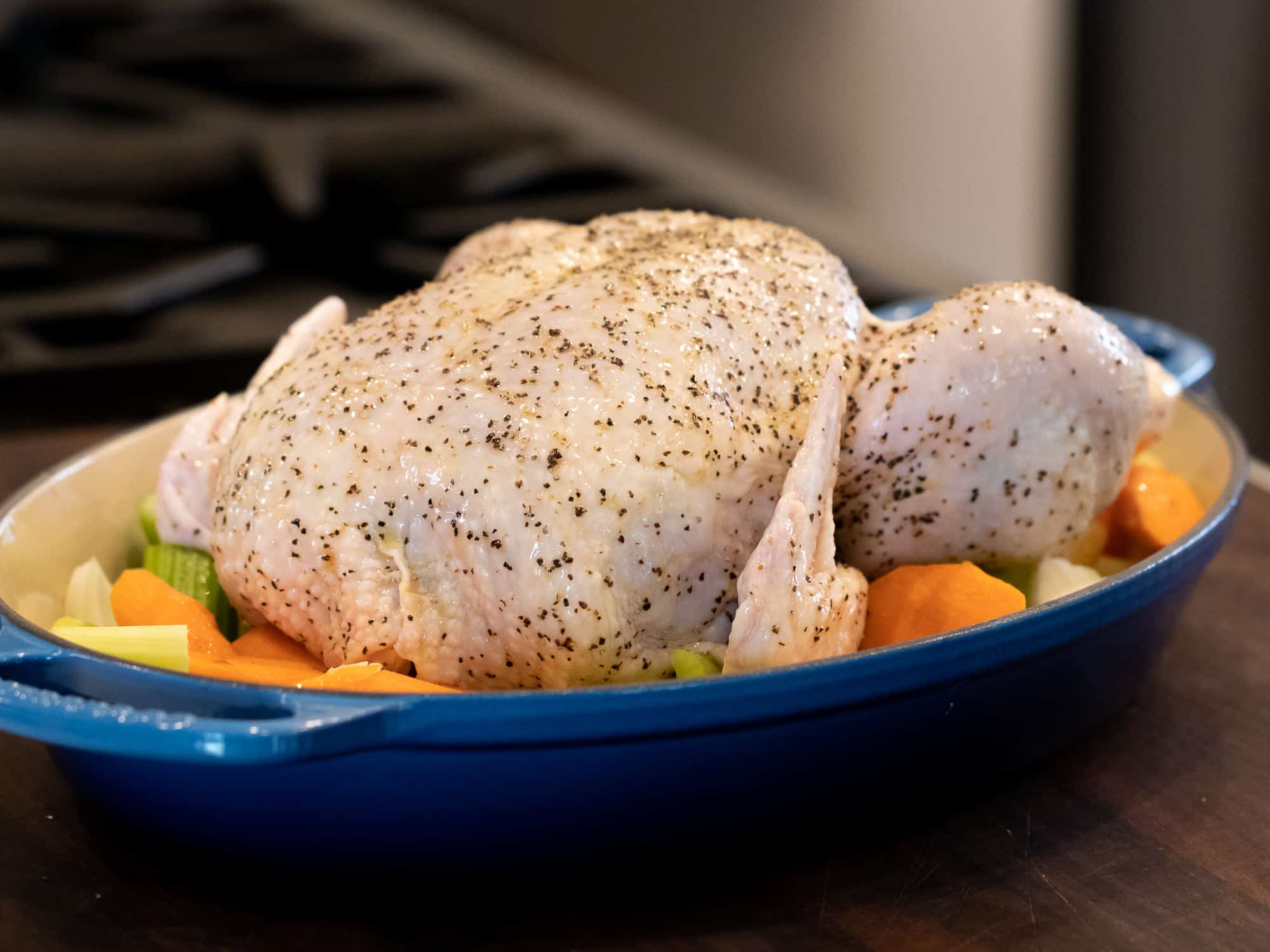 I typically use a very simple seasoning when roasting chicken. First, brush the chicken with a little bit of oil. Then, sprinkle the salt and pepper all over the bird. Make sure to season the underside as well.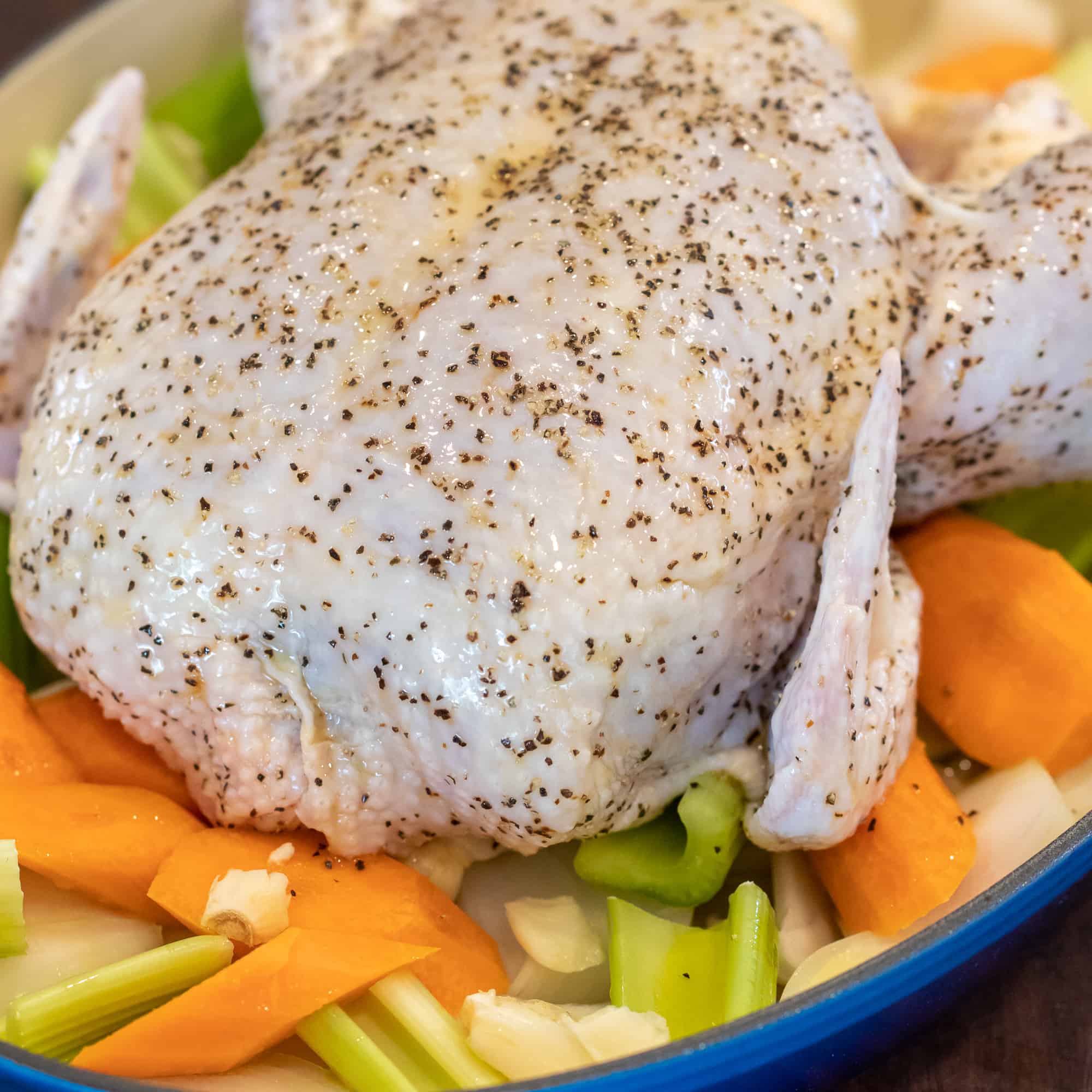 We love roasted vegetables, so I chop up a bunch and place them in the roasting dish. There are many different types of vegetables that you can use. I put in a couple of carrots, celery stalks, an onion and a few cloves of garlic.
Pour 1/2 cup of water into the bed of chopped vegetables. The chicken is now ready to be roasted!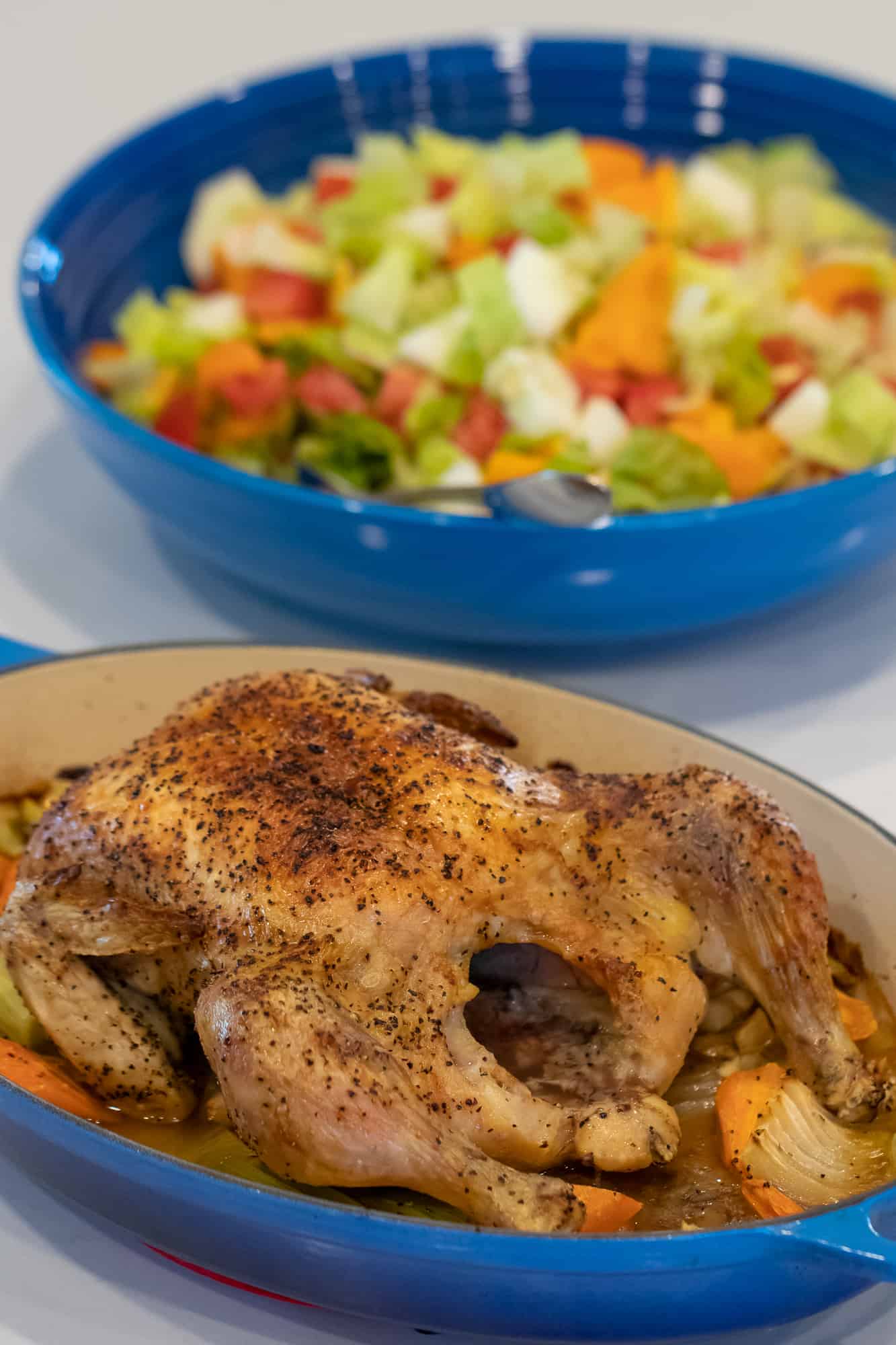 What Temperature to Roast a Whole Chicken?
I use an interesting method when roasting a whole chicken. First, I preheat the oven for 475F. Then, once the chicken goes into the oven, I immediately reduce the temperature to 400F.
The higher temperature serves as almost like a convection oven. The skin browns and crisps up beautifully and the meat is moist and juicy.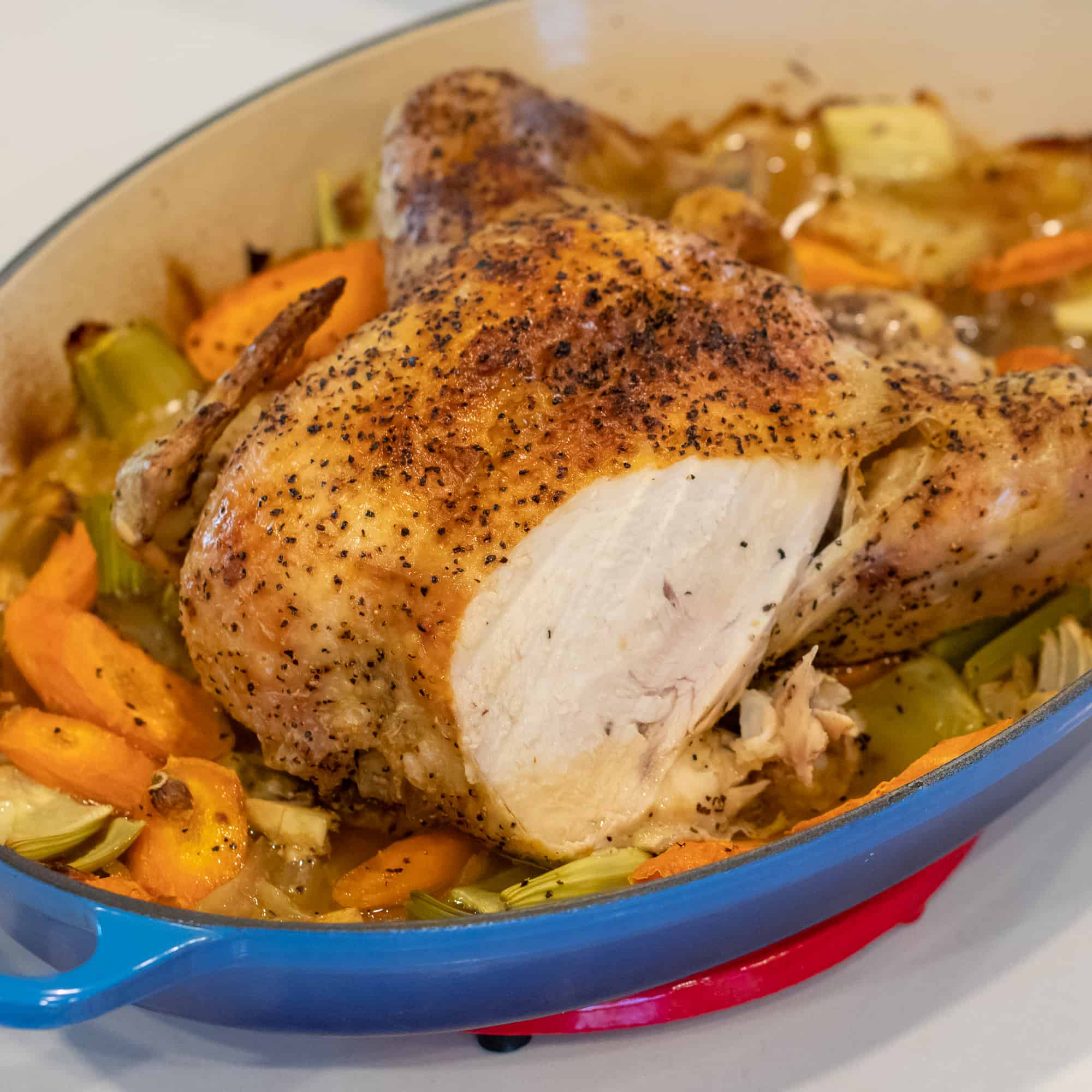 How Long to Roast a Whole Chicken?
Instead cooking based on time, I prefer to cook according to temperature. The chicken is finished cooking when the internal temperature of the bird reaches 165F. I check with a digital thermometer in both the thickest part of the breast, and also in the thigh. Once they both read 165F, then the chicken is done.
For a 4 pound chicken, I find that this generally takes around 90 minutes or so. But, since every oven and chicken is different, the cooking time may vary.
Once the chicken has finished cooking, take it out of the oven. Resting the chicken is an important step prior to carving. This allows the juices to draw back into the bird and you will find the meat far more moist than if you did not rest the chicken. This roast chicken is so delicious!
If you are looking for some dishes to go alongside this roast chicken, then check out these recipes.
There is also a recipe that will make a full complete meal on a sheet pan. Roast chicken, potatoes and vegetables, all cooked at the same time on the same baking sheet! Sheetpan Roast Chicken and Vegetables.
How to Roast a Whole Chicken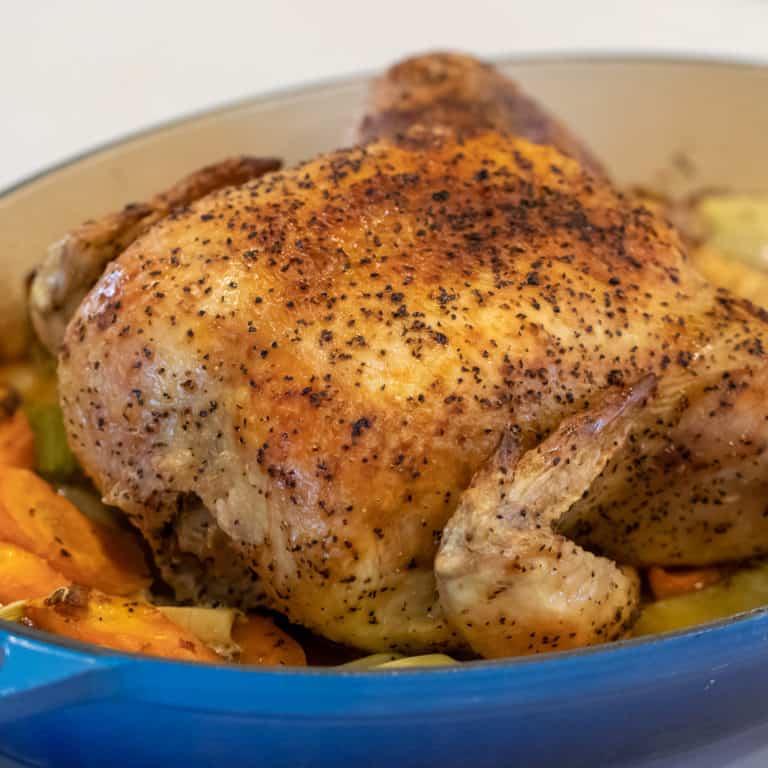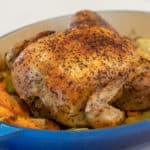 Print
Simple recipe and instructions for how to roast a whole chicken. Tender and juicy chicken that is baked in the oven.
Servings: 8
Ingredients
1 whole chicken , about 4 pounds
2 tbsp oil
2 tsp salt
1 tsp black pepper
1 medium onion , peeled and chopped
2 medium carrots , peeled and chopped
2 stalks celery , chopped
5 cloves garlic , smashed
1/2 cup water
Instructions
Preheat oven to 475F.

Use a paper towel to pat dry the skin of the chicken. Brush it with oil and season all sides of the bird with salt and pepper.

Spread the chopped up carrots, celery, onion and smashed garlic in a roasting dish. Pour in the 1/2 cup water.

Place the seasoned chicken, in the middle of the roasting dish, on top of the bed of chopped vegetables.

Place the chicken in the oven and immediately reduce the heat to 400F.

Cook until the chicken is cooked through and reaches an internal temperature of 165F. This takes about 90 minutes for a 4 pound chicken.

Let the chicken rest for 10 minutes before carving.
Nutrition
Per serving:
Calories: 282kcalCarbohydrates: 4gProtein: 21gFat: 20gSaturated Fat: 5gCholesterol: 82mgSodium: 678mgFiber: 1gSugar: 2g