Skillet White Corn with Bacon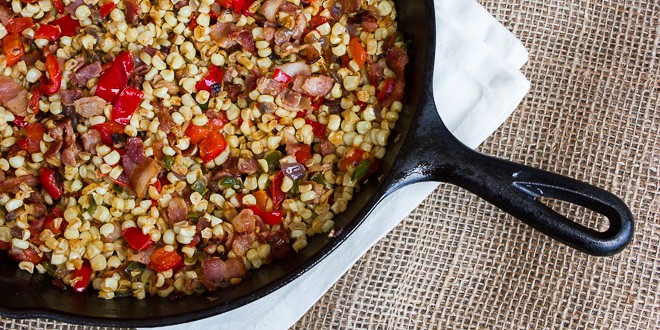 I love a care package and the other day I received a box full of corn in the mail. It was the first time I ever had a shipment of corn come right to my front door!
This corn that I received is Amaize Sweet Corn and it is a naturally bred white corn with no GMOs. I do not usually buy white corn so I was looking forward to tasting it. Known for having a nice crunch and sweet taste, I contemplated how I would cook up the corn. Since I was making fajitas, I decided to make a side dish with the corn that would fit in a tex-mex theme.
Skillet corn can be made really quick and it is an awesome side for many different dishes. It goes particularly well with Mexican, but I also love it alongside grilled steak, pork chops or chicken. The corn, onion and peppers are fried up with a pound of bacon and there is so much flavor packed in every bite.
The Amaize Sweet Corn was delicious and held up to the strong flavor of bacon and the heat of the jalapeno peppers. The kernels were crisp and nice and sweet. Delicious!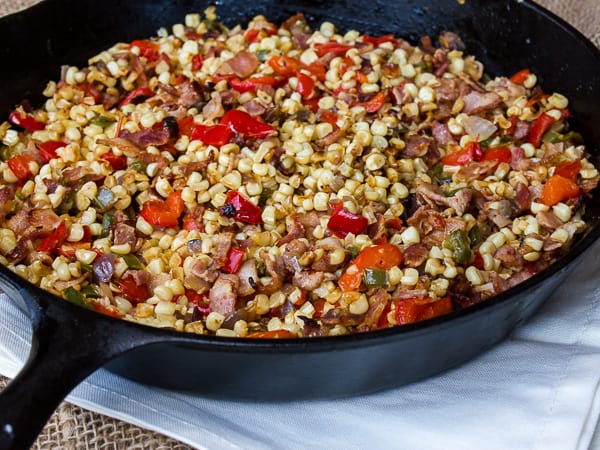 Skillet White Corn with Bacon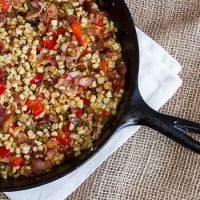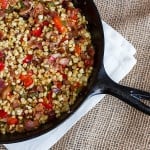 Print
Servings: 4
Ingredients
1 pound bacon slices , cut into small pieces.
2 garlic cloves , minced
1 red onion , peeled and diced
1 red pepper , cored and diced
2 jalapeno peppers , cored and minced
8 ears of corn on the cob
salt and pepper to taste
Instructions
Cut the kernels off the cob by placing the base of the ear on a cutting board and start the knife at the top cutting the kernels off as you work your way down.

In a large cast iron skillet, fry up the bacon pieces on medium heat until the bacon is starting to brown.

Drain some of the bacon grease, but keep about 3-4 tbsp in the skillet with the bacon.

Add the garlic, red onion, red pepper and jalapeno peppers to the skillet. Fry up for a few minutes, stirring often.

Add the corn kernels and continue to fry until the corn is tender and cooked, about 7-10 more minutes.

Add salt and pepper.

Serve hot.