Skillet Corn with Sausage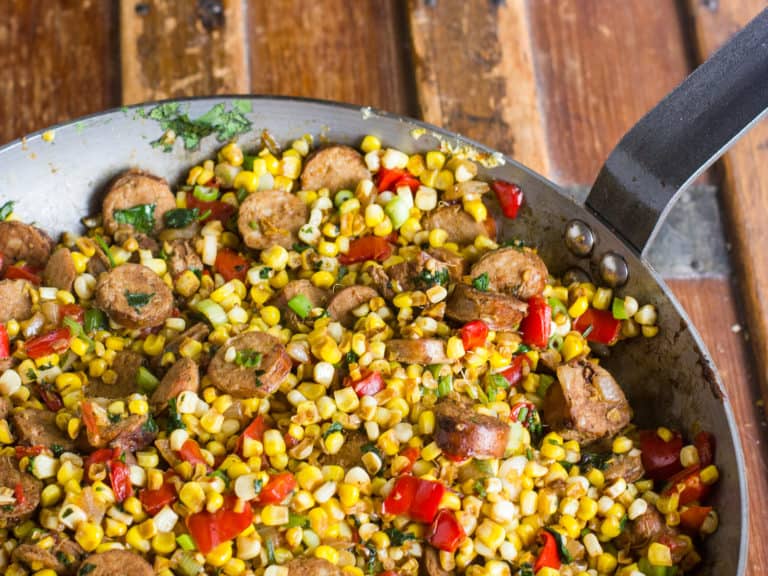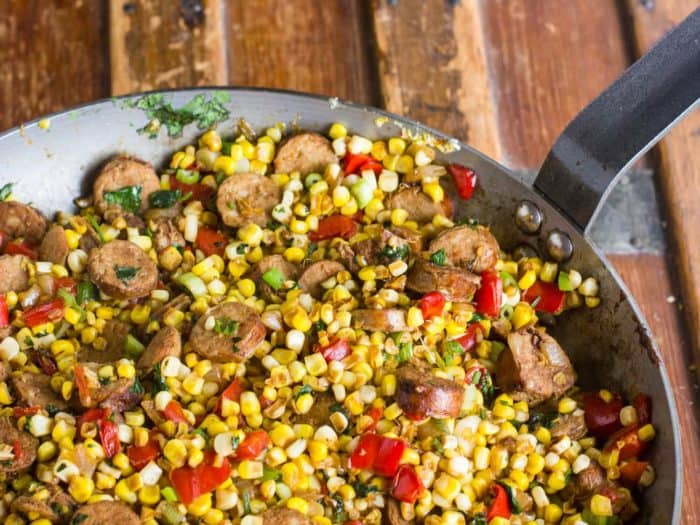 Fried corn has become one of my favourite side dishes. I should not be surprised as I absolutely love corn on the cob. This takes the great taste of fresh corn and adds so much more flavour.
This is not the first recipe for skillet corn that I made and here are a couple more recipes on my site.
These recipes just go to show that there are so many ways to make skillet corn. I have also made it with ground beef for a taco version. Very tasty I must say!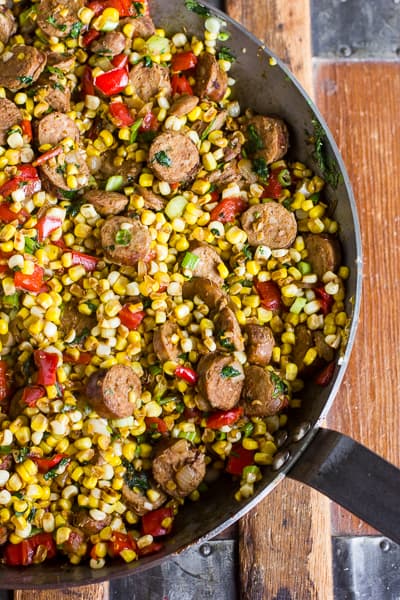 This time I decided I wanted to use some Italian sausage. I fried the sausage ahead of time and then sliced them into 1/2 inch pieces. You could also grill the sausage ahead as well.
Depending on the flavour you prefer, you could use mild, hot or honey garlic sausages. Our family loves this made with honey garlic. Although, if I had my choice, I would make it with hot italian sausage.
I just love spicy food!
All the other ingredients in this dish compliment the corn and sausage which are clearly the stars of the dish. I really like the added flavour of the green onions and since they were added late in the cooking process, they still have a bit of crispness.
Alternative cooking method
If you wanted to cook it all at once all in the skillet (and not cook the sausage ahead of time), you can squeeze the raw sausage meat out of the casing. Fry the sausage meat in the skillet breaking it up with a wooden spoon. Once cooked through, follow the instructions but don't add the sausage in 4 cause it would already be in there.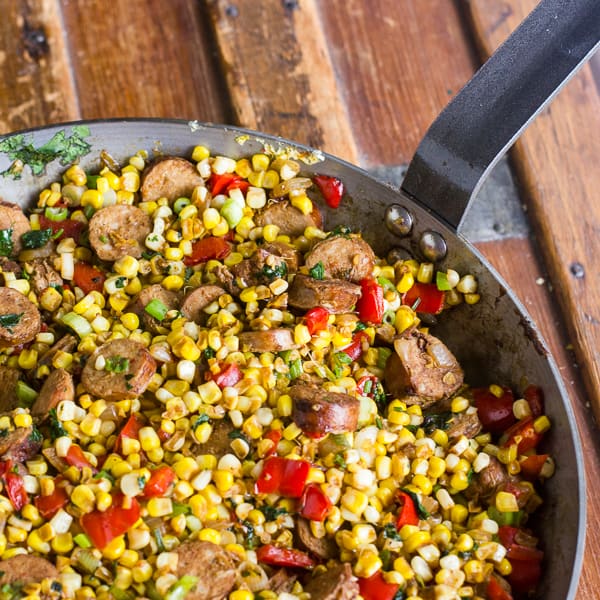 It is funny that I call this a side dish cause it could really be the main course of a meal. Spoon it on some crispy tostadas with grated cheese and fresh sliced avocado and you will have one fabulous meal.
Skillet corn is one of those dishes that screams for variations. Open up your fridge and see what you have. Mix it up and try different types of ingredients.
Skillet Corn with Sausage Recipe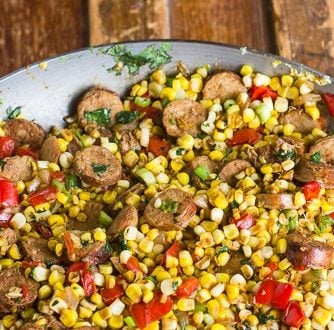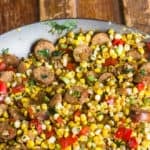 Print
Fried corn cut off the cob and sausage make a delicious side dish. How to make instructions using a carbon steel or cast iron skillet
Servings: 8
Ingredients
1 pound Italian sausage , cooked and then sliced
2 tbsp oil
1 red pepper , cored and diced
2 cloves garlic , minced
8 ears of corn on the cob
4 green onions , sliced
3 tbsp fresh parsley , minced
1 tsp salt
1/2 tsp black pepper
Instructions
Cut the kernels off the cob by placing the base of the ear on a cutting board and start the knife at the top cutting the kernels off as you work your way down.

In a large skillet, heat the oil. Add the red pepper and garlic. Saute, stirring often, for about 4-5 minutes.

Add the corn kernels and continue to fry for about 5 minutes.

Stir in the sliced italian sausage, green onions, parsley and salt and pepper.

Continue to cook for about 7-10 minutes. The corn should be tender and cooked.

Serve
Nutrition
Per serving:
Calories: 313.02kcalCarbohydrates: 18.96gProtein: 11.38gFat: 22.55gSaturated Fat: 6.95gCholesterol: 43.09mgSodium: 721.2mgFiber: 2.35gSugar: 6.42g

Disclaimer: Emile Henry provided me with the Mauviel M'steel skillet. All the views expressed above are my honest reactions after using the product. This post contains affiliate links.