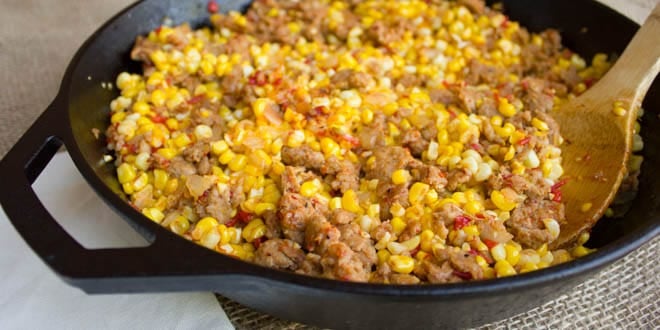 One of my favourite reasons for August is the corn. Once in season, local corn is available at vegetable stands all over. While I usually just boil the cobs of corn, there are times that I like to mix things up and try a unique recipe with the corn. I love frying up the corn in a cast iron skillet. It adds a nutty flavour to the corn and the kernels retain their crunch. There are many different additional ingredients that can be fried up with the corn, and this recipe uses some fresh Mexican chorizo. The spicy chorizo adds some heat and the meat turns this side dish into a main meal. Spoon this in some soft tortillas with Pico de Gallo, Guacamole or just some grated cheese.
Skillet Corn and Chorizo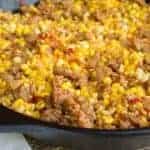 Print
Ingredients
1 pound fresh chorizo sausage , removed from casings
2 garlic cloves , minced
1 onion , peeled and diced
1 red pepper , cored and diced
8 ears of corn on the cob
salt and pepper to taste
Instructions
Cut the kernels off the cob by placing the base of the ear on a cutting board and start the knife at the top cutting the kernels off as you work your way down.

In a large cast iron skillet, fry up the chorizo meat on medium heat until fully cooked. Use a wooden spoon to break up the meat into small chunks.

Add the garlic, onion and red pepper to the skillet. Fry up for a few minutes, stirring often.

Add the corn kernels and continue to fry until the corn is tender and cooked, about 7-10 more minutes.

Add salt and pepper.

Serve hot.