Skillet Cornbread with Bacon Cheddar and Green Onions
I love my cast iron skillet and it works so well to make this cornbread! This is perfect to go alongside some fried chicken, country fried steak, meatloaf and so much more.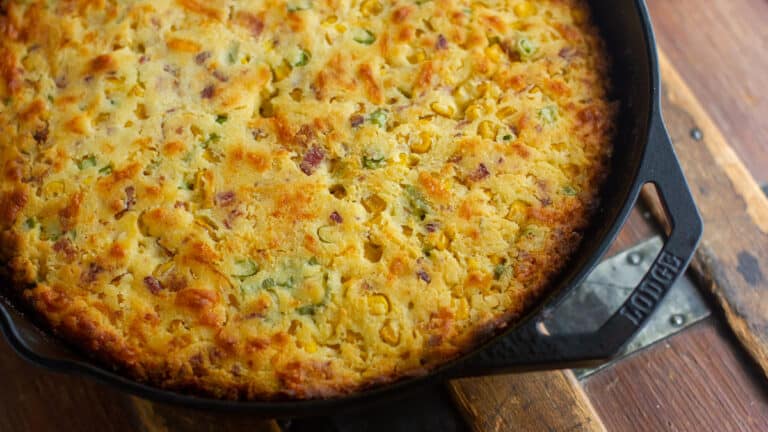 The other day I made some Sausage Gravy with Buttermilk Biscuits and it totally got me to craving some good ol' comfort food. I was in the mood for some cornbread and decided to get creative adding a bunch of stuff to the batter. I love cornbread, but have had it too many times where the bread is dry and super crumbly. This is the best skillet cornbread and it comes out nice and moist.
I love cornbread with lots of stuff mixed in and this recipe has bacon, cheddar cheese, green onions and lots of corn kernels. Every single bite is packed with so much goodness. I make the cornbread in a cast iron skillets and it works so well.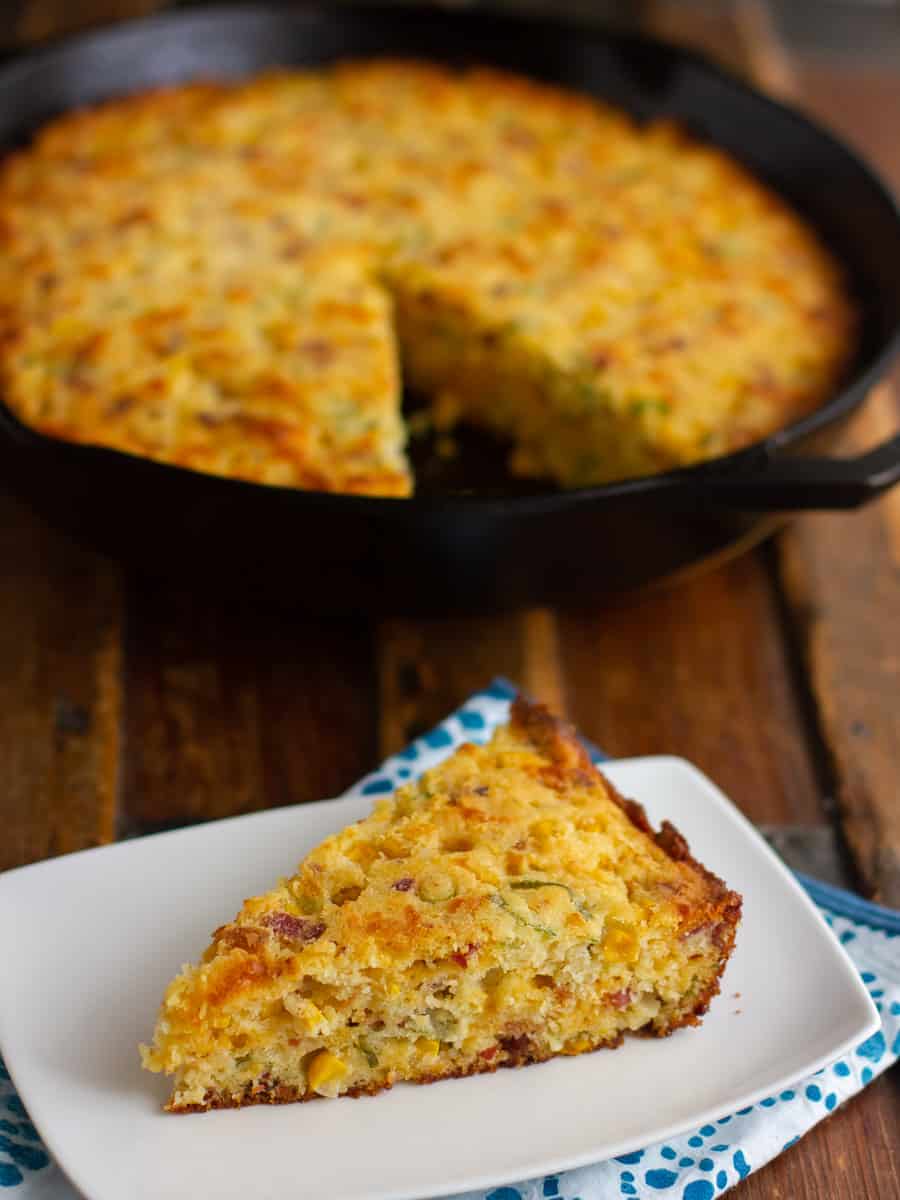 The cast iron skillet is ideal for cornbread. While I am mixing up the batter, I like to preheat the cast iron skillet in the oven with the 1/4 cup of butter. The butter melts and coats the skillet which allows the corn bread to not stick. On top of that, the hot skillet and melted butter creates a wonderful crispy edge on the cornbread that is incredible.
After dinner there was a bit of cornbread leftover and I wrapped it up and placed it in the fridge. The leftover cornbread is almost just as good the second day!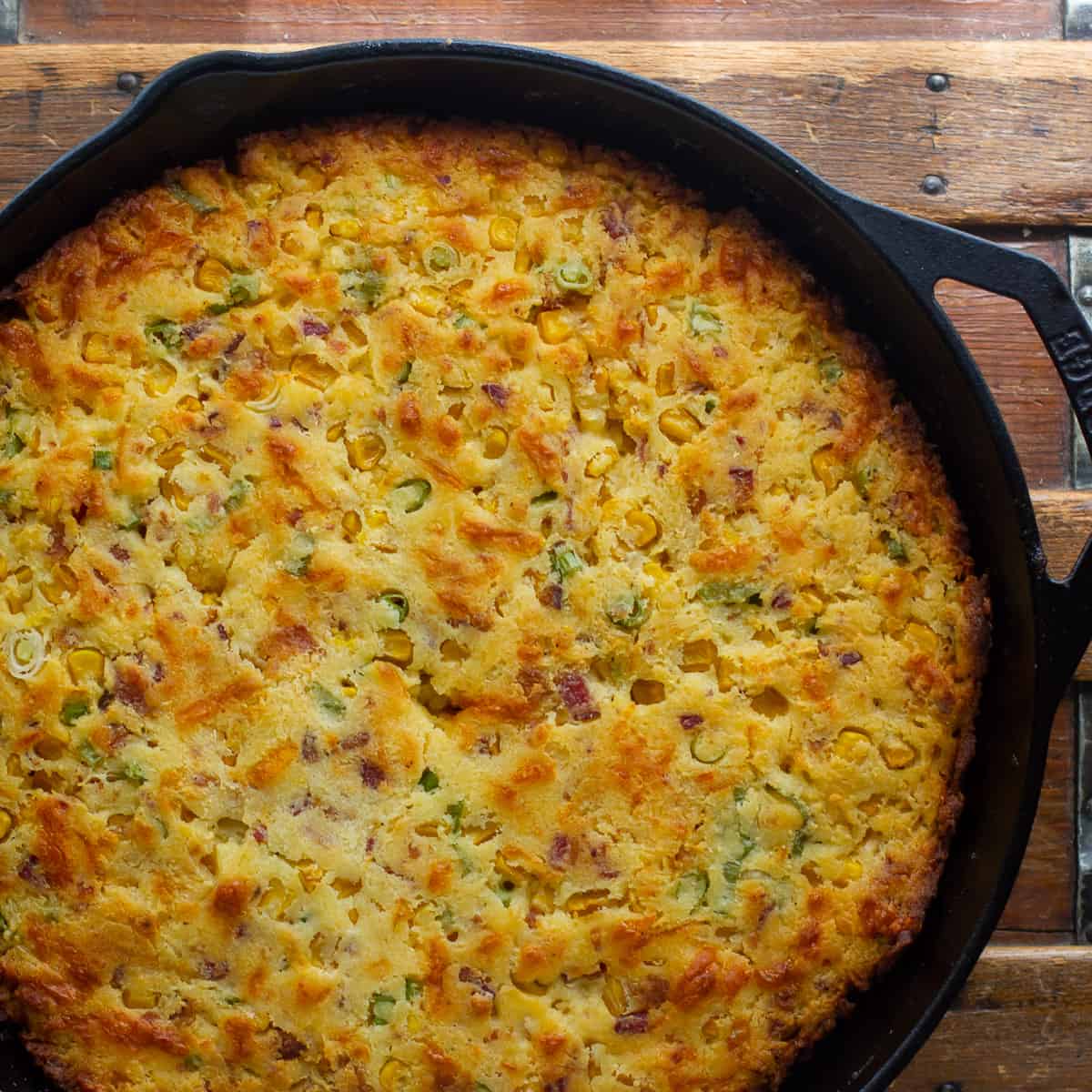 This cornbread is so hearty and delicious with so many different ingredients that it is hardly viewed as simply a bread. This is almost a meal in itself!
I love this cornbread alongside a big bowl of chili or stew. It is also perfect as a side for BBQ chicken or ribs. Really, there are so many options and this goes great with many different dishes.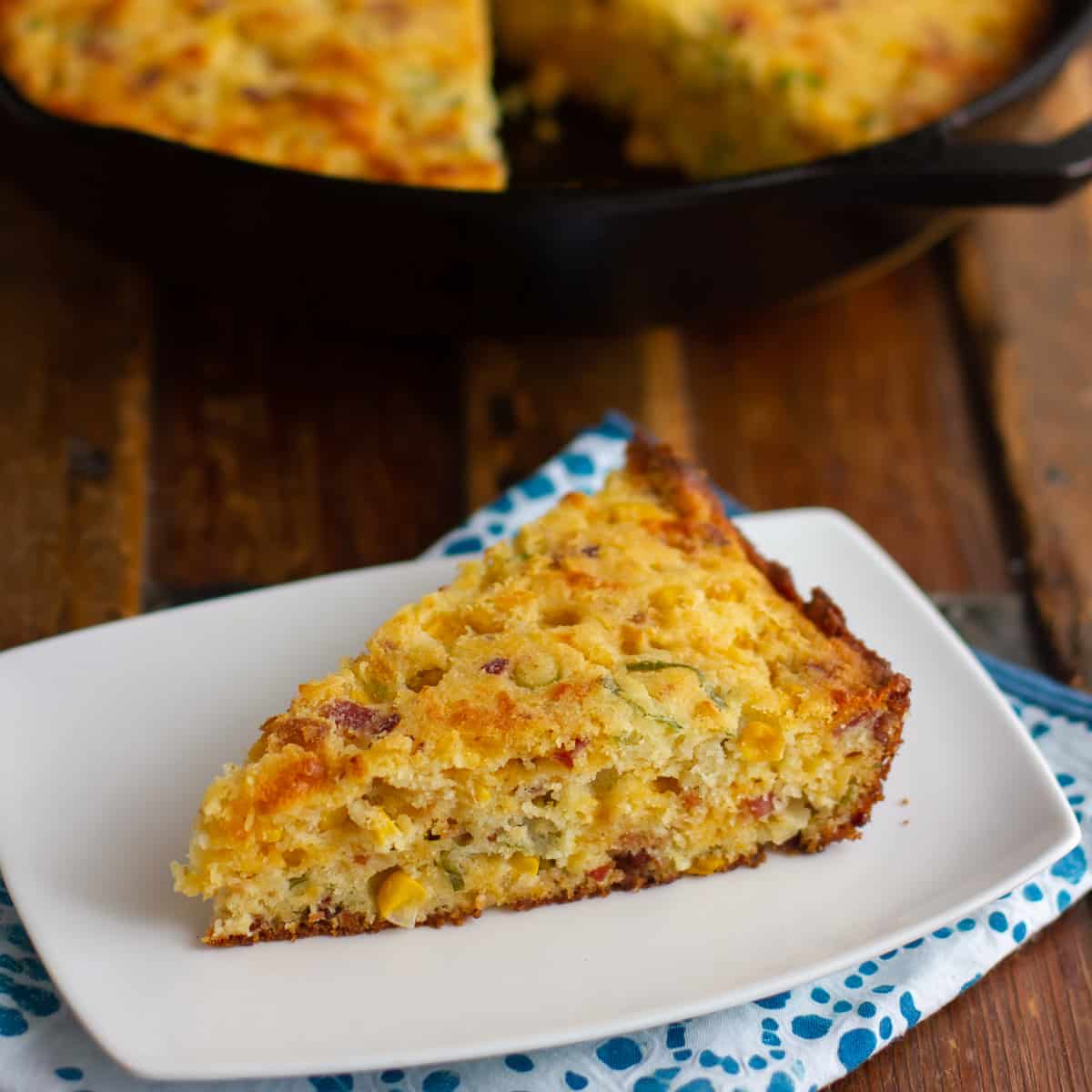 Here are some other great cornbread recipes!
Skillet Cornbread with Bacon Cheddar and Green Onions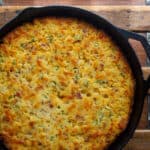 Print
This cornbread recipe is made in a cast iron skillet and perfect comfort food. Crispy on the sides and moist in the middle.
Servings: 12 servings
Ingredients
1/4 cup butter
1 cup corn meal
1 cup flour
1/4 cup white sugar
4 tsp baking powder
1/2 tsp salt
1 egg
1 1/2 cups milk (regular or buttermilk)
1/4 cup oil
1 1/2 cups whole kernel corn (frozen or canned)
1 1/2 cups grated cheddar cheese
10 slices cooked bacon , crumbled
6 green onions , thinly sliced
Instructions
Preheat the oven to 425F

Place 1/4 cup butter in a 12 inch cast iron skillet and heat on medium until the butter is melted and starting to bubble.

In a bowl, whisk together the corn meal, flour, sugar, baking powder and salt.

Mix in the egg, milk and oil until well combined. I use a whisk while mixing the wet ingredients into the dry.

Fold in the corn kernels, grated cheese, crumbled bacon and sliced green onions.

Pour the batter into the hot iron skillet with the melted butter. Spread the batter evenly on the pan.

Place in the oven and bake for about 25-27 minutes. Stick a toothpick in the centre to ensure it comes out clean.
Nutrition
Per serving:
Calories: 309kcalCarbohydrates: 27gProtein: 10gFat: 18gSaturated Fat: 7gCholesterol: 48mgSodium: 385mgFiber: 2gSugar: 6g