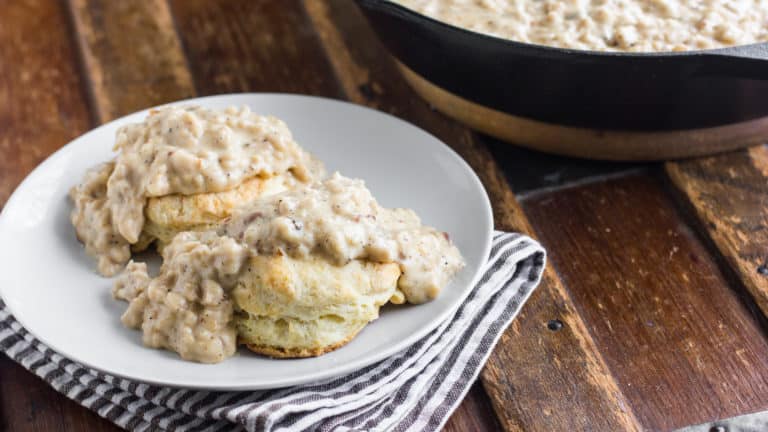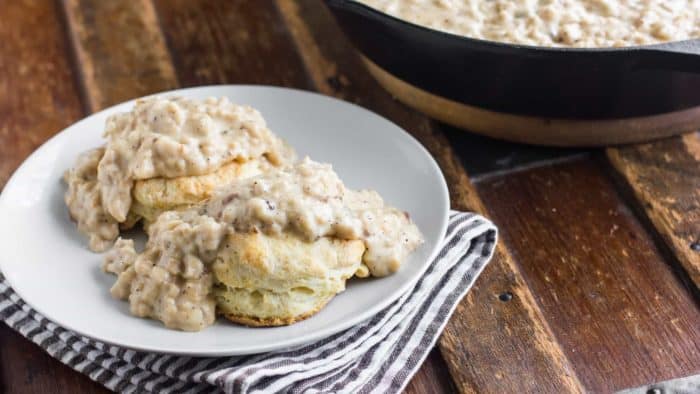 I remember when I was a kid and we would take a family trip down into the United States, I always enjoyed going to the various restaurants that were not in Canada. I loved to try different items on the menus that I rarely had before and I often became a fan of certain dishes that, while common in parts of the United States, were quite rare to find in Canada.
One of those meals was buttermilk biscuits and sausage gravy. This dish became my favourite breakfast anytime we were in the US. Biscuits and gravy are so common, particularly among the southern states that it was found in most restaurants we went to. To this day, I often get cravings for this meal.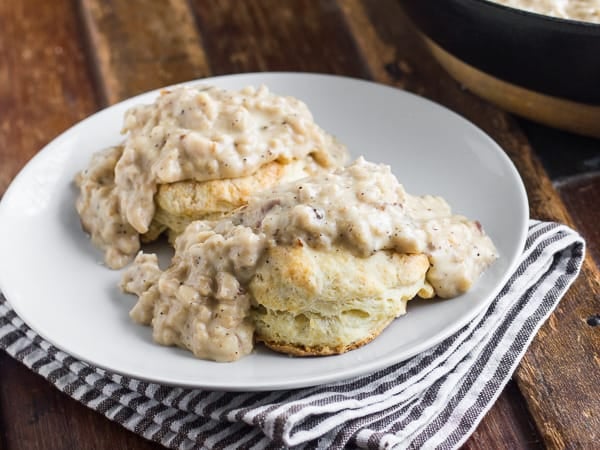 Unfortunately in Canada, there are not many places that have this dish on the menu. So, I had to learn how to make this on my own. My father loves southern US cuisine, so I asked him to teach me how to make the gravy. I have made buttermilk biscuits before and actually have the recipe on my site found here: Buttermilk Biscuits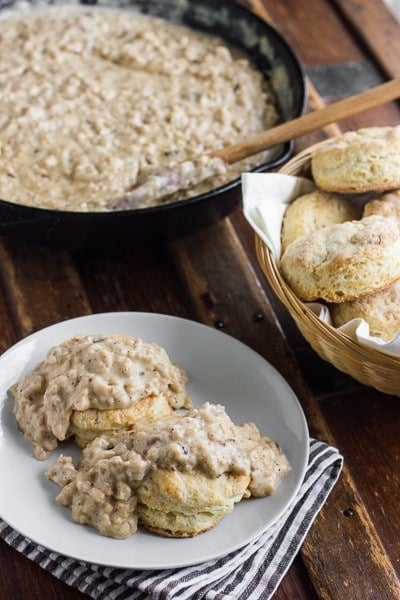 Making sausage gravy is not difficult and does not take too long at all. The sausage meat that I use is breakfast sausage and I buy it in the roll tube so that I do not need to squeeze out all the little breakfast sausage links. Jimmy Dean sausage rolls are very popular in the US, but not available in Canada. I use the Maple Leaf sausage rolls and they are just as good!
Once browned, add the flour, salt and pepper to the cooked sausage meat. The flour serves as a thickener. Whisk in the milk, and lower the heat to a simmer. Continue to cook, stirring almost all the time so that the gravy does not burn on the bottom. The gravy will thicken and once thick, remove from the heat and spoon onto the biscuits.
Everyone has different preferences for desired thickness of the gravy. If the gravy is to thick, simply stir in some milk, a little at a time, until it is how you like it.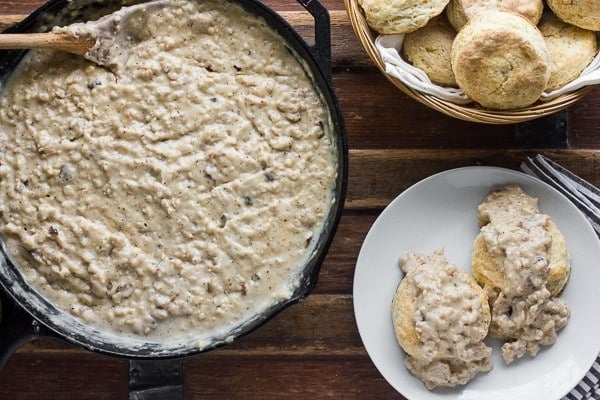 Sausage Gravy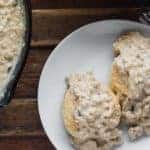 Print
True southern comfort food for breakfast. This sausage gravy is easy to make and perfect topped on freshly baked buttermilk biscuits!
Servings: 4 people
Ingredients
1 pound breakfast sausage meat
1/3 cup flour
1/2 tsp salt
1 tsp black pepper
3 cups milk
Instructions
In a skillet, brown the sausage meat, making sure to crumble and break apart the sausage meat with a wooden spoon so that they are small chunks.

Once the sausage is cooked through, stir in the flour, salt and pepper, making sure there are no clumps of flour.

Whisk in the milk so that the flour is dissolved in the milk.

Lower heat to a simmer and continue to cook as the gravy thickens. If the gravy is too thick, stir in some extra milk until it reaches desired consistency.

Spoon sausage gravy on some freshly baked buttermilk biscuits.