Cast Iron Skillet Cheddar Cornbread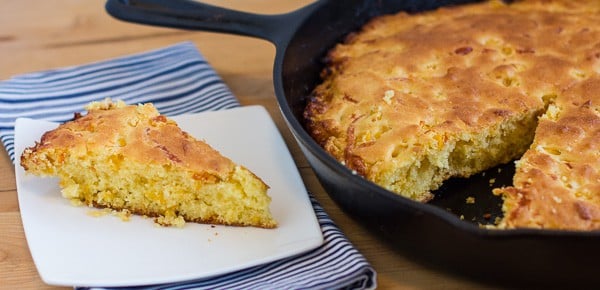 I love fresh corn bread right out of the oven. Warm with crispy, crunchy edges, corn bread is perfect with soup, chili, or just on its own. Without question, cornbread is best made in a cast iron skillet. I melt the butter in the skillet and pour the batter in while the skillet is hot. This ensures a buttery crispy crust. This recipe has grated cheddar cheese and whole kernels of corn. If desired, throw in some chopped fresh or pickled jalapenos.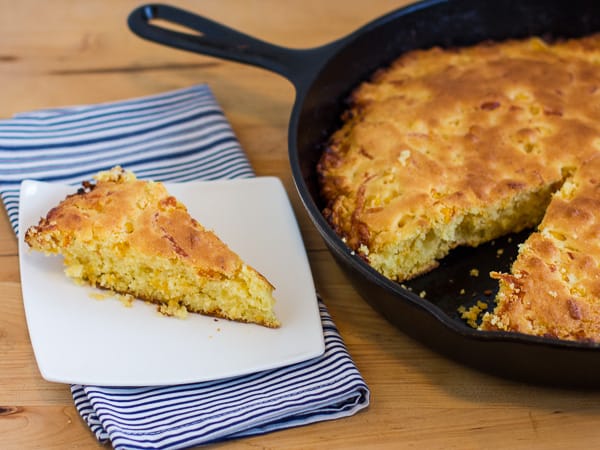 Cast Iron Skillet Cheddar Cornbread Recipe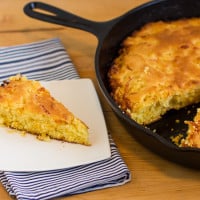 Print
Crispy, buttery cornbread that is cheesy and delicious. Simple corn bread made in a cast iron skillet with whole kernels of corn.
Servings: 8
Ingredients
1/4 cup butter
1 cup corn meal
1 cup flour
1/4 cup white sugar
4 tsp baking powder
1/2 tsp salt
1 egg
1 cup milk , regular or buttermilk
1/4 cup oil
1 cup whole kernel corn , frozen or canned
1 cup grated cheddar cheese
Instructions
Preheat the oven to 425

Place 1/4 cup butter in cast iron skillet and heat on medium until the butter is melted and starting to bubble.

In a bowl, whisk together the corn meal, flour, sugar, baking powder and salt.

Mix in the egg, milk and oil until well combined. I use a whisk while mixing the wet ingredients into the dry.

Fold in the corn kernels and grated cheese.

Pour the batter into the hot iron skillet with the melted butter. Spread the batter evenly on the pan.

Place in the oven and bake for about 25 minutes. Stick a toothpick in the centre to ensure it comes out clean.
Nutrition
Per serving:
Calories: 370kcalCarbohydrates: 38gProtein: 9gFat: 21gSaturated Fat: 8gCholesterol: 54mgSodium: 339mgFiber: 2gSugar: 8g