Sous Vide Chicken in Ancho Chile Paste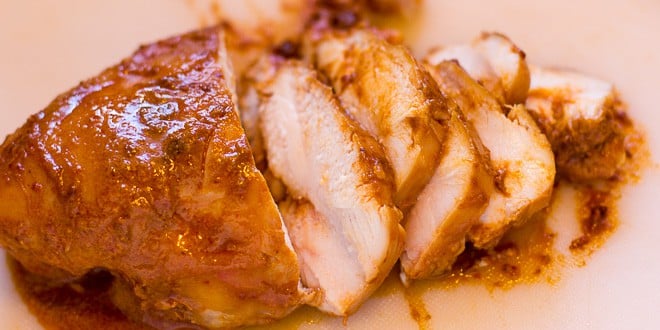 We eat chicken frequently in our house and cooking them in the sous vide produces meat that is tender and juicy. Boneless skinless chicken breast is often overcooked, but in the sous vide, you can ensure that it is cooked perfectly every time. This recipe marinates the chicken in an ancho chili paste. The dried ancho chilies give the chicken a wonderful Mexican flavor. This is perfect for the next time you make fajitas!
For more information on how to cook chicken in a sous vide, click here: How to Sous Vide Boneless Skinless Chicken Breast.
Sous Vide Chicken in Ancho Chile Paste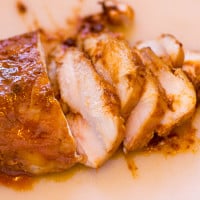 Print
Servings: 3 -4
Ingredients
3-4 boneless skinless chicken breasts
3 dried ancho chilies
1 onion , peeled and quartered
2 tbsp jarred minced garlic
1 tsp salt
Instructions
Set sous vide machine to 146F

Soak ancho chilies in hot water for 15 minutes. Remove the stem and discard.

Place the chili in a food processor bowl with the onion, oil and salt. Process until a smooth paste forms.

Rub the ancho chili paste all over the chicken breasts. Place the chicken breast in a food safe bag and vacuum seal them. If desired, let the chicken marinate in the fridge for 1-2 hours before cooking them in the sous vide.

Place vacuum sealed chicken in the water bath an cook for about 2 hours.

Serve.