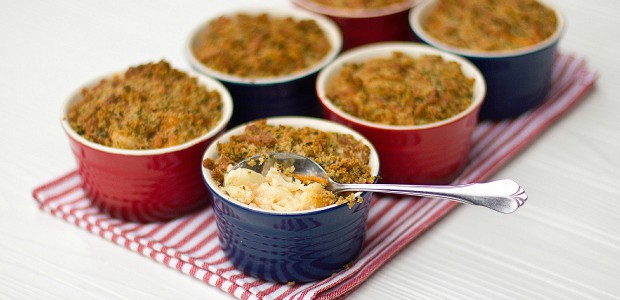 Ramekins are perfect for individual portions of many different dishes and today I am excited to share my mac n cheese ramekin recipe with you.
Man n cheese is down home comfort food and it makes you feel all warm and cozy. These little ramekins are ideal for individual servings of mac n cheese.
I love the whole experience – I hold the ramekin as I scoop some out and I feel the warmth of it since it just came out of the oven. I scoop in and get a large spoonful of cheesy goodness. Along with the cheesy inside there is this crunchy and crumbly topping that might even be the best part of the dish.
Amazing I tell you!!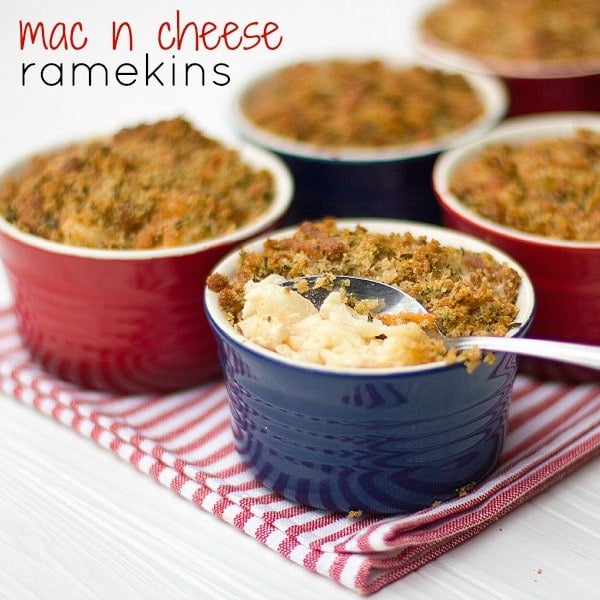 I need to admit that the photos you see are of 6 ramekins and the recipe is for four. I have a family of five and my brother in law lives with us so four of anything doesn't work.
But, I figured that most people would look for a recipe of four, so I built the recipe that way.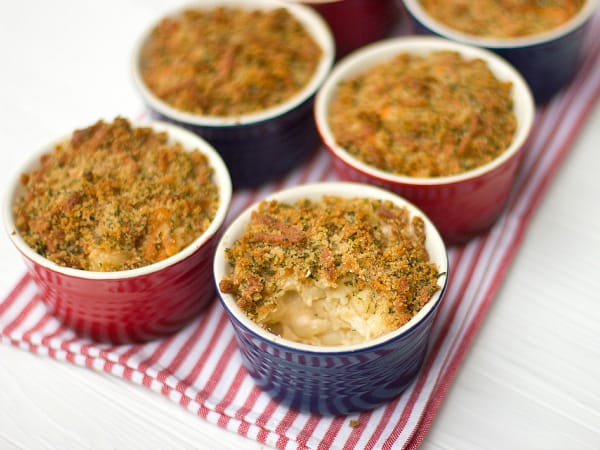 Mac n Cheese Ramekins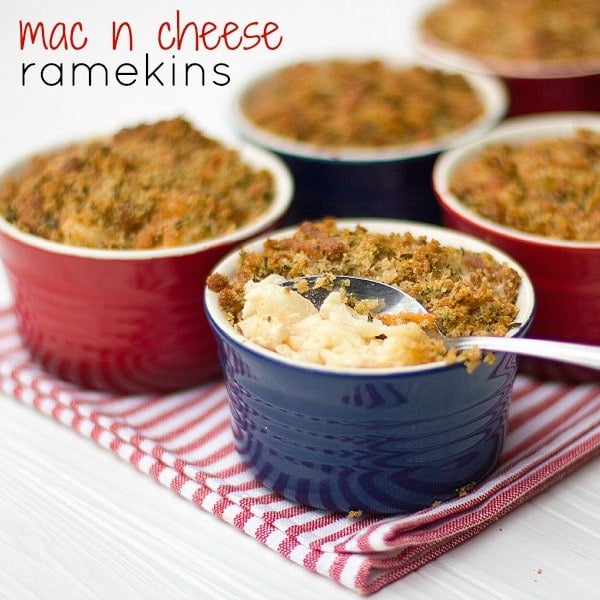 Print
Easy recipe for single serving macaroni and cheese in personal ramekins. Simple how to make recipe for homemade mac and cheese with buttery crumble topping!
Servings: 4
Ingredients
1 1/2 cups dry macaroni
2 tbsp butter
2 tbsp flour
1 cup whole milk
1/2 cup grated mozzarella
1/2 cup grated cheddar
1/3 cup parmesan
salt and pepper to taste
2 tbsp melted butter
1/3 cup bread crumbs
1/4 cup grated cheddar
1 tbsp parsley
Instructions
Cook the macaroni according to packaged instructions. Drain, rinse and set aside.

In a saucepan, on medium heat, melt the butter. Whisk in the flour until smooth. This creates a roux. Continue to whisk it for a minute.

While whisking, slowly pour in the milk. Once smooth add the cheeses, salt and pepper. Stir until smooth.

In a large bowl, mix the macaroni with the cheese sauce until all the noodles are covered are evenly coated in some sauce.

Grease 4 ramekins. Scoop the mac and cheese equally among the ramekins.

In a small bowl mix the melted butter and bread crumbs together until there is a dry and crumbly texture. Stir in the 1/4 cup of grated cheddar and parsley. Spread the crumb topping evenly across the macaroni and cheese.

Bake in a 350F oven for 12-14 minutes.