Steak and Zucchini Jambalaya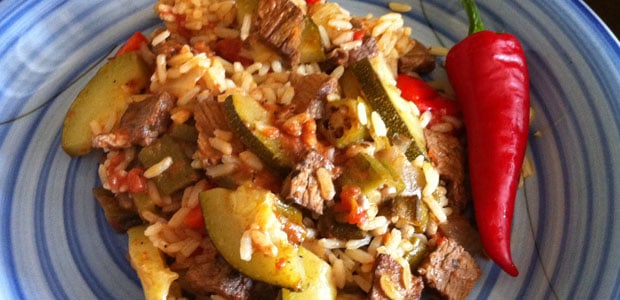 Sunday afternoons tend to be a time where we do not eat a big supper or I whip something together quickly. We had a couple leftover steaks from last night and that inspired me to make jambalaya. So many countries or regions have their own version of a baked or cooked rice dish: Palau, Fried Rice, Risotto, Paella etc. Jambalaya is the southern American version. Usually it is made with andouille, schicken or shrimp so steak brought a new flavour for our family. I received a medium large zucchini from a friend and I thought that would work with this as well.
Steak and Zucchini Jambalaya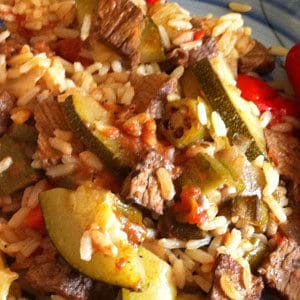 Print
Servings: 6
Ingredients
1/4 cup oil
4 cups chopped zucchini
1 red pepper diced
1 green pepper diced
1 onion diced
1 can tomatoes
2 fresno chili peppers minced
2 garlic cloves minced
1 tsp salt
1/2 tsp black pepper
1 tsp oregano
1/2 tsp thyme
2 steaks grilled and then diced into 1/2 inch cubes
2 cups rice
2 cups water
Instructions
In a large skillet at medium/high heat add the oil and diced vegetables.

Saute until they begin to get tender.

Add spices, canned tomatoes and steak and continue to cook for about 4 minutes.

Turn off heat.

Pour mixture in a baking dish.

Add the rice and water stirring to ensure that rice is mixed throughout.

Cover the baking dish with a lid or foil and place in a preheated oven.

Bake at 350 for approximately 45 minutes.

After the allotted time check to see if the rice is tender. If not you may need to add a bit more water and cook a little longer.