Pressure Cooker Chicken Chick Pea and Zucchini Stew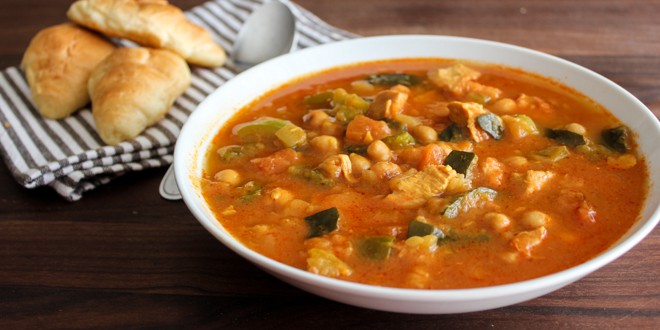 It seems like winter is never going to end. The news states that this may be the coldest February ever. Wonderful! Well, it is during these cold winter days that I make soup or stew, and to do that, I turn to my trusty pressure cooker. If you have not invested in a pressure cooker, let me encourage you, that this is an awesome addition to any home kitchen. Not only does it cook meat so they come out tender and delicious, but a pressure cooker can do this in a fraction of the time that it would take an oven or slow cooker. On top of that, pressure cookers are great for so many other things, like cooking dry beans, making steel cut oats in minutes, and so much more!
Okay, I am done with the small appliance sales pitch. Now onto the stew. I looked in the fridge and grabbed what I had on hand, some chicken breasts, zucchini and other vegetables. I went down to the pantry for chicken broth, tomato sauce and dry chick peas. This had the makings of one tasty stew! I soaked the chick peas overnight, but if you do not have dry chick peas, it is possible to use one average sized can. Just drain them and drop them in the pressure cooker.
This stew had so much flavour, especially due to the blend of spices. On top of that, this stew is ultra heathy. Tasty AND healthy – a great combination!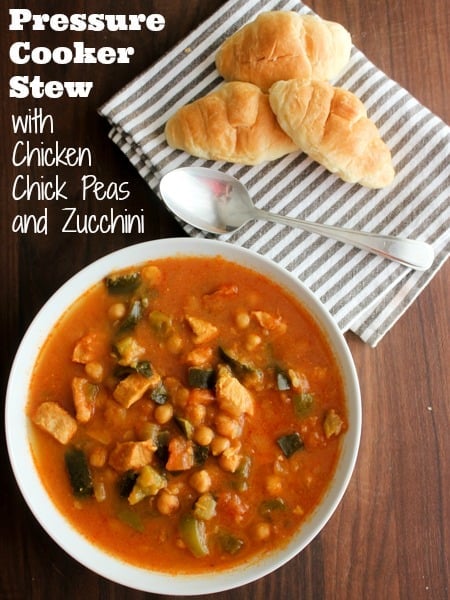 Pressure Cooker Chicken Chick Pea and Zucchini Stew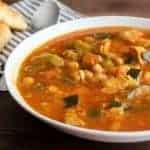 Print
Ingredients
2 tablespoons vegetable oil
2 onions , diced
1 green pepper , diced
3 garlic cloves , minced
3 zucchini , cut into chunks
2 medium tomatoes , diced
4 boneless , skinless chicken breasts, cut into small cubes (not larger than 1 inch)
1 cup chick peas (garbanzo), soaked overnight and then drained
4 cups chicken broth
1 1/2 cups tomato sauce
1 1/2 teaspoon cumin
1 1/2 teaspoon turmeric
1 teaspoon coriander
1 teaspoon paprika
1/2 teaspoon cinnamon
1/2 teaspoon black pepper
1/4 teaspoon cayenne pepper
1 teaspoon salt
Instructions
Using a 6 quart pressure cooker, heat the oil on medium high heat (or on an electric pressure cooker, use the sauce/brown function). Add the onions, green pepper and garlic and cook until tender, about 5 minutes. Stir in the zucchini and tomatoes and cook for another 3-5 minutes.

Add remaining ingredients and stir.

Lock lid and close the vent.

Set pressure cooker to high pressure and cook for 40 minutes.

Let the pressure release naturally.

Stir the stew and serve.
Notes
If using a smaller pressure cooker, it may be necessary to cut this recipe in half as this fills up the 6 quart pretty much to the max line.