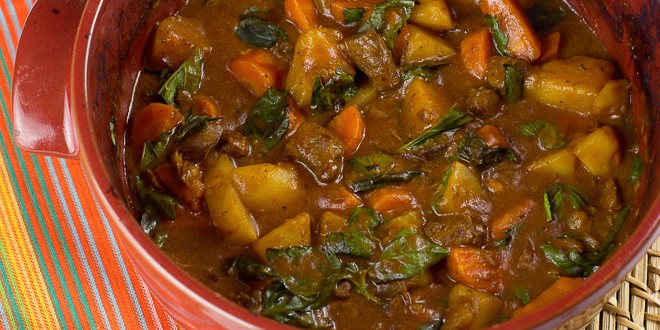 I do not cook venison much at all, but the other day a friend gave me a couple pounds of venison meat, after a hunting trip. I was eager to try cooking it and decided to make a stew. WOW – this stew was packed with flavor. The venison was tender but it was the stew broth that really rocked. Red wine, tomato paste and beef stock created a wonderfully robust broth and the fresh basil was the perfect last minute addition.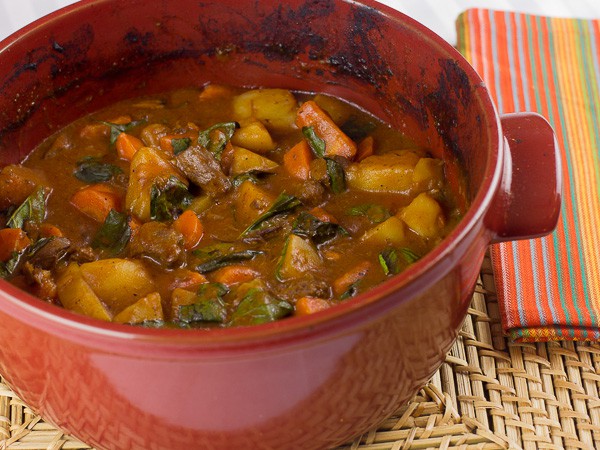 Venison Stew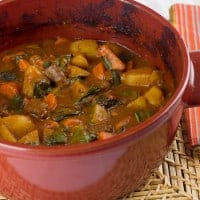 Print
Servings: 4 -6
Ingredients
2 pounds venison meat , trimmed and cubed
1/2 cup flour
1 tsp salt
1/2 tsp black pepper
1/2 tsp paprika
3 tbsp oil
2 onions , diced
3 garlic cloves , minced
4 tbsp tomato paste
1 1/2 cups red wine
4-6 large potatoes , peeled and cut into large chunks
4-6 carrots , peeled and roughly chopped
3 cups venison broth or beef broth
salt and pepper , to taste
1 tbsp corn starch , for thickening
1 bunch fresh basil
Instructions
Preheat oven to 350F.

Whisk together the flour, salt, black pepper, and paprika. Toss cubed venison in the four and spices until coated. Dust off any excess flour.

Heat oil in a skillet or dutch oven on medium heat. Add venison and brown the meat flipping every minute or two.

Add the onions and garlic and saute them for a couple minutes.

Stir in the tomato paste and pour in the red wine to deglaze the bottom of the pan. Let it simmer for a couple minutes.

If the meat and onions are in a skillet, transfer to a large roasting pot. Add the potatoes, carrots, beef broth, salt and pepper.

Cook in the oven for 3 hours.

Remove from the oven. Whisk together corn starch with a few tablespoons of water. Stir into the stew to thicken the broth.

Rip up the fresh basil and stir into the stew just before serving.