Shrimp and Pork Chow Mein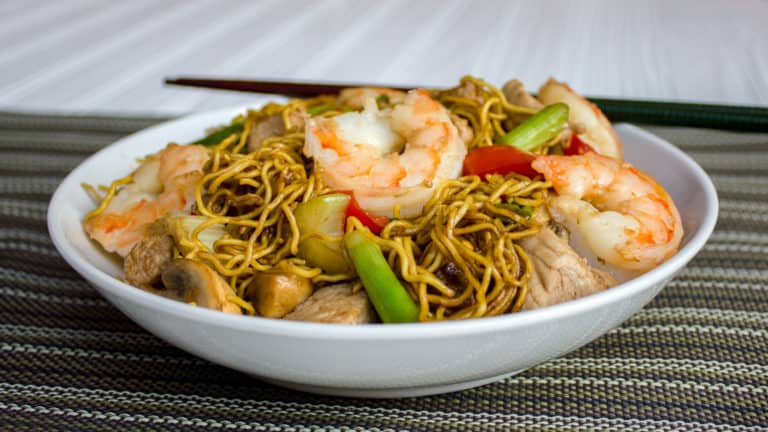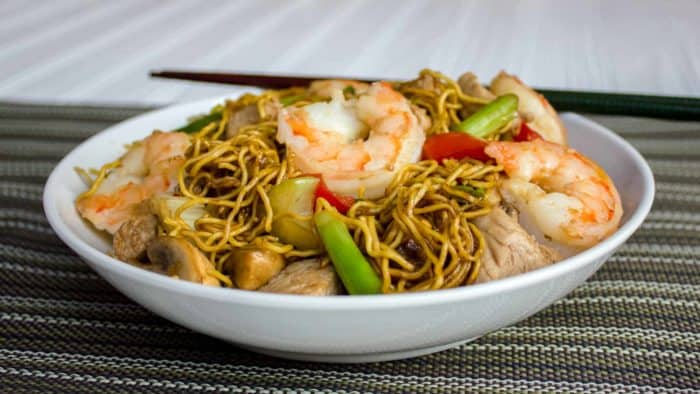 When I was growing up, I always thought that noodles were primarily part of Italian cuisine. I never thought of it as a standard part of Asian food. When we had Chinese food, it seems we always had fried rice and I guess I thought that was the common starch. It wasn't until years later when I discovered that noodles were such a major part of Asian cuisine as well.
Not only are noodles popular in Asian food, but where Italian pasta is made of wheat, noodles that are part of Asian cuisine can be bade from wheat, rice or beans. There are so many different types, in so many different shapes and used in so many different dishes.
A couple weeks ago I shared a stir fry recipe that uses glass noodles. Glass noodles are made with beans and are easy and delicious. The link to the recipe is Glass Noodles with Pork.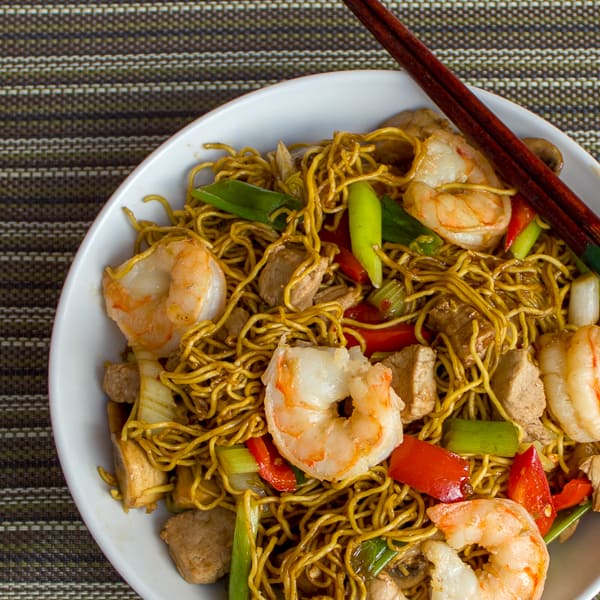 Today's recipe uses chow mein noodles. Where glass noodles are more uncommon for us in North America, chow mein is quite possibly, the most common Asian noodle. The dish called chow mein is a stir fry that has these noodles along with meat and vegetables.
If you are looking for chow mein noodles in the supermarket, there are a few different kinds on the shelves. I buy the kind that is called steamed chow mein. It is not brittle and hard like Italian dry pasta. Instead, steamed pasta is usually in the refrigerated section of the supermarket and often near wonton wrappers and tofu.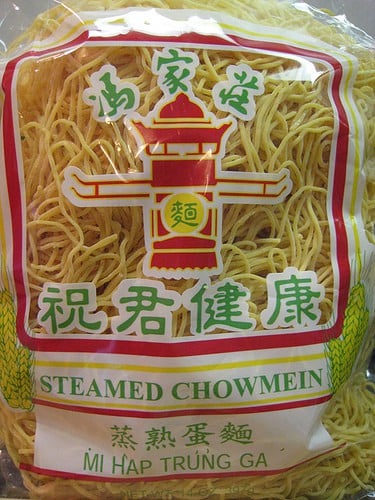 Above is a picture of steamed chow mein. There are different brands out there and this is one of the kinds that I use.
These noodles do not need to be cooked before adding it to the stir fry. Once the vegetables are almost cooked, you can stir in the noodles. I usually cover the pot with a lid and let the noodles cook and steam a bit more. This also allows the noodles to soak up some flavour of the sauce which enhances the dish.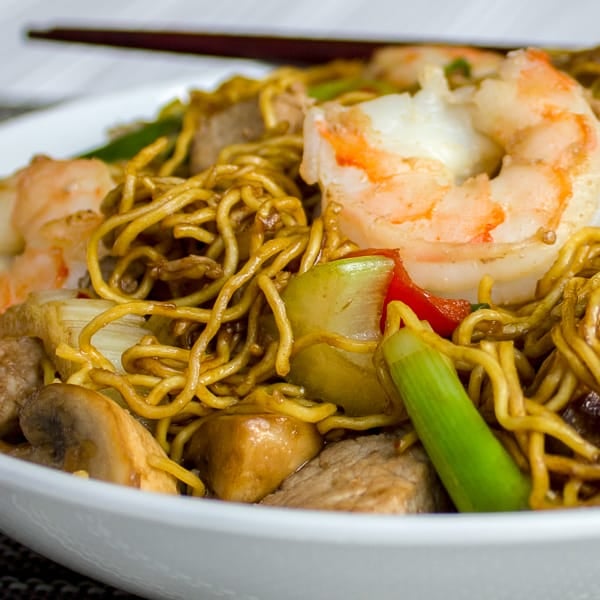 Shrimp and Pork Chow Mein Recipe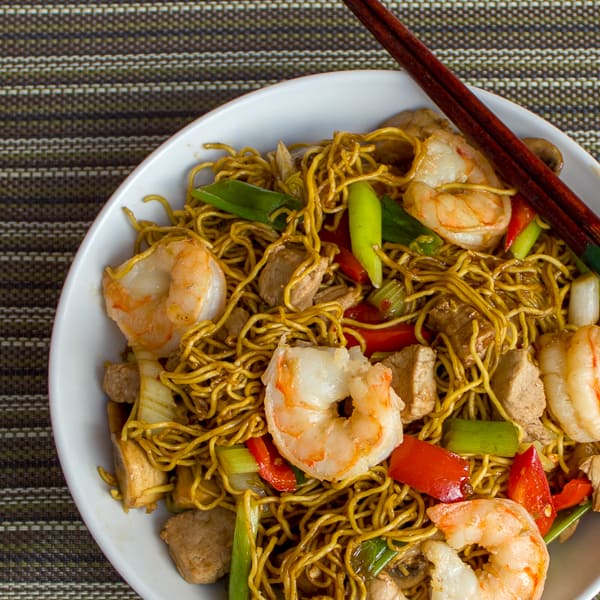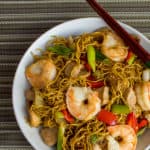 Print
Easy to make classic Chinese stir fried noodles. This chow mein has pork and shrimp along with peppers, celery, green onions and more.
Servings: 4 people
Ingredients
1 16 oz package steamed chow mein noodles
3 tbsp oil
1 pound pork meat thinly sliced
1 pound shrimp peeled and deveined
5 garlic cloves minced
2 tbsp grated fresh ginger
1 red pepper diced
3 celery stalks sliced
8-10 medium mushrooms quartered
8-10 green onions/scallions sliced
4 tbsp oyster sauce
3 tbsp soy sauce
4 tbsp water
2 tbsp sugar
1/2 tsp dried chili pepper flakes
Instructions
Heat oil in frypan on medium/high heat.

Add the pork and fry until cooked through and no longer pink, about 5 minutes. Remove the pork from the pan, and set aside till needed.

Add the shrimp and cook until pink, flip and cook the other side. Do not overcook the shrimp. The shrimp should only take a couple minutes per side. Remove the shrimp from the pan, and set aside till needed.

Add the garlic, ginger, red pepper, celery, mushrooms and green onions. Fry the vegetables, stirring often, making sure they do not stick to the pan. Cook for about 5-7 minutes.

Lower the heat to medium low and stir in the chow mein noodles, pork and shrimp.

In a separate bowl, mix together the oyster sauce, soy sauce, water, sugar and chili flakes. Pour into the frypan and stir so the noodles and vegetables are covered.

Place a lid on the frypan to cover it and let the noodles and vegetables cook for another 3-5 minutes. Check occasionally to make sure nothing sticks to the bottom of the pan.

Serve hot.