Cantonese Noodles with Pork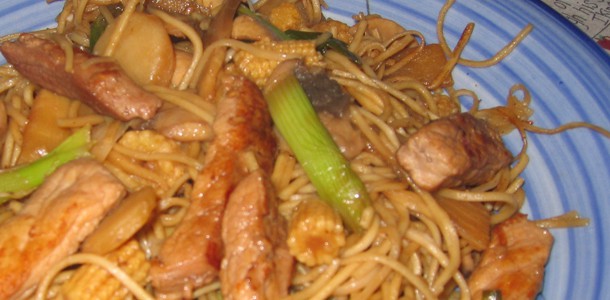 Our family loves the food from Asia. You will likely notice that there will be many different recipes on this site representing countries all across Asia. Whenever we order Chinese food we always get Cantonese noodles. This is my rendition. The wonderful thing about Cantonese noodles is that instead or pork you could try them with chicken or shrimp or a combination.
Cantonese Noodles with Pork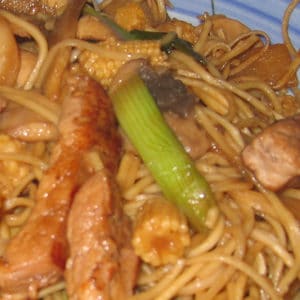 Print
Servings: 4
Ingredients
2 tbsp olive oil
1 pound boneless butterfly pork chops , sliced into strips
2 cloves garlic , minced
2 bunches of green onions , chopped in 1 inch pieces
4 cups sliced fresh mushrooms
1 can of sliced bamboo shoots , drained
1 can sliced water chestnuts , drained
1 can baby corn , drained
1/2 cup hoisin sauce
1/4 cup soy sauce
2 tbsp fish sauce
2 tbsp sugar
1 package Asian noodles , cooked (approx 6-8 cups)
Instructions
Heat oil in wok or very large frying pan on medium high heat.

Add pork and cook until pork is cooked through.

Add garlic, green onions and mushrooms and cook for 5 minutes stirring occasionally.

Lower heat to medium and add bamboo shoots, water chestnuts and baby corn and cook for another 5 minutes.

Stir in the hoisin sauce, soy sauce, fish sauce, and sugar.

Bring to a boil then lower to a simmer and cook for 3 minutes or until the sauce thickens a bit.

Stir in the noodles and serve.