Chop suey is a delicious side dish and perfect as part of a full meal. This tastes just like Chinese take out!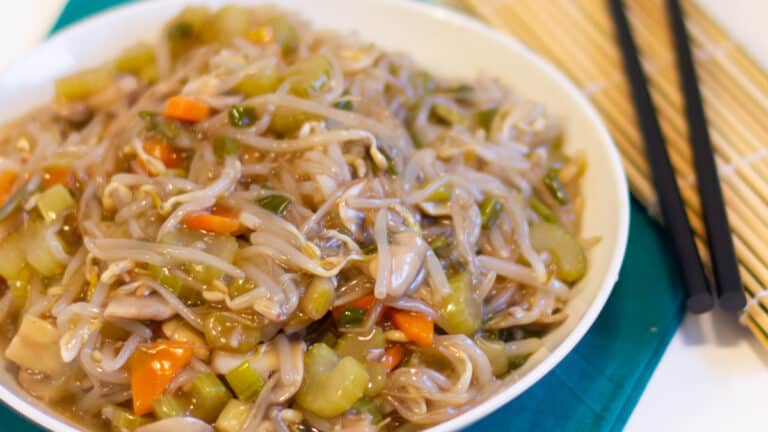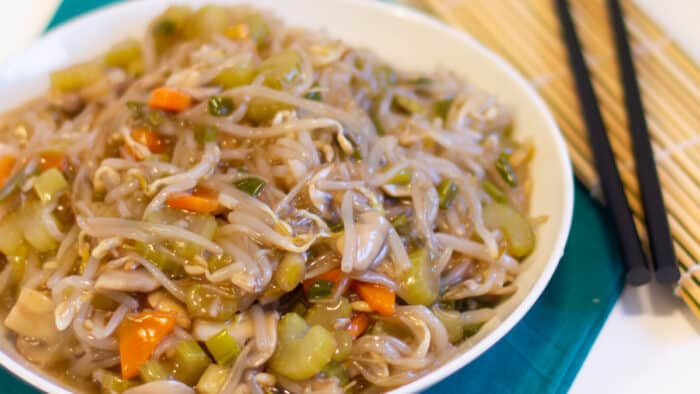 Whenever I make Chinese food, I like to make a number of different dishes, similar to ordering take out. There have been times that I have gotten carried away and there are platters and serving bowls all over the table and we end up eating leftovers for days! This mushroom chop suey is one of my favourite dishes to make!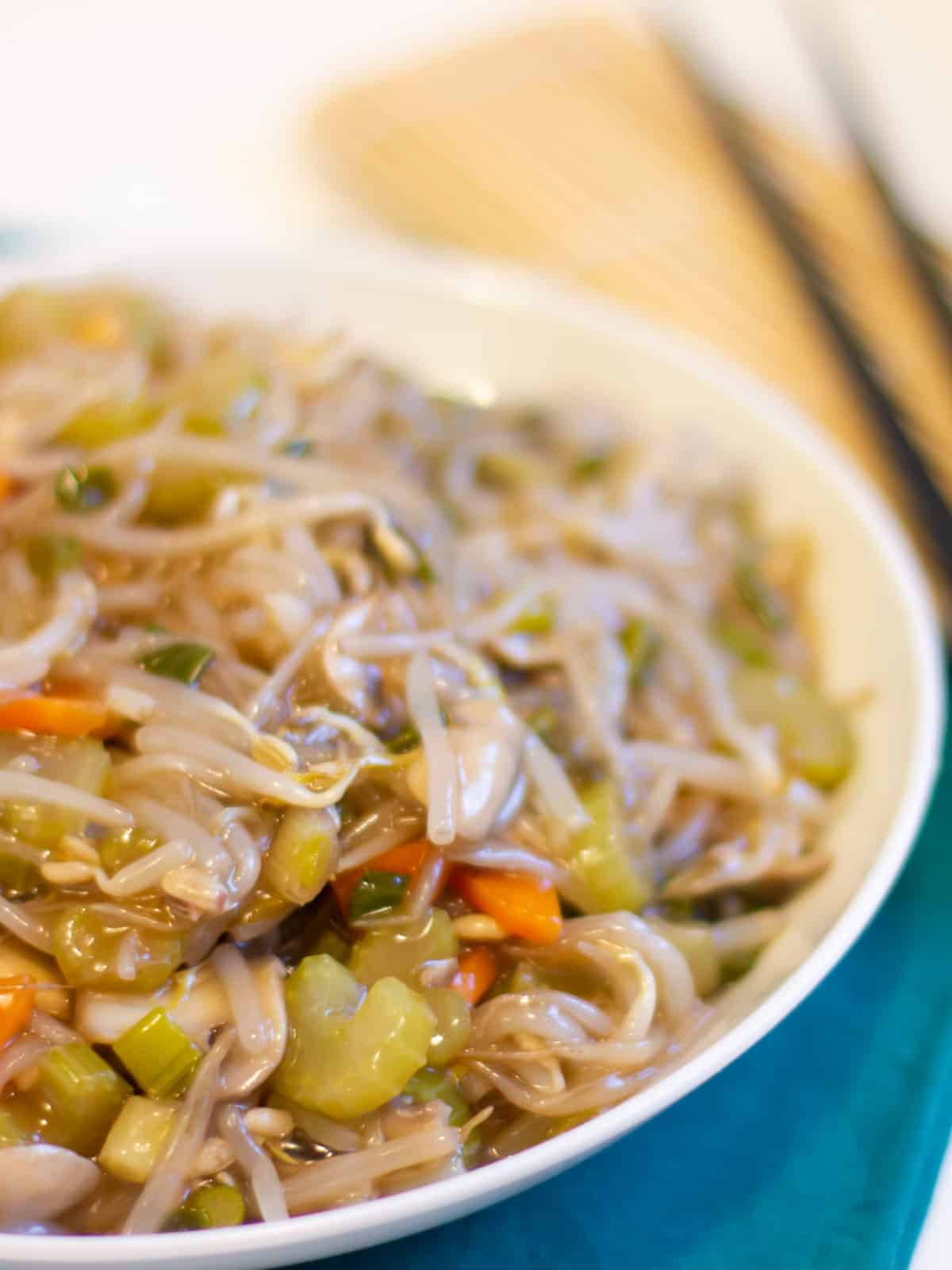 Why Makes Chop Suey So Great?
Chop suey is both simple and quick to make.
Since this is primarily made with vegetables, chop suey is full of cheap ingredients.
This dish is versatile and will go great with dishes made of chicken, pork, shrimp, beef and more!
Ingredients You Need to Make Chop Suey
The main ingredients are bean sprouts, celery, carrots and of course, mushrooms. I used regular button mushrooms, but any type of mushroom could work great as well.
Bean sprouts – the main ingredient of this side dish, I far prefer to use fresh sprouts. Canned sprouts can work, but fresh ones give the dish a nice crunch.
Mushrooms
Carrots
Celery
Green onions
Oil
Water
Soy sauce
Rice wine
Sugar
Corn starch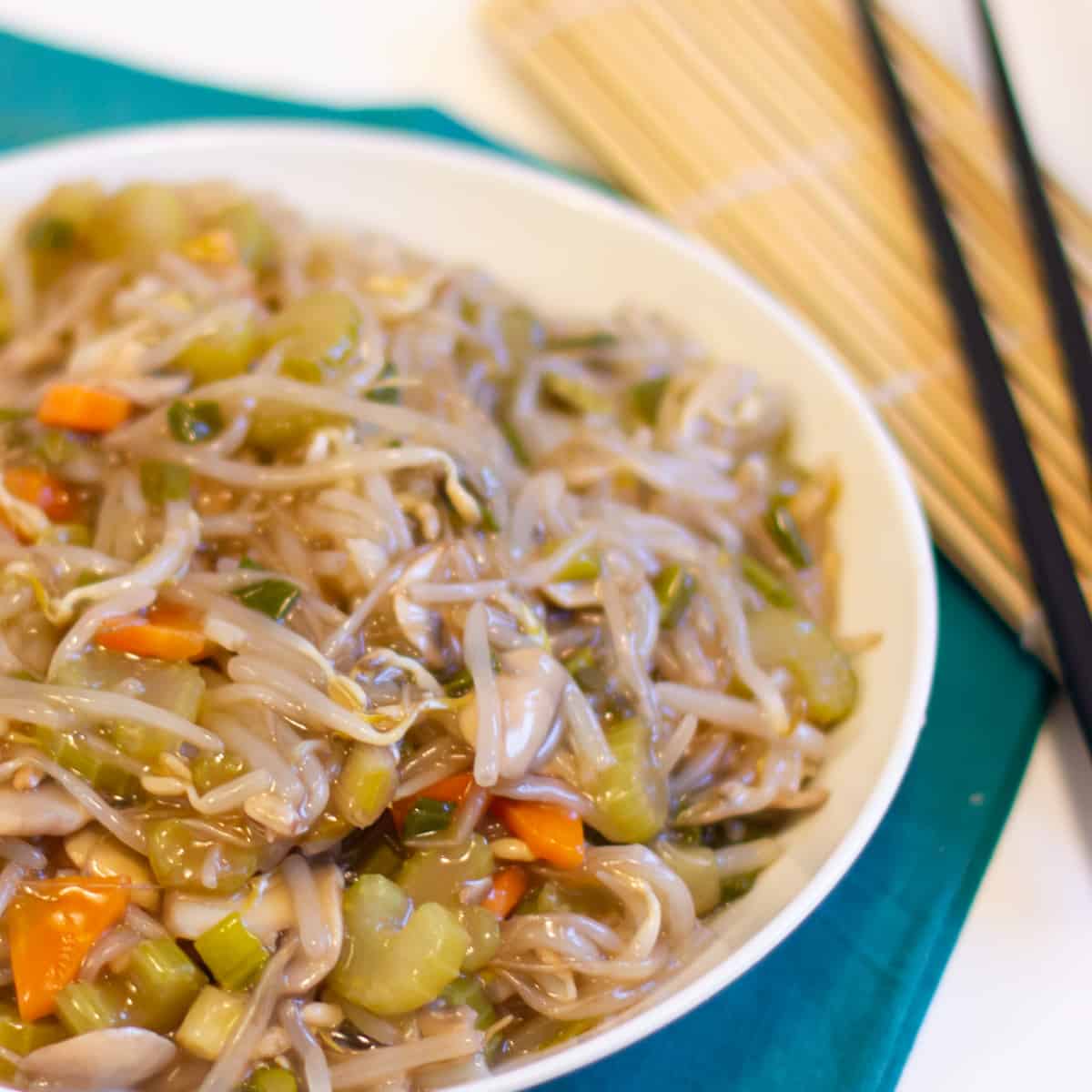 How To Make Chop Suey
Take a wok or frying pan and heat the oil. Sauté the carrots and celery with the garlic first. These vegetables take a little longer to cook through.
Add the bean sprouts, sliced mushrooms and green onions. Cover with the lid and cook for a few minutes until all the vegetables get tender.
Whisk together the remaining ingredients which create the sauce for the chop suey.
Pour the sauce into the wok or frying pan and toss into the vegetables. Simmer and stir until thickened.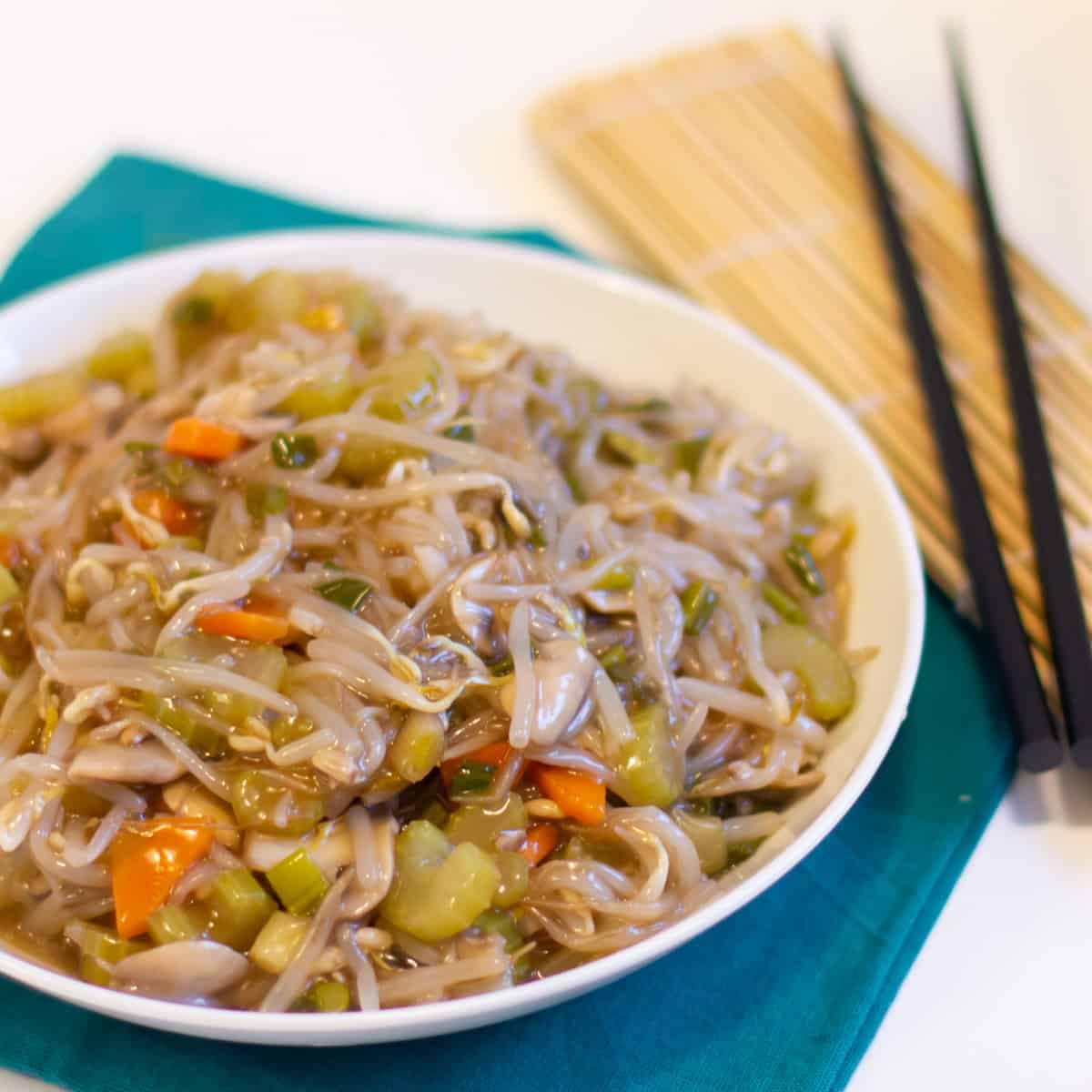 Chop Suey Is Great With Meat As Well!
This version is totally vegetarian but it can easily be adapted by adding some meat. You can subtitute the mushrooms with sautéed beef, shrimp chicken or pork!
More Great Recipes!
If you are looking to make a full Chinese meal, then here are some other great recipes!
Mushroom Chop Suey Recipe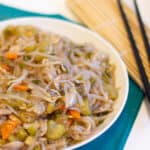 Print
Vegetarian Chinese mushroom chop suey recipe with bean sprouts, mushrooms, celery, carrots and green onions.
Servings: 4
Ingredients
2 tbsp oil
2 stalks celery , sliced
1 carrot , peeled and sliced
2 cloves garlic , minced
4 green onions , sliced
2 cups mushrooms , sliced
4 cups fresh bean sprouts
2 tbsp water
2 tbsp soy sauce
1 tbsp rice wine
1/2 tsp sugar
2 tsp corn starch
Instructions
Heat oil in a wok or frypan on medium high heat. Add the celery, carrot and garlic cloves. Cook for 3-5 minutes, stirring often to ensure nothing sticks to the bottom of the pan.

Add the mushrooms, green onions and beansprouts and place the lid on the wok or frypan. Stir the vegetables every couple minutes, until the mushrooms and beansprouts are tender, about 7 minutes.

In a separate bowl, mix together the remaining ingredients until the corn starch is dissolved.

Pour the sauce into the frypan and stir it gently through the veggies. Cook for about 5 minutes or until the sauce is thickened.
Nutrition
Per serving:
Calories: 135kcalCarbohydrates: 13gProtein: 6gFat: 7gSaturated Fat: 1gSodium: 541mgFiber: 4gSugar: 7g