Delicious mushrooms, with a deep rich flavour, that have been slowly simmered with shallots, garlic and beef broth. These are incredible with steak or just straight up as a side dish.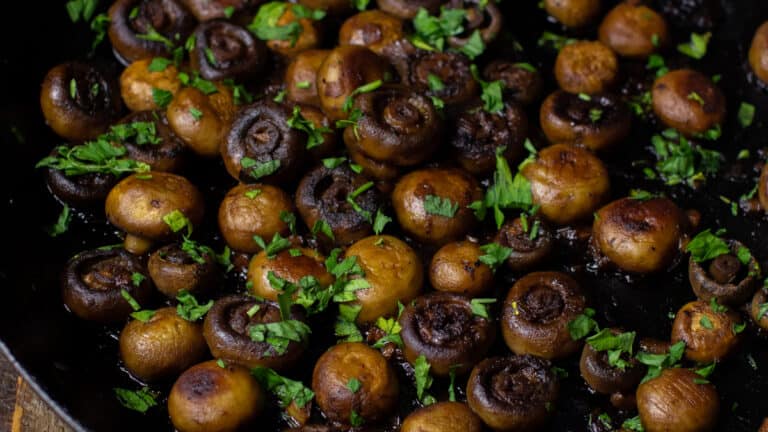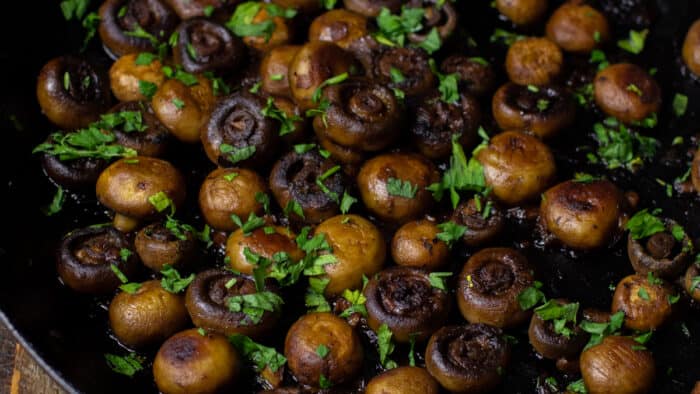 I think this might be my favourite vegetable side dish. These sautéed button mushrooms are so delicious and just burst with flavour. I love them any time we have steaks, but they are so good that I will make them simply as a side dish.
Preparing these mushrooms is quite easy. It just takes a little bit of time for the mushrooms to simmer. This is not something that can be rushed because it is the slow simmer in the broth that provides the deep and rich flavour.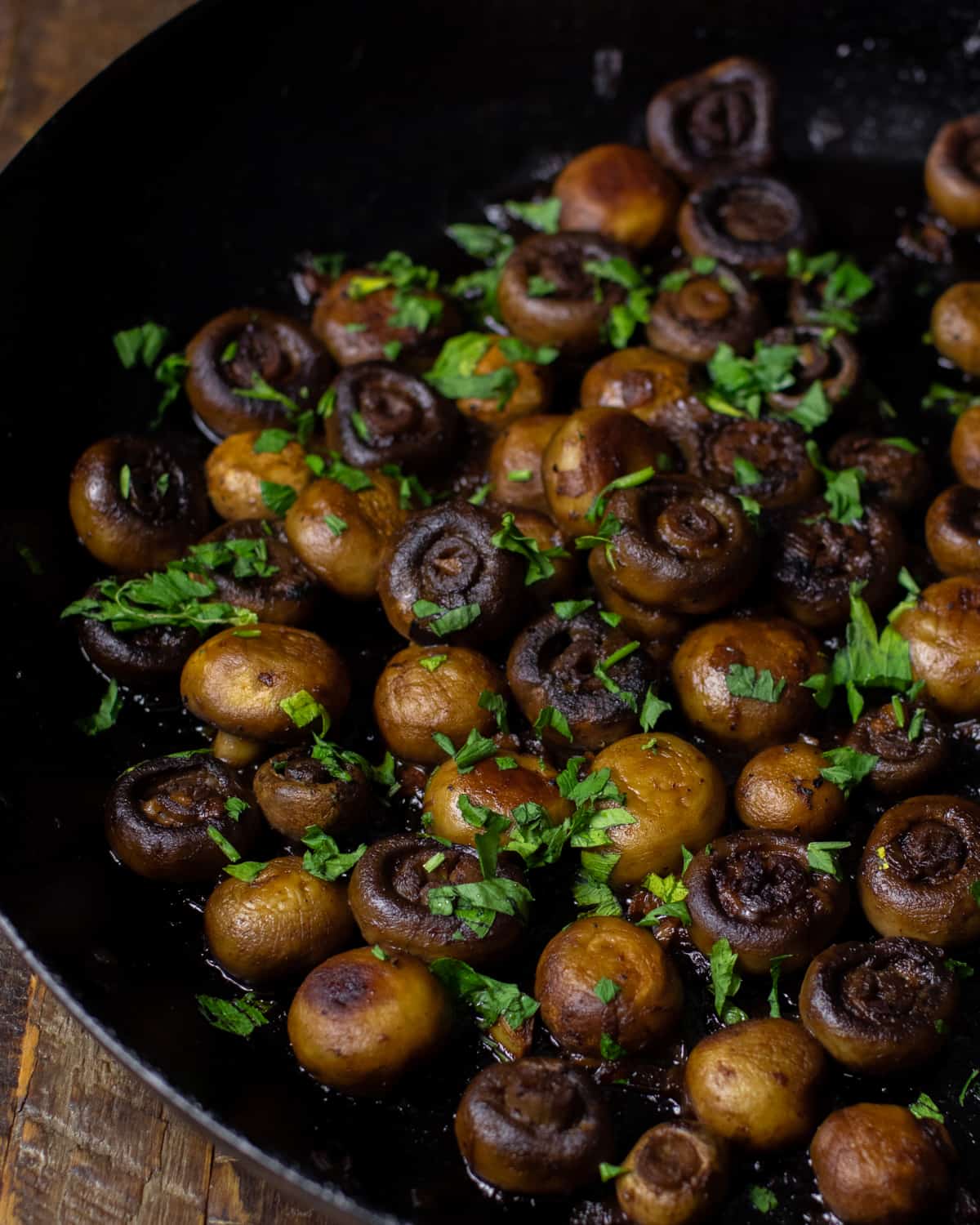 I cannot get over how good these mushrooms taste. They are perfectly browned and caramelised, but it is all of the beef broth the mushrooms have been simmered with, and absorbed, that allow them to be so rich and bold with flavour.
Each time I make these, they get eaten up so quickly, and I vow to make them more frequently.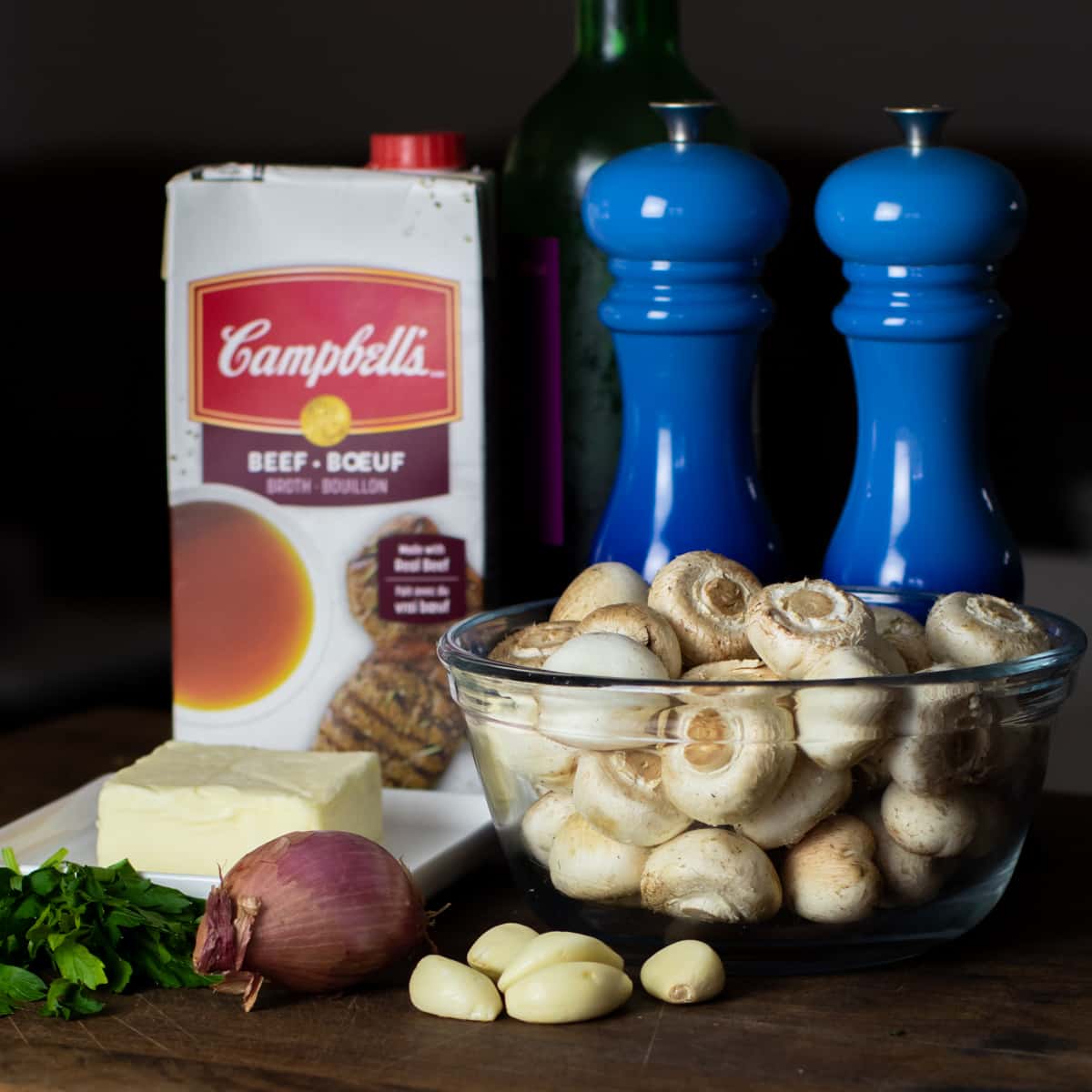 Ingredients You Will Need
Button mushrooms – for these smaller mushrooms, I prefer to use smaller button mushrooms, although I don't generally use the mini mushrooms. You could use larger mushrooms if you prefer, and just halve them. Cremini mushrooms also are great with this recipe.
Shallot – I love adding shallots to many dishes and mincing one in this recipe will really enhance the flavour.
Garlic – a nice handful of garlic cloves that have been minced will help give the mushrooms an incredible
Butter
Beef broth – the broth deepens the flavour of the mushrooms so much.
Red wine – this is optional.
Salt
Pepper
Fresh parsley – This is a garnish sprinkled on after the mushrooms have finished cooking.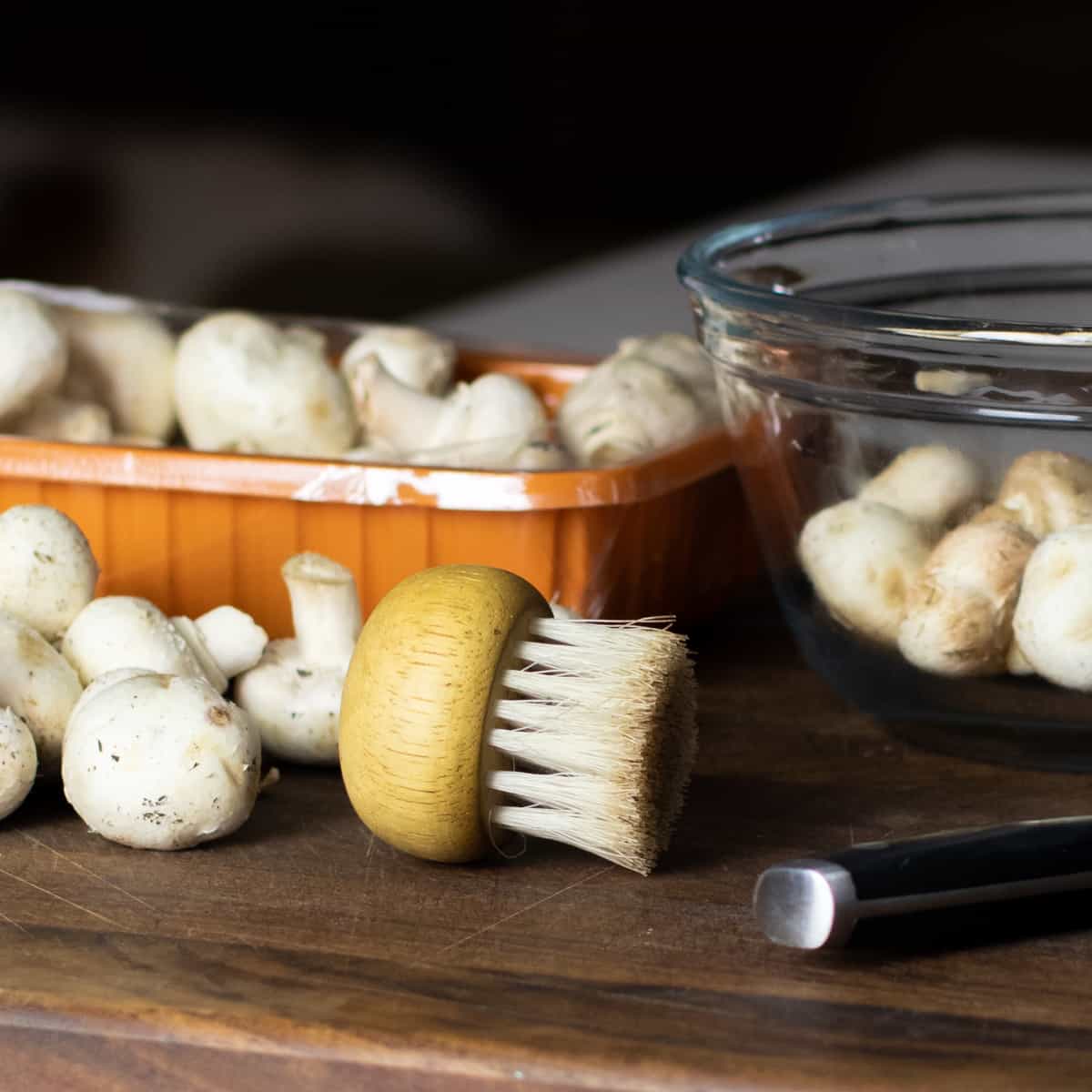 Clean The Mushrooms First
Button mushrooms purchased from the supermarket will often have a lot of the dirt/mulch that they were grown in. To clean them off, you can use a mushroom brush or quickly rinse them in water.
I know that people are sometimes worried that mushrooms will absorb a lot of water if they are rinsed. I do not find that to be the case really, and when I am needing to clean a lot of mushrooms I go for the quicker rinse.
For smaller batches of mushrooms, I will grab my handy brush and clean the mushrooms.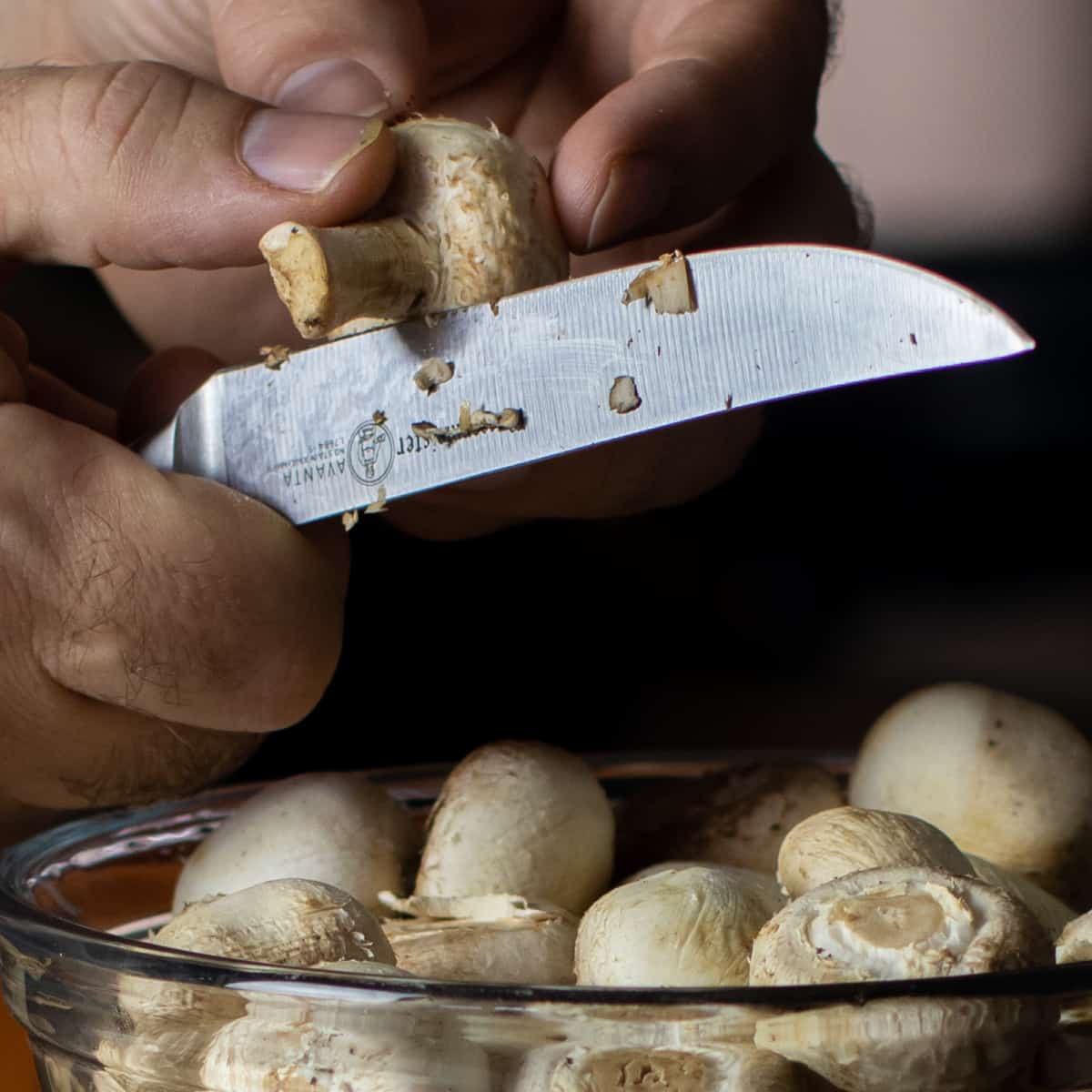 Trim Off The Stems
There are many times when I cook with mushrooms that I will leave on the stems, but for these sautéed button mushrooms I prefer to cut them off. I find that for the slow simmering in broth, they lay flat more easily with the stems trimmed off.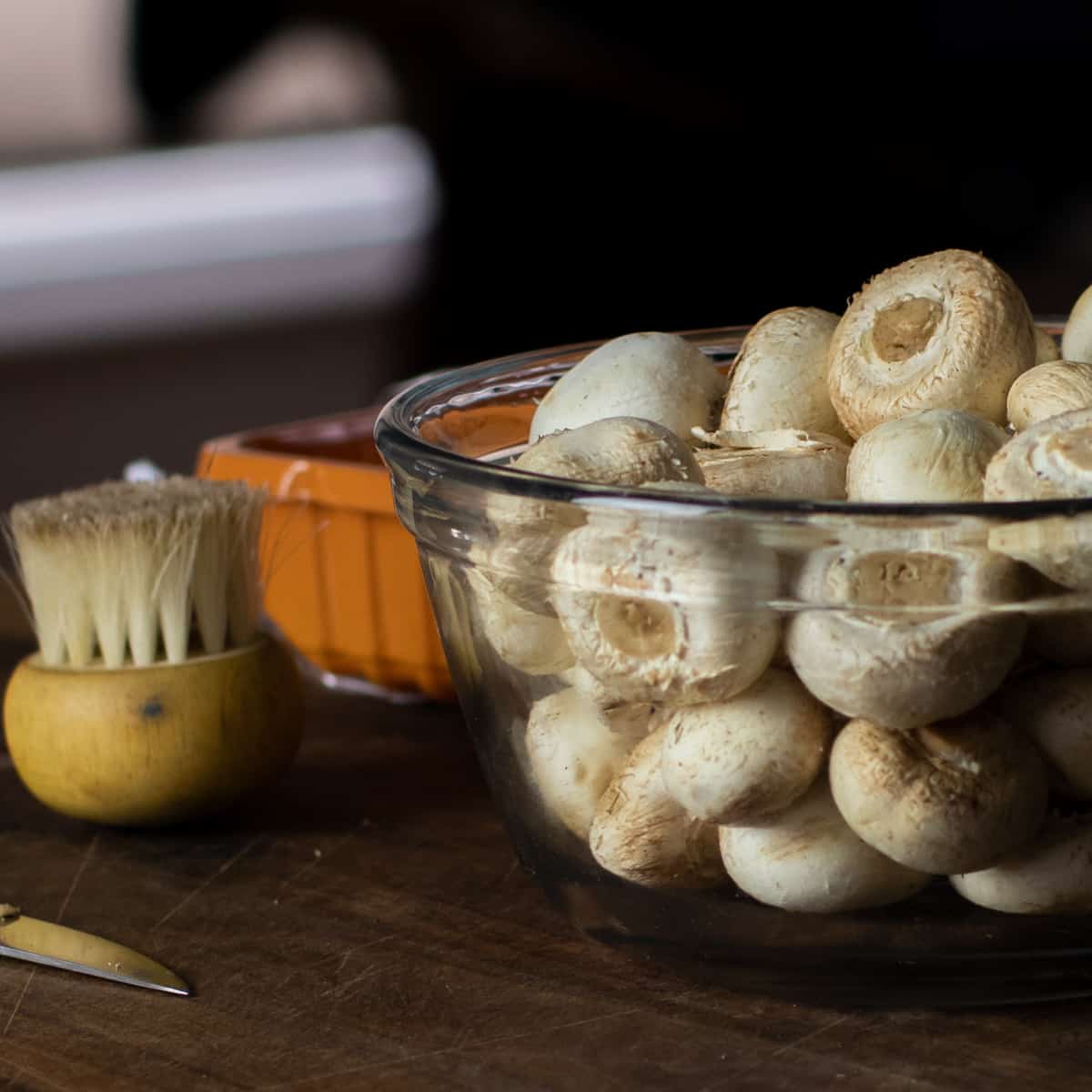 Once the mushrooms have been cleaned and trimmed, they are ready to be cooked. Make sure to prep the mushrooms before heating up the skillet.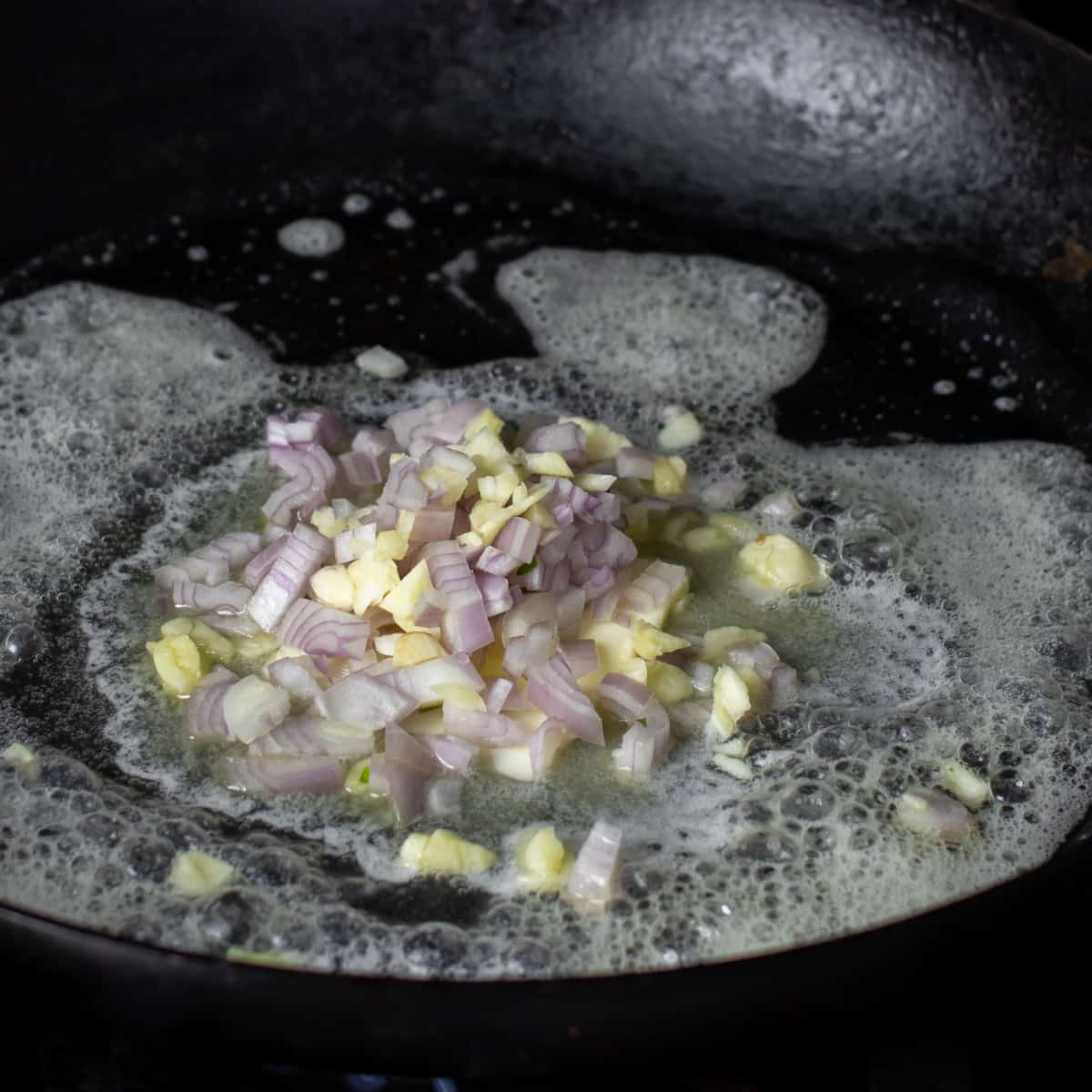 Shallots And Garlic!
Heat the butter over medium heat. Once melted, toss in the minced shallot and garlic. These will give off such an incredible aroma while they are cooking.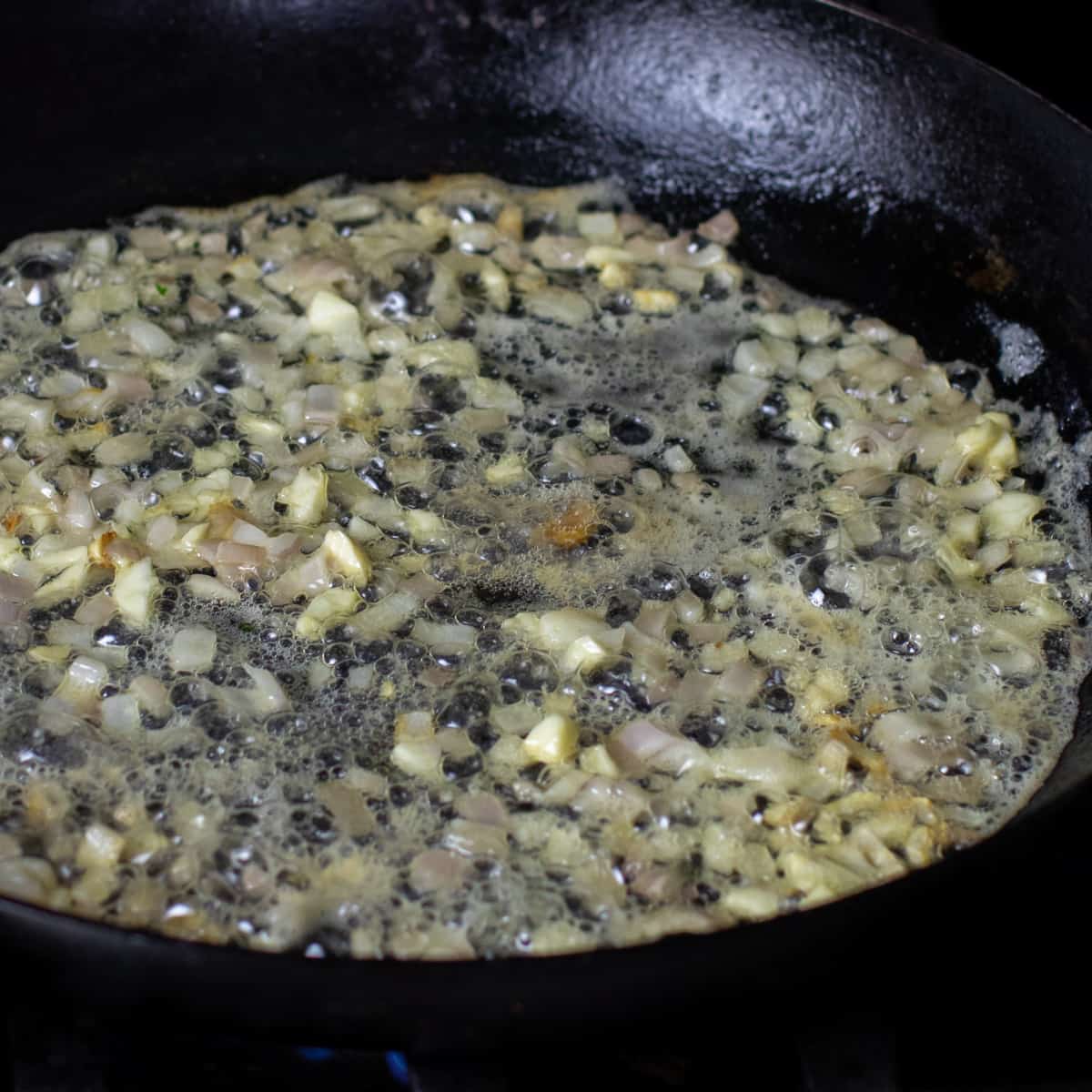 Make sure not to have the heat too high since garlic can burn and will give off a bitter taste. It is better for them to sauté over a lower heat for a longer period of time.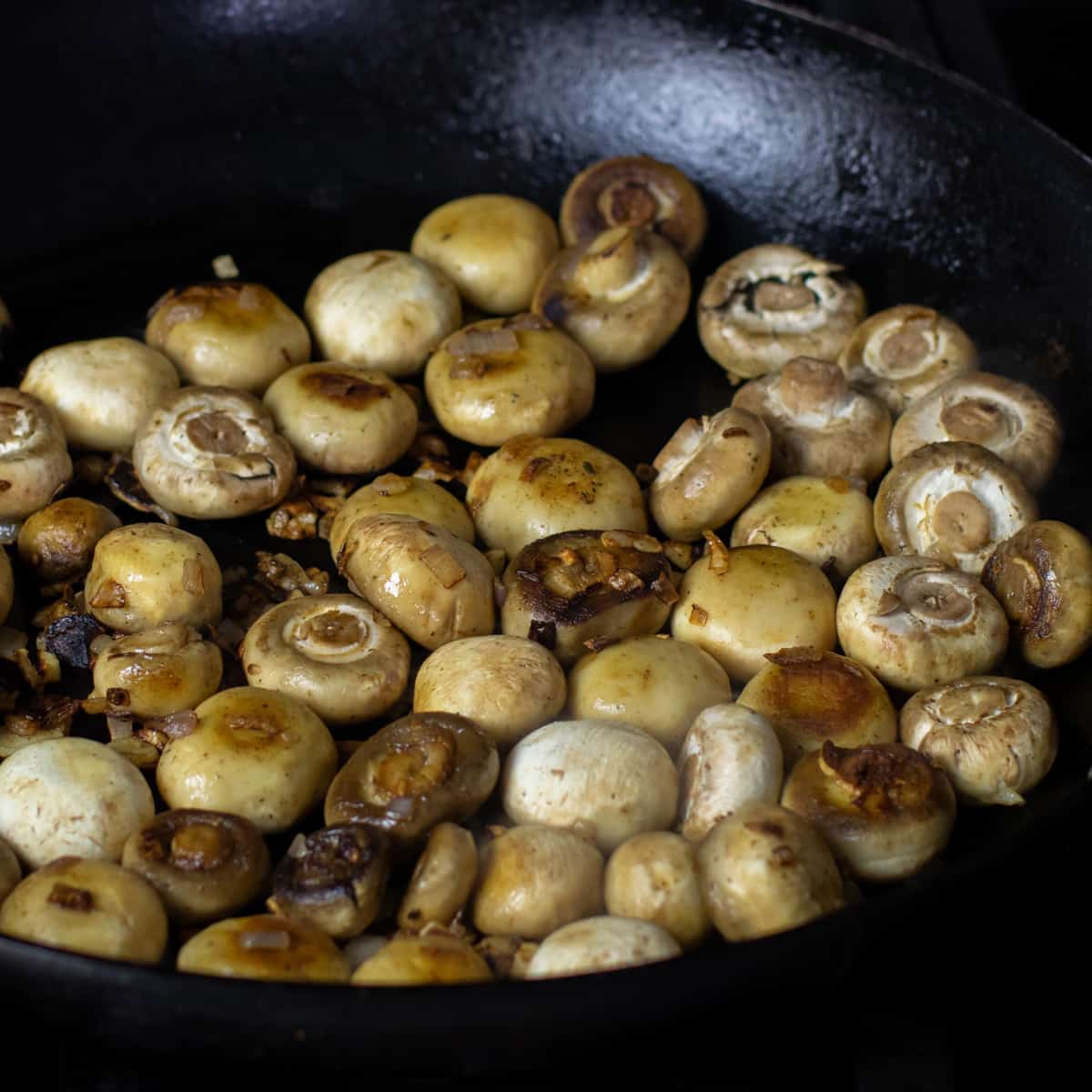 Throw in the mushrooms and cook for a few minutes, stirring often. You want the mushrooms to begin to cook and caramelise on both sides.
Pour In The Beef Broth
The broth is one of the most important ingredients in this recipe because it gives the sautéed button mushrooms the deep rich flavour.
Expert Tip: I pour the broth in 1/2 cup at a time. Doing this over four stages will allow the more caramelising and absorbing in the mushrooms.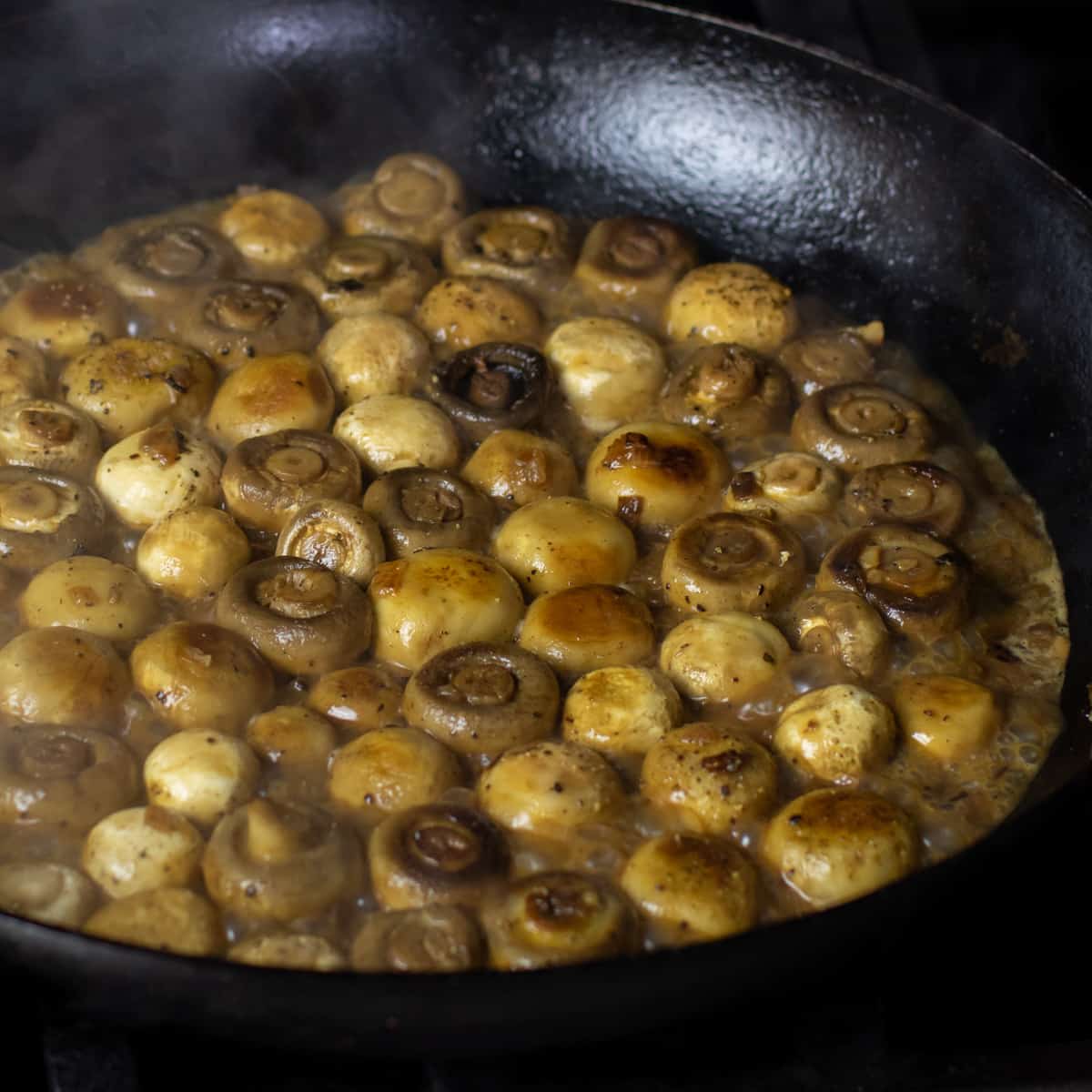 You will notice as the broth simmers, that it will create a sauce with the butter, shallots and garlic. As it bubbles all around the mushrooms, it will both slowly evaporate and the mushrooms will absorb some of the broth.
Expert Tip: If desired, you could add a couple tablespoons of wine with the broth. It does enhance the flavour and a nice touch. But, I have made this many times, and with the amount of beef broth that will reduce over the total cooking time, these mushrooms will not be short on flavour!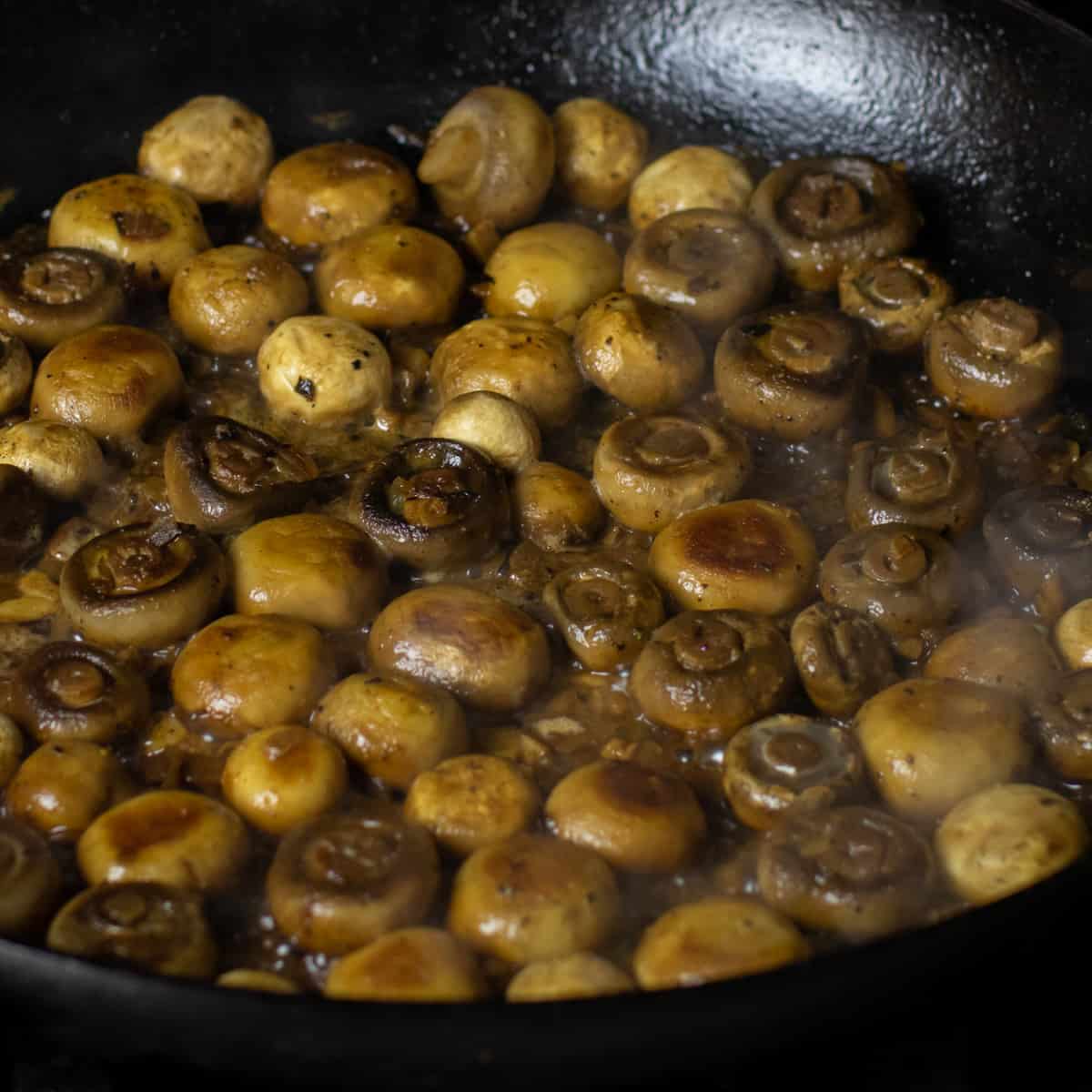 Once you notice that most of the broth has disappeared, pour in another 1/2 cup of broth. Then let it absorb again pouring in more broth again afterwards. Do this in stages until you have poured in a total of 2 cups of broth.
At some point during the simmering, add the salt and pepper.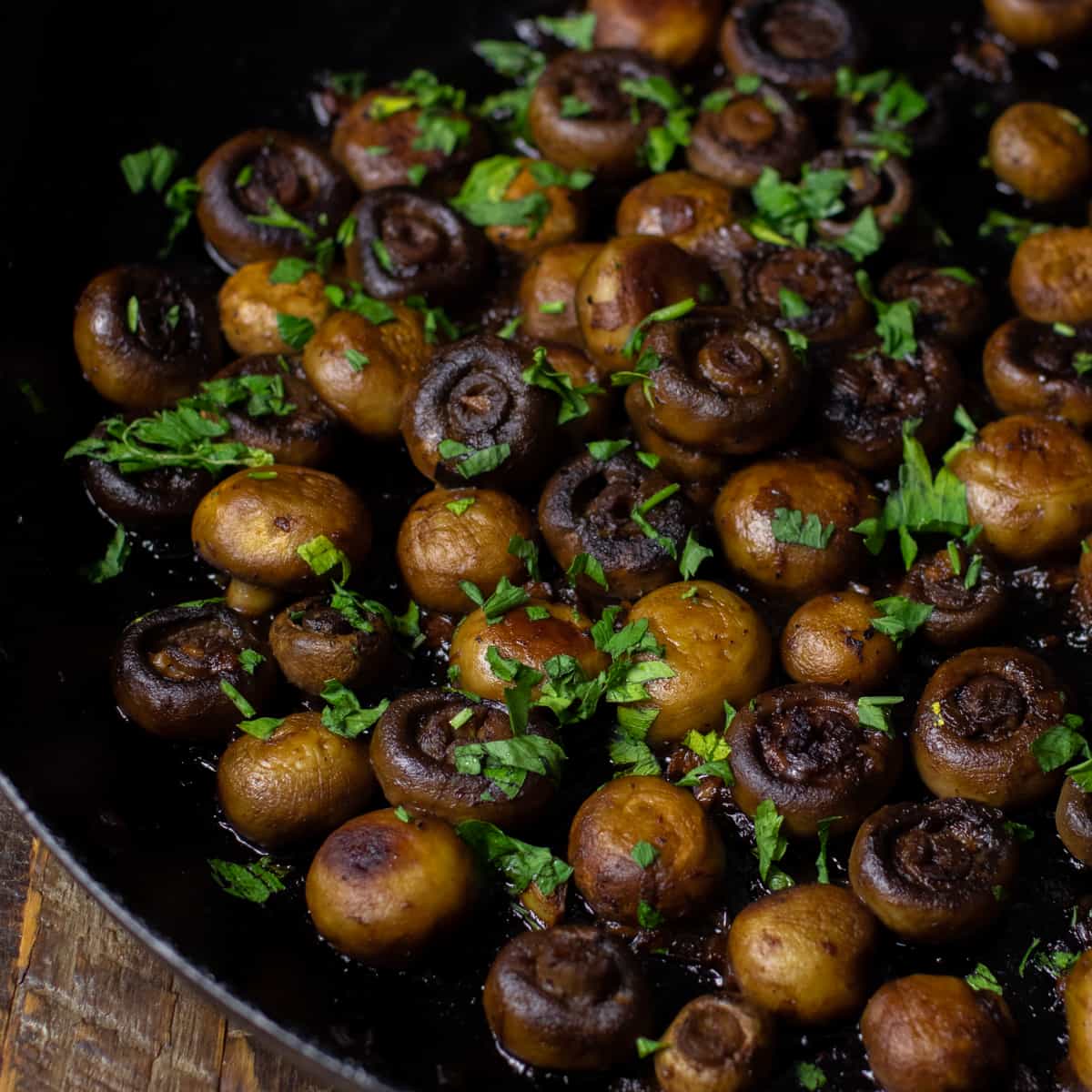 Once the last bit of broth has mostly absorbed into the mushrooms, they are ready to serve. Give them, one final toss, turn off the heat and top with the fresh parsley.
Serve these on a grilled or pan seared steak, with roast beef, or anything else. These sautéed button mushrooms are so good that they will enhance almost any other dish!
Some Other Great Recipes With Mushrooms
Sautéed Button Mushrooms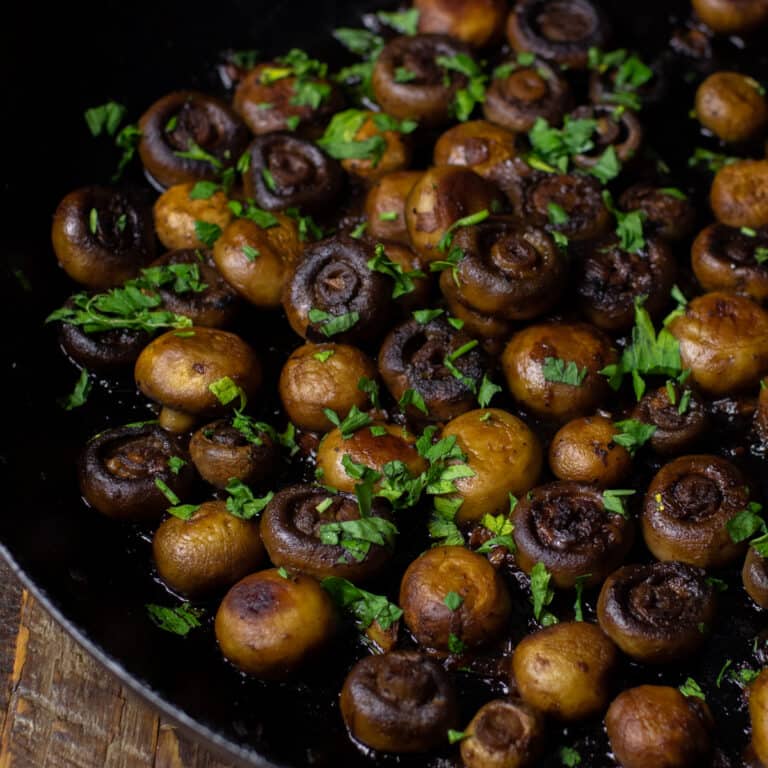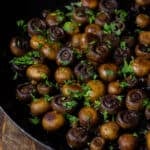 Print
Simple recipe for mushrooms that are slow simmered in a skillet with beef broth, shallots and garlic. Great with steak, roast beef and so much more!
Servings: 4
Ingredients
8 oz mushrooms , small to medium sized
3 tbsp butter
1 shallot , minced
5 cloves garlic , minced
2 cups beef broth
1/2 tsp salt
1/4 tsp black pepper
3 tbsp red wine , optional
1 tbsp fresh parsley , minced
Instructions
Clean mushrooms and trim the stems off.

Heat butter in a skillet over medium heat. Add the minced shallots and garlic. Cook for a few minutes, stirring often.

Add in the mushrooms and cook for a few minutes more. Stir a couple times, ensuring that the mushrooms are cooking on both sides.

Pour in 1/2 cup of beef broth, salt, pepper (and optional red wine).

As it simmers, the broth will evaporate and absorb into the mushrooms. Once most of the broth is gone from the skillet, pour in another 1/2 cup. Continue doing this until all 2 cups of broth has been added.

Once the last of the broth is mostly absorbed into the mushrooms, remove the skillet from the heat. Top with fresh parsley and serve.
Nutrition
Per serving:
Calories: 116kcalCarbohydrates: 5gProtein: 4gFat: 9gSaturated Fat: 6gCholesterol: 23mgSodium: 810mgFiber: 1gSugar: 2g