This Thai soup is probably my favourite soup ever and I have made it so many times! Packed with flavour, Tom Kha Gai soup is the perfect start for any Thai meal.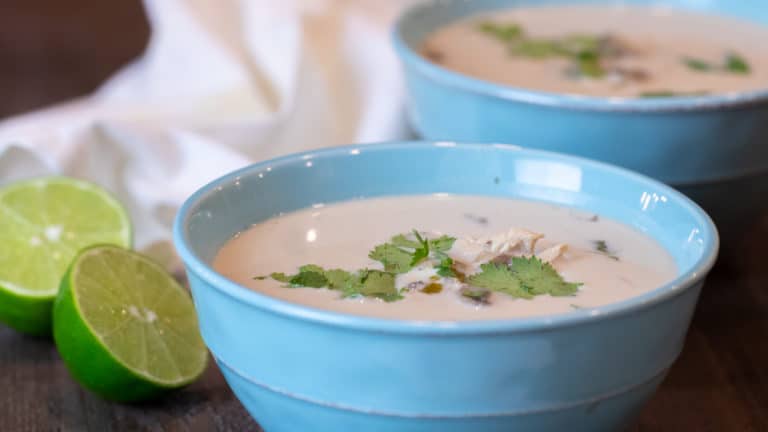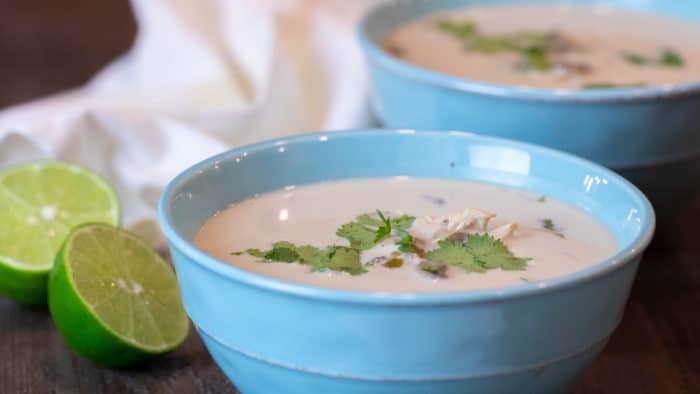 Over the years, I have made many different kinds of soup and this Tom Kha Gai Thai soup is one I have made more than any other. Thai cuisine has such rich and complex flavours and they are all packed into every bowl of this creamy and tangy soup.
If you have every tried this soup at a Thai restaurant, you may have thought that it would be difficult to make. While this soup does use some unique ingredients that can be picked up at a local Asian supermarket, tom kha gai is actually quite easy to make.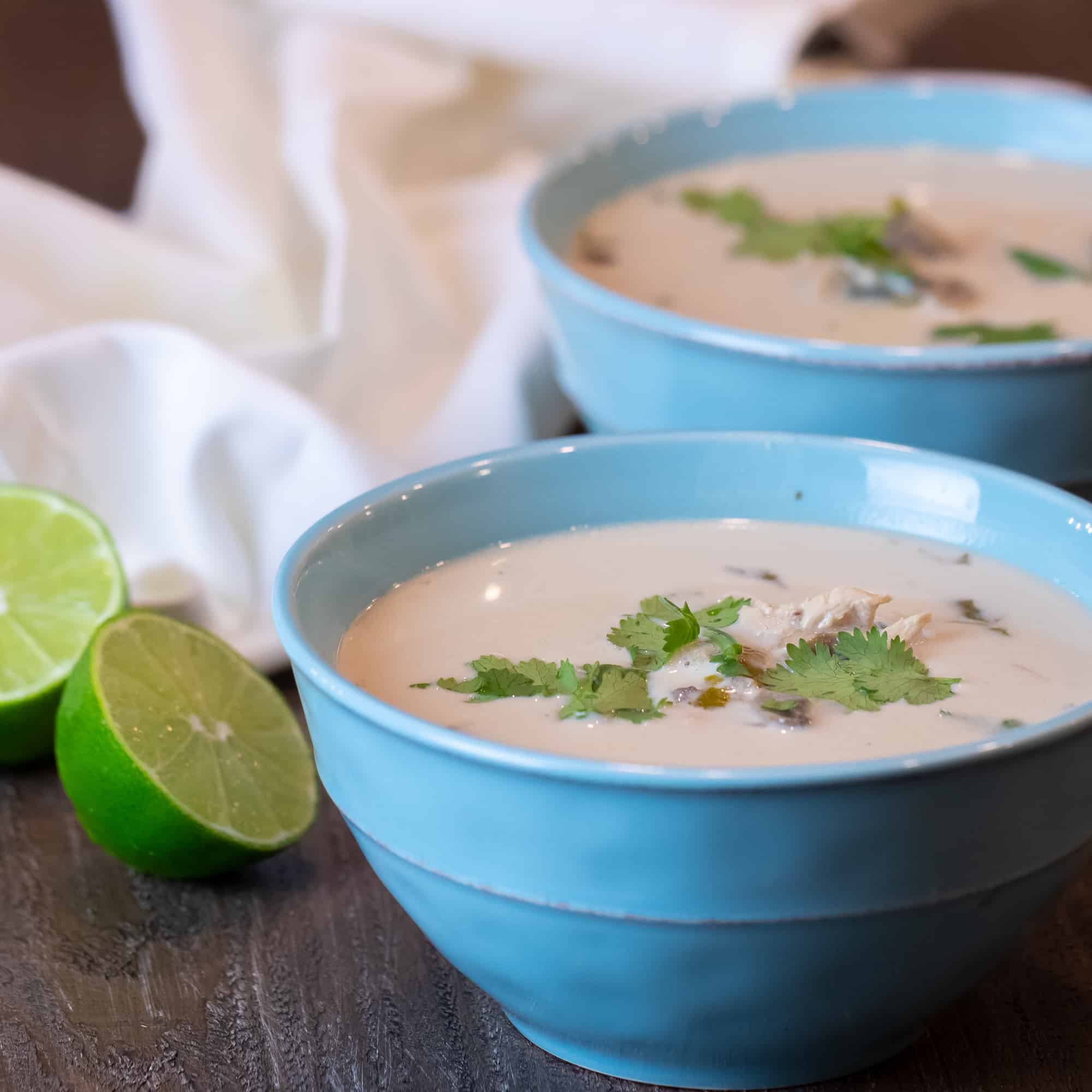 Tom kha gai is like a creamy hot and sour soup. While it can be an appetizer, in our home, it has also been eaten as a meal. I have made this soup for dinner parties and people keep going back to the pot for 'just one more bowl'!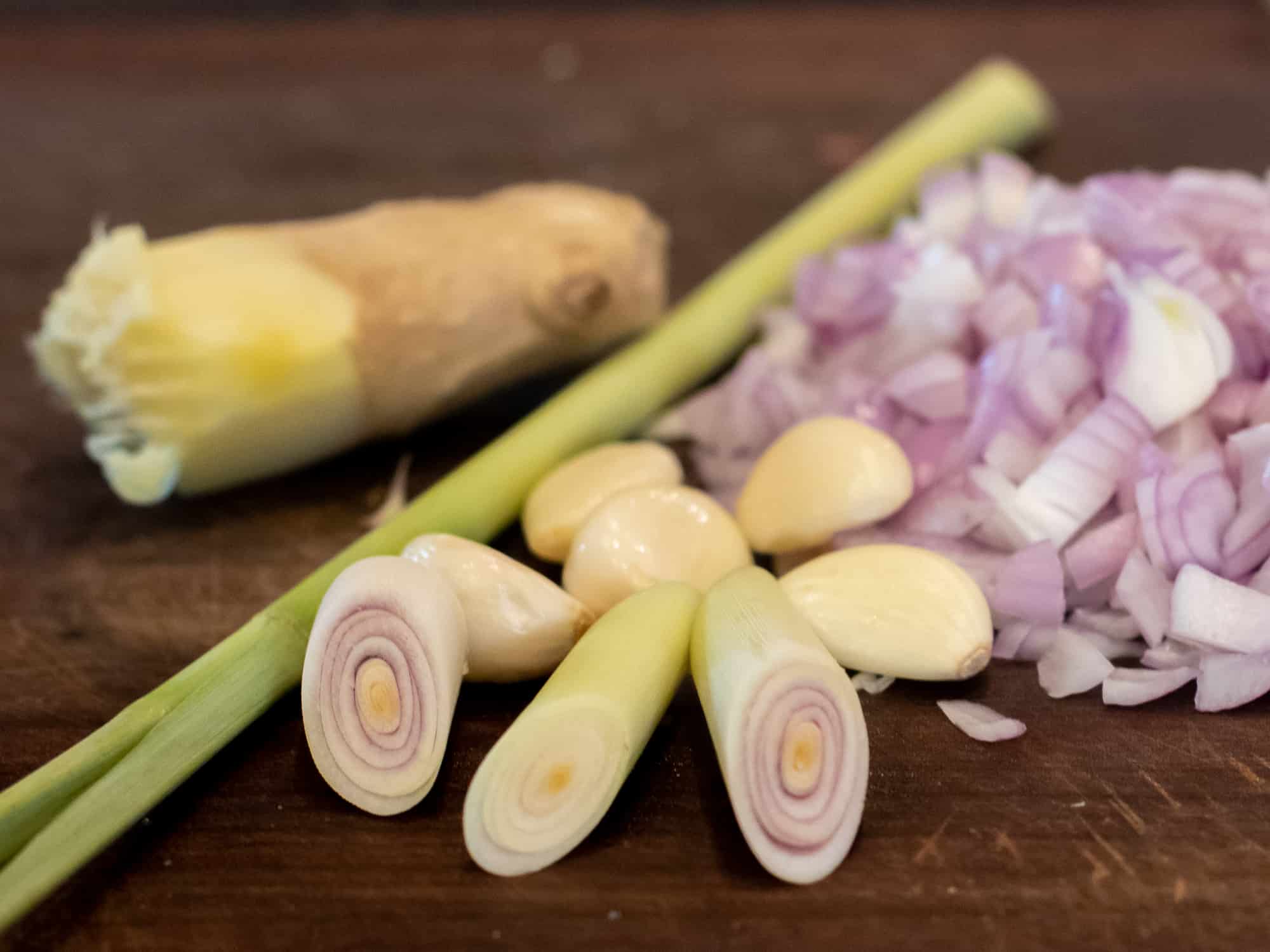 This Thai soup is packed with flavour!
There are so many different ingredients in tom kha gai that have bold flavours. They all combine together to create a soup with deep complexity. The aromatics of garlic, ginger, shallots, lemongrass and dried chilies are essential to develop the base of the Thai soup.
I cut the lemongrass stalk into one inch pieces. They are just going to simmer with the soup and get removed just prior to serving. The garlic is minced, the shallots diced and ginger should be peeled and grated.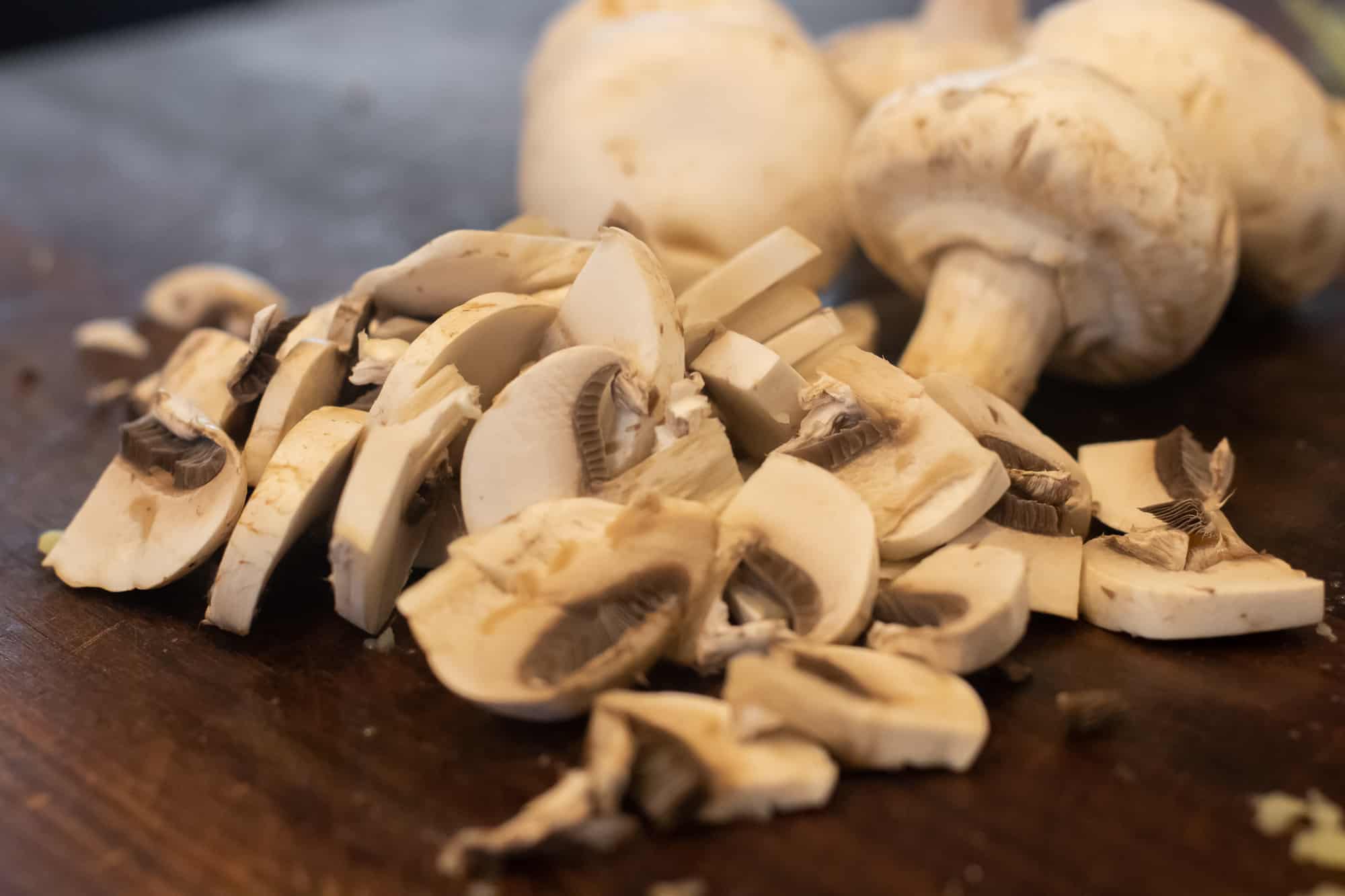 Mushrooms are a key part of this soup. Button mushrooms are the kind that I use, but you could also try cremini, portobello, or other kind of mushroom.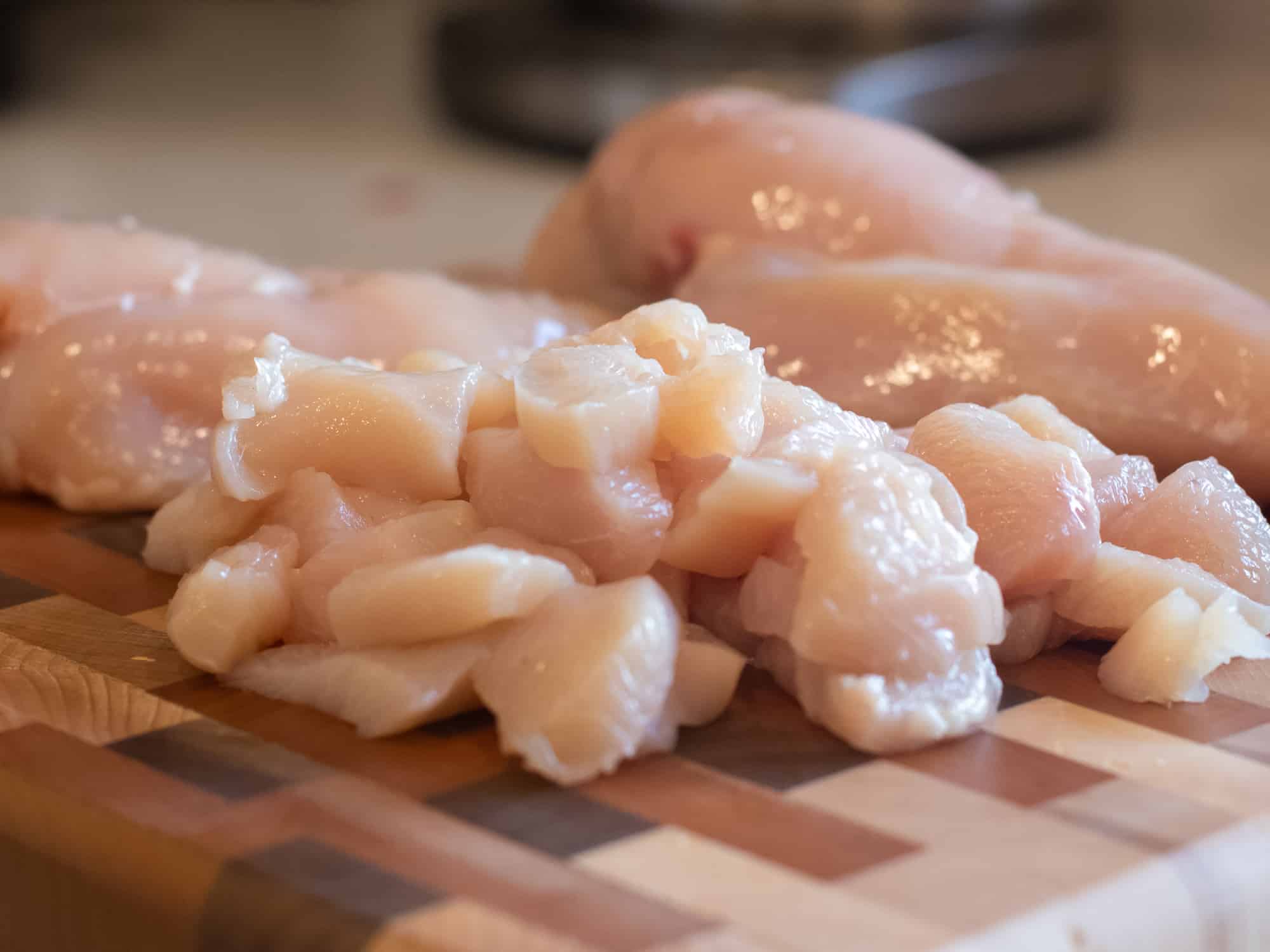 Chicken is an important part of this soup and it is important to make sure that the pieces are not too big. The chicken should be small enough to be able to be scooped up with some broth. Dice the chicken into small chunks.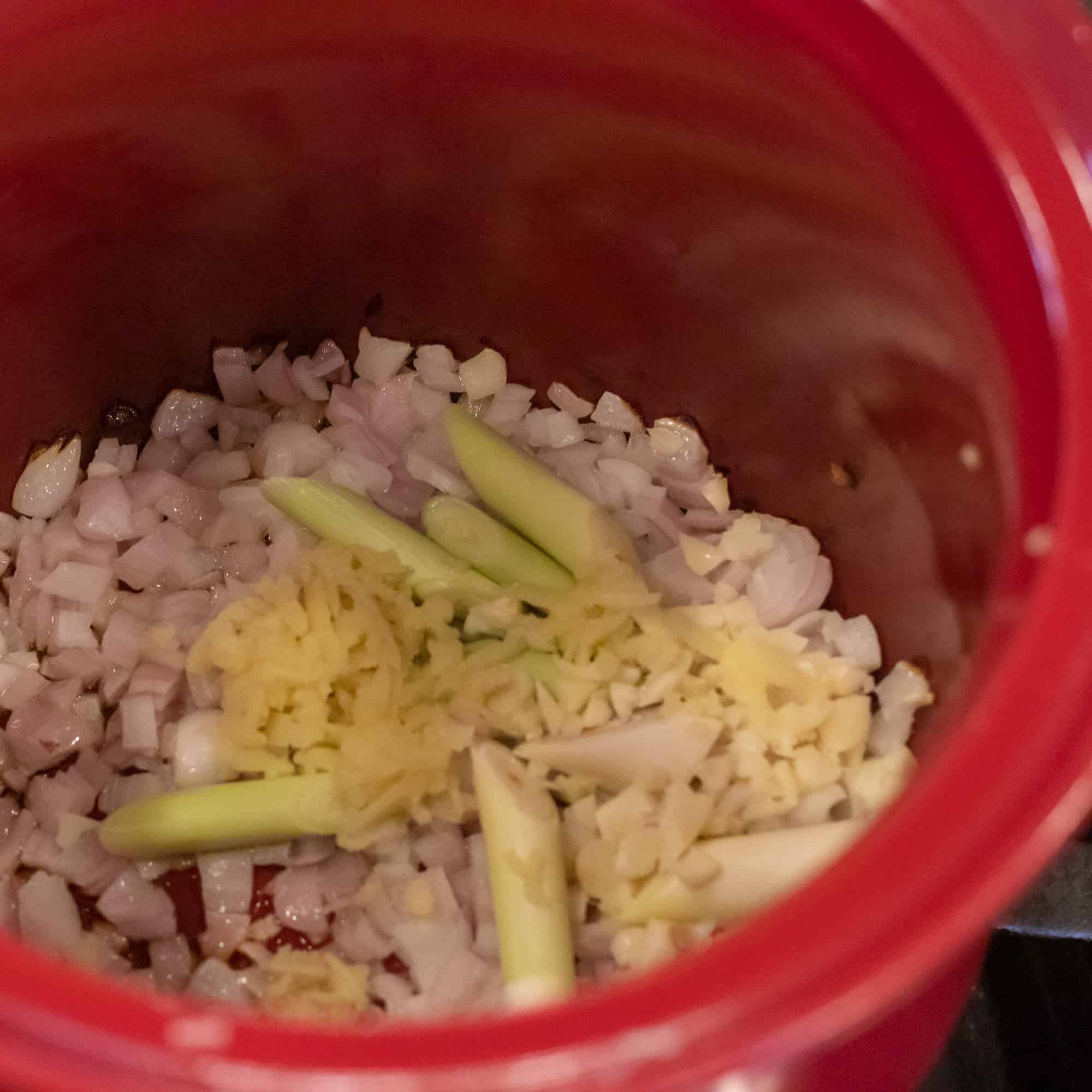 How to cook Tom Kha Gai soup?
The first step is to heat the oil in a large soup pot. Stir in the aromatics and sauté to draw out all the flavours. Stir often so that the garlic and shallots do not burn on the bottom.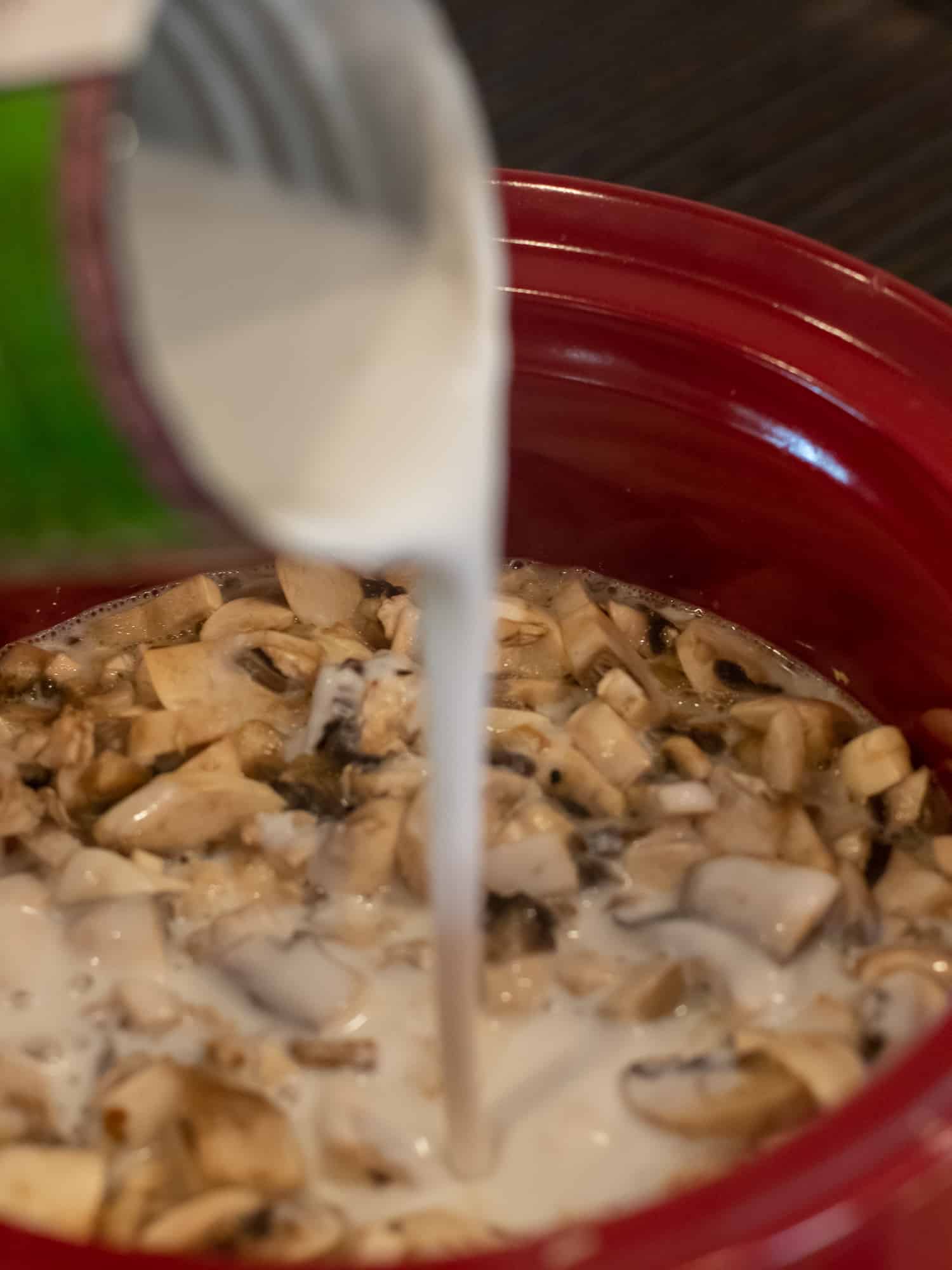 Making this soup is done over a few simple steps. Once the aromatics have been sautéing for a few minutes, stir in the mushrooms and cook for a few more minutes. The aroma that will come from this soup pot is amazing. Stir the mushrooms regularly so they done start to burn on the bottom, and after about five minutes, they should be cooked and starting to caramelize. Pour in the chicken broth, coconut milk and fish sauce. The fish sauce is a classic ingredient in Thai cuisine. It is salty and potent, so add it sparingly.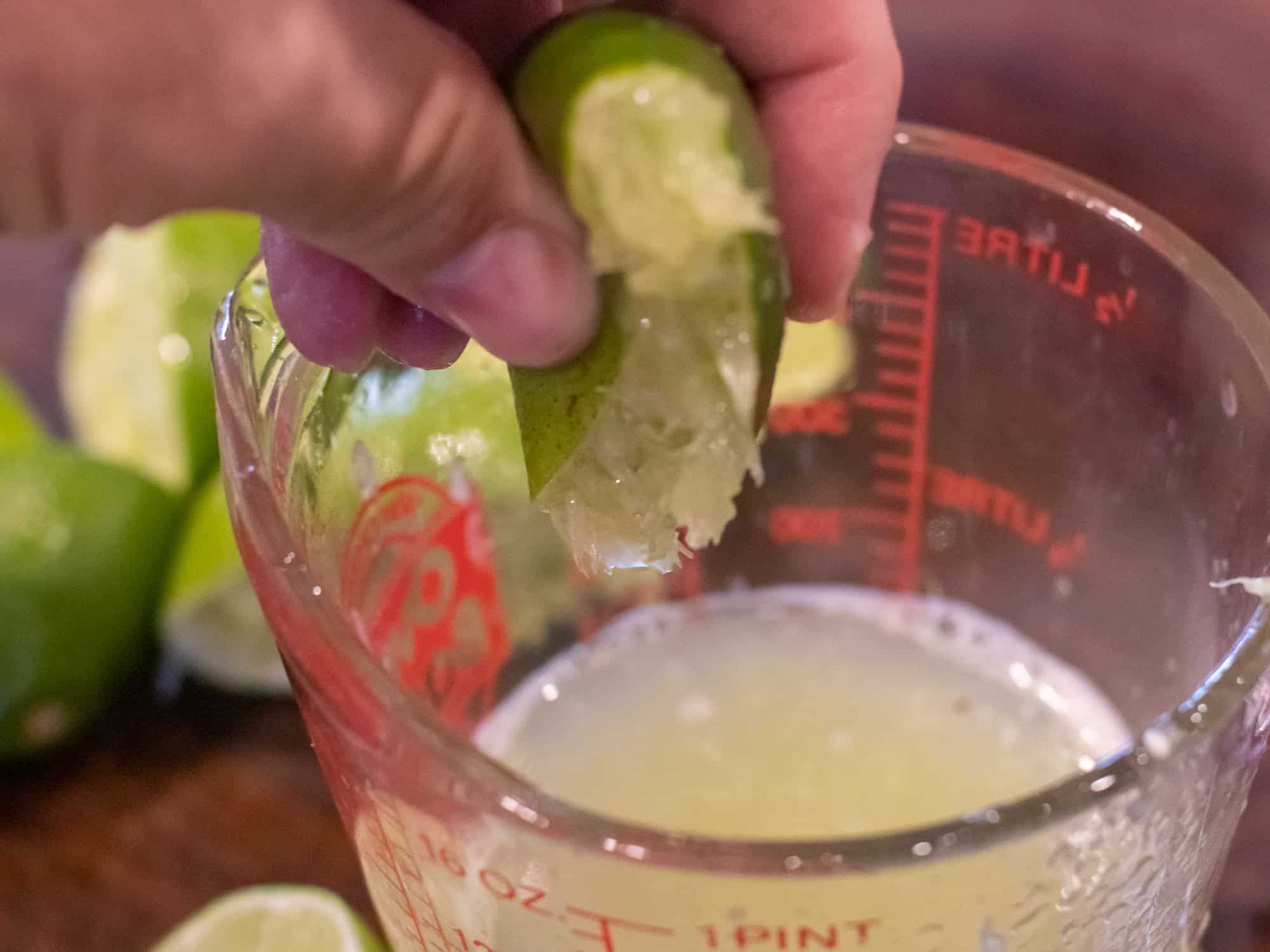 Bring the soup to the point that it is just starting to boil. Don't let it get to a hard boil, but keep it at the point of a light boil. Stir in the chicken and let it simmer and cook. While the soup is continuing to cook, squeeze out the lime juice. Measure out a cup of lime juice. This may seem like a lot, but the tang from the lime is a key part of tom kha gai soup.
After the chicken has simmered in the soup for about 15 minutes, stir in the lime juice. If you are worried that it might make it too sour, you could start by adding half. Stir it in the soup and give it a taste. If desired, add the rest of the lime juice.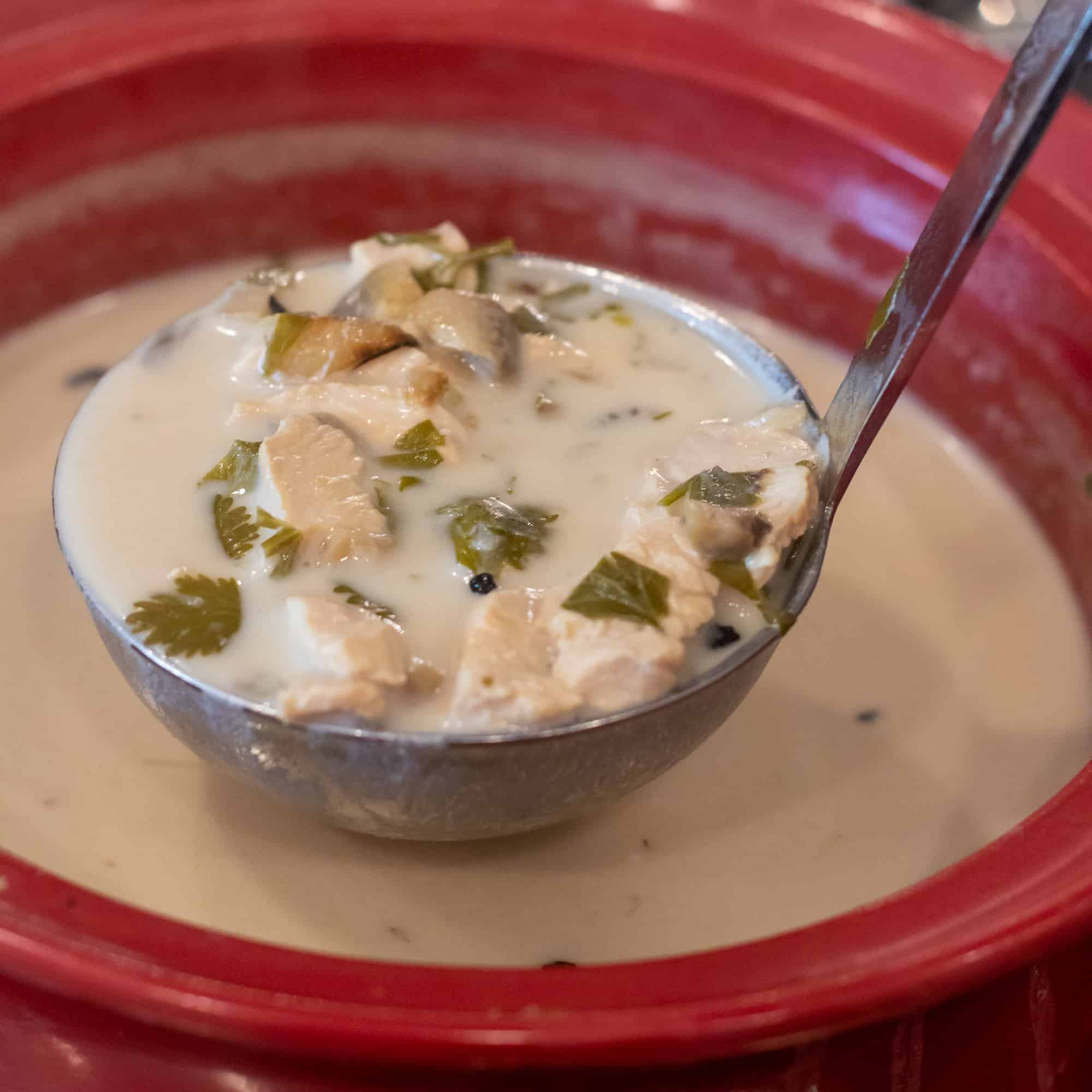 After the soup has simmered a little more, it is ready to serve. Ladle some of the soup in a bowl and garnish with a little more fresh cilantro.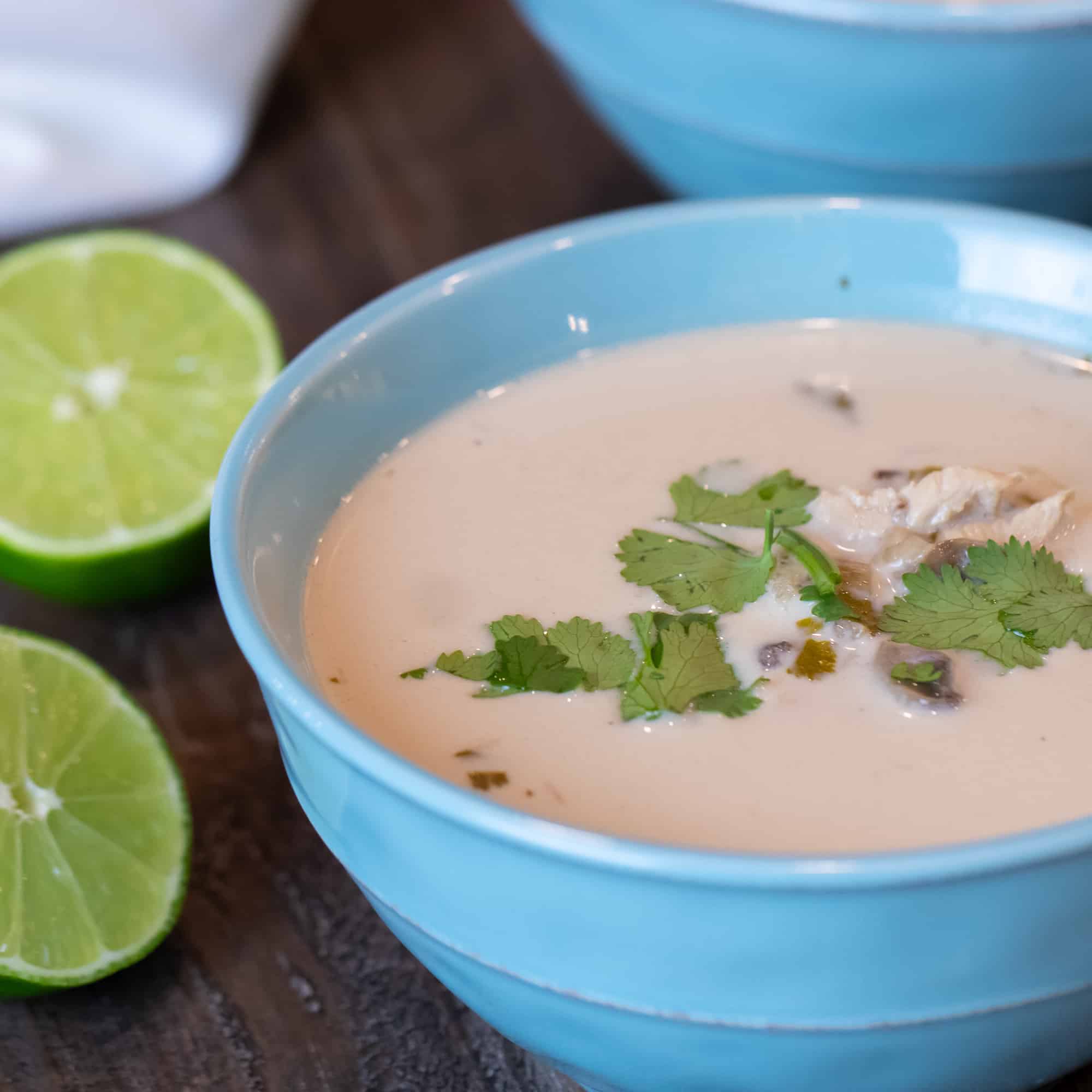 Other recipes for a Thai dinner
Tom Kha Gai is a delicious authentic Thai soup and ideal as part of a Thai meal.
Cold Spring Rolls – also called salad these are a staple in Thai and Vietnamese cuisine. The flavours are bright and these are the perfect start for any Thai dinner!
Thai Green Shrimp Curry – probably my favourite Thai dish, this dish is so good and easily a meal on its own.
Sweet Thai Chili Noodles – a very simple Thai side dish that is easy to modify by adding shrimp, chicken and so much more.
Thai Red Curry Mussels – the creamy sauce is just as amazing as the mussels and I spoon it up like a soup!
Tom Kha Gai - Thai Soup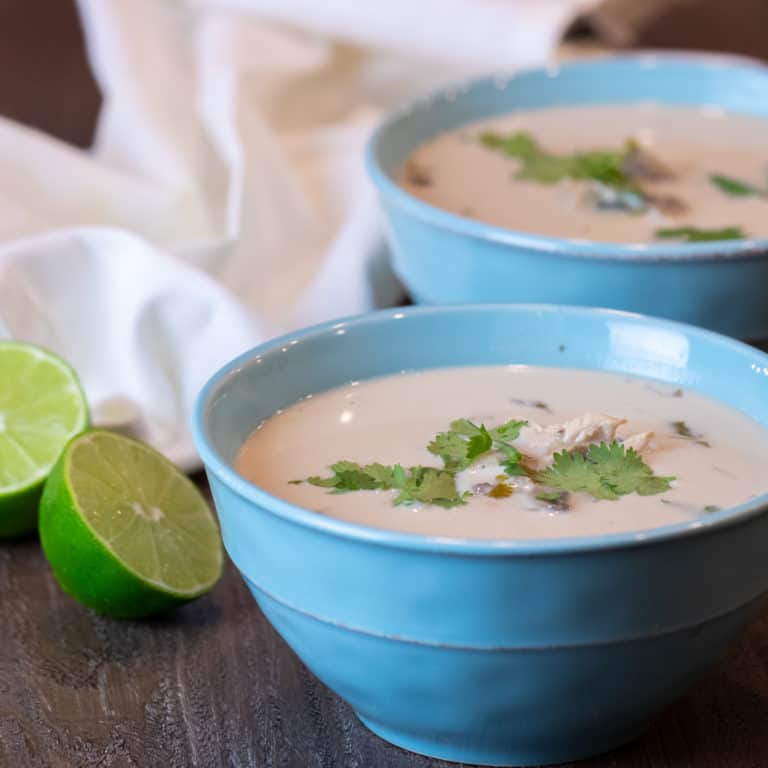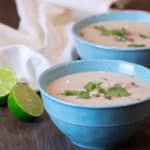 Print
Tom kha gai is a traditional Thai soup recipe with coconut milk, lime juice, chicken, mushrooms and other spices. Easy to make and tastes delicious!
Servings: 12
Ingredients
2 tbsp oil
5 small shallots , minced
1 stick lemongrass , cut into 1 inch pieces
2 tbsp grated ginger , or galangal
3 cloves garlic , minced
1 tsp dried chilies
8 cups chicken broth
3 cans lite coconut milk , 400ml/14oz cans
1 1/2 tbsp fish sauce
2 cups mushrooms , sliced
3 chicken breasts , cut into small bite size peices
1 cup fresh squeezed lime juice
1/2 cup fresh cilantro , diced
Instructions
Heat oil in a large pot over medium heat. Add the shallots, garlic, ginger, lemongrass and dried chilies. Saute until tender and the sahllots are transparent, about 5 minutes.

Stir in the mushrooms and saute until tender, about 4-5 minutes.

Pour in the chicken broth, coconut milk and fish sauce. Heat until it is just barely boiling.

Stir in the diced chicken. Heat the soup back up to where it is just boiling. Reduce heat to a medium low simmer. Cook for 15 minutes, stirring often.

Add the lime juice and cilantro. Cook for another 15 minutes. Remove the lemongrass pieces.

Serve with a small amount of freshly chopped cilantro.
Nutrition
Per serving:
Calories: 164kcalCarbohydrates: 9gProtein: 8gFat: 10gSaturated Fat: 7gCholesterol: 18mgSodium: 726mgFiber: 1gSugar: 2g