Beef Pho Vietnamese Soup – Pho Bo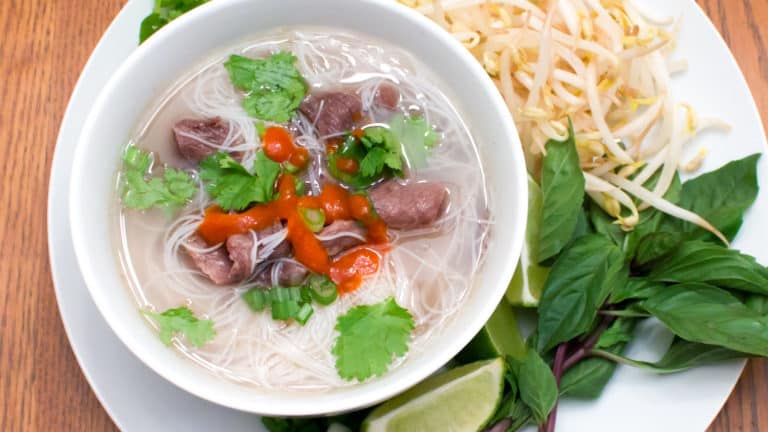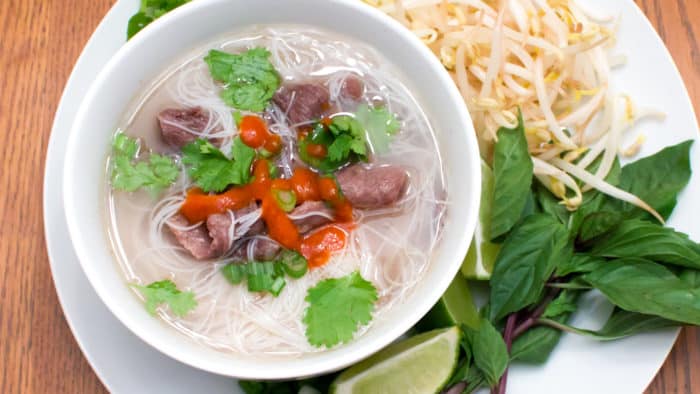 It was a handful of years ago that I experienced my first bowl of pho. I was with a couple other people and one of them was craving Vietnamese food. I love Thai, Chinese and Japanese, so I was game. It was winter and I was desiring something that would warm my bones.
Entering into the restaurant I noticed that almost every table was full and more than half had ordered the soup. I sat down and looked that the menu only to decide that I also was going to try the soup. The bowl that came was enormous. I have never seen an individual bowl of soup that large. I finished it and had discovered a new love.
Pho and I were going to be friends forever!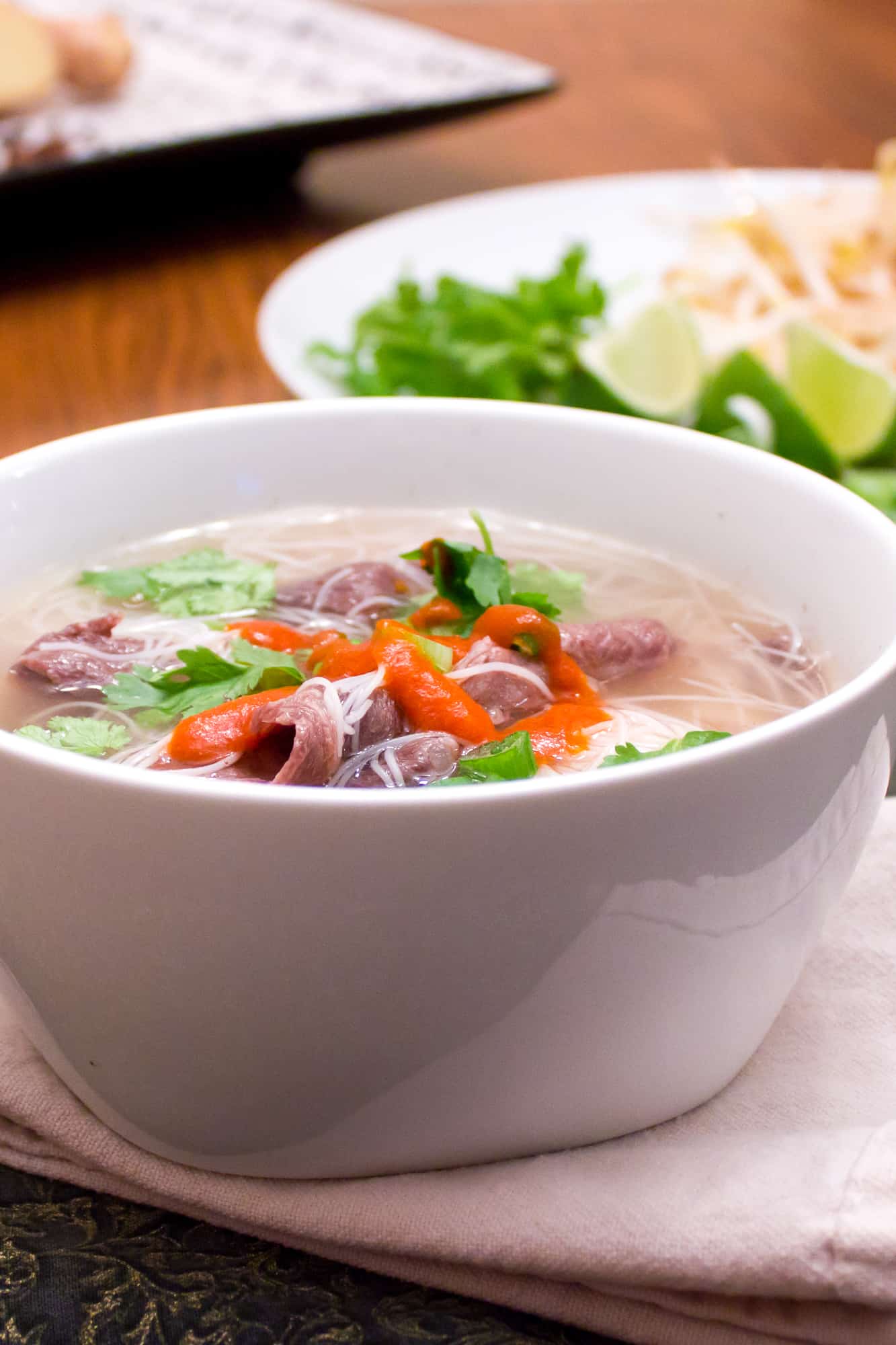 The word for soup in Vietnamese is pho and there are many different varieties of this soup, but one of the most popular is pho bo. It is a beef soup that is served with thinly sliced pieces of beef. Most restaurants serve it with the beef actually rare. The soup is very hot so once the rare meat is stirred in it cooks the beef. There are many garnishes that come alongside the pho. Along with the beef and rice noodles are bean sprouts, Thai basil, cilantro and lime wedges.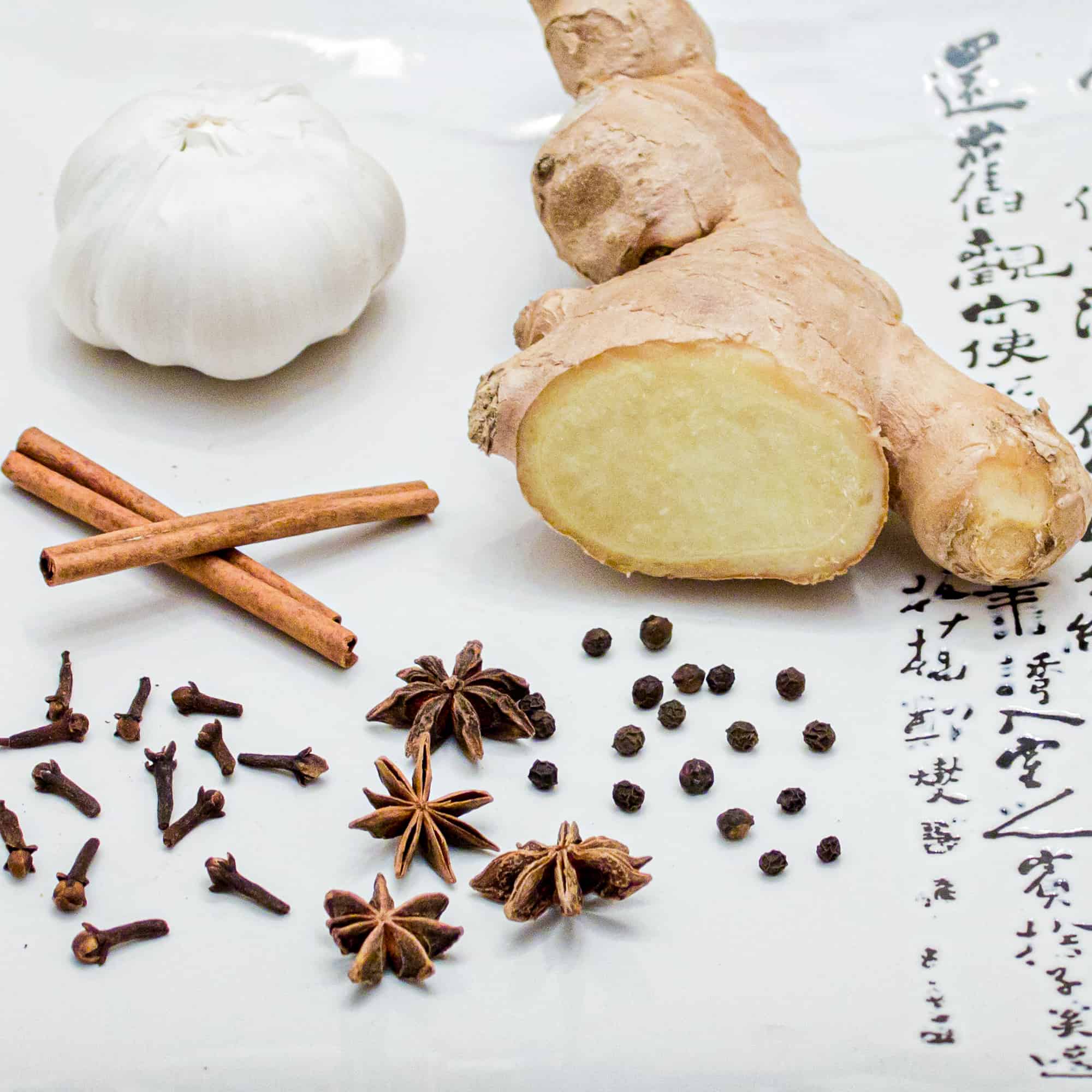 Many people also squirt a little sriracha or hoisin sauce in their pho. Have I ever shared with you my love of sriracha sauce? It is an incredible Asian chili and garlic sauce. It has a great level of heat that I use all the time with Asian cooking. Janna and the kids prefer to add hoisin sauce to the pho. Some people refer to it as Asian BBQ sauce. Hoisin sweetens the pho nicely.
Pho is an excellent choice of soup during these winter months. It is also a great soup to have if you or someone in your family has a cold.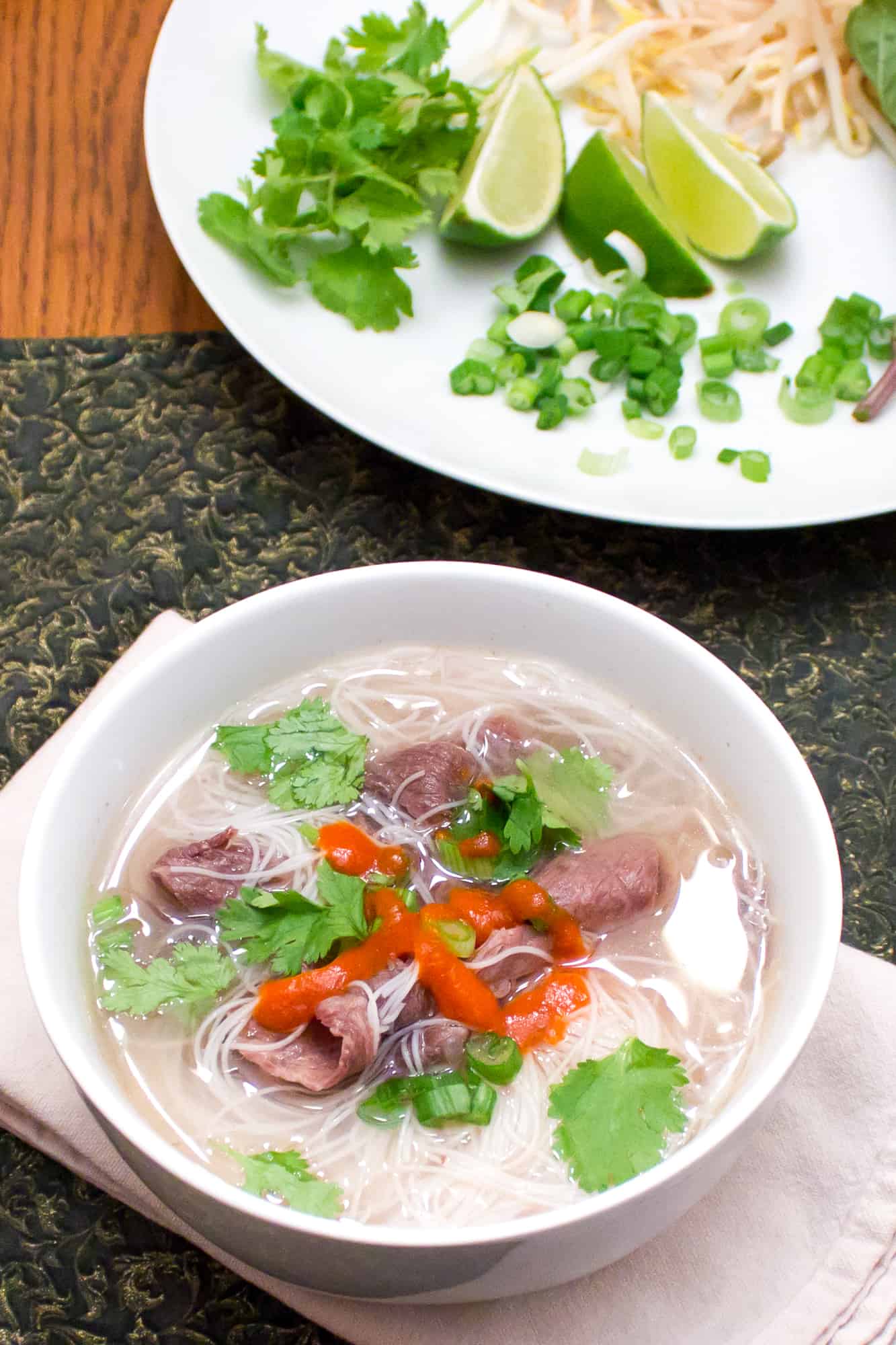 Pho Bo is a beef broth and there are many cuts of meat (short ribs, beef neck and even ox tail) you could use to build the broth. Along with the meat you could add garlic, ginger, cinnamon sticks, whole cloves, star anise and black peppercorn to the broth as it boils away and builds its flavour.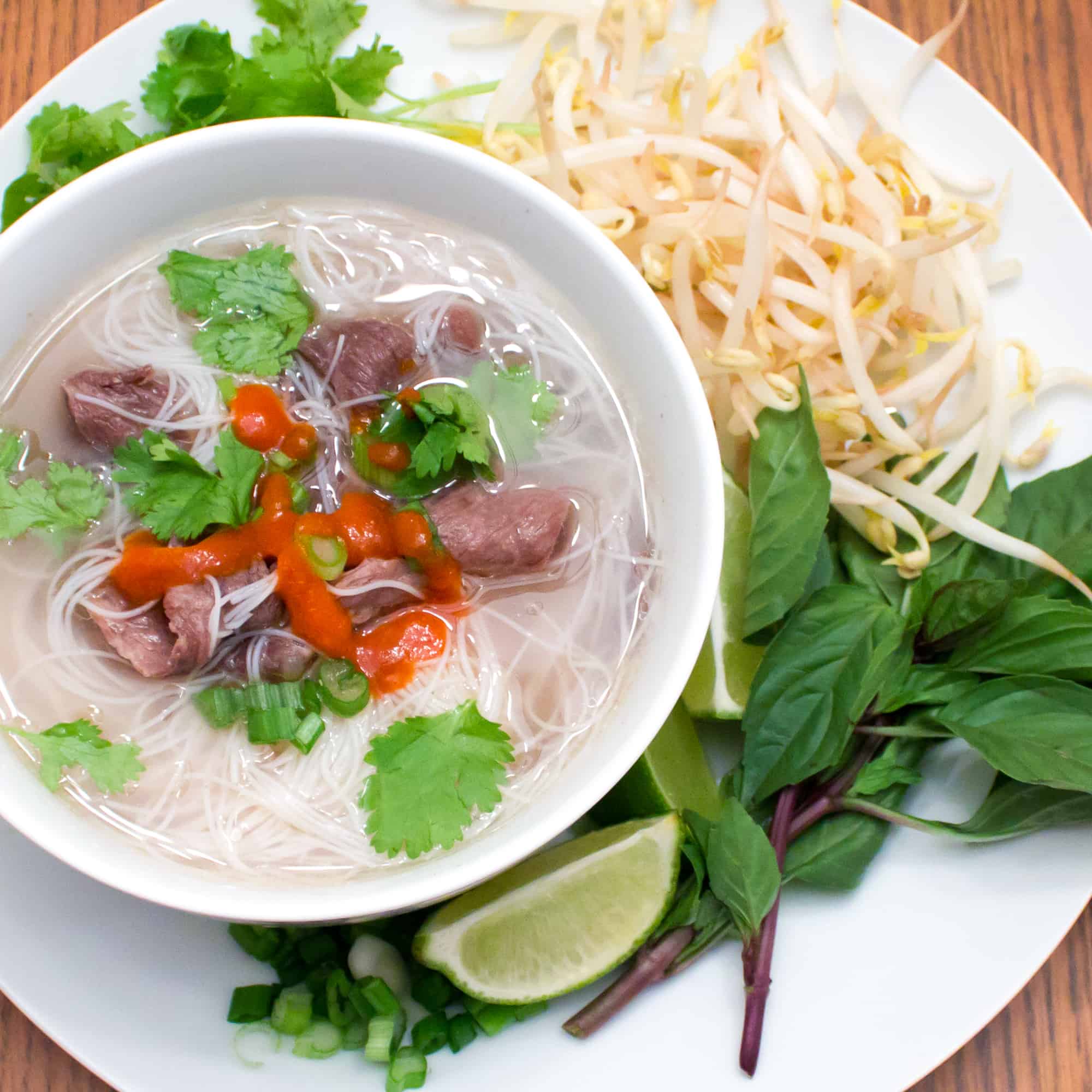 Beef Pho Vietnamese Soup - Pho Bo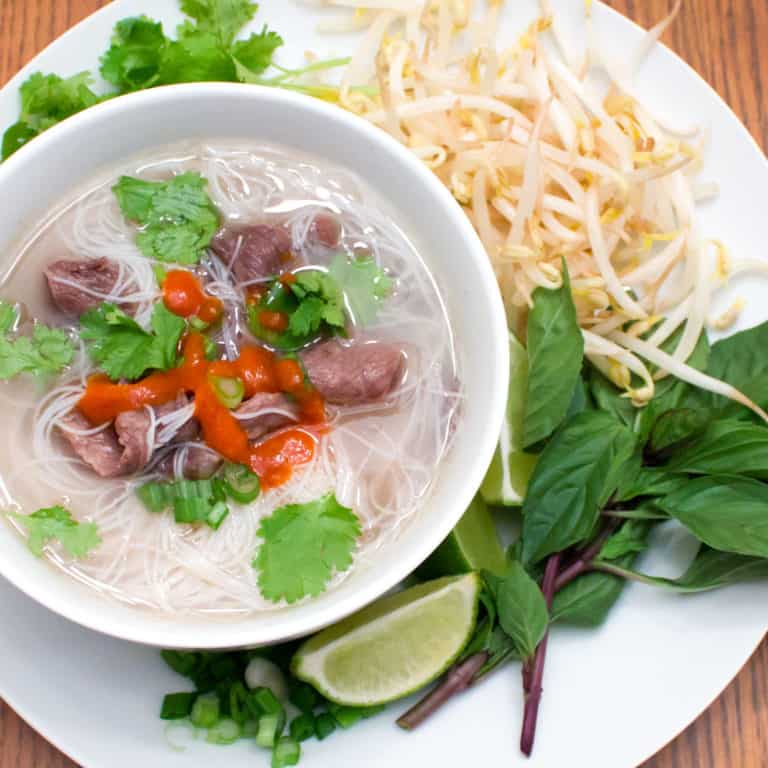 Print
A flavourful soup that is classic in Vietnamese cuisine. The broth is made with a beef bone and some asian spices. Sliced beef, vermicelli noodles, bean sprouts, green onions, and Thai basil are added to the broth to make this amazing soup.
Servings: 8 people
Ingredients
6 quarts water (24 cups)
4 pounds of beef short ribs (or beef neck or ox tail)
3 inch piece of ginger
3 garlic cloves
5 star anise
7 whole cloves
1 stick of cinnamon
1 tsp black peppercorns
5 tbsp fish sauce
1 package rice vermicelli noodles
1 pound thinly sliced beef (Korean style, or any lean tender beef)
lime wedges
4 green onions sliced
3 cups fresh bean sprouts
1/2 cup fresh cilantro
1/4 cup fresh Thai basil
Instructions
Bring the water to a boil in a large pot with the short ribs, ginger, garlic, star anise, whole cloves, cinnamon stick, peppercorns and fish sauce. Once boiling lower the heat to a low rolling boil and let the broth cook for 1 1/2 to 2 hours. Strain the broth.

Stir in the vermicelli noodles and wait 10 minutes so the noodles will soften.

While the soup is still very hot, ladle a scoop of the soup with plenty of noodles into a large bowl. Stir a few slices of the raw beef into the bowl along with some of the garnishes. Add some sriracha for heat or hoisin sauce for some sweetness.

Note: if you prefer your beef to be fully cooked prior to serving, add the beef at the same time as the vermicelli noodles.