Chicken and Shrimp Meatballs in an Aromatic Broth
This soup is packed with flavour and perfect for a lunch, to start a meal, or as part of a Chinese dinner. This goes so well with a stir fry, noodles, spring rolls and more!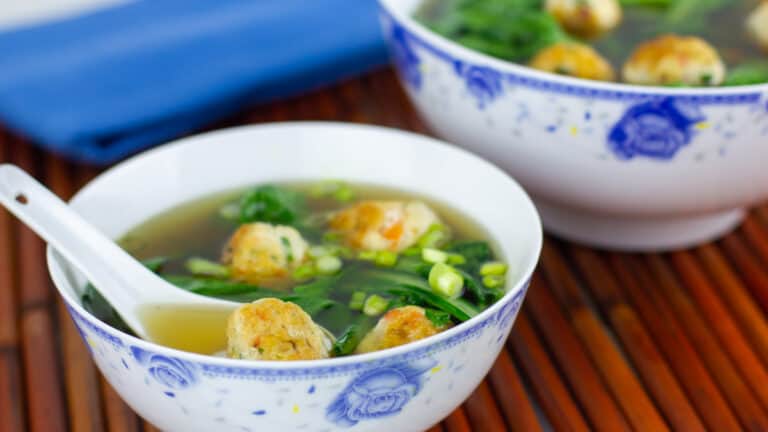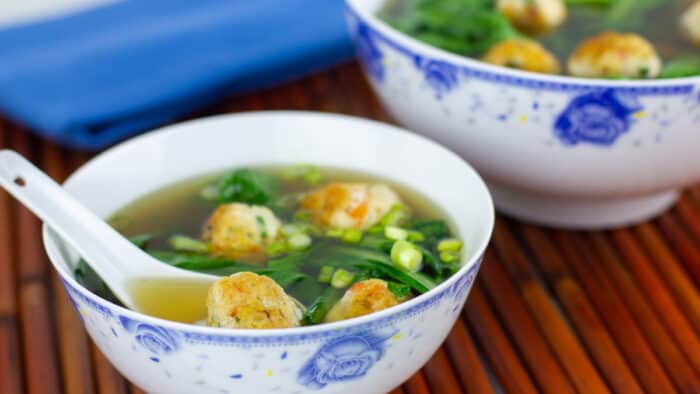 My soup craze is continuing today and here is another recipe to share with you. One of my favorite soups is pho because the broth of this Vietnamese dish is rich with aromatic flavors.
Today's recipe has some hints of pho and also flavors that are popular in Chinese cuisine. Star anise, ginger, soy sauce are all some of the aromatics that make up the broth. Along with those, I also use the shells from the shrimp for the meatballs. The shrimp shells add a wonderful and mild seafood taste in the broth that works perfectly with the spices.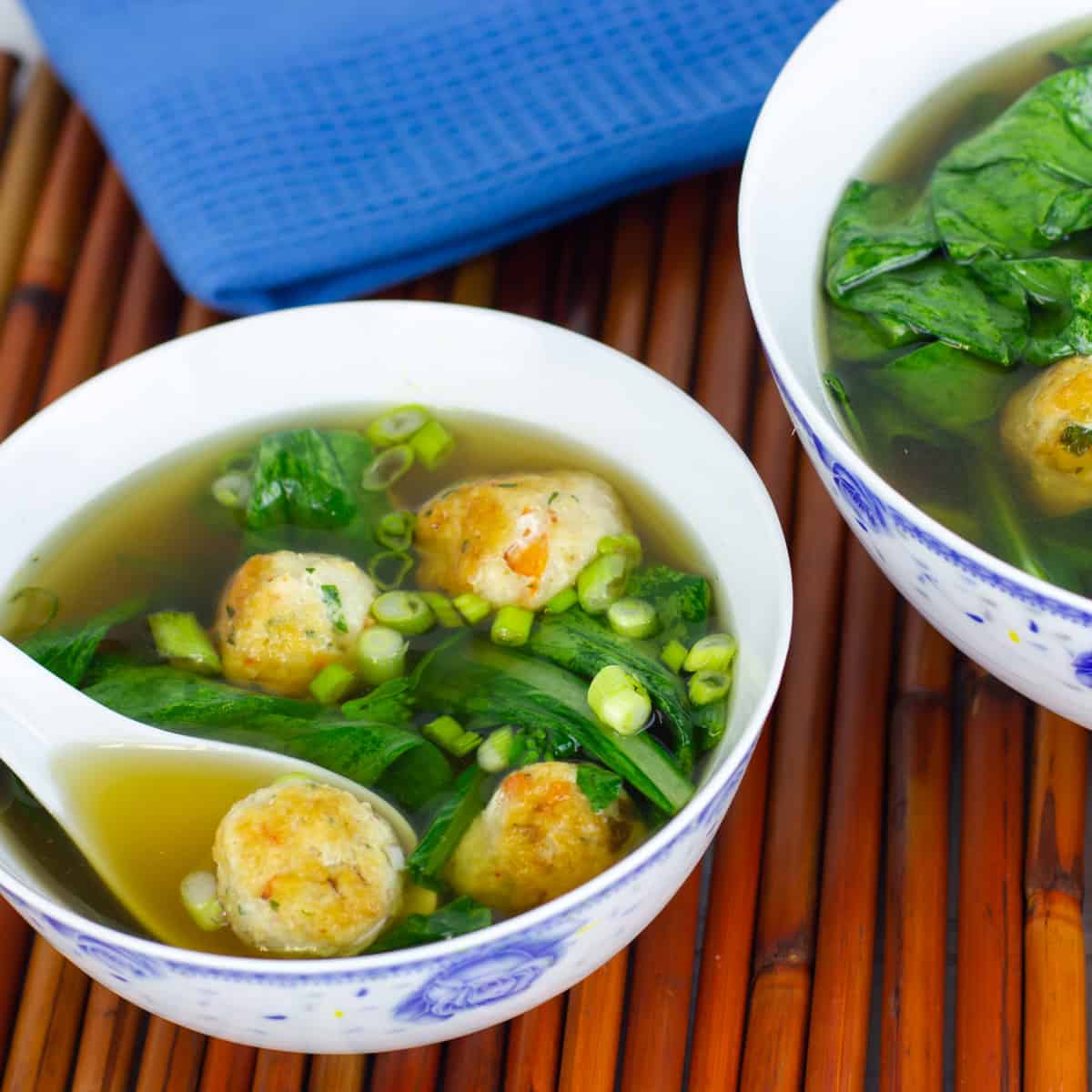 Ingredients You Need
Ground chicken
Raw shrimp with shells still on
Oil
Garlic
Ginger
Star anise
Thai chilies
Whole peppercorns
Soy sauce
Fresh cilantro
Yu choy – or other Chinese green
Green onions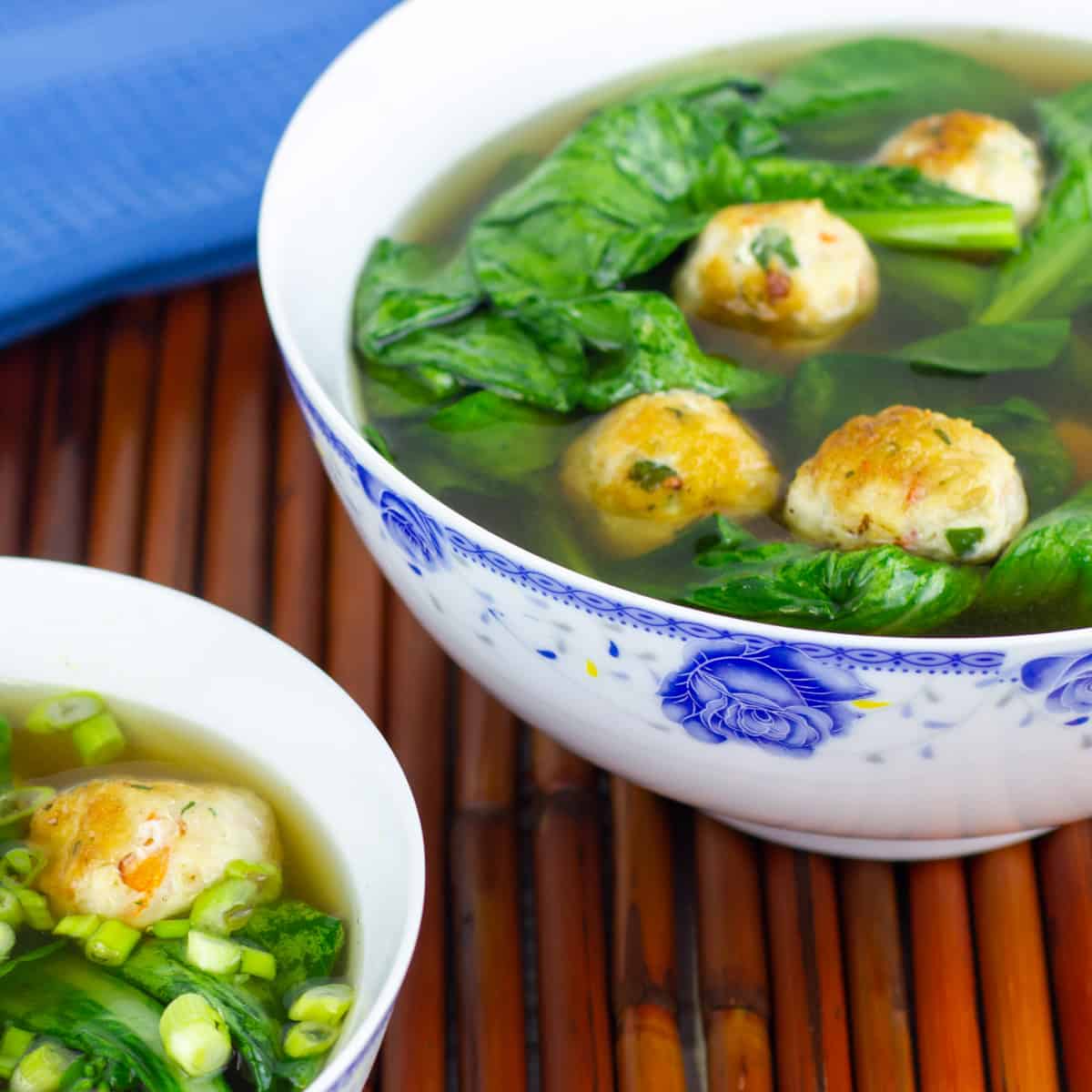 To go with this asian broth I made meatballs. Now these meatballs are not the typical beef or pork meatballs. These are made with ground chicken and minced shrimp. I used a food processor to mince the shrimp, but you could do it by hand with a knife if you want the shrimp to be chunkier in the meatballs.
Along with the meatballs, yu choy or some other Chinese green, is served in the soup. Hoisin or sriracha are the perfect condiments to go with this healthy soup.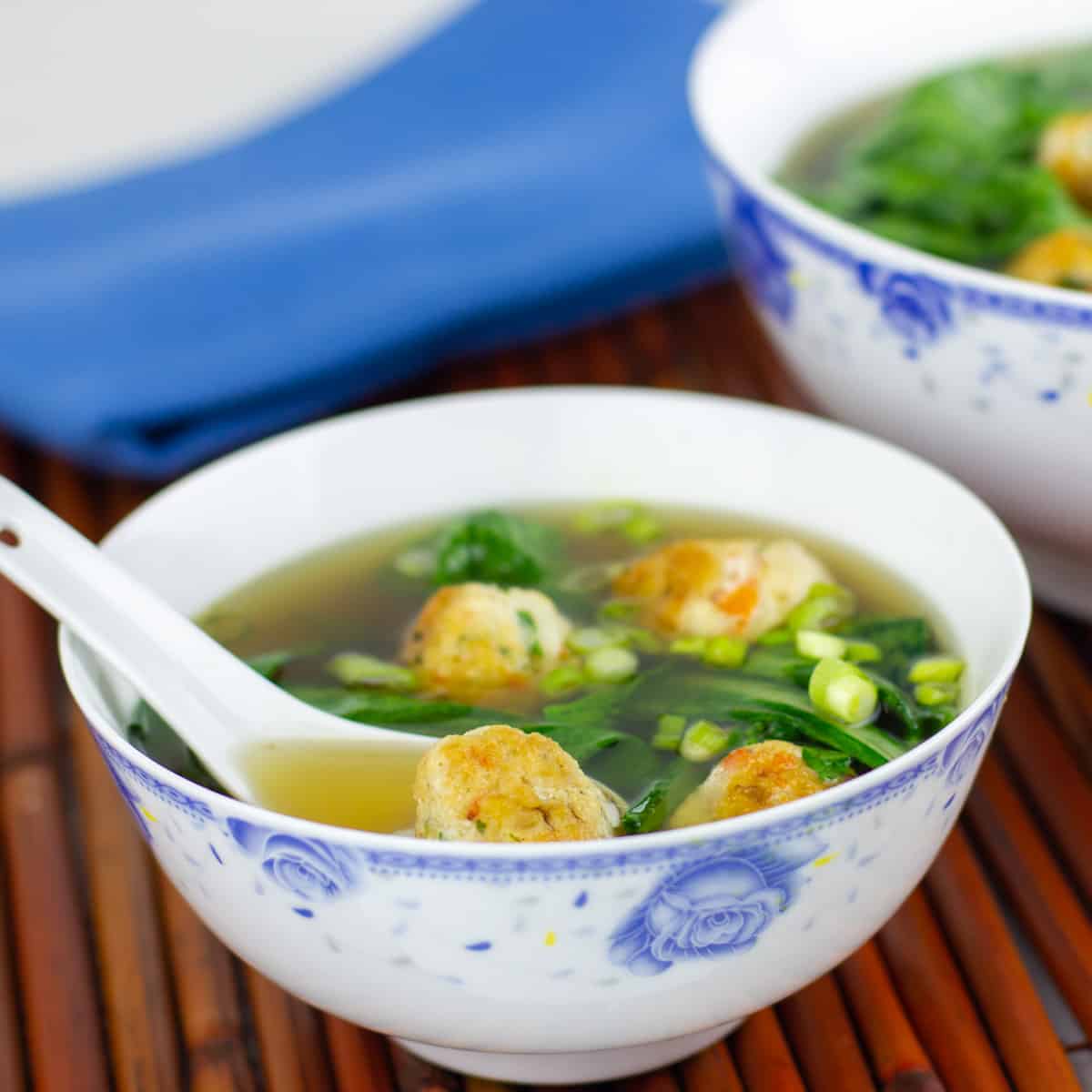 More Soup Recipes
If you are looking for more kinds of soup, then check out these recipes!
Chicken and Shrimp Meatballs in an Aromatic Broth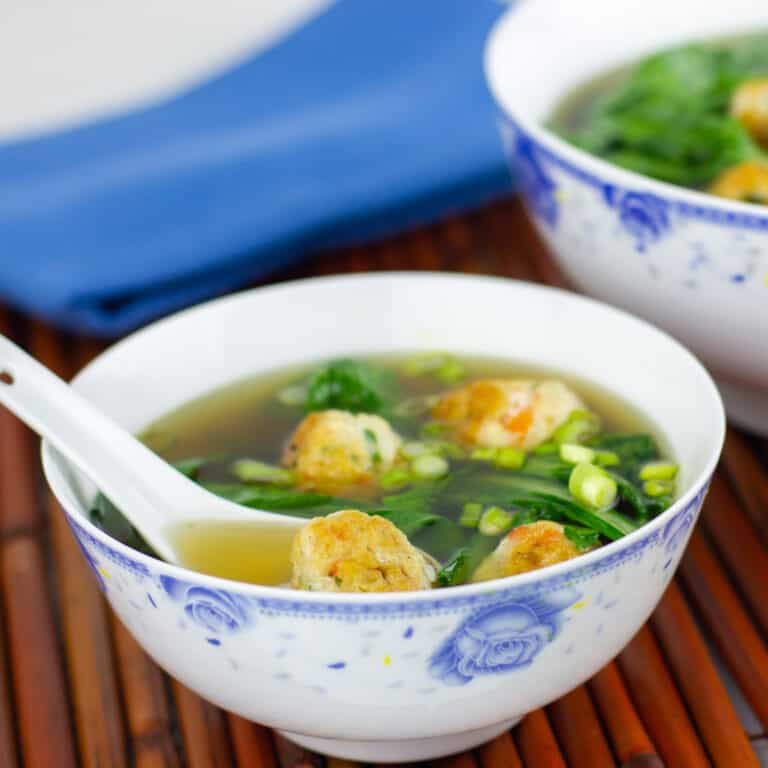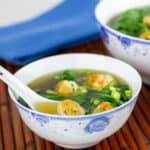 Print
Asian inspired soup with meatballs made with ground chicken and minced shrimp served in an aromatic broth made with star anise, ginger, soy sauce, peppercorns and yu choy.
Servings: 8
Ingredients
6 tbsp oil
1 pound ground chicken
1 lb shrimp
2 garlic cloves , minced
2 tbsp grated fresh ginger
3 tbsp fresh minced cilantro
3 star anise
6 peppercorns
2 Thai chilies , sliced
1 inch piece of ginger , cut into 1/4 inch slices
12 cups water
4 tbsp soy sauce
1 bunch yu choy , baby bok choy or chinese lettuce, roughly chopped
8 scallions (green onions, sliced)
Instructions
Peel the raw shrimp. Set the shrimp shells aside for later. Add shrimp to a food processor and pulse just until they are broken up and resemble the texture of ground meat. Depending on the size of the food processor, it may be necessary to do the shrimp in batches.

In a large bowl, mix together the ground chicken, ground shrimp, minced garlic, grated ginger and minced cilantro. Form into small 1 inch meatballs. While making the meatballs, it may be necessary to dip your hands in some cold water. This keeps the meat mixture from sticking to your palms and fingers.

Heat a skillet to medium high heat. Add 4 tbsp of oil to the skillet. Add the chicken and shrimp meatballs to the skillet. Let them cook for about 2-3 minutes before turning them. Let them get browned on each side and cooked through. They should be cooked in the skillet for a total time of about 8-10 minutes. Once cooked, remove them from the skillet and let them rest on a paper towel.

To make the aromatic broth, add the remaining 2 tbsp oil to a large saucepan on medium high heat. Add the peeled shrimp shells, star anise, peppercorns, thai chilies and ginger slices to the pan.

Let these aromatics bloom in flavor, stirring them often.

After about 4 minutes, pour in the 12 cups of water and soy sauce. Bring to a boil and then lower the heat to a simmer. Let the broth cook for about 20 minutes.

Strain the broth and measure out 8 cups of broth.

Bring the 8 cups of broth to a boil. Turn off heat. Stir in the meatballs and bottom stalks of the yu choy. Let rest for about 4-5 minutes to heat the meatballs through and to soften the yu choy stalks. With about one minute left, stir in the leaves of the yu choy.

Serve in bowls and garnish with sliced scallions. Serve with sriracha or hoisin sauec, if desired.
Nutrition
Per serving:
Calories: 246kcalCarbohydrates: 4gProtein: 23gFat: 16gSaturated Fat: 2gCholesterol: 140mgSodium: 631mgFiber: 1gSugar: 1g