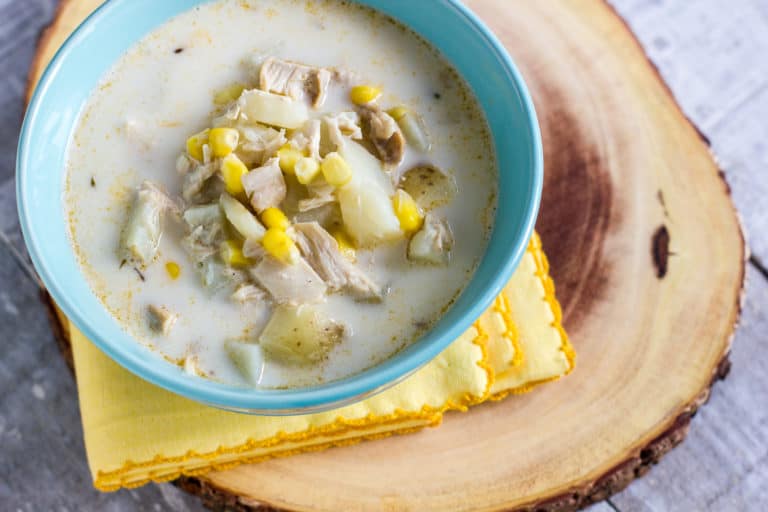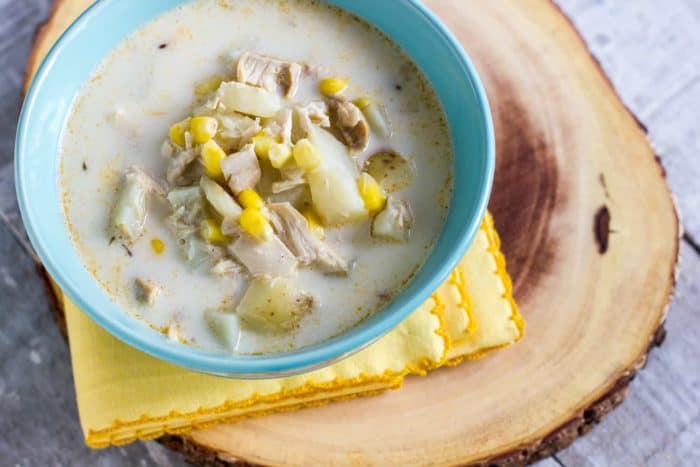 Chowders are one of my favourite kinds of soup. I love the hearty consistency of a chowder with all the chunks of stuff in the soup. It doesn't matter if it is corn, potato, clams, fish or something else. I love them all. I especially love creamy chowders as they are so soothing on a cold day.
We buy rotisserie chicken quite a bit, so there is often a little bit of leftover chicken meat. That is what happened this week and thus, this chowder was born!
This soup is not incredibly unique, but is more of a classic type of chowder. It includes cubed potatoes, corn, onions and cubed chicken meat. The broth is made with chicken broth and thickened with some heavy cream.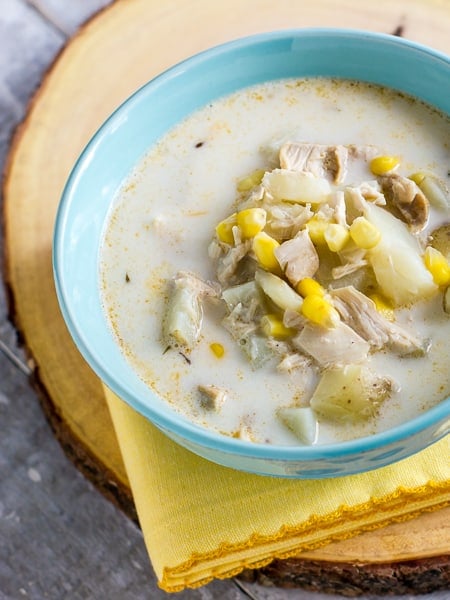 As I said, chowder is one of my favourite soup. Over the years I have made many different types of chowders. Here are a bunch of links to the different chowder recipes.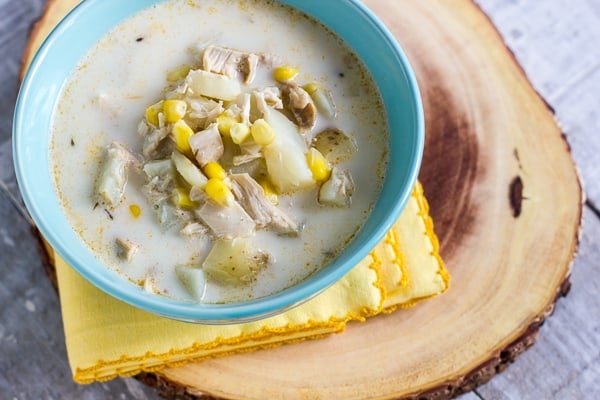 One of the great things about chowder is that they are just as good reheated as they are the first day. Some soup does not work as well for leftovers, getting far to thick. Not with this chowder. I often make a double batch and we then are able to enjoy this chowder for a few days!
Chicken Corn Chowder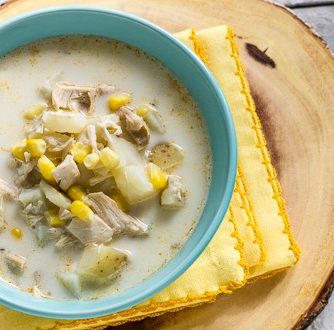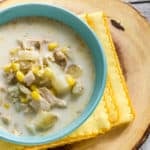 Print
This hearty and creamy soup is made with chicken, potatoes, corn, cream and chicken broth. Easy recipe with how to instructions.
Servings: 12
Ingredients
8 cups chicken broth
3 tbsp butter
1 small onion , peeled and diced
4 medium potatoes , peeled and cubed
2 cups fresh or frozen corn
1 bay leaf
3 garlic cloves
1 teaspoon salt
1/2 teaspoon black pepper
1/4 teaspoon dry thyme
2 cups cooked chicken meat , cubed
1 1/2 cups 10% cream
Instructions
In a large dutch oven or pot, add the chicken broth, butter, onion, potatoes, corn, bay leaf, garlic cloves, salt, pepper and thyme. Bring to a boil and then lower heat to a simmer. Let it simmer for about 45 minutes or until the potatoes are tender.

Stir in the cubed chicken and cream. Let the soup simmer for about 15 more minutes.

Serve hot.
Nutrition
Per serving:
Calories: 247.27kcalCarbohydrates: 17.98gProtein: 11.44gFat: 15.31gSaturated Fat: 8.99gCholesterol: 68.12mgSodium: 829.75mgFiber: 2.72gSugar: 0.43g